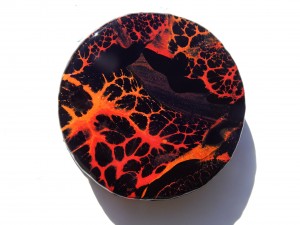 I had a lot of people tell me this cake looks like a lava flow, and I agree! I just love the way the spider web effect turned out, and I can't wait to try it out again!
How to Make Spider Web Mirror Glaze Cake
Mirror Glaze Recipe
Ingredients
20 g gelatin powder
120 g water
300 g light corn syrup
300 g sugar
150 g water
200 g sweetened condensed milk
300 g white chocolate good quality chopped fine
food coloring ( I use Americolor violet, sky blue, royal blue, deep pink, and black)
Directions
Bloom 20 g gelatin in 120 g water
boil 300 g corn syrup, 300 g sugar, and 150 g water
remove from heat and add gelatin
add condensed milk
pour over chocolate and mix until chocolate is melted completely (make sure you chop the chocolate really small before hand)
stir and make sure glaze reaches 95 degrees F
separate into multiple bowls if you want multiple colors
add food color
Let it cool until the glaze reaches 89.6 degrees F and is semi thick.
Pour glaze over cake
Mirror Neutral (This is the part you spread over the glaze to make spider web effect)
100 Grams mirror neutral
6 grams titanium dioxide
I found both of these ingredients online at Amazon.  Mix 6 Grams of Titanium Dioxide into the 100 G Mirror Neutral.  Mix together until smooth.  Use an emersion blender if you have one.  Add food coloring of your choice.  Microwave for a few seconds until it reaches 50-60 C.  Do not over heat! When I over heated, a weird thing happened.  All of the titanium dioxide came up to the top and the mirror neutral was almost white again.  I would suggest warming it up in increments of 10 seconds and check the temperature each time. 
Pour the mirror neutral on a cookie sheet in a long strip.  Place your offset spatula on top of the mirror neutral.  This next step is very important! When your mirror glaze is 90 degrees F, pour it on your frozen cake, then immediately swipe the offset spatula across the cake.  Let it set and see how the spider web takes effect! I tried swiping another spatula full of mirror neutral over the cake after, and it did not become a spider web.  It must be applied right after the glaze is poured! I don't know why, but this is my experience!
Enjoy!