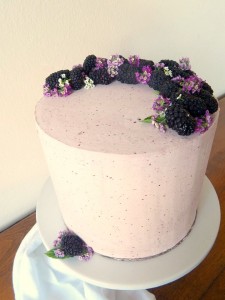 This cake is a white WASC (white, almond, sour cream) cake with blackberry filling, frosted with blackberry Swiss Meringue buttercream, and topped with fresh blackberries!
I grew up in a small town in Northern California called Loleta.  Over by our good friends the Meyers house, there was a huge blackberry patch growing by the side of a dirt road.  Every summer my family and I would go pick blackberries as soon as they were ripe.  I remember bringing my Aunt Teresa, Julie, and Grandma over there to pick blackberries when they would come visit.  My sister Katy actually fell into the blackberry bush when she was young and got a giant cut on her leg.  Every time we see her scar we remember picking blackberries in Loleta lol.  At night after a great harvest of blackberries we would have vanilla ice cream and mix in the fresh blackberries! So delicious! I absolutely love those flavors together, and made this cake to taste like my favorite dessert when I was growing up.
I got my inspiration for this cake from the cakeblog.  When I saw the blackberry buttercream, I knew I had to try to make this cake! I love the blackberries with flowers on top of the cake and did my best to replicate it.  Instead of the lime cake, I used my favorite white almond sour cream cake recipe.  I love how the cake turned out so white against the blackberry filling.  By following this recipe your cake will not having any brown crust on it, and you will only see beautiful, yummy, white cake!  I also switched things up by using my blackberry filling instead of the Swiss meringue buttercream.  I love the contrast with the white cake, and also this filling has such a strong blackberry taste.  I frosted the cake using my Swiss Meringue buttercream recipe and added blackberry reduction.
When making this cake, you only have to make a blackberry reduction once, and just take out 3 TBS of the reduction to use for the Swiss meringue buttercream.   When making the reduction, it always seems to take longer then I think it will. So leave plenty of time for this step. The great part about using the blackberries in the frosting is that it turns the frosting a beautiful lavender color and has specks of berries in it.  The frosting is so delicious!
Enjoy!
Other berry cakes you might enjoy!