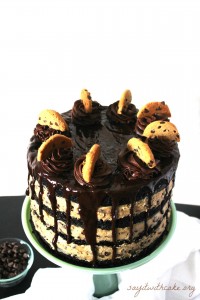 This rich cake combines the classic dark chocolate cake with chocolate chip cookie dough frosting in a four layer cake topped with chocolate ganache and chocolate chip cookies.
If you are like me, then you love eating cookie dough out of the bowl.  I have been doing this since I was little, and I just can't resist taking spoonful's of the dough before it is cooked.  The genius of this cake is that it is packed with cookie dough, so you can eat it without feeling guilty! This cookie dough frosting is made without eggs, so it is perfectly safe.
I made this cake for my sister Katy's Birthday.  We had a huge family party for her in Utah.  Living in San Diego with the humidity, I forgot about the dry air in Utah and how it might affect my cake.  I foolishly made a naked cake, and did not add a simple syrup to the cake layers 🙁  My sister saved the day by wrapping the cake in plastic wrap while I was at the store, and the cake did not dry out luckily.  Next time I will for sure remember to add the simple syrup.  I have heard that this can really help keep the cake moist, especially with a naked cake.  When you frost a cake, the frosting acts as an insulator and protects the cake from drying out.  I hope my sister Katy liked the cake! I have a picture of her blowing out the candles, we actually put sparklers on top of the cake it was really funny.  I will have to ask her if I can post the pic of her with the candles.
The slices of cake were so big that I had to cut each slice into three separate pieces! It is also very rich and can go well with a tall glass of cold milk.
Chocolate Cake: (Double all recipes for a tall 4 layer cake)
1 1/2 cups all-purpose flour
1 1/2 cups granulated sugar
3/4 cup Dutch-processed cocoa (sifted)
1 1/2 tsp baking soda
1 tsp baking powder
1 tsp salt
1/4 cup vegetable oil
3/4 cup buttermilk
3/4 cup strong brewed coffee (hot)
2 eggs
2 tsp vanilla
Cookie Dough Frosting:
1 cup unsalted butter (room temperature)
1/2 cup granulated sugar
1 cup light brown sugar (packed)
2 tsp vanilla
2 1/4 cups all-purpose flour
1 tsp sea salt
1/4 cup + 2 Tbsp milk (room temperature)
1 cup mini chocolate chips
Ganache:
12 ounces chocolate chips
1 cup heavy cream
Simple Syrup:
1 cup sugar
1 cup water
Or equal parts water and sugar
Chocolate Cake:
Preheat oven to 350F, grease 4 round baking pans and dust with cocoa powder. Line bottoms with parchment.
Place all dry ingredients into the bowl of a stand mixer fitted with a paddle attachment. Stir to combine.
In a medium bowl whisk all wet ingredients (pour coffee in slowly as not to cook the eggs if very hot).
Add wet ingredients to dry and mix on medium for 2-3 mins. Batter will be very thin.
Pour evenly into prepared pans. You can use a  kitchen scale to ensure the batter is evenly distributed.
Bake for 20 mins, rotate pans in oven.
Bake until a cake tester comes out mostly clean. A total of 30-35mins.
Cookie Dough Frosting:
Beat butter until creamy, add sugars and beat on high until pale and fluffy (approx. 2-3mins). Add vanilla and mix until combined.
Reduce speed to low and slowly add in flour mixture. Mix until just incorporated. Slowly pour in milk. Increase speed to med-high and beat for 2-3 minutes until light and fluffy. Stir in mini chocolate chips.
Ganache:
Place the chocolate in a medium-sized bowl and set aside.
Bring cream to a boil in a small saucepan and when it begins to bubble up, pour over the chocolate and let sit for 5 minutes. Gently stir, starting in the middle and working your way outward, until the cream and chocolate are completely mixed. Cover with plastic wrap and set aside. Let the ganache sit at room temperature over night
Simple Syrup:
Combine water and sugar in a pan.
Heat mixture over medium to medium high heat just until the sugar dissolves in the water.
Take off heat immediately and allow to cool completely.
Store in a jar or other container in the refrigerator
Apply to cake liberally  with a pastry brush after cake has cooled.
Assembly:
Place first layer of cake on a cake board.  Top with one cup of cookie dough.  Repeat with the remaining layers.  Smooth the outside with off set spatula.  Chill for 30 mins.
Using a spoon, drip the ganache along the edges of the cake, then fill in the top.  Chill for 15 mins.
Put ganache in a piping bag with a large star piping tip.  Pipe swirls on top of the cake.  Cut chocolate chip cookies in half and place them on each chocolate swirl.
Enjoy!