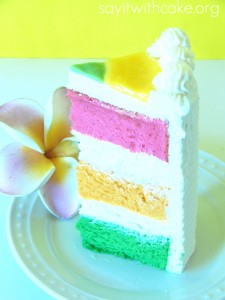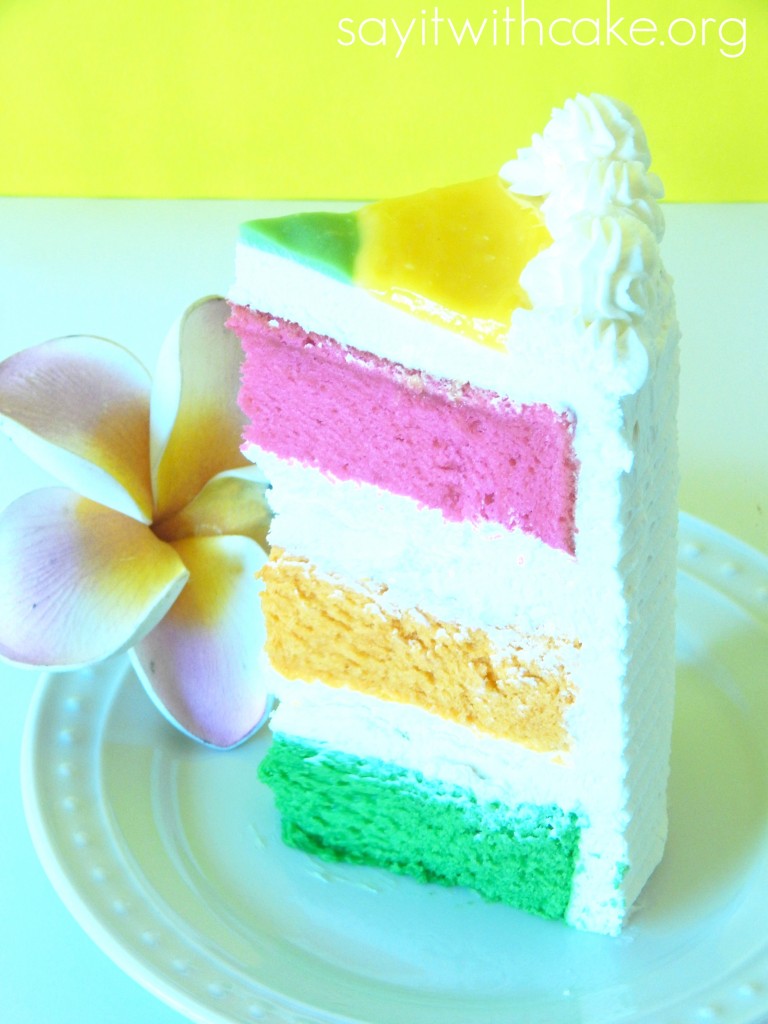 Have you ever tried the Hawaiian Paradise Cake from King's Hawaiian Bakery?!   Three layers of vivid Chiffon cake  in the colors of guava, passion fruit and lime covered in whipped cream frosting.  On top is a glaze, striped in the same three colors.  The cake has three delicious Hawaiian flavors, guava, passion fruit, and lime.   The most unmistakable flavor is guava.  The delicious tropical fruit is complimented by the tangy and citrusy notes from the layers of passion fruit and lime.  As a fork cuts through a slice, the thin sweet glaze spreads throughout the cake uniting the flavors.  This cake is delicious and beautiful! King's Hawaiian Bakery does not give out its recipe, so I improvised and put together a few recipes to try and create the Hawaiian Paradise cake.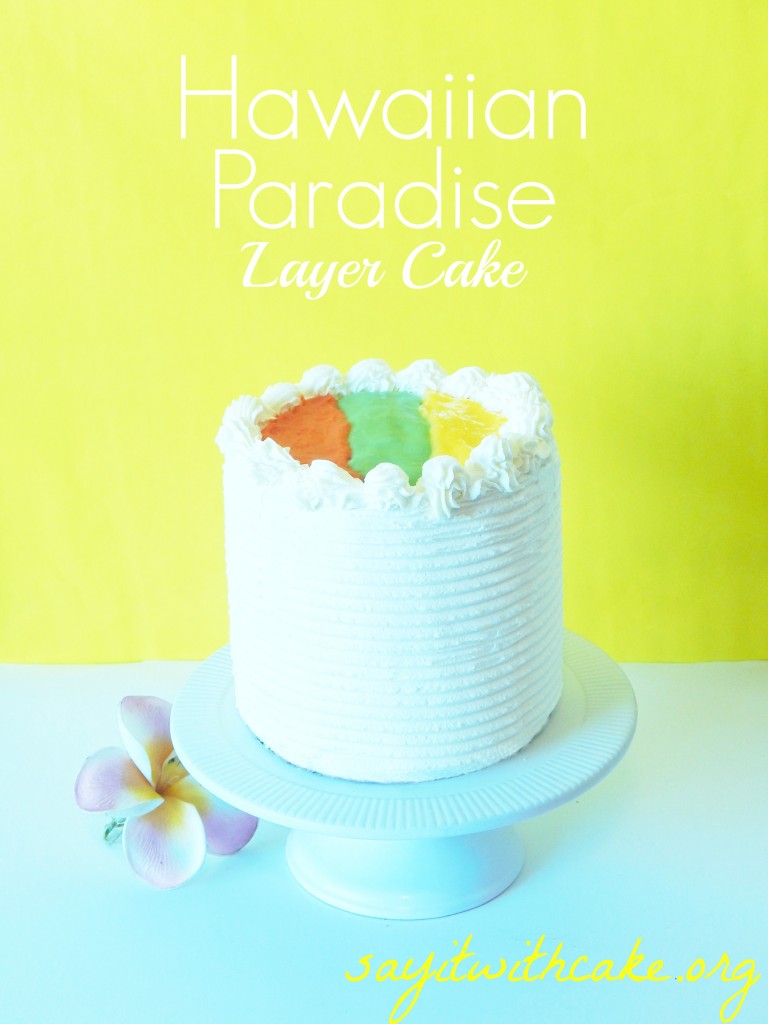 My husband is from Hawaii, a small town called Hilo on the Big Island.  We were over there visiting his family in January and I was so impressed with all the fresh tropical fruits available all over the island! Guava, and passion fruit were abundant, and I wish I would have brought some back with me! They are surprisingly hard to find here in San Diego.  For this cake, you need guava, passion fruit, and lime concentrate.  The best option would be fresh puree, but if you can't find that (like me) then concentrate works too.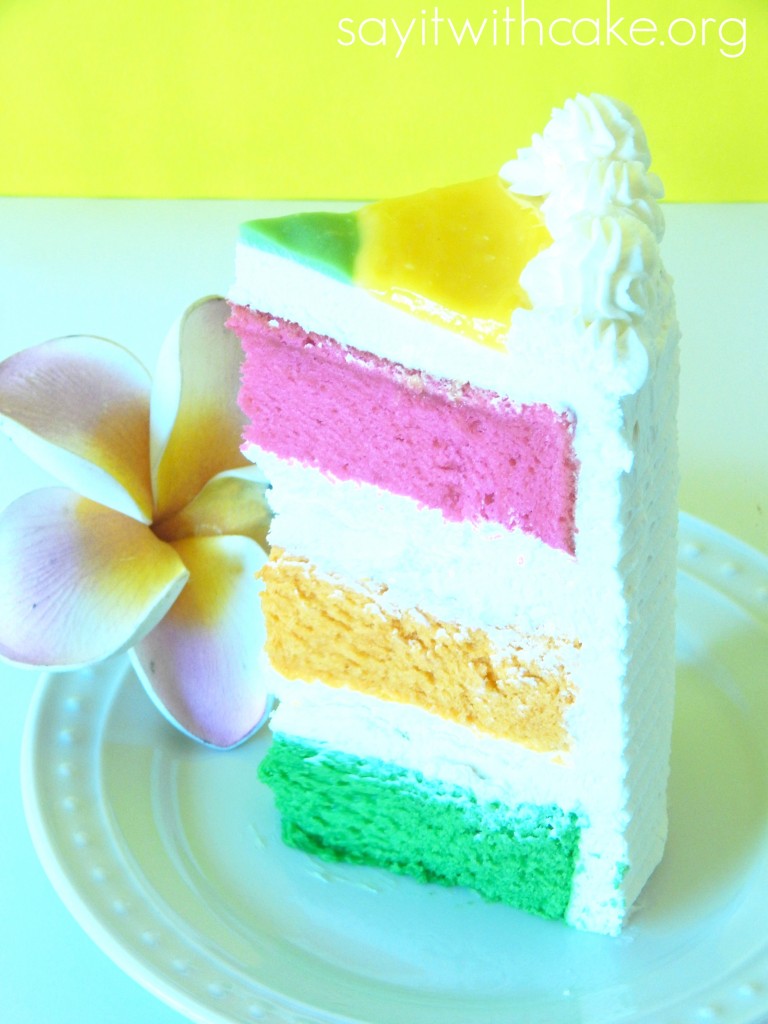 Ingredients
Chiffon Cake

2 1/4 cups of flour
2/3 cups of white sugar
1 tbs baking powder
1 tsp salt
1/2 cup vegetable oil
1/2 cup water
2 oz key lime juice
2 oz guava nectar
2 oz passion fruit nectar
5 egg yolks
2 tsp vanilla extract
2 tsp grated lemon zest
liquid food coloring : yellow, red and green
8 egg whites
1/2 tsp cream of tartar
1/2 cup white sugar

guava chiffon topping

2 tablespoons cornstarch
1/2 cup water
1 pinch salt
12 ounces guava juice
1 teaspoon lemon juice
1 slightly beaten egg yolk
1 tablespoon butter

Whipped Cream Icing

1 eight oz package reduced fat cream cheese (room temperature)
1/2 cup of white sugar
1 tsp vanilla extract
1/8 tsp almond extract
1 quart of heavy or regular whipping cream
Instructions
Chiffon cake

I made this cake twice. Once with 8 inch pans, and once with 6 inch pans. They both work great! With the 8 inch pan, the layers will be thinner. Grease three pans with shortening and flour them.
Preheat oven to 325 F
Sift together flour with 2/3 cup of sugar, baking powder, salt-set aside.
In another bowl, beat together oil, water, yolks, vanilla and lemon zest until well combined.
Mix yolk mixture into flour mixture until smooth. At this point, the consistency should almost be like cookie dough. Divide the batter into thirds and put each into a separate bowl.
In each separate bowl of batter, add one kind of nectar/juice. Once mixed in, you will need to add the food coloring- green for the lime layer, orange for the passion fruit layer and red or pink for the guava layer. Use your own judgment on how many food coloring drops to use and bear in mind that you will be adding eggs whites later which will lighten the batter.
In another bowl, beat egg whites and cream of tartar until soft peaks are formed. Then slowly add the 1/2 cup of sugar and beat until stiff. Then you will need to take 1/3 of the egg white mixture and fold it into each bowl of batter. Then pour each into a separate pan.
As far as the separation of batter I divided mine by sight. However, if you want to be more exact, you can weigh the batter and divide by weight and measure the whipped cream by cups and divide that way.
Put each pan into the oven.
Bake for 35-40 minutes or until toothpick comes out clean
*Do not over mix! Also, do not over bake! take out of oven immediately before the sides start to pull away from the pan. I take these cakes out of the pan right away and put on a cooling rack. If you take them out before they have cooked too long, you should not have any brown on top or bottom of pan. After they are completely cool, you can use a cake leveler to level out the cakes and make them the exact same height.

Fruit Syrup

Mix cornstarch with water to dissolve all lumps. Add salt, guava and lemon juices and egg yolk. Cook over low heat until thick, stirring constantly. Remove from heat and add butter. Mix hard so that all butter melts, this is very important because you don't want little specks of butter in your glaze. Separate glaze into three small bowls and add desired food coloring. I used yellow, green, and pink. Spread when slightly cooled but still warm.

Whipped Cream

Combine all ingredients except the whipping cream by using a regular or stand mixer. While the mixer is still running, slowly add the cream. Continue to whip until stiff peaks form.

Cake Assembly

For an 8 inch cake
Put an 8 inch cardboard cake board onto a turn table. Secure with tape or non slip piece.
put a dollop of frosting onto cake board
Put green cake onto cake board.
measure one cup of frosting and spread evenly onto green cake.
Put orange cake on top of filling
measure one cup of frosting and spread evenly onto orange cake
frost the whole cake and use off set spatula or bench scraper to smooth it.
make sure top of cake is level and smooth
fill pipe bag with frosting and pipe desired border around cake
smooth glaze on top of cake as desired.
Keep refridgerated
http://sayitwithcake.org/hawaiian-paradise-cake/
My son is half Hawaiian, so I like to celebrate his birthday with homemade Hawaiian food and desserts found on the Islands.  Since King's Bakery is two hours away, I decided to make my own Hawaiian Paradise Cake.  I hope you like this recipe and will use it whenever you need a dessert with flavors from Hawaii.
ENJOY!

You might also like these cakes: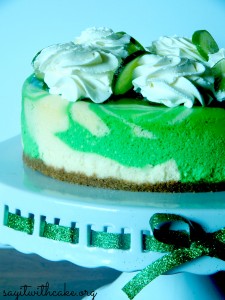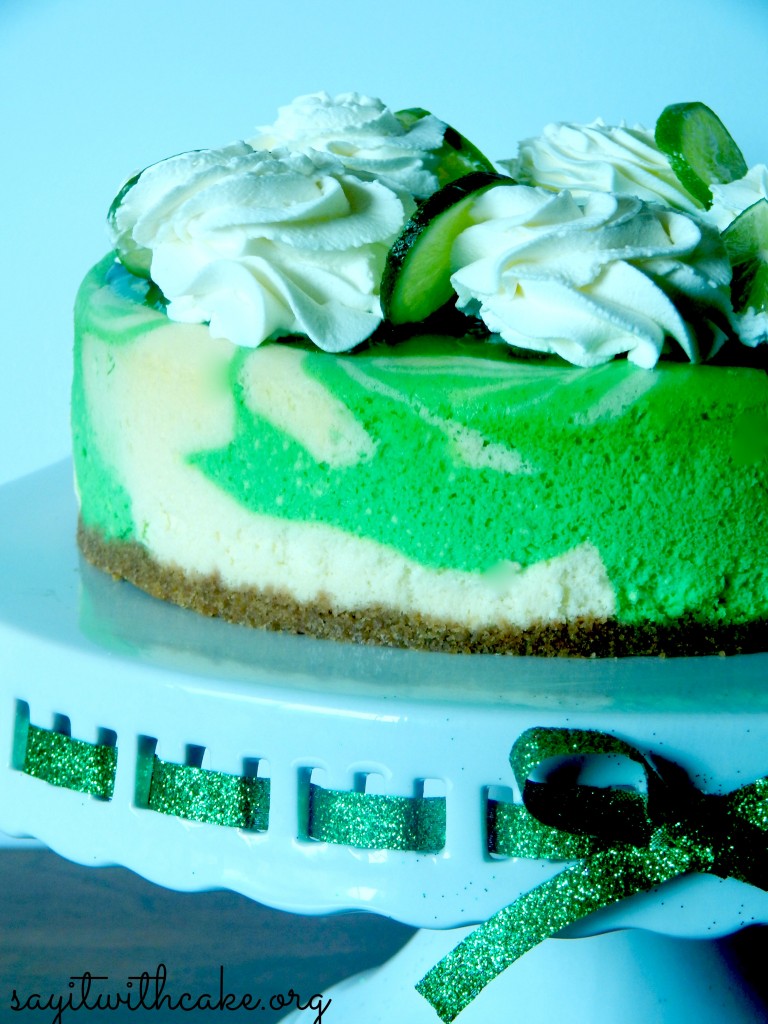 My cake was featured here!
Linked up at Country Cook