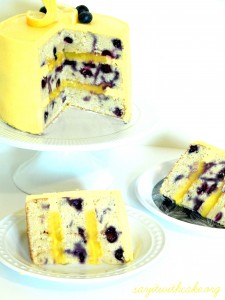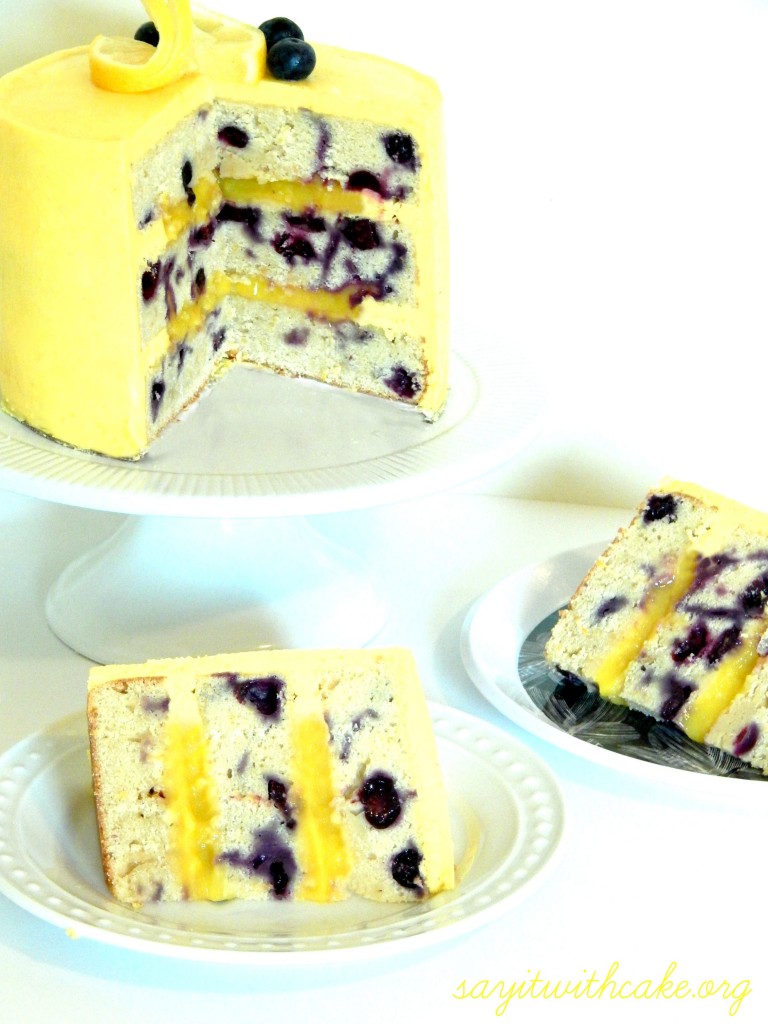 Spring is here! I have been enjoying the sunshine and craving something lemon and blueberry. Don't you think lemon and blueberry make the perfect combination? The lemon curd filling is perfectly tart and goes so well with the blueberries.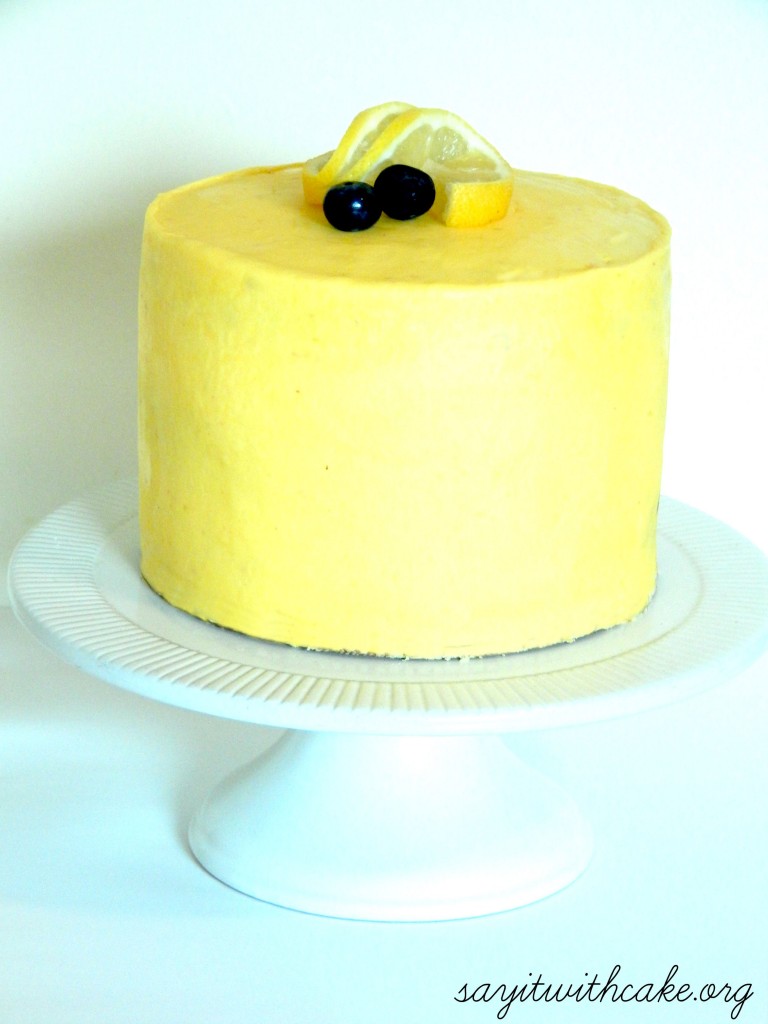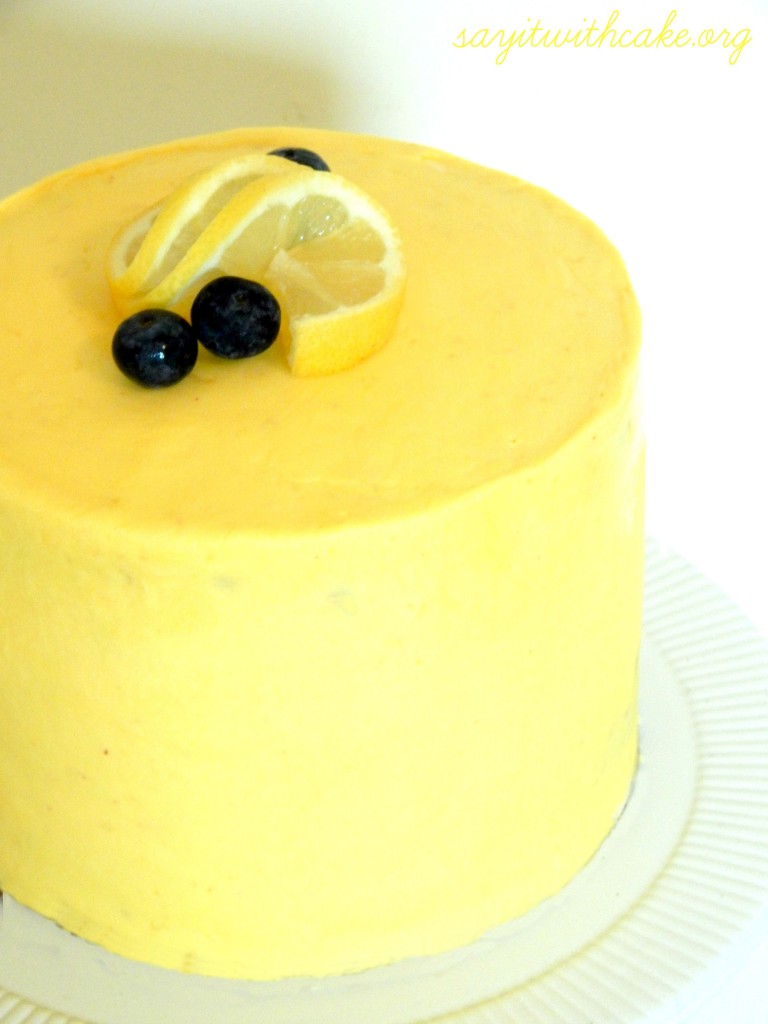 After several failed attempts, I finally was able to find a recipe that ensured my blueberries wouldn't sink to the bottom.  The first try was a mess.  The blueberries sank to the bottom and turned the cake purple.  The cake wouldn't stay together.  Although it was delicious, it was not presentable! The second try was with a cake mix.  This turned out a little better, but still even though I covered the blueberries in flour, they would not stay put! So the third recipe I tried was VERY thick batter!  This seemed to do the trick!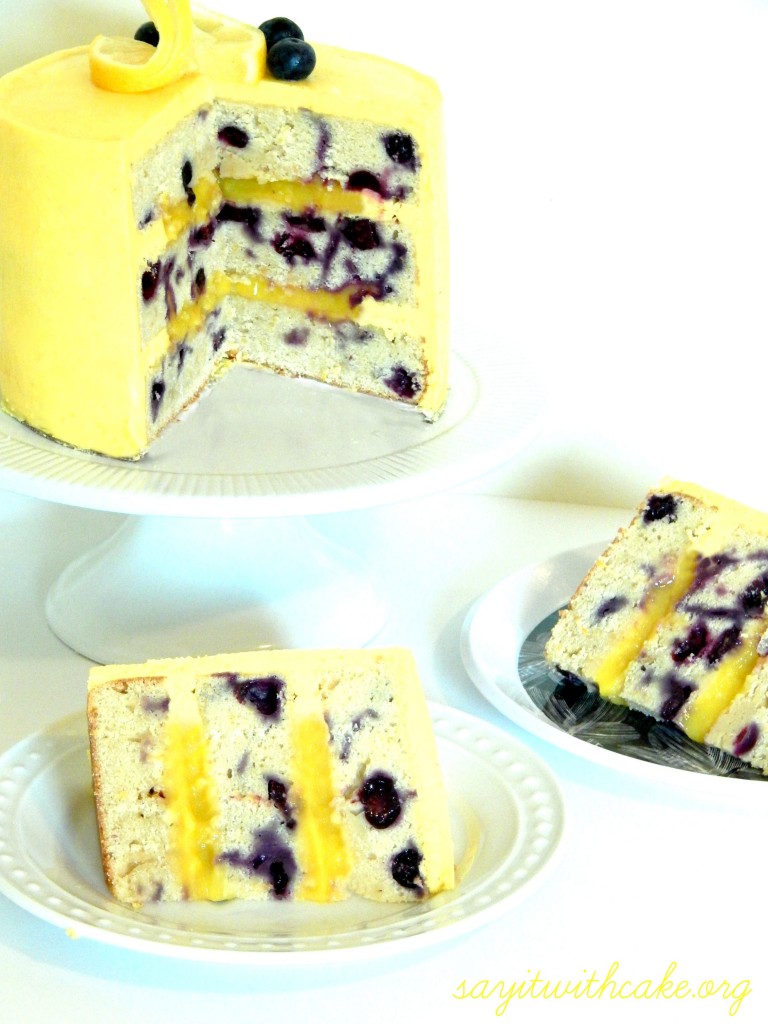 The lemon curd was fairly easy to make and delicious!!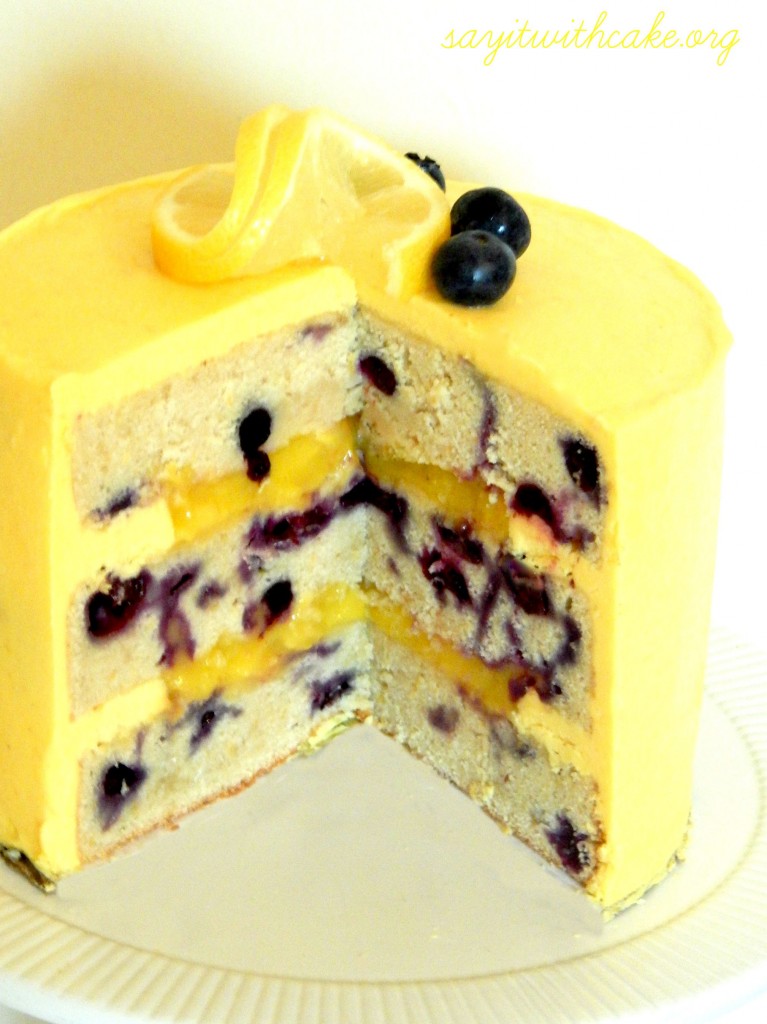 How to Zest a Lemon
The Most Important Rule of Zesting
No matter which type of citrus you're working with or method you use, there is one universal rule that will always apply: Remove just the thin, colored skin, or zest, of the fruit. Always leave behind the soft, white pith that lies underneath. The pith has a bitter, unappealing taste that you simply don't want to include.
Removing just the right amount of zest without picking up any of the pith can be tricky, but it gets easier the more times you do it. It depends on the type of tool you're using, as well as the amount of pressure you apply.
Using a vegetable peeler: Using moderate pressure, so as not to remove any pith, drag the peeler down the citrus fruit, from top to bottom, or around the fruit. This makes large pieces of zest, perfect for infusing oils or sugar syrup. For smaller pieces of zest, slice into thin strips or mince into pieces with a knife.
How to Dam a Cake for filling
Take some of your frosting and mix it with some more powdered sugar until it is thick enough to form by hand but still thin enough to pipe through a large round tip or coupler.
 As you assemble the layers, pipe around the edge with the thickened frosting.
 This will create a dam to hold your filling in.
Spread the filling to be level with the top of the dam. In this picture I am filling with a raspberry filling with a lemon buttercream dam.
 Now you are ready to stack the next layer on top.
The tips I will give you for making this cake:
Coat the blueberries in flour before folding them into the batter, and use a thick cake batter.
Make a dam with stiff frosting to hold in the lemon curd (if you don't do this, the lemon curd will seep out the edges and bulge out of the sides of the cake.  I learned the hard way!) .
Make the Lemon curd the day before and let it cool over night.
Cake Ingredients
1 cup (230g) unsalted butter, softened to room temperature
1 and 1/4 cups (250g) granulated sugar
1/2 cup (100g) light brown sugar
4 large eggs, at room temperature
1 Tablespoon vanilla extract
3 cups (375g) all-purpose flour, careful not to over measure
1 Tablespoon baking powder
1/2 teaspoon salt
1 cup (240ml) buttermilk
zest + juice of 3 medium lemons
1 and 1/2 cups blueberries, fresh (258g) or non-thawed frozen (275g)
1 Tablespoon all-purpose flour
Lemon Blueberry Cake Directions
Preheat the oven to 350F. Spray three 8×2 inch cake pans with nonstick spray. Set aside.
Using a handheld or stand mixer with a paddle attachment, beat the butter on high until creamy – about 1 minute.
Add granulated and brown sugars and beat on medium-high speed until creamed, about 2-3 minutes.
Scrape down the sides and bottom of the bowl as needed.
Add eggs and vanilla. Beat on medium speed until everything is combined, about 2 full minutes.
Scrape down the sides and bottom of the bowl as needed. Set aside.
In a large sized bowl, toss together the flour, baking powder, and salt.
Slowly add the dry ingredients to the wet ingredients.
Beat on low speed for 5 seconds, then add the milk, lemon zest, and lemon juice.
Remove from the mixer and stir lightly until everything is just combined.
Toss the blueberries in 1 Tablespoon of flour and fold into the batter.
Batter is extremely thick. Do not overmix at any point. Overmixing will lend a tough, dense textured crumb.
Spoon batter evenly into 3 prepared cake pans.
Bake for about 21-26 minutes or until a toothpick inserted in the center comes out clean.
Remove from the oven and allow to cool completely before frosting.
Lemon Buttercream
1 cup (2 sticks)(227 g) unsalted butter, softened
2 teaspoons (10 ml) lemon zest
5 cups (625 g) icing sugar, sifted
2 tablespoons (30 ml) fresh lemon juice
1/4 cup (60 ml) lemon curd
1/4 teaspoon (1.25) pure lemon extract
a pinch of salt
yellow food gel, optional
Directions for Lemon Buttercream
Cream butter and lemon zest in bowl of electric mixer fitted with paddle attachment, about 3 minutes.
Slowly add icing sugar, mixing on low speed for about 2 minutes.
Add remaining ingredients and beat on med speed for 3-4 minutes until very fluffy.
If using color gel, add a drop or two then beat until blended.
Lemon Curd
7 large egg yolks
3/4 C sugar
1/2 tsp. salt
1/2 Lemon
I stick of butter melted
Instructions
In large microwave safe bowl, whisk together sugar, salt, and eggs until smooth
Whisk in the lemon juice, and butter
cook in microwave for 1 minute
take out and whisk. microwave for another minute
keep doing this for about 3-5 minutes but take out and whisk after each minute
It is done when the curd can coat the back of a metal spoon.
Assembly of cake
Spread thin dollop of frosting on an 8-inch thin cake board or cake plate.
Transfer 1 cake layer to board, face up.
Create a dam around the perimeter of the layer using frosting in a pastry bag fitted with a coupler, then spread lemon curd (apprx 1 cup) inside the dam–this prevents the curd from reaching out over edges.
Top with second layer, face-up; repeat frosting around perimeter and lemon curd filling.
Top with third cake layer, face-down (brown smooth side up).
Spread thin layer (crumb coat) of over top and sides of cake, using offset palette knife and bench scraper for smooth finish.
Place cake in refrigerator for about 30 mines to chill.
Remove from refrigerator and using same method, frost cake with generous layer of frosting, smoothing again.
Cake By Sally's Baking Addiction
Enjoy!

Other cakes you may like!
This cake was featured here!