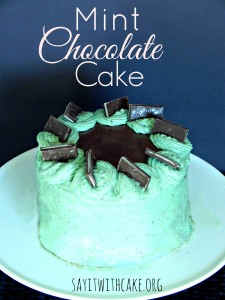 Chocolate and mint…..the perfect combination.  I have been in a real holiday baking mood this past week.  Of all the Christmas treats I made for everyone else, this baby was purely for me

I love mint chip ice cream, and I can down a whole bag of Andes mints all by myself! I had been waiting till September to make this cake because it is such a Christmas flavor.  So now that December is here,  I could finally try out my dream cake.  By the way, I bought two bags of Andes mints while making this cake, one for me and one for the cake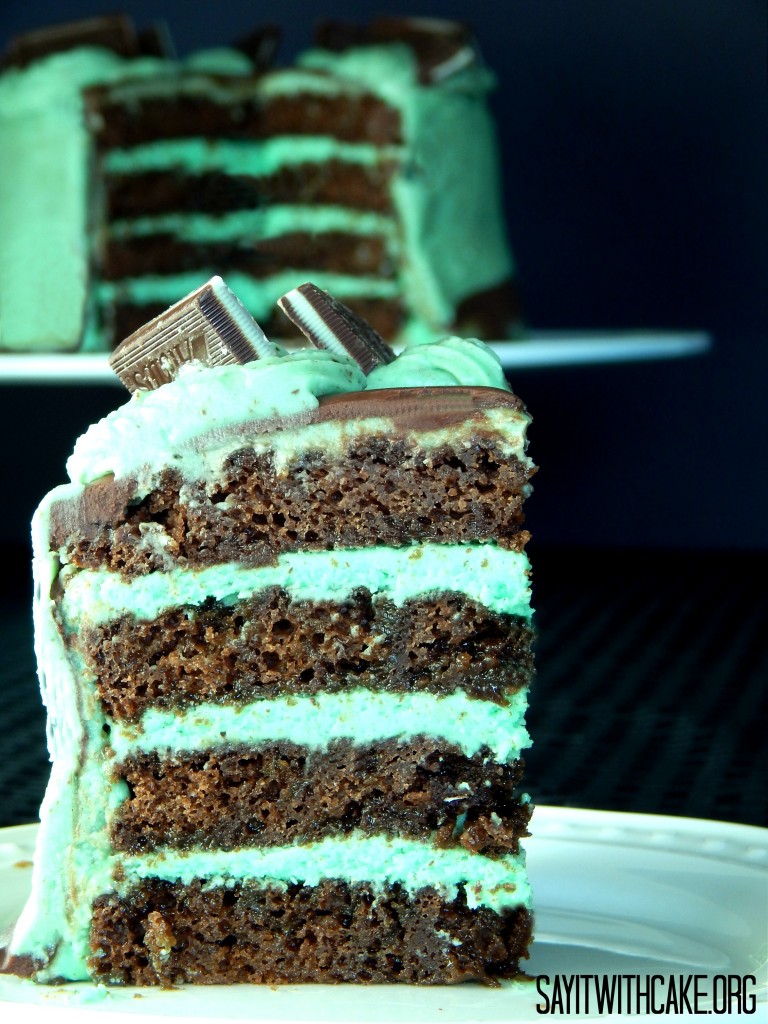 Mint Chocolate Cake
Ingredients
Cake

2 cups white sugar
1 3/4 cup all purpose flour
1 cup unsweetened, Dutch process cocoa powder
1 1/2 tsp baking powder
1 1/2 tsp baking soda
1 teaspoon salt
2 eggs
1 cup milk
1/2 cup vegetable oil
2 tsp vanilla extract
3/4 cup boiling water

frosting

2 sticks (1 cup) salted butter, slightly softened
1/3 cup heavy cream
2 tsp mint extract
1 tsp vanilla extract
Drop or two of green food coloring
4 cups powdered sugar
2 oz semisweet chocolate, finely chopped
Instructions
cake

Preheat oven to 350. Grease and flour 2 eight or nine inch pans.
In the bowl of a mixer, combine sugar, flour, cocoa powder, baking powder, baking soda, and salt. Whisk together until fully combined. Add eggs, milk, oil, and vanilla and beat on medium speed for 2 minutes. Scrape the sides of the bowl, then slowly stir in the boiling water. Pour batter evenly into prepared pans and bake for 30 -40 minutes, until tops of cakes spring back when you lightly touch in the center.
Remove cakes from oven. Allow to cool in pans for about 10 minutes, then remove to finish cooling on wire racks.

Frosting

Prepare frosting: In the bowl of a mixer, beat butter, cream, and both extracts on medium speed until smooth. With mixer speed on low, slowly add powdered sugar and mix until just combined. Add food coloring and increase speed to medium high and beat for about minute, until frosting is light, smooth, and fluffy. If frosting is too thick, add another Tablespoon or two of cream and beat for 30 more seconds. Add chopped chocolate and mix on low until incorporated. Frost cooled cake.
http://sayitwithcake.org/mint-chocolate-cake/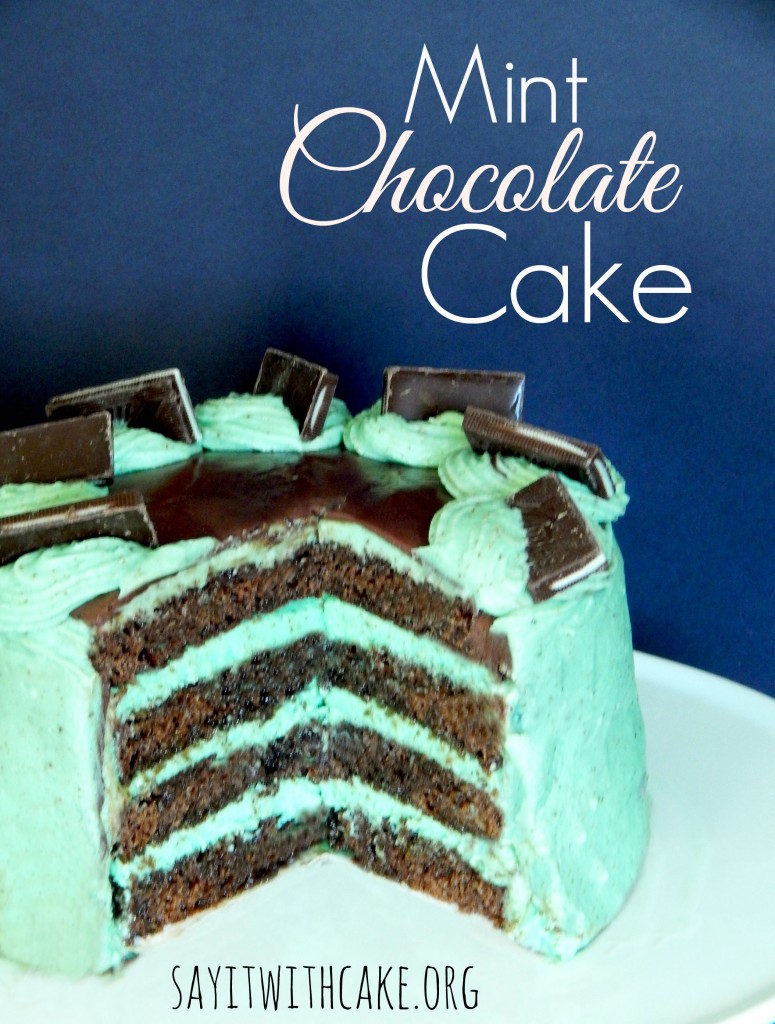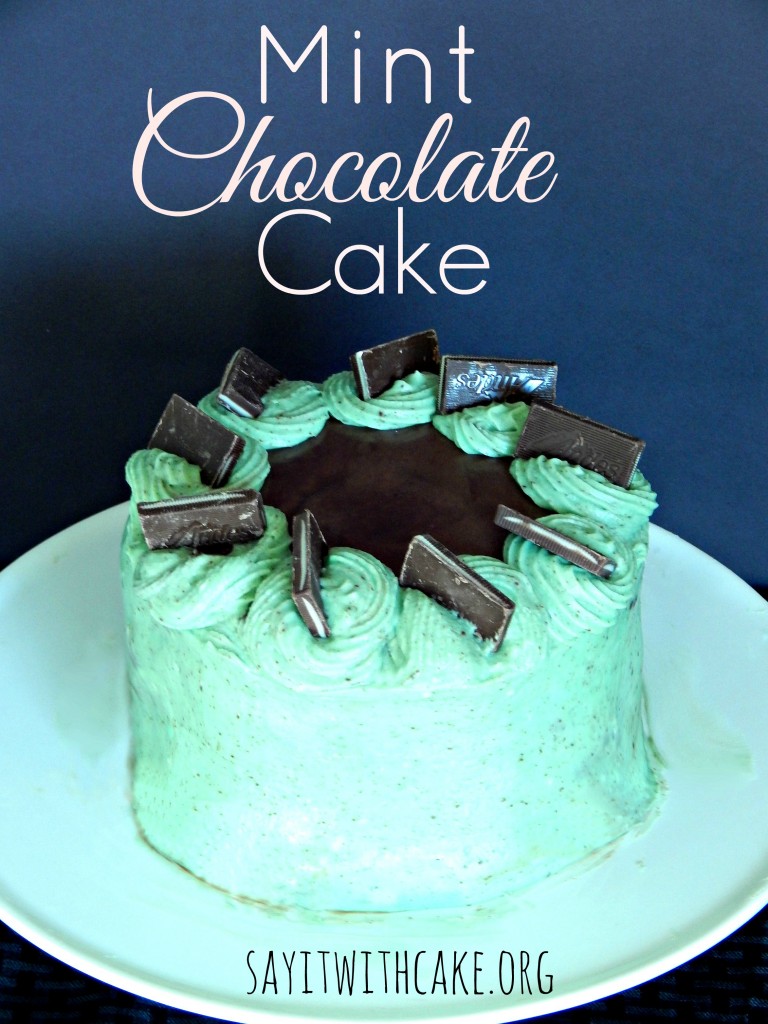 Enjoy!
Shamene
My cake was featured here!!