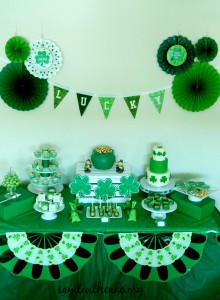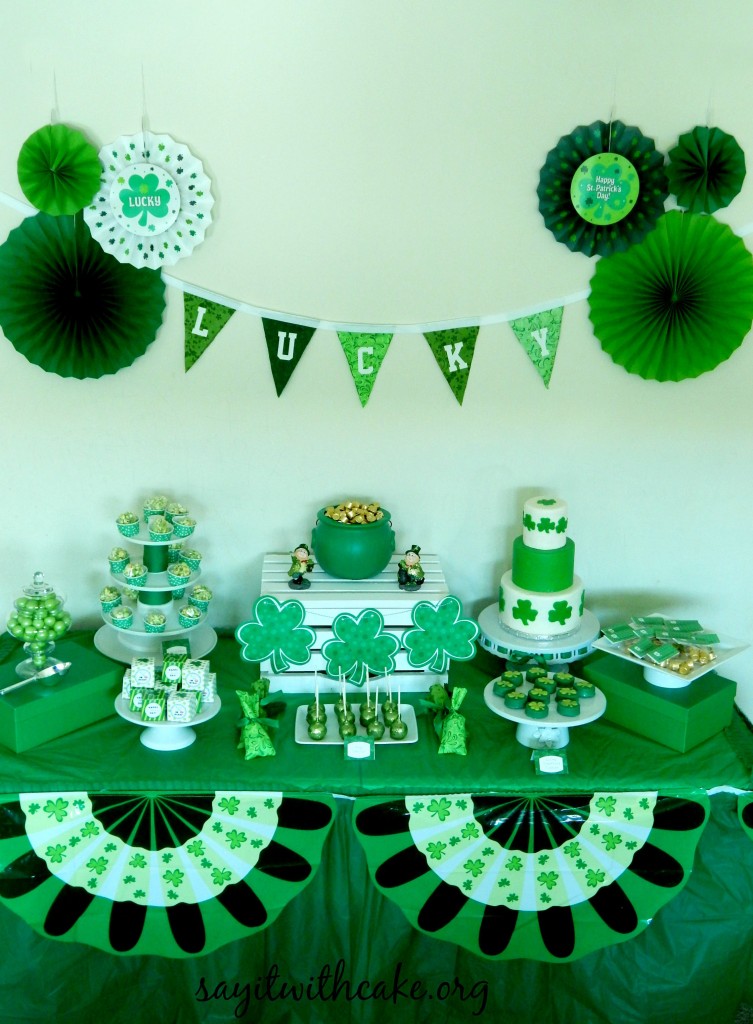 Today I am sharing my son's first St. Patrick's Day Party. It was everything he wanted, everything green, shamrocks, leprechauns, and gold coins!  I wanted to make this St. Patrick's Day Party a little healthier than my past parties.  I decided to use the green  color scheme to my advantage, and used many naturally green fruits and vegetables along with sugar free items, and of course some sweets too. I designed two different tables, let me know which one you like better!
Here is the first table I designed.  For this table, I made a easy non sew pennant banner with three different patterns of material.  I made gift bags with the left over material.  You can see other pennant banners I have made here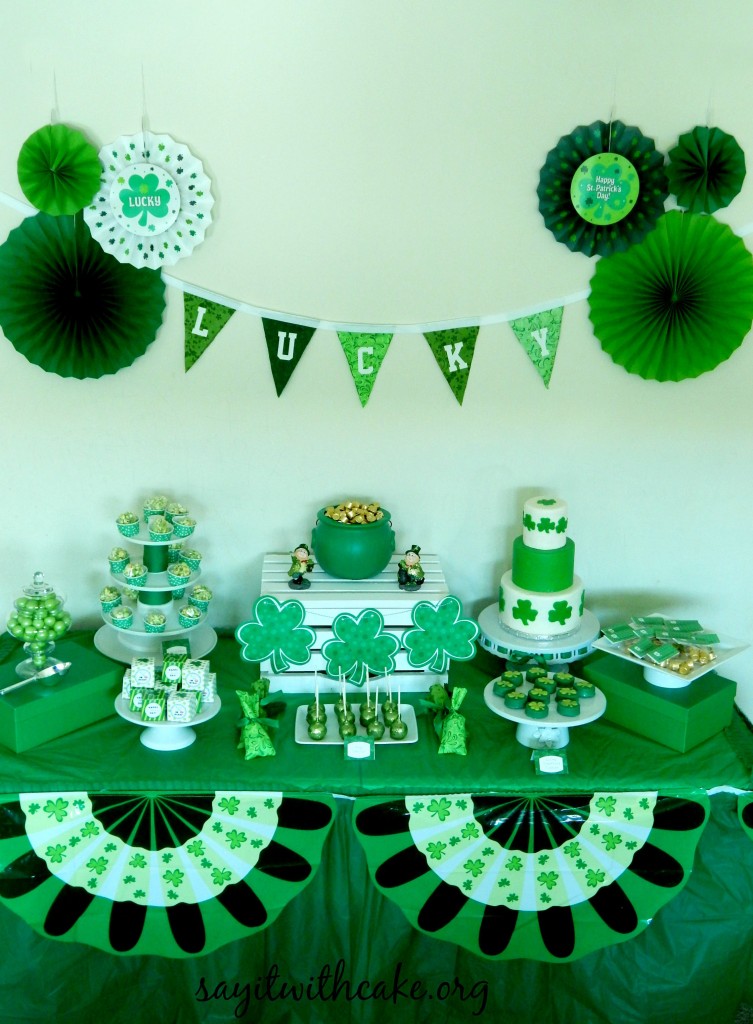 Another decoration that I thought made a nice look was the pinwheels.  It is a lot simpler then the pinwheels I used here for this party!
This is the second dessert table for this party, which one do you think is better?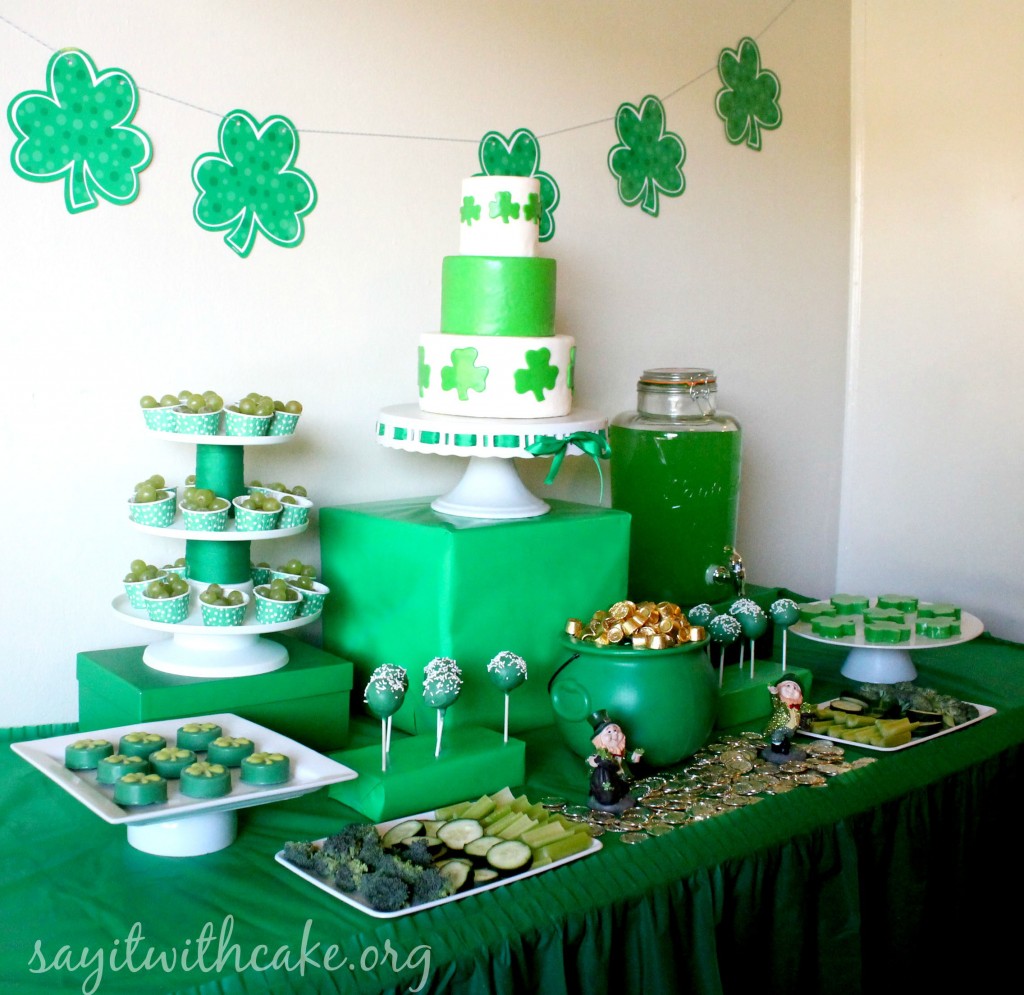 These cake pops were really fun and easy to make! I made a chocolate cake pop and let it completely dry.  Then I took a new paint brush and painted water all over the cake pop.  Next, I opened a bottle of green disco dust and painted it all over the cake pop.  When they dry they look just like this, very sparkly and pretty! You can see some other cake pops I made with disco dust here, and some other Saint Patrick's day cake balls here.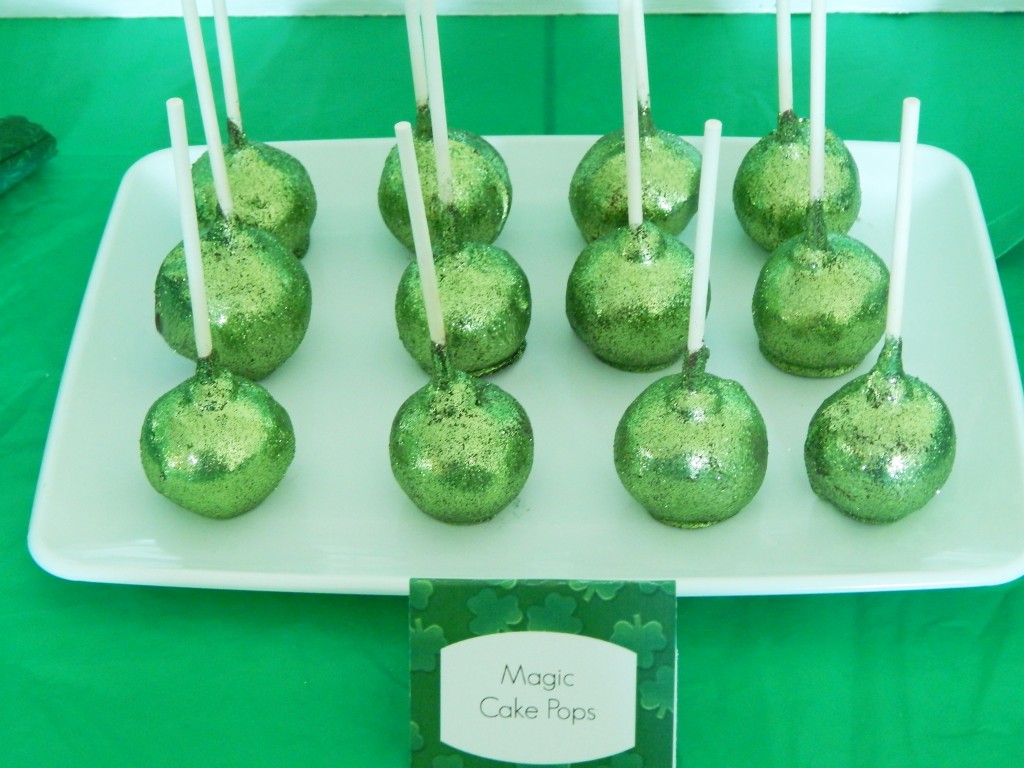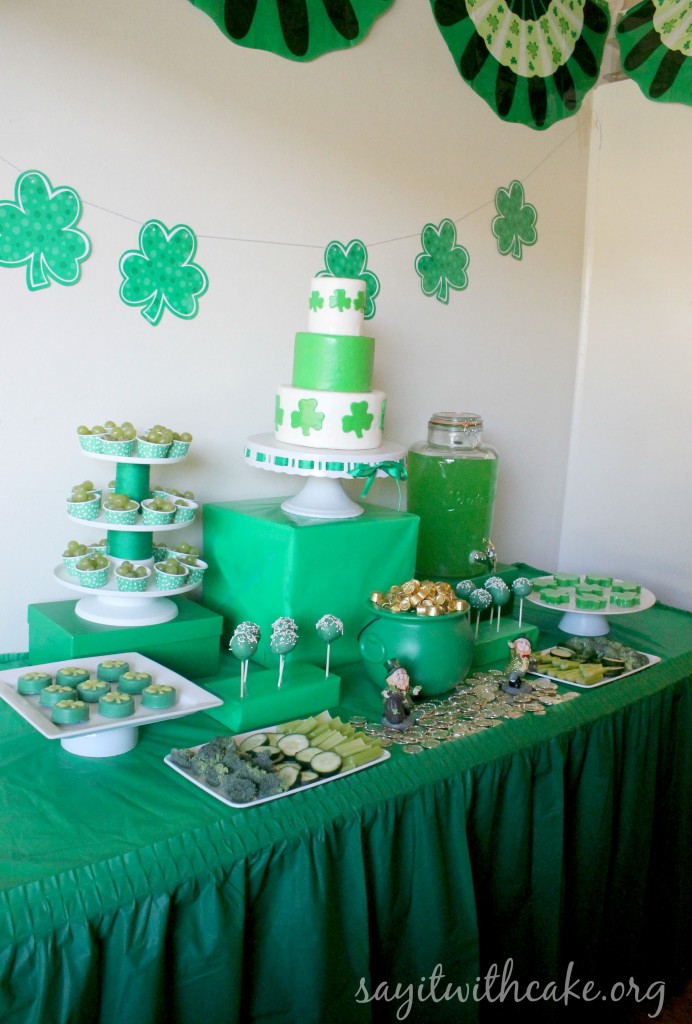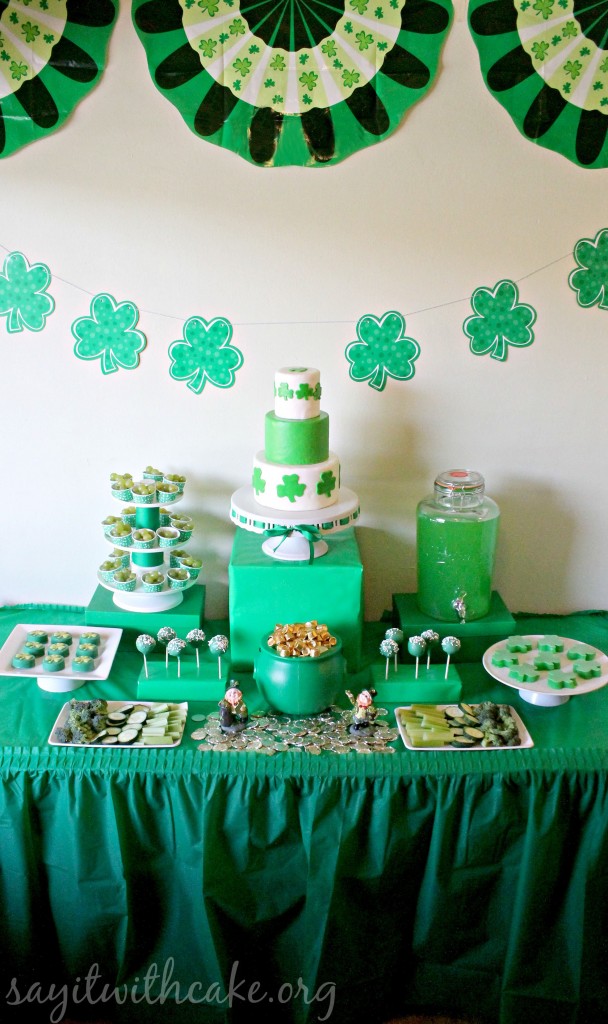 I bought little green cups that I got from Oriental Trading Co. and filled them with delicious green grapes.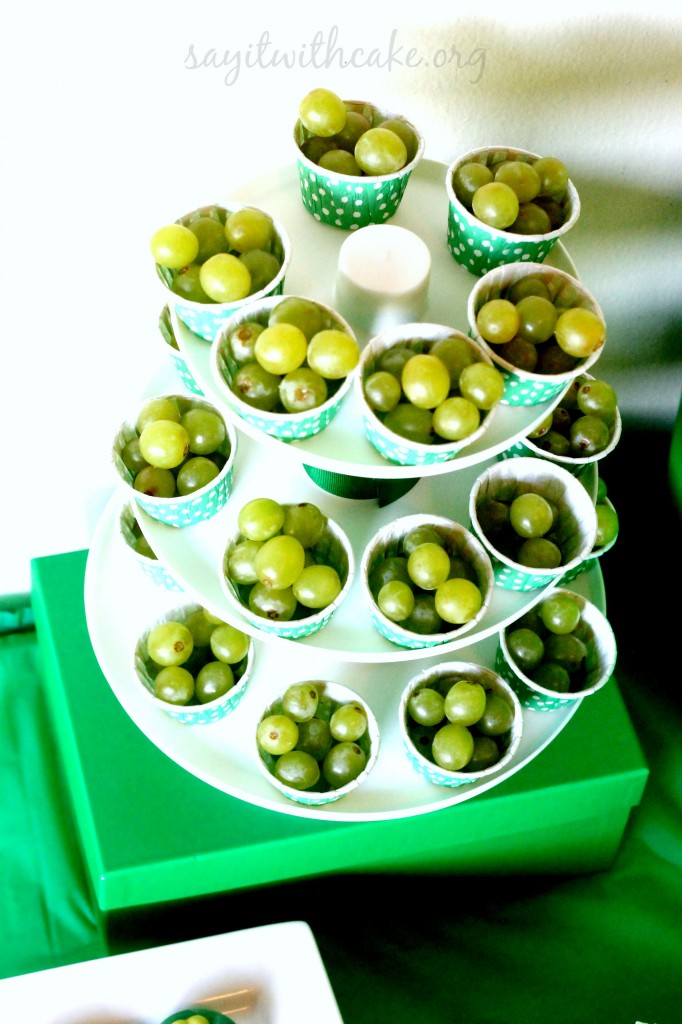 I made platters of green vegetables with broccoli, cucumbers, and celery.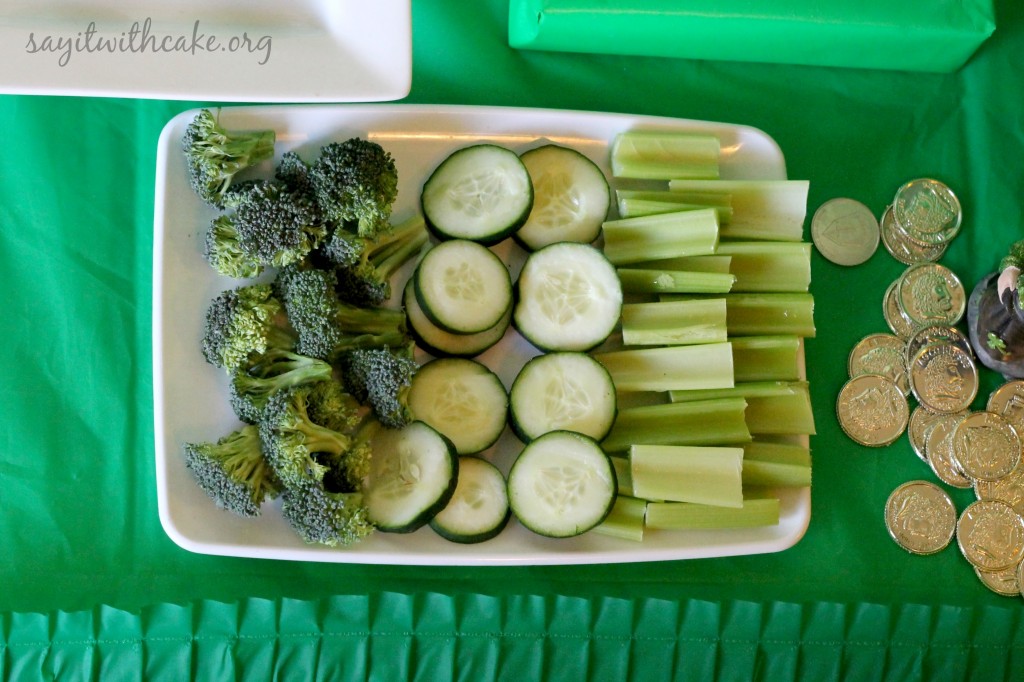 I made sugar free jello and cut them into shamrocks (another healthier choice). 
St. Patrick's Day ice cream jello shamrocks
Ingredients
Mix together to dissolve:
2 large packages (6 oz each) of green Jello (or any flavor)
1 packet of unflavored gelatin
4 cups boiling water
Add:
1 quart vanilla ice cream
Instructions
Mix together to dissolve:
2 large packages (6 oz each) of green Jello (or any flavor)
1 packet of unflavored gelatin
4 cups boiling water
Add:
1 quart vanilla ice cream (I would use less ice cream next time)
Stir til dissolved
Pour:
9 x 13 glass dish
Refrigerate overnight, cut and serve! The ice cream will float to the top of the jello.
Cut shamrocks out with a cookie cutter and enjoy!
http://sayitwithcake.org/st-patricks-day-party/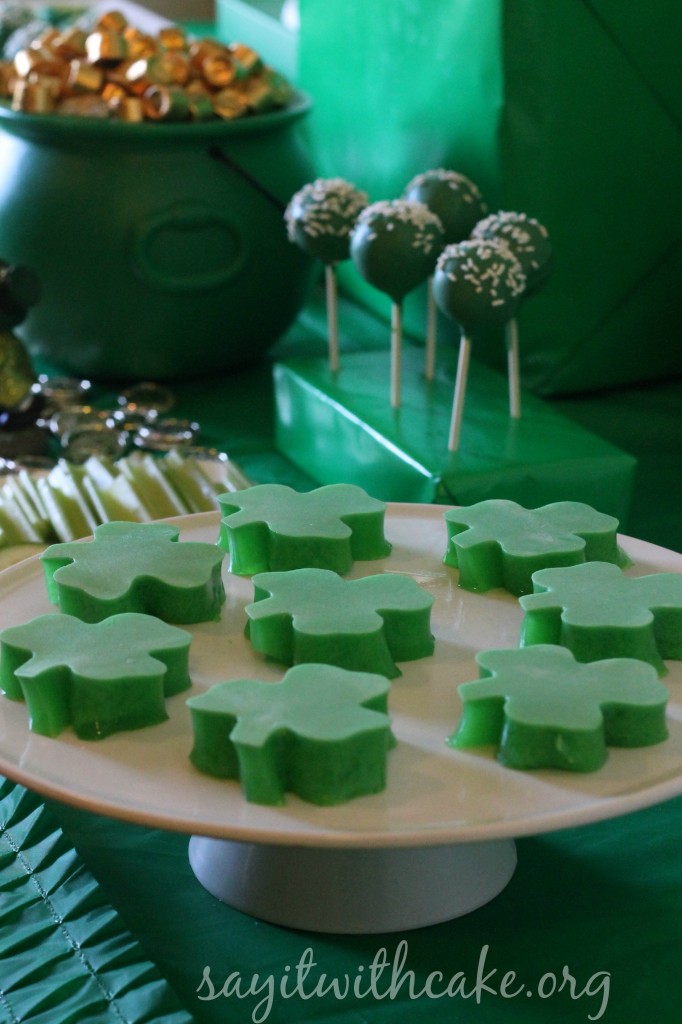 I made kiwi strawberry juice, instead of the usual sugar packed punch or soda.  I got to use my new beverage dispenser, and it worked great!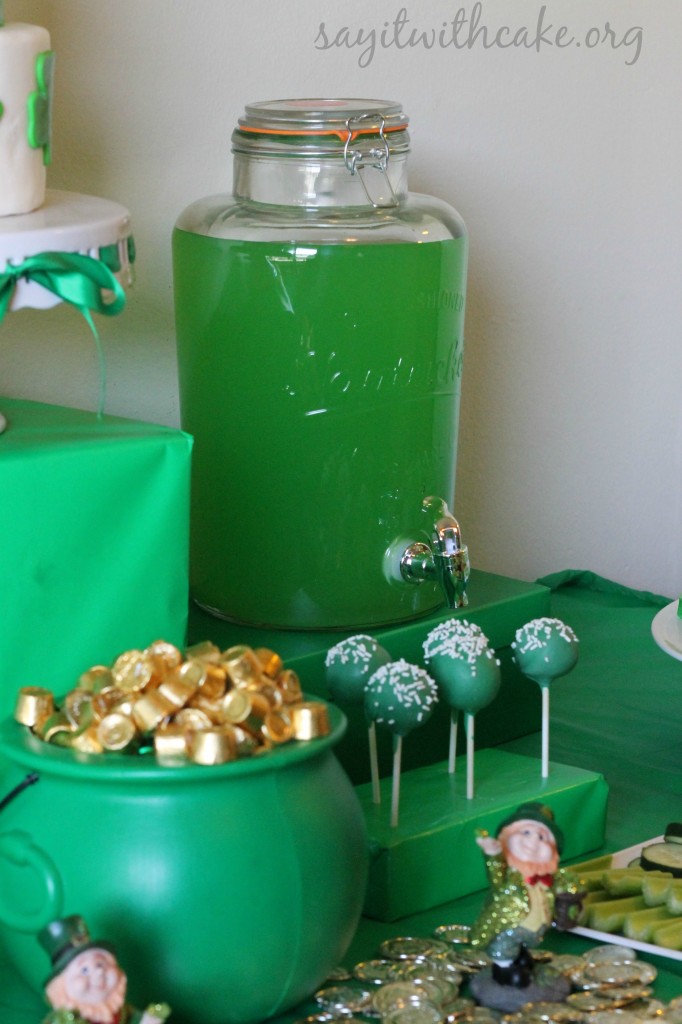 Now on to the non healthy items 🙂  The cake is three tiered and I made the fondant myself. You can find the recipe Here.  For this cake I made two batches of marshmallow fondant.  I rolled out the green fondant thin and cut out the shamrocks with cookie cutters, using two different sizes.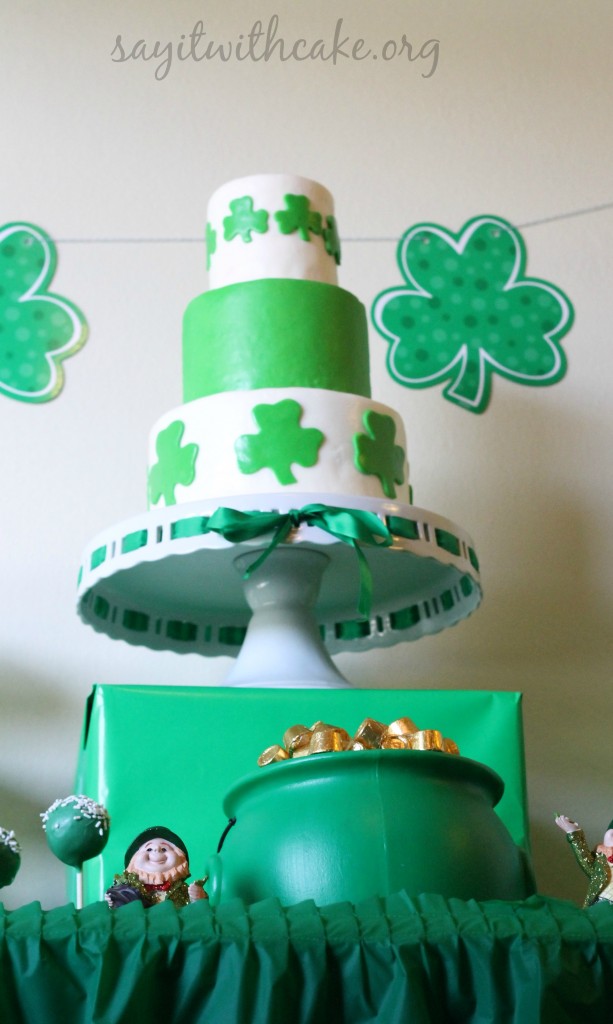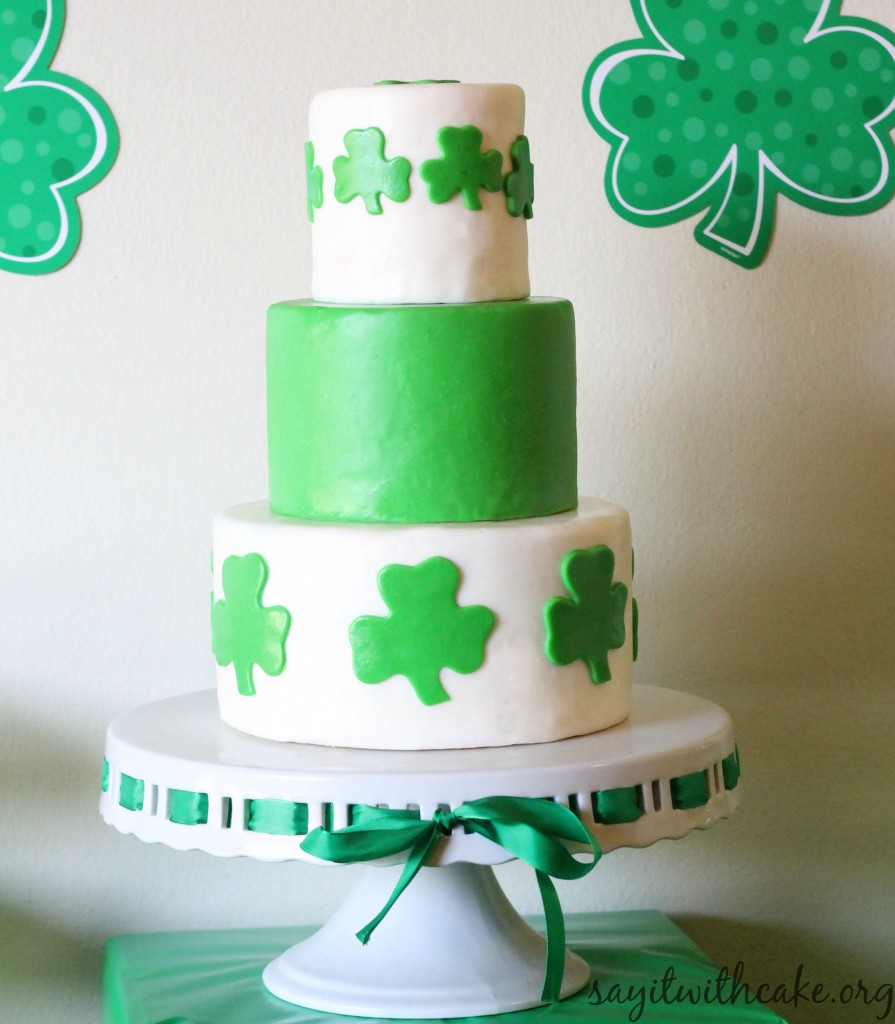 I made these cookies with a mold I got on Amazon.com.  I painted green chocolate on the shamrock, then placed an Oreo cookie inside.  After that, I covered the cookie with more green chocolate.  I used wilton candy melts.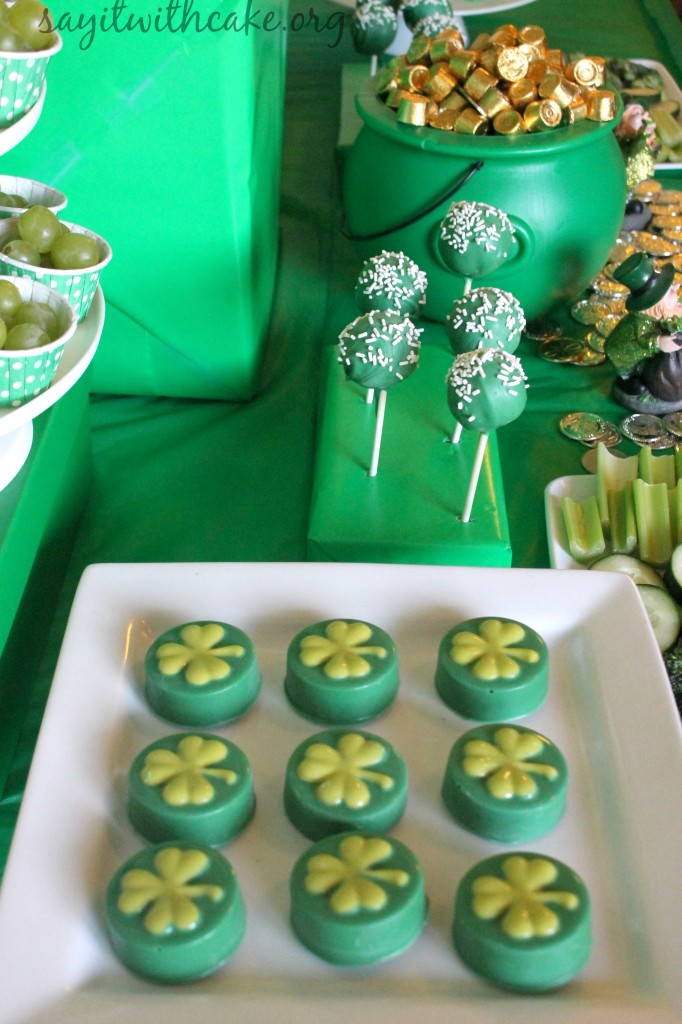 The cake pops are vanilla cake with green chocolate, and white sprinkles.  I think cake pops always make a party more festive!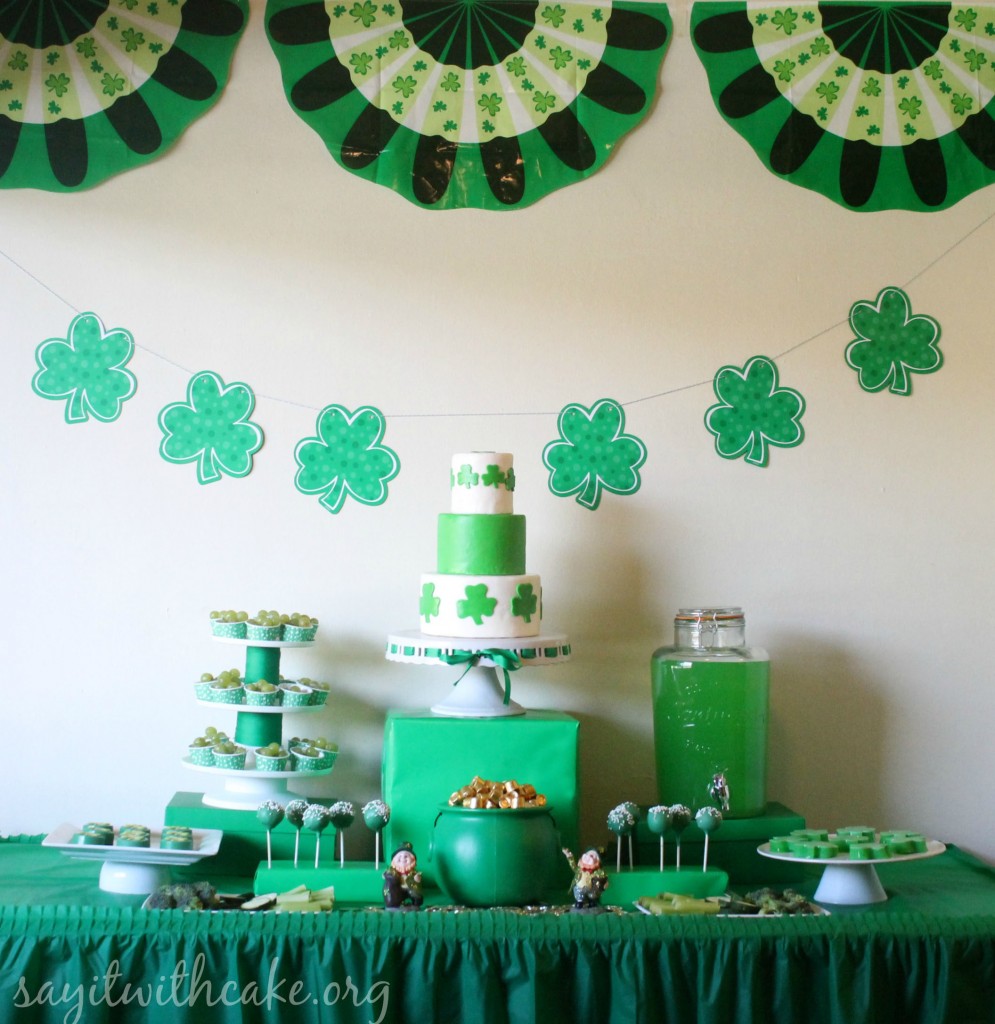 I filled a green leprechaun pot with gold rolos, they are so cute and look just like gold.  These two leprechauns add the perfect finishing touch to the table.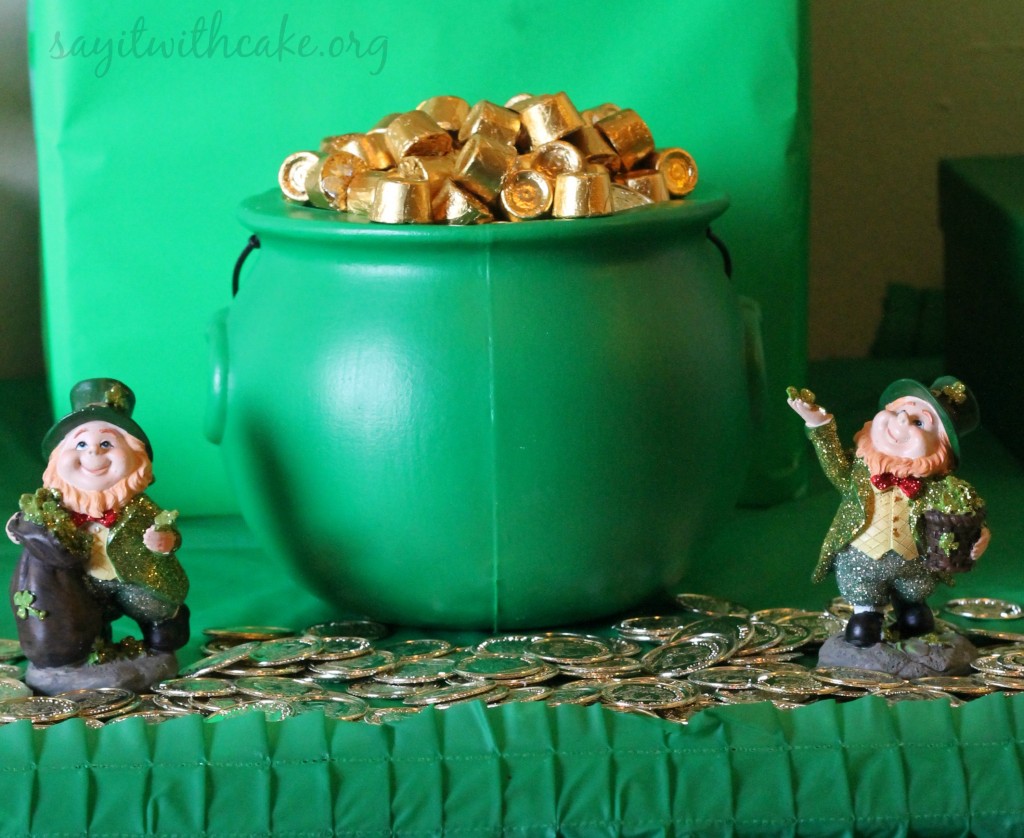 I hope you like my party and that you can use some of my ideas and recipes for your next St. Patricks Day party!
Enjoy,
Shamene 
Other St. Patrick's Day ideas you might like