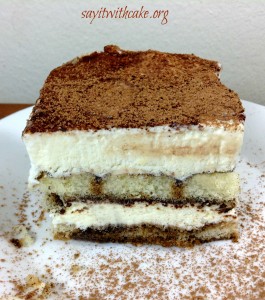 Tiramisu is a popular coffee-flavored Italian dessert. It is made of ladyfingers dipped in coffee, layered with a whipped mixture of eggs, sugar, and mascarpone cheese, flavored with cocoa.  I first had this delicious dessert at my friend Mike's Italian restaurant.  I always want to order it every time I go, but sometimes they run out of the Tiramisu.  I decided I needed to learn how to make it myself!
Here are the steps to making the tiramisu.  First you will make the Mascarpone cheese a day in advance.  If  you decide to buy the Mascarpone cheese, then that is ok, but just know it is really easy to make! All you need is heavy whipping cream and lemon juice!
Mascarpone is an Italian cheese made from cream, coagulated by the addition of certain acidic substances, such as lemon juice, vinegar, citric acid or acetic acid.
To make Mascarpone Cheese
Pour whipping cream into a heavy glass bowl; submerge in water (up to the level of the cream in the bowl) in a saucepan.
Bring water to a boil over medium-high heat until cream reaches 190 degrees (just below the boiling point – it will be very frothy and steamy), stirring frequently.
Keeping bowl in the water, pour in lemon juice and stir continuously until cream becomes very thick and coats the back of a spoon, about 5-10 minutes.
Remove from heat and allow to cool for 20 minutes.
Line a fine-mesh strainer or sieve with cheese cloth or a coffee filter (you'll need more than one if you double the recipe) and suspend over a bowl. Pour in thickened cream.
Once cream cools completely, move the strainer and bowl to the refrigerator. 24 hours later, peel off the coffee filter and put your finished cheese in a container.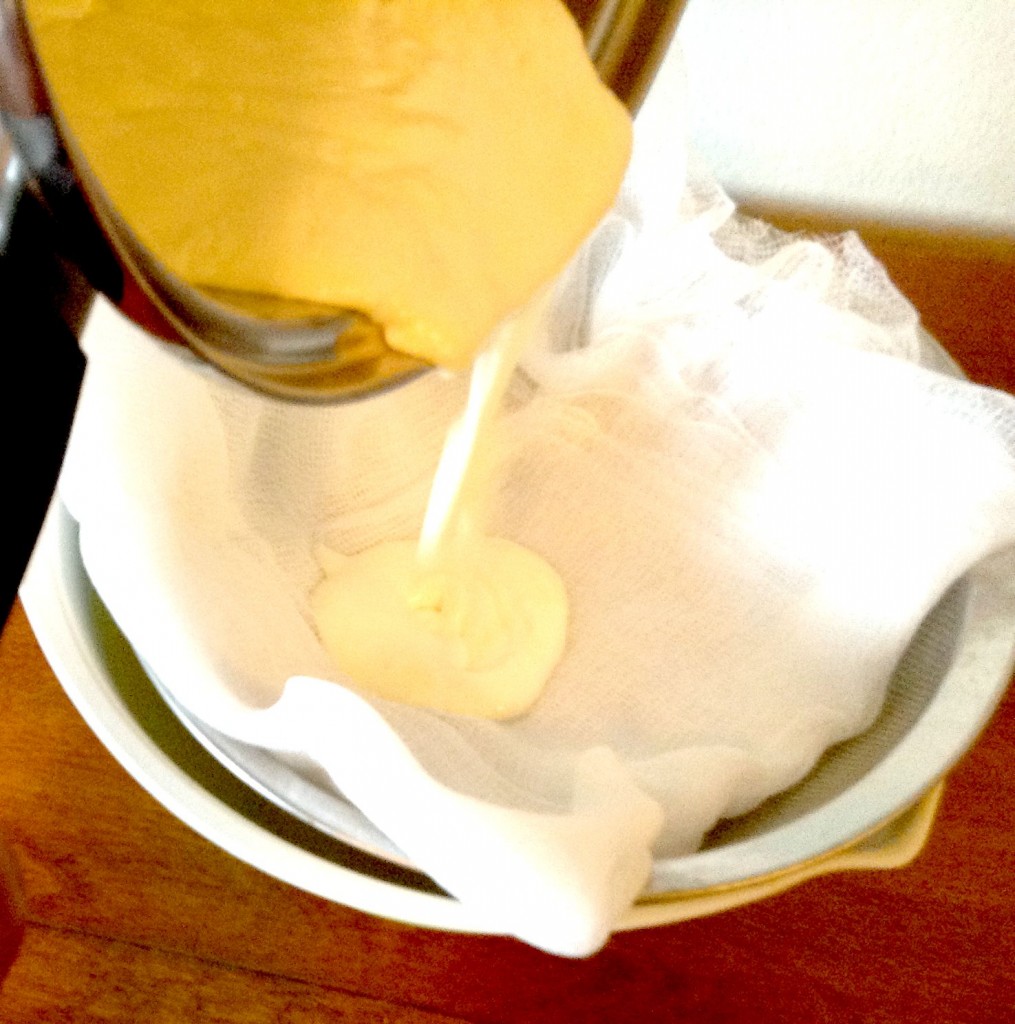 After you pour the mixture into the cheese cloth, cover it and let it sit in the refrigerator 8-24 hours.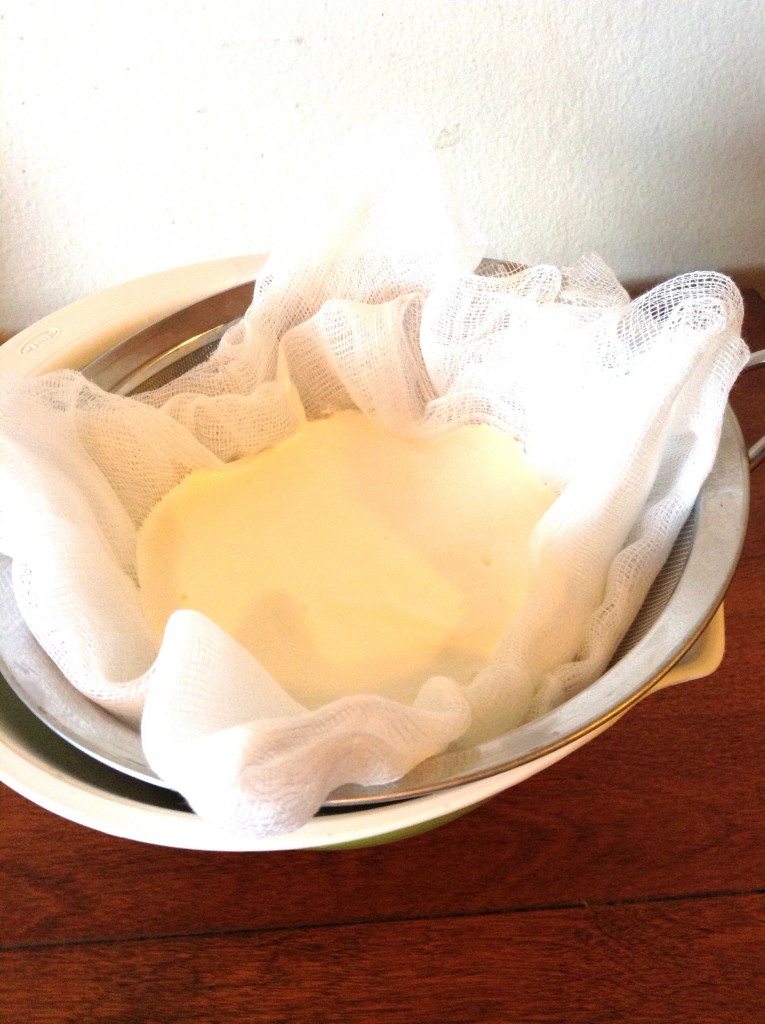 After you take it out of the refrigerator, it will be a nice soft consistency but will hold its shape.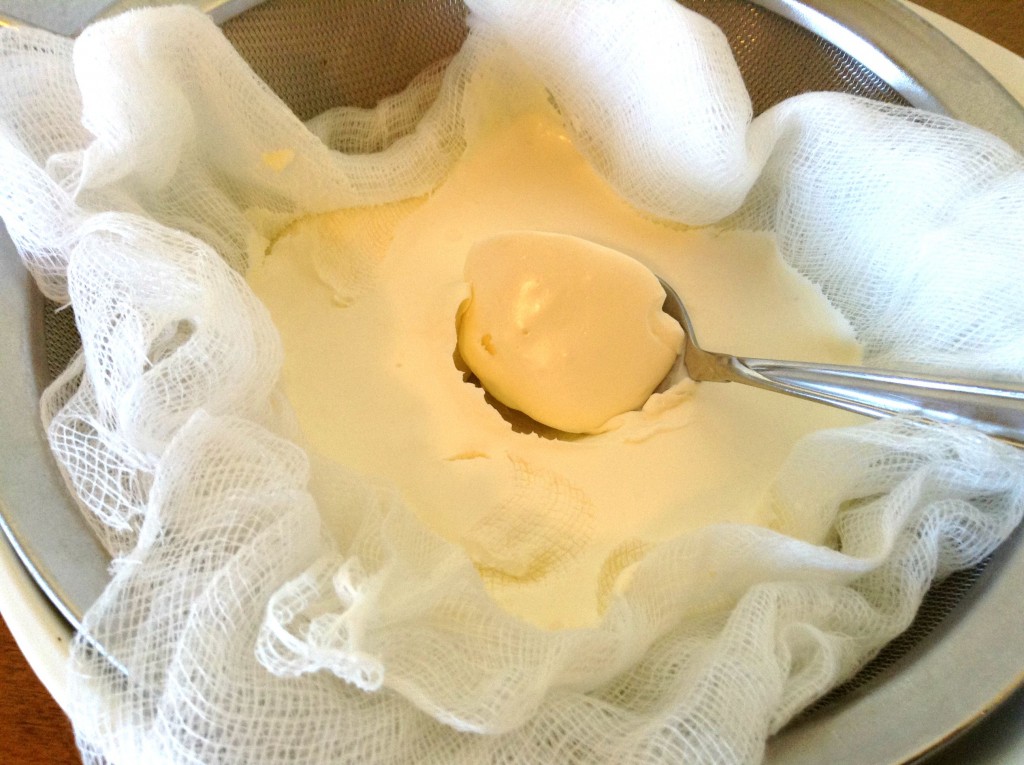 Next, make the sponge cake if you decide to do that or if not, you can use lady fingers.  For my first Tiramisu I made a sponge cake.  The second Tiramisu I used lady fingers.  They were both tasty and I suppose I prefer the lady fingers because it takes less time! After that, make the  crème.
Dip the lady fingers in the coffee mixture.  Only dip for a few seconds or they will become too soggy! Place them in the pan.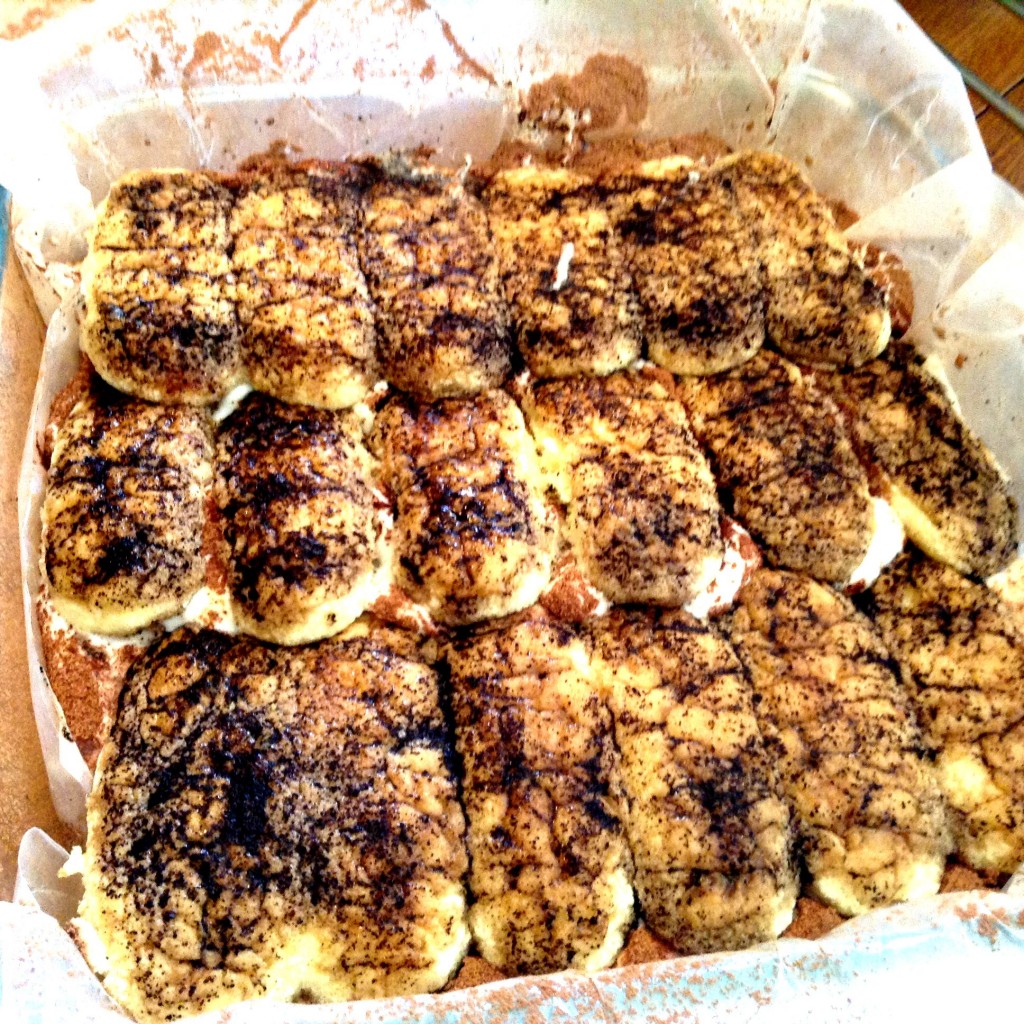 After you layer the lady fingers, pour half of the crème onto the lady fingers.  Repeat with another layer of lady fingers and the rest of the crème.  Sprinkle cocoa powder into a sieve and sprinkle over the top of the Tiramisu.  Place in the refrigerator for at least 12 hours.  They say it tastes the best after refrigerating for 2 days, but I couldn't wait that long! Before I took a picture of this cake I had set it in the freezer.  Once it is at room temperature, the crème filling tends to not hold its shape as well as this picture.  This Tiramisu is so delicious I'm sure you will love it!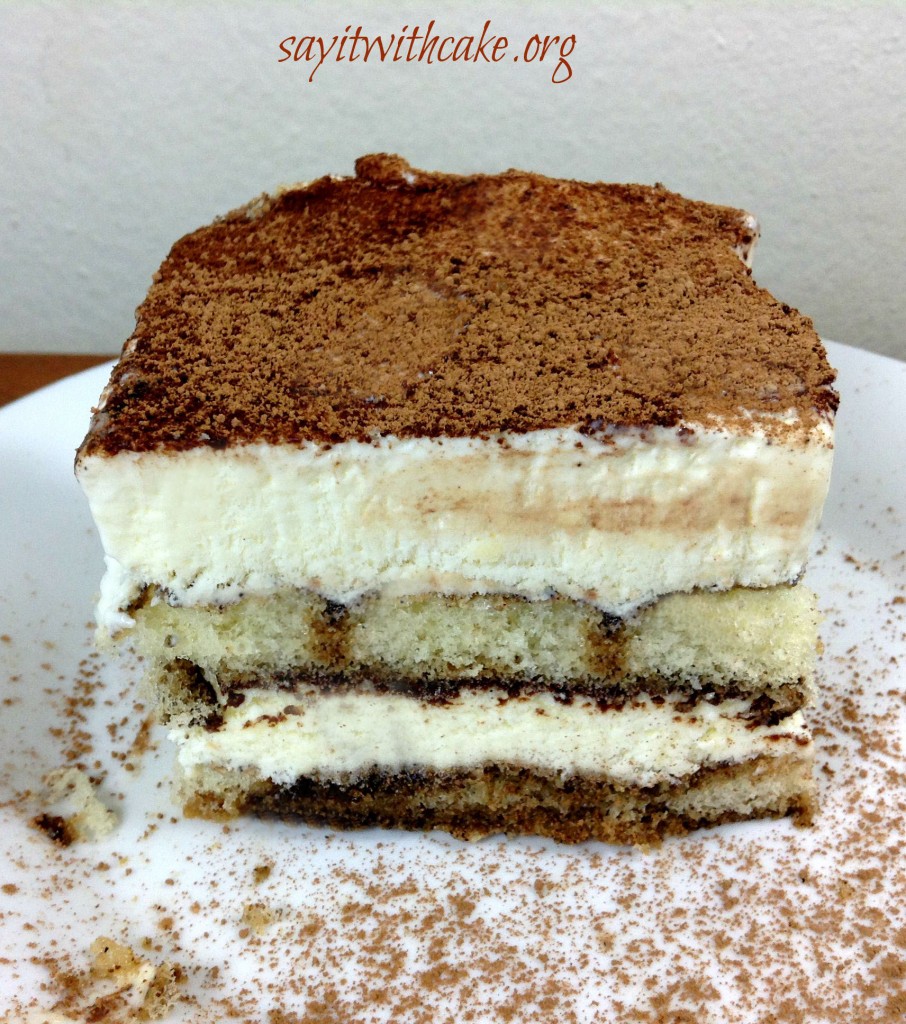 Ingredients
For the sponge cake

6 eggs
1 c flour
1 tsp baking powder
3/4 c sugar

Creme

6 egg yolks
1 1/4 cups sugar
1 1/4 cups mascarpone cheese
1 3/4 cups heavy whipping cream
1 (17.5 ounce) package ladyfingers

For the coffee mixture

6 tbsp warm water
4 tbsp espresso
2 cups Kahlua
1 tsp cocoa powder, for dusting
Instructions
For the sponge cake

mix the eggs and sugar in kitchen aid for 7-10 minutes until pale in color and thick.
mix baking powder and flour together in small bowl
sift in the flour into the egg mixture little at a time in 5 increments. Fold in carefully.
put into 9 inch springform pan lined on bottom with parchment paper and greased on bottom but not on the sides.
Preheat oven to 350
cook 10-12 minutes if cooking in 2 8 inch pans, or 20 minutes if cooking in a 9 inch spring form pan. Either way, check with a toothpick to see if it is done.
let cool 10 minutes in pan
take out of pan and cool completely.

crème

Prepare a 9x13 baking dish. If you want to be able to remove the tiramisu from the pan when done so that you can see the layers, I suggest lining the pan with parchment paper that sticks up over the sides, then putting a cardboard cake rectangle in the bottom of the pan. The tiramisu will be supported by the cardboard when you remove it using the parchment paper.
Combine egg yolks and sugar in the top of a double boiler, over boiling water. If you don't have a double boiler, you can use a metal mixing bowl set over a pot.
Cook for about 10 minutes, with heat on low, stirring constantly.
When done, whip yolks with mixer until they thicken and yellow a bit.
Add mascarpone to whipped yolks and mix until combined.
If you have a second metal mixing bowl, use it for your whipped cream. If not, put mascarpone mixture into another bowl and get your metal mixer bowl clean.
Place metal bowl and whisk into freezer for about 15-20 minutes.
Remove bowl and whisk from freezer, add whipping cream to bowl and whip with mixer. Whip until soft peaks form, about 5-7 minutes.
Fold whipped cream into mascarpone mixture.
Dissolve espresso into warm water, then combine with the Kahlua.
One at a time, dip the ladyfingers into the Kahlua mixture for about 4-6 seconds. The longer you dip the ladyfingers, the stronger the flavor will be. As you dip the ladyfingers, lay them into the bottom of the 9x13 pan. You should be able to get two rows in a layer.
Spoon half of the mascarpone mixture over the ladyfingers.
Repeat ladyfinger layer, then top with remaining mascarpone mixture.
Dust the top with cocoa powder.
Refrigerate for several hours or overnight, then remove from pan (if desired) and serve.
http://sayitwithcake.org/tiramisu/
Enjoy!