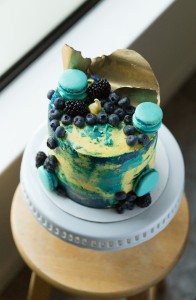 This is a three layer lemon blueberry cake with lemon Swiss meringue buttercream and lemon curd.  It is topped with macarons, blueberries, blackberries, and a chocolate sail.
For this cake, I made my lemon blueberry cake.  The recipe is Here.  This is one of my favorite cakes, mostly because of the lemon curd! I made this cake for my nephew Rueben. My sister waited till he was born to find out if it was a boy or girl.  After he was born, instead of a baby shower he had a meet and greet. 
The frosting for this cake was lemon Swiss meringue buttercream.  I frosted the cake with the yellow buttercream, then mixed up the remainder white butter cream into 3 different shades of blue.  I dabbed blue buttercream here and there to make a watercolor design.  Then I put on some gold leaf around the cake.  I also splattered some gold luster dust in random places on the cake.  To finish it up, I added blueberries, blackberries, macarons, and a chocolate sail with gold leaf. 
Below is a picture of what this cake looks like inside.  It is a picture from my original lemon blueberry cake.
Lemon Swiss Meringue Buttercream
Ingredients
7 egg whites (210 g)
1-1/2 cups (300 g) sugar
Pinch of salt
2 cups (454 g) unsalted butter, softened and cut into cubes
1/4 cup (60 ml) lemon curd
1 teaspoon (5 ml) pure vanilla extract
Few drops of soft gel paste color, yellow
Instructions
Wipe the bowl of an electric mixer with paper towel and lemon juice, to remove any trace of grease.
Add egg whites, sugar and salt, and simmer over a pot of water (not boiling), whisking constantly but gently, until temperature reaches 160°F, or if you don't have a candy thermometer, until the sugar has completely dissolved and the egg whites are hot.
With whisk attachment of mixer, begin to whip until the meringue is thick, glossy, and the bottom of the bowl feels neutral to the touch (this can take up to 10 minutes or so). *Don't begin adding butter until the bottom of the bowl feels neutral, and not warm.
Switch over to paddle attachment and, with mixer on low speed, add butter cubes, one at a time, until incorporated. Increase mixer speed to medium and whip until it has reached a silky smooth texture (if curdles, keep mixing and it will come back to smooth). *If mixture is too runny, refrigerate for about 15 minutes and continue mixing with paddle attachment until it comes together. Add lemon curd and vanilla, continuing to beat on medium speed until well combined. Add yellow soft gel paste color until desired shade of yellow is achieved.
http://sayitwithcake.org/blueberry-lemon-cake/
recipe by Sweetapolita
Photography by Wendycoxphotography
Enjoy!