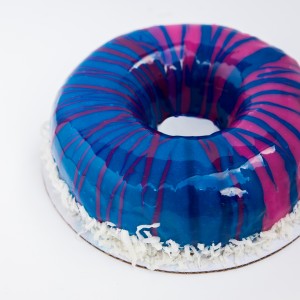 I had so much fun pouring the mirror glaze on this cake with my mom! It was fun making her laugh when I tried to put the extra glaze back inside the bowl and it got all over my hands.  It was fun watching her be amazed as I poured the stripes and they sunk into the mirror glaze and dripped off.  It was really great having my mom here seeing this process and appreciating how much work goes into this simple looking cake!! I made this donut shaped entremet with caramel mousse in the center, and chocolate mousse on the outside, and covered in white chocolate mirror glaze.  I made this cake for my good friend Lynn's son who is getting baptized! Her son has been friends with my son since they were 1 years old! I can't believe he's 8 now and getting baptized!
The mold I used for this entremet is from silikomart, the savarin mold.  It looks like this
For the insert, I used caramel mousse.  I froze it over night.  In the morning when it was frozen solid, I placed it inside the bigger mold on top of some chocolate mousse.  Then I filled the remaining space with chocolate mousse.  I put that in the freezer for 8 hours.  When you are filling the mold with mousse, it is very important that you make sure all the space is filled with mousse.  If there is an area with no mousse, you will have holes in your cake.  When you pour the mirror glaze, you will see all the imperfections.  A good way to prevent this is to use a piping bag with a smaller tip.
When the mousse was frozen, I took it out of the mold.  It comes out pretty easy when it is frozen.  I placed in on top of a cup over a cookie sheet.  I then poured the mirror glaze over the cake and let it dry.  I put coconut around the edges for decorations.  I used blue and pink mirror glaze, but you can use any colors you want! Get creative!
Chocolate Mousse:
4g gelatin + 20ml cold water
2 egg yolks
40g sugar + 20ml water
150g dark chocolate, melted
250g heavy cream, whipped
Caramel Mousse:
4 egg yolks
30g powdered sugar
1 pinch salt
180g sugar
30g butter
30ml water
8g gelatin + 45ml cold water
200ml heavy cream, whipped
Chocolate Mousse:
Bloom the gelatin in cold water for 10 minutes.
This mousse starts with a pate a bombe which is made by boiling a sugar syrup from 40g sugar and 20ml water. Mix the egg yolks until creamy then gradually stir in the hot sugar syrup and keep mixing until the yolks become creamy and thick.
Melt the gelatin and stir it into the egg yolks cream. Add the chocolate and mix well. Let the mixture cool to room temperature.
Fold in the whipped cream.
Caramel Mousse:
Bloom the gelatin with 45ml cold water for 10 minutes.
Mix the egg yolks with powdered sugar and salt in a heatproof bowl. Place the bowl over a hot water bath and mix until creamy and double in volume. Remove from heat and place aside.
Melt the sugar in a heavy saucepan. When the sugar has an amber color, stir in the butter then add 30ml water and cook just until smooth.
Remove the caramel from heat and pour it over the egg yolks.
Add the gelatin and mix until smooth then let the mixture come to room temperature.
Fold in the heavy cream.
 I would love for you to make this entremet! If you do, please post a picture in the comments below or on Instagram @sayitwith_cake.  Thank you so much for stopping by!
Enjoy!