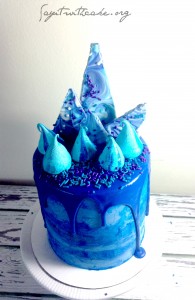 My son is the only kid I know who celebrates his half birthday.  It started years ago when he asked me when his half birthday was.  He just couldn't wait to be able to say he was 4 1/2.  So this year he wanted a half birthday party lol.  Since he is our only child and I only get to make one cake for him a year I agreed to make him a small party and a cake! His favorite color is blue so I made the cake with as much blue as I could! I based my cake on some of my idol Katherine Sabbath's cakes.  I love how she makes colorful drips and tall chocolate bark pieces!
This cake has a few components.  First is the cake itself, the frosting, the colored ganache, the meringue kisses, and the chocolate bark shards.
Chocolate Dobash Cake
Ingredients
eggs, separated
1-1/2 cups sugar
1-1/2 cups cake flour
3/4 teaspoon baking soda
3/4 teaspoon salt
1/3 cup cocoa powder
1/3 cup vegetable oil
1 cup milk
Instructions
Preheat oven to 350 degrees. Grease and flour 2 8-inch pans.
Beat egg whites until frothy; gradually beat in 1/2 cup sugar until stiff.
Sift together remaining 1 cup sugar, flour, baking soda, salt and cocoa. Make a well in center; add oil and half of milk. Beat until well-blended at medium speed. Add remaining milk and egg yolks; beat until smooth.
Fold mixture into egg whites. Pour batter into pans and bake 30 to 35 minutes. Cool, then slice each layer in half to make 4 layers.
Buttercream icing
Ingredients
1 1/2 cup sweetex or crisco
1/4 teaspoon salt
1 teaspoon meringue powder
2 pounds powdered sugar
1/2 cup milk or water
1 tsp vanilla
Instructions
mix the sweetex, salt, and meringue powder with electric mixer to blend aobut 30 seconds
Add the milk in the bowl, then add the sugar and blend by hand with a spatula until the sugar is absorbed into the liquid
put bowl back on the mixer and beat on medium speed for 2-5 minutes until smooth and a little fluffy.
if mixture is too stiff, you can add more liquid. if it is too runny add more powdered sugar
For the Baked Meringues: recipe from Sweetapolita
Ingredients
3 egg whites, room temperature
3/4 cup (150 g) superfine sugar
Pinch of cream of tartar
1 teaspoon pure vanilla extract
Powdered food colour (petal dust) in turquoise and pink (or other desired shades)
Edible glitter in white, optional
Instructions
I bought extra long candles so I could cut one in half and make the 5 and a half candles lol! He loved it as you can see!