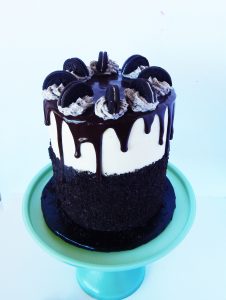 6 layers of dark chocolate cake, cream cheese cookies and cream frosting, covered in cookie crumbs, dark chocolate ganache, and Oreos on top!
Cookies and Cream Layer Cake
Dark Chocolate Cake  by A Family Feast
Ingredients
2/3 cup dark cocoa powder (we used Hershey's Special Dark Cocoa Powder to get that deep dark color)
1 cup hot strong brewed coffee
1 pinch cayenne
1/2 cup vegetable oil
2 cups sugar
2 large eggs
1 cup buttermilk
1 teaspoon vanilla
1 3/4 cups all purpose flour
1 teaspoon salt
2 teaspoon baking soda
1 teaspoon baking powder
Butter for greasing the pans
Two parchment circles, cut the size of the bottom of your cake pans
Cocoa for dusting the pans
Preheat oven to 350 degrees.
Directions
In a small bowl, dissolve cocoa powder and cayenne with hot brewed coffee and set aside.
In the bowl of a stand mixer with paddle attachment, cream oil and sugar until well combined.
Add eggs and beat until light and creamy, about 1-2 minutes. This process beats air into the mixture. Scrape paddle and bowl and beat once.
Slowly add in coffee/cocoa mixture, buttermilk and vanilla and beat until batter is smooth. Scrape paddle and bowl and beat once.
In a separate bowl, sift flour, salt, baking soda and baking powder. Add dry ingredients to wet and beat on low speed to incorporate. Scrape down bowl and mix just until all ingredients are combined, do not over mix once flour is in.
Butter the bottom and sides of two 9-inch cake pans and place a round parchment circle in each. Butter the top of the parchment then sprinkle the whole inside of the parchment and pan with cocoa powder, shaking out excess. Pour batter evenly between two pans and place in center of oven. (note, aluminum baking pans are by far, the best for baking cakes. Non-stick and dark colored pans can change the cake by browning it more than it needs to)
Bake 30-35 minutes or until a tooth pick inserted into the center comes out clean. Depending on your oven, you may need to rotate cake pans half way through. During our baking, one cake was done in 30 minutes and the second in 32 minutes. Do not over bake.
Cool pans on wire racks for ten minutes then carefully invert out of pan onto rack to cool further.
Cream Cheese Frosting (quadruple the recipe for filling, outside of cake, and garnish)
Ingredients
8oz cream cheese, room temperature
½ cup (1 stick) unsalted butter, room temperature
1 cup powdered sugar
1 tsp pure vanilla extract
Directions
Place the cream cheese in a mixing bowl.
Using a hand mixer, beat until smooth.
Gradually add the butter 2 Tablespoons at a time, and continue beating until smooth and well blended.
Add powdered sugar and vanilla all at once. Blend to combine. Use for any recipe that calls for cream cheese frosting.
Place roughly 1/3 of the frosting into a small bowl with the 2 C. crushed chocolate sandwich cookies and fold until combined. This will be the frosting you use between your cake layers.
To assemble your cake, stack all 6 cake layers on top of one another, frosting between the layers as you stack. (Use the frosting made in step 5.) Cover the entire cake with your plain cream cheese frosting and use extra cookies, crushed cookies and melted chocolate to decorate.
Enjoy!