My Grandma Mary made the best Eggnog at Christmas time.  It was thick, creamy and delicious.  I always looked forward to her eggnog and Christmas cookies.  She would make a huge batch of sugar cookies, always sprinkled them with sugar and cinnamon.  I can almost taste them just thinking about them!  I really miss my Grandma.  I wonder if she knows how much we talk about and think about her cooking, her "yummy stuff" as my sisters and I call it (or Grandmas macaroni as some of the family calls it), her taquitos, her beans and rice, her eggnog… the list can go on and on.  I made this eggnog tres leches cake in honor of my Grandma and her famous eggnog.  I hope it tastes at least half as good as hers!
This cake starts off as a basic sponge cake, and is soaked in condensed milk, evaporated milk, and eggnog.  The filling is French vanilla pudding mixed with eggnog, and whipped cream.  It is then frosted with whipped cream and topped with rosettes and red roses.  I thought the red roses make it look so Christmassy! If I could grow miniature poinsettias, those would look really cute too.
TIPS
Make sure you do not over mix sponge cake! Below is a picture showing the difference between over mixing and not over mixing
The right side is over mixed.  It turned out dense and hard.  The left is not over mixed.  It turned out fluffy and light.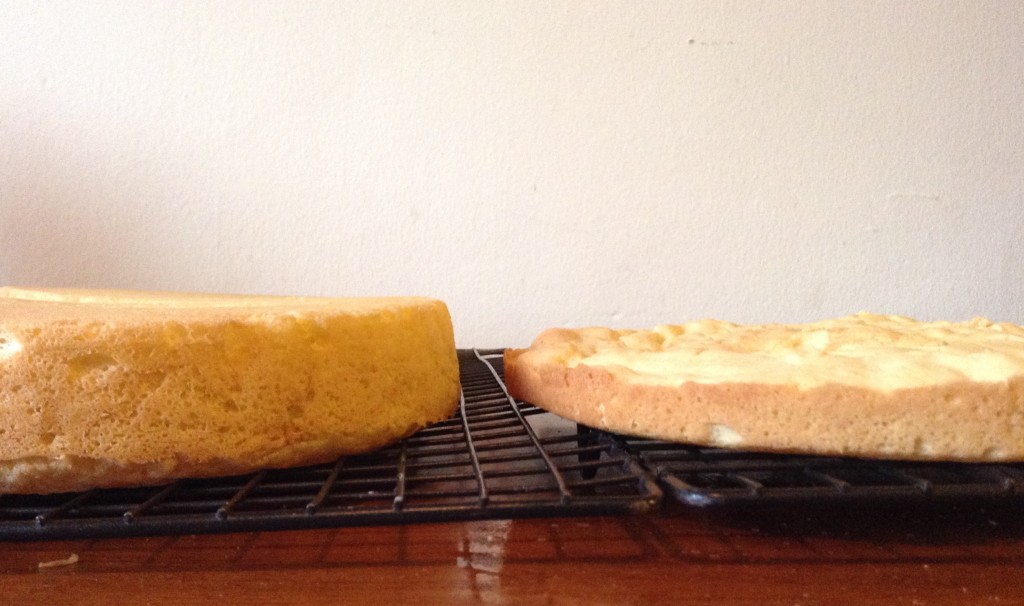 Sponge Cake
Ingredients
10 large eggs (separated)
1 cup sugar
4 tsp pure vanilla extract
2 1/2cups all-purpose (plain) flour (sifted)
Three milks
1 cup egg nog
5 ounces evaporated milk
14 ounces sweetened condensed milk
Directions
Preheat oven to 350 degrees. Prepare three 8 inch cake pans with shortening.
Separate the egg whites from the yolks.
Beat the egg whites on medium speed, 3 – 5 minutes.
When soft peaks form slowly add the sugar in small batches.
Whip until stiff peaks form about 5 minutes. Set aside.
In a medium bowl beat egg yolks at medium-high speed for about 5 to 6 minutes, or until the egg yolks become pale colored, creamy and puffy. Stir in vanilla.
Pour the egg yolks over the egg whites, gently fold until just combined trying not to lose any volume from the mixture.
Fold in the flour little by little in the form of rain. Mix until just combined (over-beating will result in a denser, flatter cake).
Pour the batter into the prepared pan.
Bake in the preheated moderate oven for 25 minutes or until the toothpick comes out clean
Let it cool
Once cool, using a fork poke holes all over the cake to better absorb the three milk soaking liquid
Pour all the milks over the cake and let it soak 45 minutes to overnight.
Eggnog Filling
Ingredients
1 large box of French vanilla pudding
3 cups eggnog
1 cup whipped cream
Directions
Mix pudding as instructed on the box except use eggnog instead of milk.  Let it set.
Add Whipped cream and gently fold.
Assembly of Cake
Make cake and let milks soak in the cake overnight.
Using a 6 inch pastry ring, cut out three rings in the cakes.  I did it this way because when I baked the sponge cake, it pulled away from the pans.  I wanted to make sure the cakes would fit perfectly in the cake ring.
Put a 6 inch cake board under the 6 inch pastry ring.  Put acetate paper around the inside of the cake pan. This will help support the cake as it gets taller. Place the first cake, cover with half of the filling.  Repeat a second time, and place the remaining cake on top.
Put this in the freezer and freeze till it is set.
Frost with homemade whipped cream.
Keep in fridge.
Enjoy!