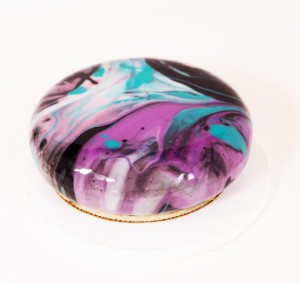 Panna cotta is an Italian dessert of sweetened cream thickened with gelatin and molded. The cream may be aromatized with, coffee, vanilla, or other flavorings.  For this entremet, I chose to make vanilla bean panna cotta, chocolate mousse, and chocolate sable Breton.
Sable Breton biscuit is a crumbly, thick, and buttery French shortbread cookie, from the region of Brittany, which is located in northwestern France. They rely on high-quality butter and salt. The sandy texture is due to a high proportion of butter and egg yolks in them.
I've had a lot of fun trying out new recipes with this entremet!
The glaze on this cake is used with black, purple, pink, blue, white, and teal mirror glaze.
My sister Wendy did a fabulous job on the photography of this cake! You can find her website here
Panna Cotta
Ingredients
500 grams (2 cups) heavy cream
75 grams (1/3 cup) sugar
1 vanilla bean
5 grams gelatin bloomed in 2 tablespoons cold water
Directions
Only prepare this component once the other components are frozen solid.
Slice the vanilla bean in half and scrape out the caviar
Heat the sugar with the cream and the vanilla
When the sugar is fully dissolved, allow the vanilla to steep for a bit with the heat off. Stir in the gelatin and let sit for about 20 minutes.
Chocolate Mousse:
4g gelatin + 20ml cold water
2 egg yolks
40g sugar + 20ml water
150g dark chocolate, melted
250g heavy cream, whipped
Bloom the gelatin in cold water for 10 minutes.
This mousse starts with a pate a bombe which is made by boiling a sugar syrup from 40g sugar and 20ml water. Mix the egg yolks until creamy then gradually stir in the hot sugar syrup and keep mixing until the yolks become creamy and thick.
Melt the gelatin and stir it into the egg yolks cream. Add the chocolate and mix well. Let the mixture cool to room temperature.
Fold in the whipped cream.
Mirror Glaze recipe HERE
Sable Breton recipe HERE
Assembly of the cake
Make the chocolate mousse insert and freeze overnight
Prepare the panna cotta and pour a little in the bottom of the silicon mold.
Place the chocolate mousse insert inside the mold and fill halfway with the panna cotta. Only fill it halfway so the mousse doesn't float to the top.
Freeze the mold until halfway frozen.
Fill the rest of the mold with panna cotta, place the sable Breton on top, and freeze until solid.
Unmold the cake and pour mirror glaze on.
I hope you enjoy making this cake as much as I did, and that you will love the taste of it!
Enjoy!