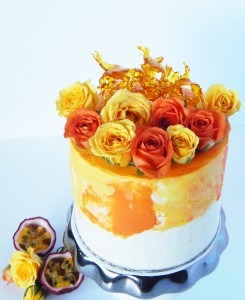 I have a passion fruit vine that has been growing like crazy lately! The flowers are a beautiful purple, and I love seeing them pop up! The vine is very long and the tendrils grab on to every plant they can find in my garden.  Because of this, it is sometimes hard to see the flower.  The flower lasts only one day, and usually pops up in the late morning.  My son and I like to go outside at least once a day to hunt for passion fruit flowers, new passion fruit growing, or even large passion fruits that may have been hiding! I had more then the usual amount of passion fruit this week, so I decided to use some in this cake.  It is so rewarding using home grown fruit in my baking! This cake has three layers.  One is passion fruit and the other two are lemon.  The vanilla bean Swiss meringue buttercream balances out the tanginess of the lemon curd filling.  It is a winning combination!
Passion Fruit Lemon Layer Cake
Ingredients
Lemon and Passion Fruit Cake
2 1/4 cups of flour
2/3 cups of white sugar
1 tbs baking powder
1 tsp salt
1/2 cup vegetable oil
1/2 cup water
2 oz lemon juice
2 oz passion fruit nectar
5 egg yolks
2 tsp vanilla extract
2 tsp grated lemon zest
liquid food coloring : yellow, and orange
8 egg whites
1/2 tsp cream of tartar
1/2 cup white sugar
Instructions
Preheat oven to 325 F
Sift together flour with 2/3 cup of sugar, baking powder, salt-set aside.
In another bowl, beat together oil, water, yolks, vanilla and lemon zest until well combined.
Mix yolk mixture into flour mixture until smooth. At this point, the consistency should almost be like cookie dough. Divide the batter into thirds and put each into a separate bowl.
In each separate bowl of batter, add one kind of nectar/juice. Once mixed in, you will need to add the food coloring- orange for the passion fruit layer and yellow for the lemon layer. Use your own judgment on how many food coloring drops to use and bear in mind that you will be adding eggs whites later which will lighten the batter.
In another bowl, beat egg whites and cream of tartar until soft peaks are formed. Then slowly add the 1/2 cup of sugar and beat until stiff. Then you will need to take 1/3 of the egg white mixture and fold it into each bowl of batter. Then pour each into a separate pan.
As far as the separation of batter I divided mine by sight. However, if you want to be more exact, you can weigh the batter and divide by weight and measure the whipped cream by cups and divide that way.
Put each pan into the oven.
Bake for 35-40 minutes or until toothpick comes out clean
*Do not over mix! Also, do not over bake! take out of oven immediately before the sides start to pull away from the pan. I take these cakes out of the pan right away and put on a cooling rack. If you take them out before they have cooked too long, you should not have any brown on top or bottom of pan. After they are completely cool, you can use a cake leveler to level out the cakes and make them the exact same height.
http://sayitwithcake.org/passion-fruit-lemon-layer-cake/
Vanilla Bean Swiss Meringue Buttercream recipe here just add 2 Tablespoons of vanilla bean paste.
Lemon curd recipe here
Enjoy!