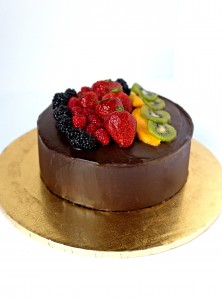 This strawberry chocolate mousse cake is a moist, dark chocolate cake, topped with fresh strawberries, rich chocolate mousse, covered with chocolate ganache, and garnished with blackberries, raspberries, strawberries, mangoes, and kiwis.
I made this cake for my sweet niece, Marie, who turned 5! She loves chocolate and strawberries, so I combined the two and the result was great! I had only made strawberry filling with white cake before.  Then I thought about chocolate covered strawberries, and I thought the flavors went well together.  So now this cake is like a giant chocolate covered strawberry!
I love this recipe for the chocolate mousse.  It holds up well and doesn't melt easily.  I will be using this recipe again in the future.  I think the trick for making this perfect consistency for the mousse was using gelatin in the recipe. 
What I love about this strawberry chocolate mousse cake is that there is a strawberry in every bite!  The sweetness of the strawberries really balances the rich chocolate in the mousse and ganache.
The fresh fruit on top of the cake really makes it look elegant.  The fruit glaze preserves the fruit so it will stay fresh for a few days.
Ingredients
Chocolate cake

1 cup sugar
3/4 cup + 2 tablespoons all-purpose flour
1/4 cup + 2 tablespoons cocoa
3/4 teaspoon baking powder
3/4 teaspoon baking soda
1/2 teaspoon salt
1 egg
1/2 cup milk
1/4 cup vegetable oil
1 teaspoon vanilla extract
1/2 cup boiling water

Chocolate Mousse:

6 Tablespoons unsalted butter
12 oz. high-quality semisweet chocolate(chopped)
3.5 oz.white chocolate(chopped)
1 3/4 cups heavy whipping cream
2/3 cup powdered sugar
1 1/2 teaspoons vanilla extract
2 teaspoons unflavored gelatin
2.5 Tablespoons cool water

Chocolate ganache

24 oz. chocolate chopped
2 cups cream

For filling

2 quarts strawberries ( try to find small strawberries)
Instructions
To make the chocolate cake :

Preheat the oven to 350°F, grease 9 inch round baking pan and line the bottom with parchment paper. (for this step DO NOT use springform pan because the batter is very runny, it might leak)
In a large bowl stir together dry cake ingredients: sugar, flour, cocoa, baking powder, baking soda and salt.
Add egg, milk, oil and vanilla and mix on medium speed for 2 minutes. Add ½ cup boiling water and mix until combine.
Pour the batter in the pan and bake until toothpick inserted in center comes out clean (25-35 minutes). Cool 10 minutes in the pan, than remove from pans to wire racks upside down (this flattens domed cakes) and cool completely.

To make chocolate mousse filling:

In a small dish soften 2 teaspoon unflavored gelatin in 2.5 tablespoons cool water, set aside.
In a heat-proof bowl combine chopped semi-sweet chocolate, white chocolate and butter. Melt over double boiler or microwave. Stir until smooth and set aside to cool.
Heat softened gelatin on low heat and stir to dissolve and became completely free of lumps, set aside to cool.
Mix 1 3/4 cups heavy cream and vanilla extract until medium peaks form, gradually adding powdered sugar. Mix in gelatin.
Stir a few tablespoons of whipped cream into melted chocolate mixture to lighten it. Then transfer chocolate mixture into remaining whipped cream and gently fold in with a spatula, scraping the bottom to incorporate the cream completely.

To make the ganache

pour chocolate into a bowl
pour cream into a pot and cook until it starts to bubble up and pour right away over the chocolate.
let it sit for 5 minutes, then whisk until it is completely smooth.
let it set overnight or until desired consistency.

To assemble the cake

Put the cake onto a cake board or a serving plate and set the 9 inch ring from the spring form pan around the cake.
spread a thin layer of the mousse on the cake.
cut the stem ends off the strawberries and place them around in the pan to fill the whole bottom of the cake.  If some strawberries are too tall, cut off more stem so they are all the same size.  You don't want any strawberries sticking up too high over the top of the spring form pan.
Put the mousse in a piping bag and fill in all the gaps around the strawberries.  Spread the remaining mousse over the top and put it in the fridge 4-6 hours or overnight to set.
Make the ganache, and let it set at room temperature overnight.
After the mousse has set, spread the ganache on the cake and place in fridge until the ganache has set.  Make sure the sides and top of the cake are smooth and has no bumps, or holes.  Any imperfections will show when you glaze the cake with ganache.
Place the cake on a bowl over a cooling rack over a cookie sheet with rims.  Pour the ganache over the cake and let it set.
Glaze the fruit and place on top  of the cake.

How to Smooth Ganache on a cake

Frost your cake with ganache when it is the consistency of peanut butter.  Get it as smooth as you can with your bench scraper.  If you see holes fill it up with ganache then smooth it again.  Place in the fridge to set.  Take a bowl of boiling hot water and place your bench scraper inside the water. After it is hot, hold it against your cake at a 45 degree angle.  Spin the turntable all the way around without stopping.  Do the top this way as well.  After that, clean up the edges.  Refrigerate to set the ganache.  Then repeat again until it is as smooth as you want it to be.  This is how to smooth ganache on a cake.  After it is smooth, you can pour ganache over for a flawless finish!  I poured on the ganache when it was too thick, so it didn't look how I expected.  Next time, I will pour on the ganache when it is thinner.

How to glaze fruit for the top of the cake

In the microwave, melt a little apricot jelly with some water(JELLY ONLY, not jam or preserves).  When it has cooled a little, dip a pastry brush in the glaze, and paint it on top of the fruit you want to glaze.
http://sayitwithcake.org/strawberry-chocolate-mousse-cake/
Enjoy!
xoxo Shamene
Other cakes you may like!