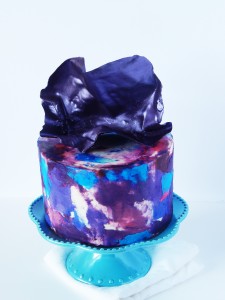 My sister Wendy loves purple.  When I made her this birthday cake, the first thing I envisioned was a giant bright purple sail on top of a purple cake.  However, the purple luster dust that I ordered online was more of a dark purple.  And the sail fell off the cake and broke in the car on the way to delivering the cake to her.  Next time I will secure the sail better! This cake is  5 layers; 3 layers of chocolate mud cake, 2 layers of white chocolate mud cake, with blackberry ganache filling, and frosted with vanilla Swiss meringue buttercream.
The picture above is the back view of the cake.  I can't figure out which side of the sail I like better.  The back side looks kinda like a crumpled up piece of paper.  Would you guess it is really an edible piece of delicious dark chocolate? 🙂
(above photo by Wendy Cox Photography)
How to stack and fill a cake
When you want to make a multiple layer cake, the first things you need to decide on is how many layers you want to have, and what you want to fill the cake with.  There are two ways that you can make your layers.  First, you can bake the layers in separate pans.  Since I have 5 layers, I baked 5 different cakes in separate pans.  If you want your cakes to be the exact same height, it is best to measure the batter and put the same amount of batter in each pan.  For example, you can pour one cup of batter into each pan.   I usually do it this way because I am not very good at torting.   The second way would be to cook one large cake and slice it into layers.  This is how you torte a cake.  I used to do this and used a cake leveler.  This works great with a room temperature cake.  However, I usually like to stack and fill my cakes when the cakes are frozen.  When I try to use the cake leveler with a frozen cake, it does not work so good! You can pick which technique works best for you!
After you have your cakes leveled, get a cake board and put it on your turn table.  Some people will tape the cake board down to the turn table.  Put a swipe of frosting on top of the cake board, and place the first cake layer on it.  The frosting will help the cake stick to the cake board so it will not move when you start frosting the cake.
When you are filling your cake, there are several things to consider.  If you are using a filling that may gush out the sides of your cake like lemon curd, pudding, or jam, you will need to make a dam.
Below is an example of a cake with bulging filling out of the sides of the cake.
To Make a dam with buttercream frosting 
Take some of your frosting and mix it with some more powdered sugar until it is thick enough to form by hand but still thin enough to pipe through a large round tip or coupler.
As you assemble the layers, pipe around the edge with the thickened frosting.
This will create a dam to hold your filling in.
Spread the filling to be level with the top of the dam.
Now you are ready to stack the next layer on top.
Here are some examples of dams: 
If you are using a thick filling like buttercream frosting, ganache, or whipped cream, you won't need a dam.  If you are ever nervous that your filling might bulge out the side of your cake, stay on the safe side and use a dam!
After you have filled your cake, it is a good idea to let your cake set in the fridge for a few hours even overnight.  This will help give the cake time to settle.  Some people will put books or heavy objects like tiles on top of their cakes to help them settle.  Sometimes I also push down on the cake after it is filled and then put it in the fridge with a heavy book on top.  Here is another great way to help get rid of the bulge by using cake "spackle" here.
To have a perfectly proportionate cake, make sure the cake layers are the same height and the filling layers are also the same height.  However, the filling does not need to be the same height as the cake layers. To achieve this, measure the amount of filling you use.  Use the same amount of filling between each layer.  When you cut into your cake, you will now have perfectly even cakes with even amounts of filling.
Here is an example of a cake with whipped cream and fruit filling.  It is also frosted with whipped cream and does not need a dam.  This is also an example of perfectly even cake layers and filling.  Actually while looking closer I can see that the strawberry whipped cream layer is a little thicker then the peach.  This is because after measuring one cup of whipped cream for the filling, I added fruit.  This made the strawberry layer a little thicker. 
While making this watercolor cake, I used 5 different colors of Swiss meringue buttercream.  Here is a little behind the scenes shot of my mixing process 🙂
There are several components in this cake –  chocolate mud cake, white chocolate mud cake, blackberry ganache, Swiss meringue buttercream, and chocolate sail.
To make the blackberry ganache filling you will need 4 cups of chopped white chocolate, 1 cup heavy whipping cream, violet food gel color, and Lorann oils blackberry flavor.  Pour white chocolate into a medium bowl and set aside.  Heat up the cream in a heavy saucepan over low heat.  Pour 2 drops of oil and one drop of food color into the cream and mix.  When the cream starts to bubble up, pour it quickly over the white chocolate.  Whisk the mixture until it is combined.  Let it sit at room temperature overnight.  Before I used this ganache to fill my cake, I whipped it up in my kitchen aid for 3 minutes.
Ingredients
300g white chocolate
200g butter (if using unsalted butter, add 1/4 teaspoon fine table salt with the butter)
250ml (1 cup) milk
165g (3/4 cup) caster sugar
2 teaspoons (10ml) vanilla extract
2 large eggs, lightly beaten (we use eggs with a minimum weight of 59g)
100g (2/3 cup) self-raising flour
150g (1 cup) plain flour
Instructions
Preheat oven to 160 degrees Celsius (145 degrees Celsius fan-forced).
Grease and flour two 8 inch cake pans
Place chocolate, butter, milk and sugar in a large saucepan over low heat, stirring frequently. Remove from heat when chocolate and butter have melted, and stir mixture until completely smooth. Allow mixture to cool at room temperature for 15 minutes.
Add vanilla and eggs to chocolate mixture and stir until well combined.
Stir flours together in a large bowl. Add one cup of chocolate mixture to the flour and stir until a smooth paste forms.
Repeat with another cup of the chocolate mixture.
Add remaining chocolate mixture and stir until mixture is smooth. This gradual method of combining the wet and dry ingredients helps prevent lumps.
Pour mixture into prepared pan.
Bake for about 1 hour 10 minutes to 1 hour 20 minutes. When the cake is ready a tooth pick inserted into the center of the cake should come out without any batter attached.
Loosely cover cake with greaseproof paper or a clean tea towel and allow it to cool to room temperature in pan.
http://sayitwithcake.org/white-chocolate-mud-cake/
Enjoy!


Other cakes you might like