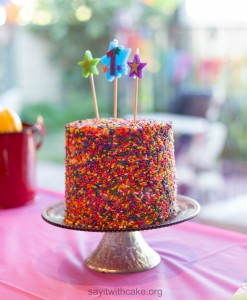 I made this sprinkle smash cake for my niece Matilda Wild who is turning one today! Sprinkle cakes are so pretty and festive! I will share some methods with you on how to make a sprinkle cake the easy and non messy way!
I have tried a sprinkle cake before but ended up with sprinkles all over the floor, table, and everywhere! This new method I learned from The Greedy baker and it was not messy at all! I was a little hesitant at first to actually roll the cake around in the sprinkles, but if you chill the cake until it has crusted, it isn't an issue.  Another think I learned is that next time, I will use small nonpareils sprinkles.  The jimmies sprinkles I used left a few gaps and you can see more of the frosting.  I would have preferred a more full coverage sprinkle like nonpareils!
1. Frost cake except top
2. roll cake in sprinkles with a cardboard circle on top and bottom an inch smaller then the cake
3. frost top of cake
4. cover top with sprinkles and smooth out
This is my sweet little niece Matilda enjoying her cake!
Enjoy!