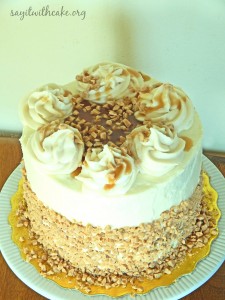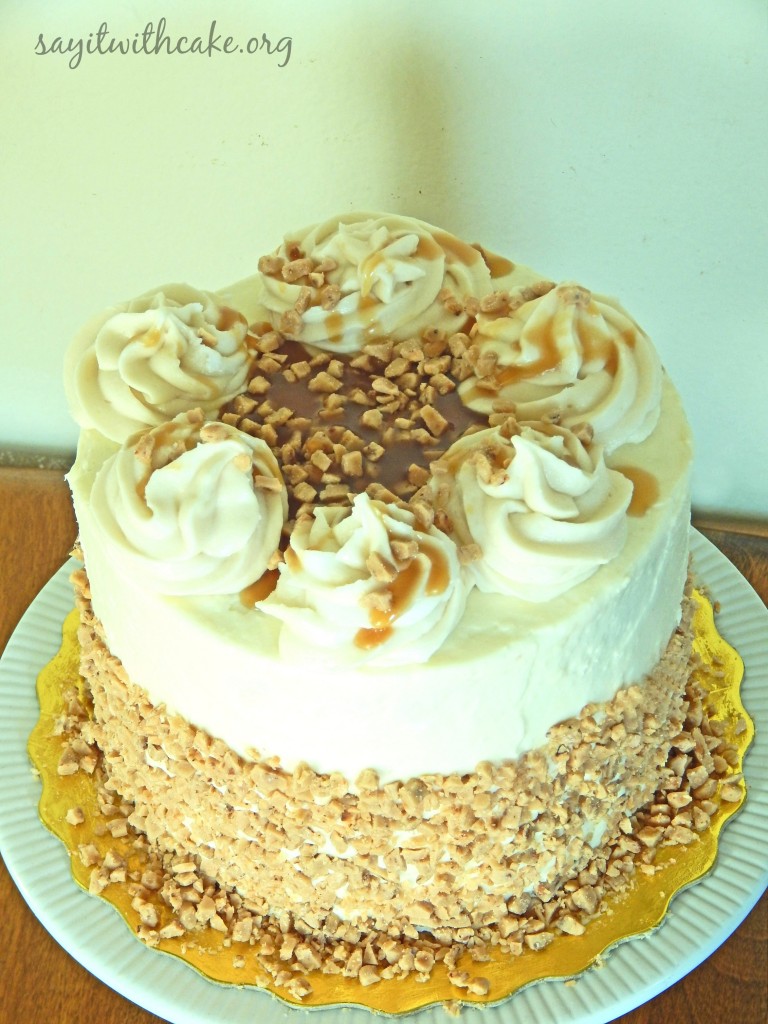 This cake is a delicious apple cake, dense and filled with apples and spices.  The cream cheese frosting is sweet and tangy and stiff enough to pipe! It is topped with caramel and Heath toffee bits and the sides are also covered in Heath toffee bits. This yummy Apple toffee cake with cream cheese frosting will be wonderful for your thanksgiving dessert this year!
This Apple Spice Toffee Cake with Cream Cheese Frosting is really delicious.  I will be bringing this to Thanksgiving dinner this year!
I can't decide what is the best part of this Apple Toffee Cake with Cream Cheese Frosting. It is either the chunky juicy apples inside the cake, or the cream cheese frosting.  I have  been making so many cakes with buttercream frosting lately, that it was a wonderful change to make cream cheese frosting.  I found a new recipe that I really love and will be using from now on!
In this Apple Toffee Cake with Cream Cheese Frosting, the toffee bits really compliment the apple flavor.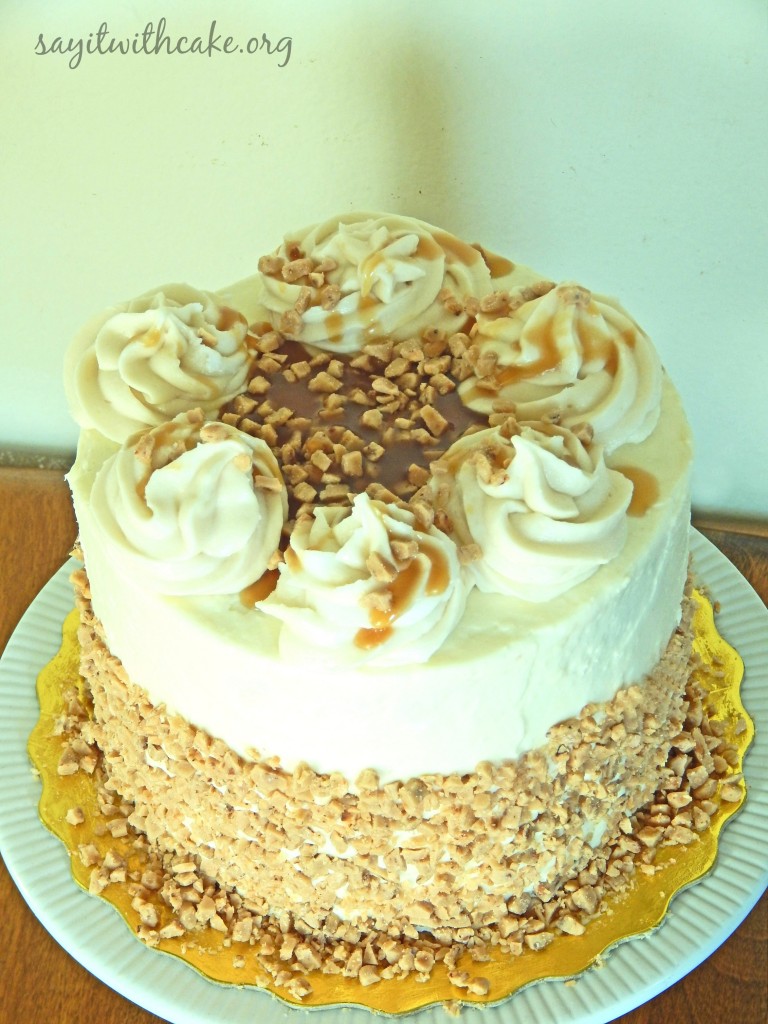 Here is the recipe for the Apple Toffee Cake with Cream Cheese Frosting, I hope you like how it all comes together!
Apple Spice Toffee Cake with Cream Cheese Frosting
Ingredients
Cream Cheese Frosting (triple the recipe for filling, outside of cake, and garnish)

•8oz cream cheese, room temperature
•½ cup (1 stick) unsalted butter, room temperature
•1 cup powdered sugar
•1 tsp pure vanilla extract

Apple Cake

•3 sticks unsalted butter at room temperature
•3 cups sugar
•2 Tbs molasses
•6 large eggs
•3 cups cake flour
•1 1/4 tsp baking soda
•1/4 tsp kosher salt
•2 Tbs ground cinnamon
•2 tsp ground allspice
•1 tsp ground nutmeg
•1 tsp ground ginger
•1 cup sour cream
•3 granny smith apples, peeled and shredded (1 1/2-2 cups)
•1 Tbs vanilla extract
•1 Tbs fresh minced ginger (optional)
Instructions
Cream Cheese Frosting

1.Place the cream cheese in a mixing bowl.
2.Using a hand mixer, beat until smooth.
3.Gradually add the butter 2 Tablespoons at a time, and continue beating until smooth and well blended.
4.Add powdered sugar and vanilla all at once. Blend to combine. Use for any recipe that calls for cream cheese frosting.

Apple Cake

Place one oven rack in the bottom third of the oven and place a second in the top third. Preheat the oven to 350. Grease 3 9-inch cake pans, then line each one with a parchment paper round and grease the rounds.
In a stand mixer fitted with a paddle attachment, cream the butter and sugar on medium-high until light and fluffy, about 3 minutes. Beat in the molasses, and scrape down the sides of the mixing bowl. Add the eggs one at at a time, beating well after each egg. In a medium bowl, sift together the four, baking soda, salt, and ground spices. Add the sour cream and flour mixture alternately to the batter, starting and ending with the flour mixture (flour in 3 increments, sour cream in 2 increments). Stir in the shredded apples, vanilla, and fresh ginger.
The batter will be thick, so use a spoon to transfer evenly into the three pans (I actually used my kitchen scale to make sure I had even layers - anal much?). Place 2 of the pans side by side on one rack, and the third on the other rack. Make sure they are staggered so that no layer is directly under or above another. Bake 35-40 minutes, rearranging the layers about halfway through, until firm to the touch. Monitor the layers carefully, as they may be ready at different times.
Remove from the oven and allow to cool in the pans for 10 minutes. Run a knife around the edges and carefully unmold the cakes to a cooling rack. Cool completely before icing.

Notes

Remember to put the parchment paper on the bottom of the pan and grease it good, even if you think you don't need to. Mine would have turned out better if I did this!
Add Heath toffee bits to top and sides if desired
http://sayitwithcake.org/apple-spice-toffee-cake-with-cream-cheese-frosting/
Apple Toffee Cake with Cream Cheese Frosting Cake recipe from Pink Parsley Cream Cheese Frosting recipe from Dinner now Dessert later
Enjoy!
Shamene