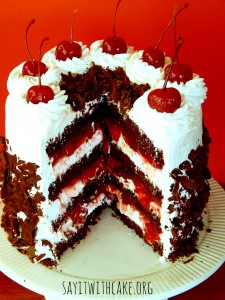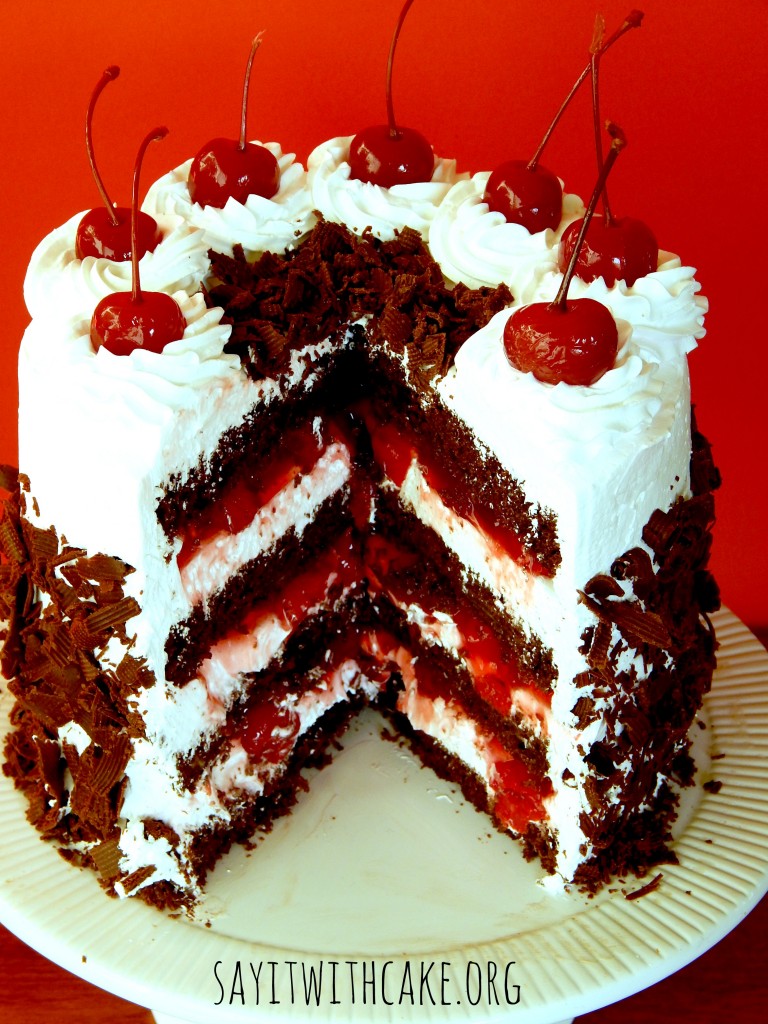 This black forest cake is called Schwarzwälderkirschtorte in German, which means Black Forest Cherry Torte or Gateau. This cake has multiple (usually 4) layers of chocolate sponge cake, cherries, and whipped cream. It is frosted with whipped cream and covered with chocolate shavings and a few cherries for decoration. Kirschwasser (cherry schnapps) is used to flavor the whipped cream. The bottom layers of sponge cake are also brushed with Kirschwasser to provide moisture and a little extra flavor. 
There are many other ideas on how the cake originally got its name. Some historians say that it is possible that the cake got its name from the traditional costume worn by women in the Black Forest. The dress was black (just like the chocolate flakes), the blouse is white (like the cream), and the hat has red pom-poms that look just like cherries.
I decided to forego the kirschwasser for this cake to make it kid friendly, and simplify the recipe to make it easier to make.  When I say simplify, I mean it has only 4 components!! This is the simplest and yummiest cake I have ever made!
I am eating a slice of this cake as I write this post! It is so so good!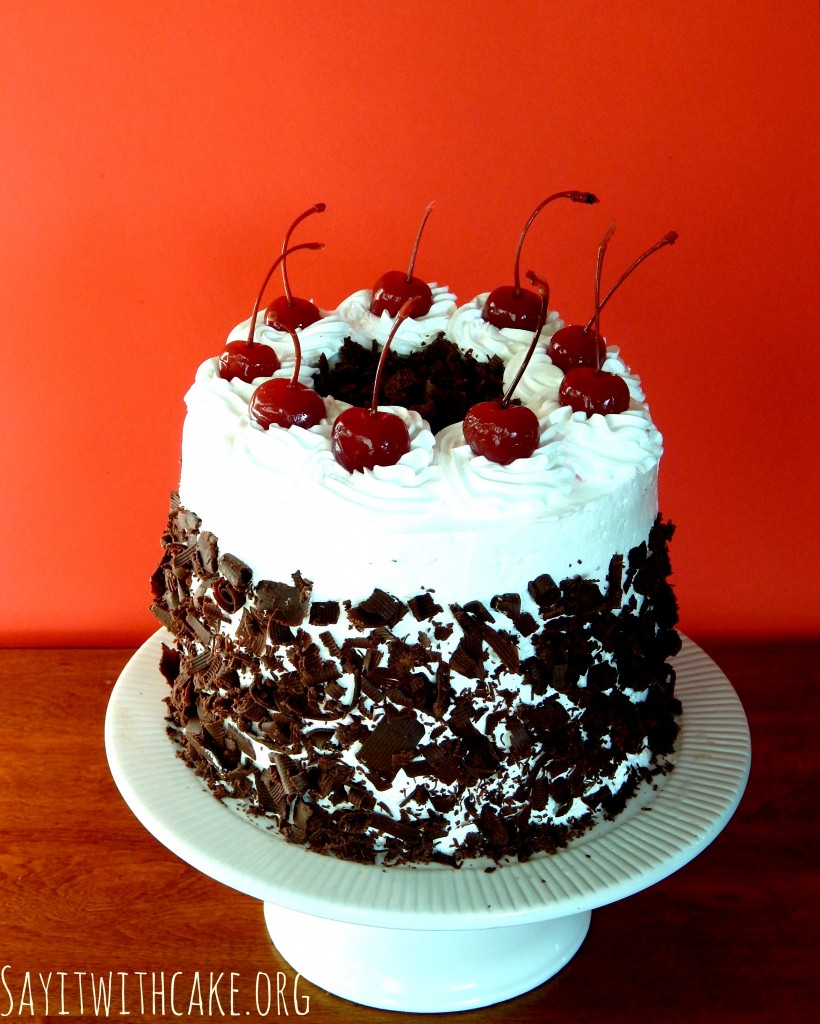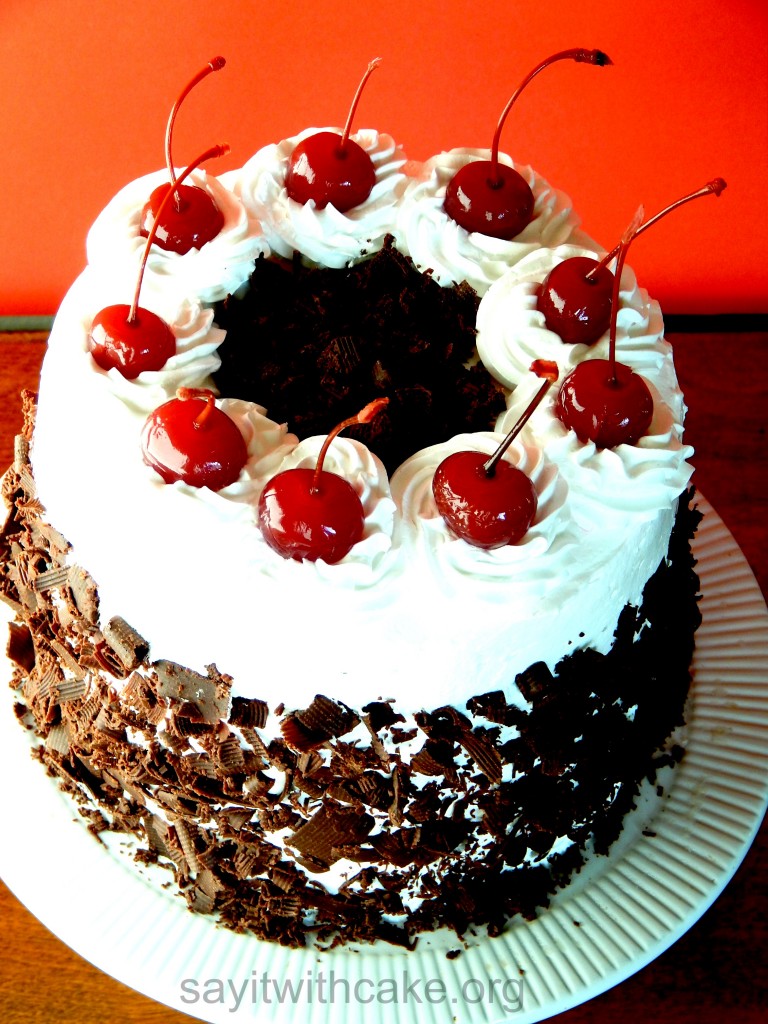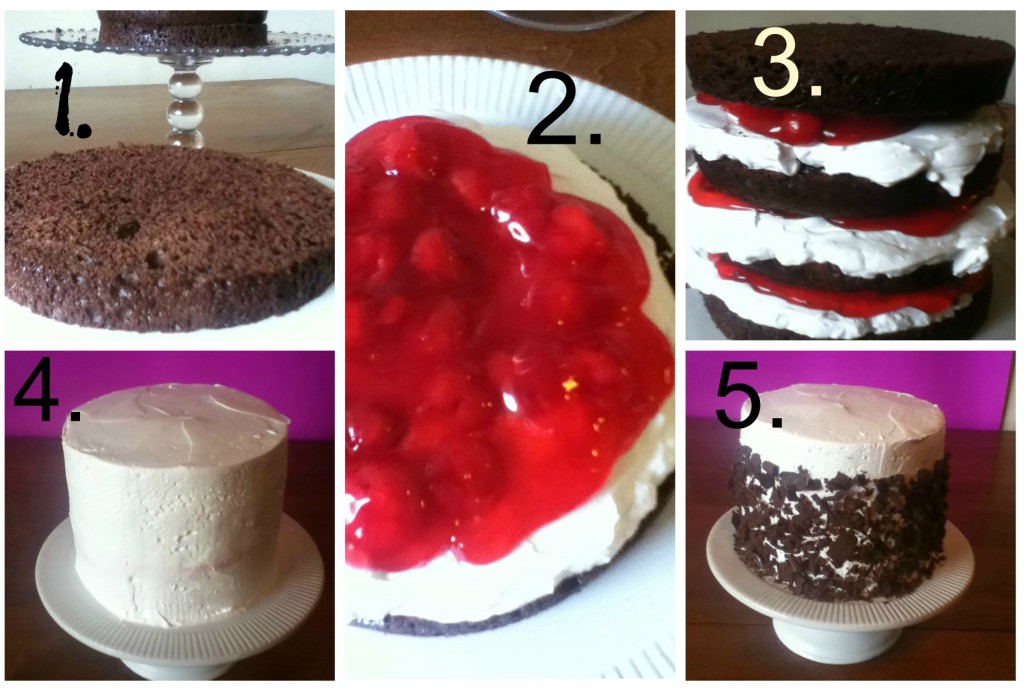 Ingredients
For Cake

One devils food cake mix

For filling

one quart of Pastry Pride
one can of cherry pie filling

For decorating

6 ounce chocolate bar made into shavings
Instructions
For Cake

Bake cake as instructed on box - two 8 inch cakes
let cool completely
Torte and level both cakes to make 4 cakes

For Filling

Whip Pastry Pride 5-10 minutes until peaks form

To assemble cake

Place cake on cake board
spread one cup of pastry pride on cake evenly
spread desired amount of cherry pie filling on top of pastry pride, leaving one inch around edge of cake
Repeat with all 4 layers
let cake sit in refrigerator for 2 hours
frost entire cake with pastry pride
put chocolate shavings on side of cake
pipe pastry pride on top of cake
scoop cherries in the middle of the cake
http://sayitwithcake.org/black-forest-cake/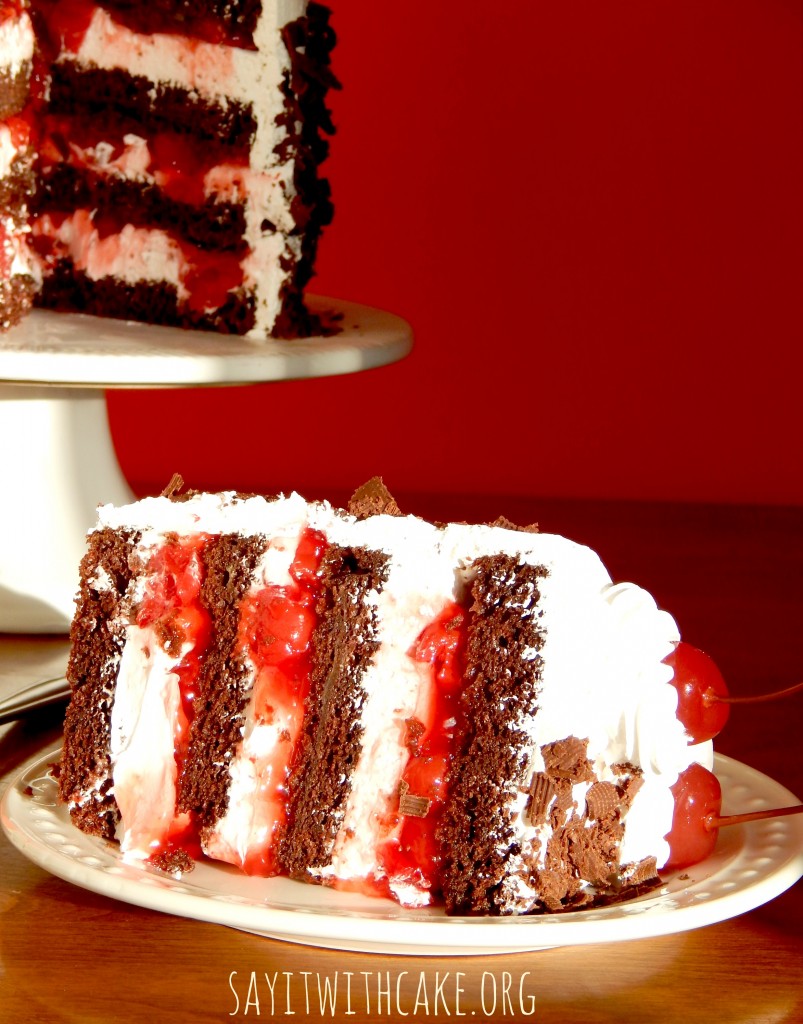 Pastry Pride is awesome! For those of you who have never worked with Pastry Pride, here is  a few tips!
WORKING WITH PASTRY PRIDE
1. Pastry Pride/Frostin' Pride is a non-diary commercial product.Here in San Diego it can only be purchased at Smart & Final
stores in San Diego or Do It With Icing, NOT any of the local grocery stores.
2. It comes frozen and should be thawed in the refrigerator overnight. However, if you are desperate you can
thaw for 1 minute in the microwave, shake then repeat for another 1 minute, then shake and return to microwave
for another 30 seconds to 1 minute. It should still have a few ice crystals in it. (If you get it too warm it will not
whip up at all!) Another method for speedy thawing is to immerse it in a bucket of warm water. It will thaw in
1 – 2 hours this way.
3. Once thawed the unwhipped Pastry Pride/Frostin' Pride will last 2-3 weeks in the refrigerator. After it is
whipped it will last at least another 1-2 weeks in the refrigerator. Sometimes if you have under whipped it, as it
sits it will get liquid gathering at the bottom. You can still use it, you just need to re-whip it. ALWAYS USE
THE WHIP NOT THE PADDLE ON THE MIXER.
4. One quart of Pastry Pride is enough to ice and decorate an 8-inch round cake.
One quart of Pastry Pride is enough to ice and decorate a ¼ sheet cake.
One quart of Pastry Pride is enough to ice and decorate a ½ sheet cake.
One quart of Pastry Pride is barely enough to ice a full sheet cake.
5. When working with Pastry Pride/Frostin' Pride you want to keep it cold. If you are spending a lot of time on
the decoration, such as making a rice paper drawing; put the whipped pastry pride in the refrigerator while
you're working to keep it cold. It will breakdown and get mushy if you leave it out too long.
6. You can decorate and make roses with it but you must work quickly. (Within 15 minutes).
7. You can color Pastry Pride but only medium to light color
If you try to make dark colors it will bleed on
the cake and STAIN THE TEETH OF PEOPLE EATING THE CAKE.
8. Pastry Pride/Frostin' Pride will form a "skin" after it sits for a while. This is very difficult to re-smooth but
can be done carefully with the use of water to "soften" the crust.
9. When you whip Pastry Pride you add only flavoring. Sugar is already in it. To Frostin' Pride you add
nothing.
10. Pastry Pride takes 5-15 minutes to whip per quart. It varies with the type of mixer you have and how cold
the Pastry Pride is. The colder it is, the longer it will take to whip. However, if it is too warm it will never
whip. Room temperature is too warm and it is usually ruined. I don't know of any way to save it at that point.
11. You should always use the "whip" attachment not the paddle and always start at low speed moving all the
way up to high speed to achieve a completely stable whip product. You can whip it too long and it will be like
cement and almost impossible to spread. If you over whip you can add a little water to soften it back down.
12. I have found that if you ice a cake with Pastry Pride and let it set for several hours before decorating it, get
or other colored frosting does not seem to bleed. However, if you ice it and decorate with bright colors right
away it will definitely bleed.
13. You can leave the cake out of the refrigerator at least 24 -48 hours, but remember the longer it stays out the
drier it becomes and it can get tiny cracks in it. I always recommend refrigeration if possible.
14. NEVER PUT FONDANT ON PASTRY PRIDE – DOESN'T WORK WELL. Especially if you refrigerate
the cake the fondant will become slimy and slide off.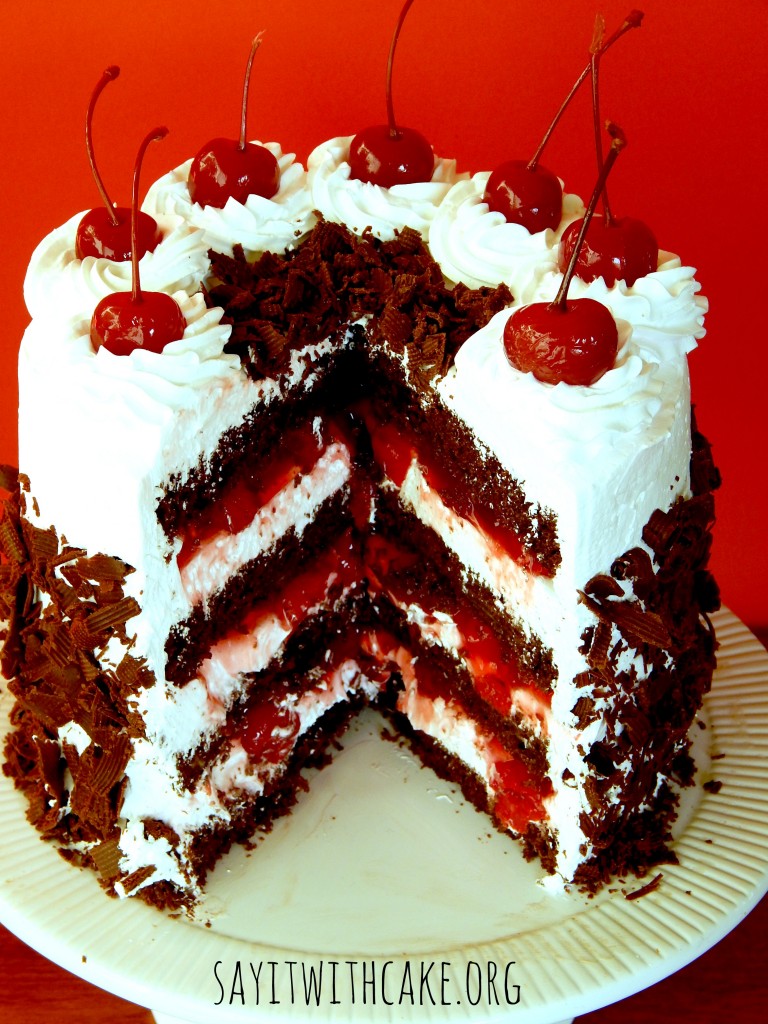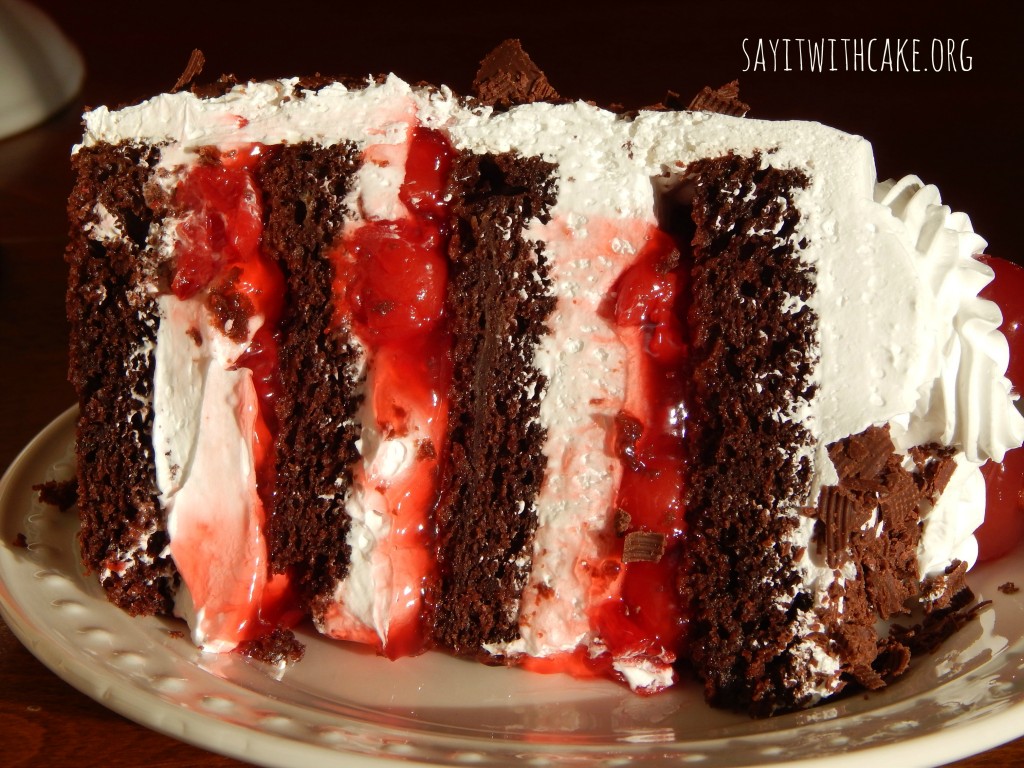 ENJOY!
other cakes you might enjoy!
My cake was featured here!