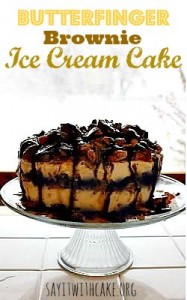 It's a few days after Halloween, and I find myself eating my son's Halloween candy more often than I would care to admit! Do you do this too, or is it just me? I eat the candy bars first: my favorite are the Butterfingers and anything else chocolate!  The Butterfingers are just sitting there calling to me! And as if my son's loot wasn't enough, there is a whole bowl full of candy leftover because we didn't get that many trick-or-treaters this year. What should I do with all this leftover candy? Eat it till it's gone? Throw it away? The perfect answer was to make this Butterfinger brownie ice cream cake and use up all the Halloween Candy once and for all!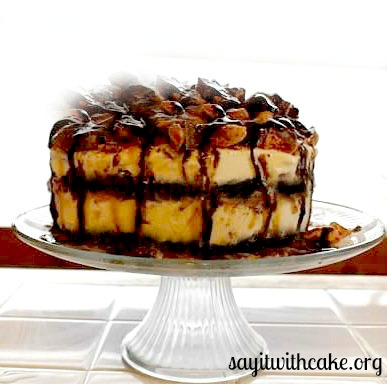 I had the opportunity to go to Utah to visit my sisters and their families for Halloween this year and also to be there for my newest niece's blessing! After the blessing we had over fifty people coming over for dinner. I knew this would be the perfect chance to try out this delicious recipe that I have been wanting to make!  I live in California where it is always sunny and didn't think twice about making an ice cream cake in November! The funny thing is that on the day of the blessing it started snowing.  I have never eaten ice cream cake in the snow before! The snow coming down turned out to be a beautiful back drop for my cake!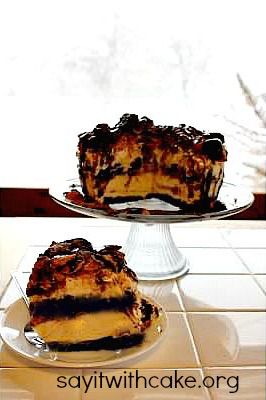 This cake can be made with any candy bar, but I chose Butterfinger because it is one of my favorites and I also had two bags leftover from Halloween

 This cake should also be made the day before you plan on serving it, so it can freeze overnight.  You can make your own ice cream, or buy it.  I decided to make this recipe super easy, so I used brownie mix, store-bought ice cream, and ready-made chocolate and caramel syrup.  You need to try this cake. It is so rich and delicious!!
Recipe adapted from Life Love and Sugar
Butterfinger Brownie Ice Cream Cake
Ingredients
one box of brownie mix
two quarts of vanilla ice cream
chocolate syrup
caramel syrup
2 bags of fun size butterfingers chopped
Instructions
Brownies:

Make brownie dough according to instructions on back of box.
Grease two 8-inch pans (preferable springform pans) and line the bottoms with parchment paper to allow for easy removal. Bake at temperature on box, reducing baking time to about 20 minutes
When brownies are done baking, allow to completely cool.

Assembling CAKE:

Line the sides of an 8-inch springform pan with parchment paper. The parchment paper should stick up above the top edge of the pan, since the cake will probably be a little taller than your pan. If you want, put a cardboard cake circle in the bottom of the pan.
NOTE: You should be using the same 8-inch pan you used for the brownies. Not all 8-inch pans are exactly the same size. Your brownie needs to fit in this pan.
Put the first brownie layer in the bottom of your pan.
Spread 1/2 cup caramel sauce and 1/2 cup chocolate sauce over the brownie. Top with first group of chopped snickers.
Top with half of the Vanilla ice cream.
Add second brownie to the pan, on top of the ice cream.
Again cover with 1/2 cup caramel sauce and 1/2 cup chocolate sauce. Top with second group of chopped snickers.
Top with remaining ice cream.
Allow ice cream cake to freeze completely.
When frozen, remove from springform pan and remove parchment paper from sides.
Top with additional caramel sauce and chocolate sauce, allowing it to drizzle down the sides.
Cover with remaining chopped snickers and a little more caramel and chocolate sauce.
NOTE: An 8-inch springform pan is best for this recipe so that you can easily remove the cake once it's been assembled. If you do not have a springform pan, line your pan with clear wrap before adding your parchment paper and cake board. You can use the clear warp to lift your cake out of the pan once it's assembled and frozen.
http://sayitwithcake.org/butterfinger-brownie-ice-cream-cake/
I really hope you like this cake as much as I did!
Enjoy!
Shamene
My cake was featured here!