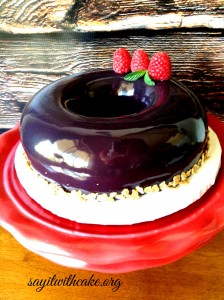 This cake has layers of raspberry mousse with fresh rasberries inside, decadent chocolate mouse, and covered with chocolate mirror glaze.  The thing I like best about this cake is the cool donut shape of the cake.  I got this effect using a donut shaped silicon mold!
Chocolate and Raspberry Mousse Cake with Mirror Glaze
Ingredients
For the Chocolate Mousse:
•9 oz semi-sweet chocolate, finely chopped
•1¾ cups heavy cream, divided use
•Pinch salt
•2 tsp unflavored powdered gelatin
•2 tbsp water
For the Raspberry Mousse:
•1½ cups fresh raspberries
•9 oz white chocolate, finely chopped
•1½ cups heavy cream, divided use
•Pinch salt
•2 tsp unflavored powdered gelatin
•2 tbsp water
•Pink food coloring, optional
Instructions
To Make the Mousse Layers:
. Prepare the chocolate mousse layer: combine the chocolate, ¾ cup of cream, and salt in a microwave-safe bowl. Microwave in 30-second increments, stirring every 30 seconds, until the chocolate has melted and the mixture is smooth. Pour it into a large bowl, and let it cool to room temperature, stirring occasionally.
While you wait for the chocolate mixture to cool, prepare the gelatin. Whisk together the gelatin and the cold water in a small bowl, and set it aside to let the gelatin absorb the water. When the chocolate is at room temperature, microwave the bowl of gelatin for 15 seconds, until it is melted. Whisk the melted gelatin and chocolate together.
Whip the remaining 1 cup heavy cream to firm peaks. Fold half of the whipped cream into the chocolate, and once it's incorporated, gently fold in the remaining whipped cream.
For the raspberry mousse, make a quick puree by blending ½ cup fresh raspberries in a blender or food processor. Pour them through a fine mesh strainer to remove the seeds, and measure out ¼ cup raspberry puree. (If you have extra puree, save it for another use.)
Combine the white chocolate, raspberry puree, ½ cup of heavy cream, and salt in a microwave-safe bowl. Continue to make this layer the same way you made the chocolate layer, by melting and cooling the chocolate, whisking in melted gelatin, and folding in whipped cream. Add a few drops of pink food coloring to boost the pink color, if desired. At the very end, stir in the remaining 1 cup of fresh raspberries.
Make the raspberry mousse first. Pour into the smaller mold and refrigerate overnight.
The next day, make the chocolate mousse and pour into the larger mold. 1/2 way. Take the raspberry mousse out of the mold and place inside the larger mold with the chocolate mousse. Smooth top of chocolate over the raspberry mousse. Refrigerate overnight.
The next day, make the mirror glaze. Pour over the mousse cake.
Refrigerate until it has set!
http://sayitwithcake.org/chocolate-and-raspberry-mousse-with-mirror-glaze/
This mirror glaze recipe is my own creation.  I took many different recipes and translated them to English.  I tried many times and came up with this recipe!  I used grams because it is more precise.  Just use a food scale to measure grams if you are used to using cups.
Mirror Glaze Recipe (to make a chocolate glaze, just substitute chocolate for white chocolate)
Ingredients
20 g gelatin powder
120 g water
300 g light corn syrup
300 g sugar
150 g water
200 g sweetened condensed milk
300 g white chocolate good quality chopped fine
food coloring
Directions
Bloom 20 g gelatin in 120 g water
boil 300 g corn syrup, 300 g sugar, and 150 g water
remove from heat and add gelatin
add condensed milk
pour over chocolate and mix until chocolate is melted completely (make sure you chop the chocolate really small before hand)
stir and make sure glaze reaches 95 degrees F
separate into multiple bowls if you want multiple colors
add food color
Let it cool until the glaze reaches 89.6 degrees F and is semi thick.
Pour glaze over cake
refrigerate for 2 hours.
Enjoy!


This cake was featured here!
Other mousse cakes you might like!