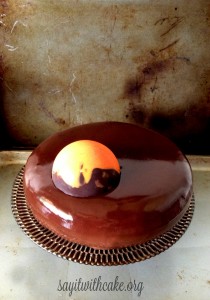 For Christmas every year growing up, I would always get a chocolate orange from Santa in my stocking. Did you ever get those? You know the kind where you can crack it open and get nice slices of chocolate oranges? They are so good and one of my favorite parts of Christmas. I just love the combination of orange and chocolate! I decided to try and make a cake with this delicious flavor combination! It turned into an entremet with delicate chocolate mousse, chocolate Italian sponge cake, and orange jelly filling. I brought this cake to Christmas Eve dinner at my Aunt Teresa's house! Merry Christmas!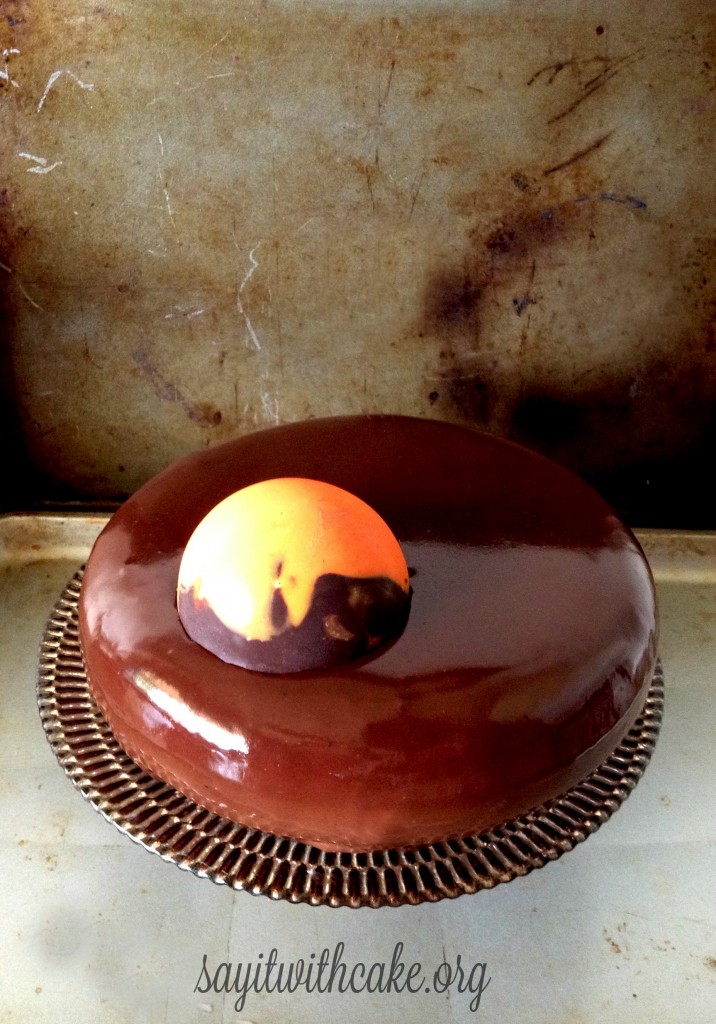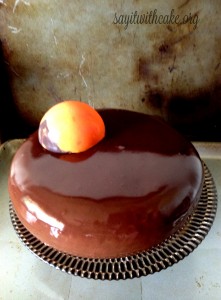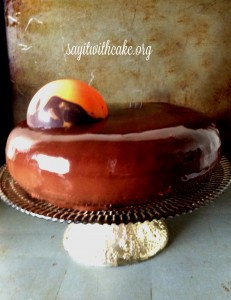 This is what the entremets looks like on the inside. The orange and chocolate sphere on the top of the cake is made out of candy melts.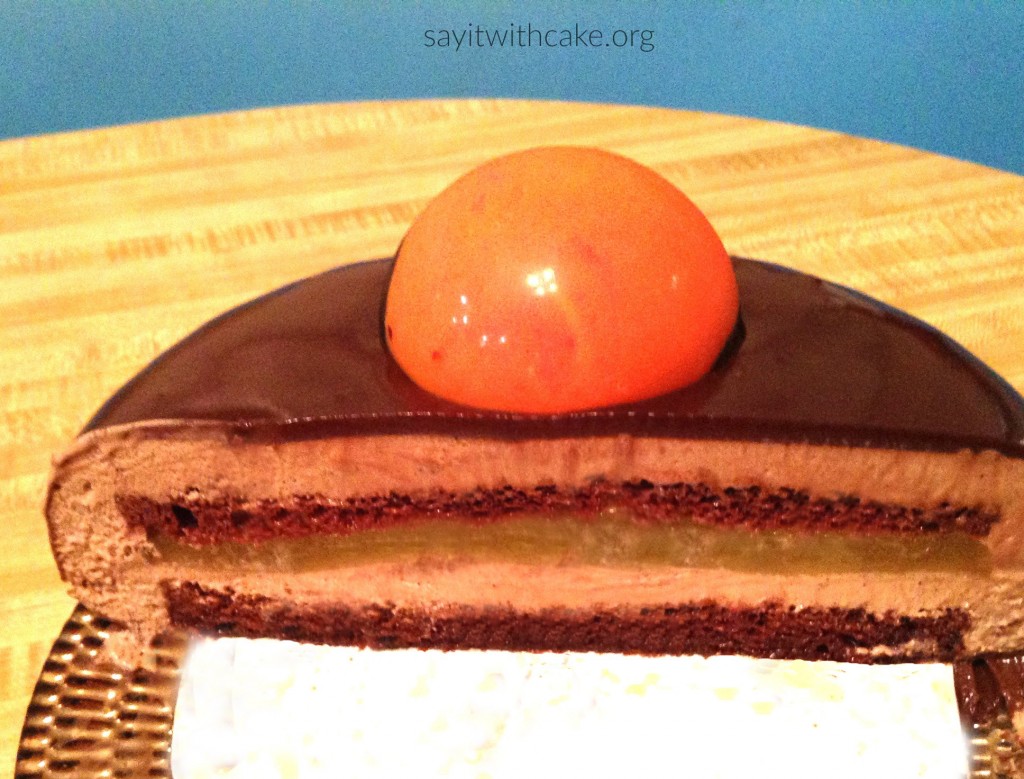 Italian chocolate sponge cake
Ingredients
120 grams (1/2 cup+1½ tablespoon) granulated sugar
4 extra large eggs, at room temperature
100 grams (1 cup minus 1 tablespoon) cake flour, sifted (if you use all-purpose flour 100 grams = 1 cup minus 2 tablespoons)
20 grams (3 tablespoons) unsweetened cocoa powder
YOU WILL HAVE A LOT OF BATTER LEFT OVER
Directions
Take the eggs out from the fridge ahead of time or soak them for a few minutes in a bowl of warm water.
Preheat the oven to 170 degrees C (338 degrees F).
Butter and flour (or spray with baking spray) a 20 cm (8 inch) pan.
Put the eggs and sugar in the bowl of your stand mixer.
Beat the eggs until very fluffy and pale yellow (about 15 minutes on medium/high speed). To test that it has been beaten enough, let some of the mixture fall into the bowl, if it remains "sitting" on top it means that it's ready.
Sift the flour and cocoa powder on top of the egg mixture, a little at a time, and fold it gently with a wooden spoon, from bottom to top.
Pour the batter into the prepared pan. Don't smooth the top or bang the pan on the counter, leave it as it is!
Bake for 40 minutes or until a toothpick inserted into the center comes out clean. (Don't open the oven for the first 20 minutes!)
Turn off the oven but leave the chocolate Italian sponge cake inside (put a wooden spoon to keep the oven door slightly open) for at least 10 minutes so it can cool down slowly. After that, remove it from the oven, let it cool 10 more minutes, loosen around the edges with a knife, then flip the cake on a wire rack upside down (without the pan) to cool completely.
Orange Jelly Insert
Ingredients
50 – 100 g sugar
1 cup orange juice from oranges (I used 5 oranges)
1 envelope unflavored powdered gelatin
Directions
Mix juice with sugar and warm on stove to dissolve the sugar.
Add pre-soaked gelatin
pour into a mold and put in the freezer until complete solidification (I froze mine overnight)
Chocolate Mousse
Ingredients
8 oz. good-quality chocolate, chopped fine
1/4 cup water
1 envelope unflavored powdered gelatin
2 1/2 cups heavy cream
Directions
Put the chocolate in a metal bowl (1 qt. or larger) that will fit snugly over a saucepan. (You also can use a double boiler.)
Fill the saucepan with 1 in. of water and heat it until it's on the verge of simmering.
Remove the pan from the heat and set the bowl of chocolate on top of the saucepan.
Stir the chocolate with a rubber spatula to encourage melting; however, don't be concerned if the chocolate doesn't melt entirely.
Pour 1/4 cup water in another saucepan and sprinkle in the gelatin.
Let the gelatin soak for 5 min., and then set the saucepan over medium heat and stir until the gelatin dissolves.
Pour 1/2 cup of the cream in another small saucepan and bring it to a boil.
Remove the saucepan from the heat immediately.
Add the gelatin to the hot cream and stir until well mixed.
Add this mixture to the melted chocolate and stir well with a spatula until the mixture is very smooth.
Remove the bowl from the pan and allow the chocolate mixture to cool until it's just warm.
Use an electric mixer to whip 2 cups cream until it just holds stiff peaks.
Use a rubber spatula to gently fold half of the whipped cream into the slightly warm chocolate mixture.
Add the remaining whipped cream and fold gently until smooth.
Don't over fold the mixture; it should still have a few distinct streaks of chocolate and whipped cream.
Mirror Glaze Recipe
Ingredients
20 g gelatin powder
120 g water
300 g light corn syrup
300 g sugar
150 g water
200 g sweetened condensed milk
300 g white chocolate good quality chopped fine
food coloring
Directions
Bloom 20 g gelatin in 120 g water
boil 300 g corn syrup, 300 g sugar, and 150 g water
remove from heat and add gelatin
add condensed milk
pour over chocolate and mix until chocolate is melted completely (make sure you chop the chocolate really small before hand)
stir and make sure glaze reaches 95 degrees F
separate into multiple bowls if you want multiple colors
add food color
Let it cool for many hours until the glaze reaches 89.6 degrees F and is semi thick.
Pour glaze over cake
Ingredients
Makes glaze for a dozen 10-inch cakes.
700 grams chocolate (white or dark)
400 grams water
600 grams sugar
400 grams condensed milk
1 tablespoon vanilla extract
38 grams powdered gelatin (yes, it's quite a large amount)
If making a dark chocolate mirror glaze, you may wish to add about 100 grams of cocoa powder, which will give a darker color and richer chocolate flavor.
Method
Bloom the gelatin in cold water. This is quite a bit of gelatin so rather than sprinkling it on top of cold water, quickly stir them together. It should be a thick slurry.
Heat the water, sugar, and condensed milk in a saucepan. Bring it just to a boil and turn off the heat. Stir in the vanilla and bloomed gelatin until it is fully dissolved.
Place the chocolate in a bowl and pour the hot liquid over it. Let the mixture sit for a few minutes until the chocolate is fully melted. Using an immersion blender (or poured into a blender), process until it is very smooth. Be careful not to introduce too many bubbles since every minor imperfection will show on the surface. For the same reason, strain the glaze through a sieve to remove any stray particles.
When the glaze has cooled to 90°F (32°C), it is ready to pour over your entremets. Use a stand or cooling rack to position the entremet and collect the excess below. You can save this and use it for future pours.
Once poured over frozen entremets, the glaze will cool quickly. It will take about 15 minutes until it is fully cooled and solidified. It should be more like a soft ganache-like gel than a hard shell.
Adapted from Chefiso
This recipe can also be used to make White Chocolate Mirror Glaze.