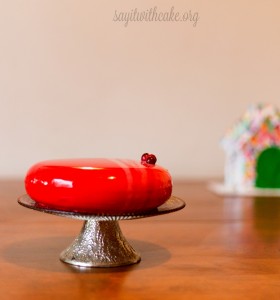 Merry Christmas! I am really, really happy these days!! I made this cake just for fun, just because I am happy. This is actually not a cake, but an entremet, made with mostly mousse. My son says it looks like a plastic Frisbee 🙂 This is good though because I was going for the plastic shiny look! It is also very Christmassy with the red and white mirror glaze, kinda looks like a candy cane. The flavors are cranberry vanilla and that can also be Christmassy.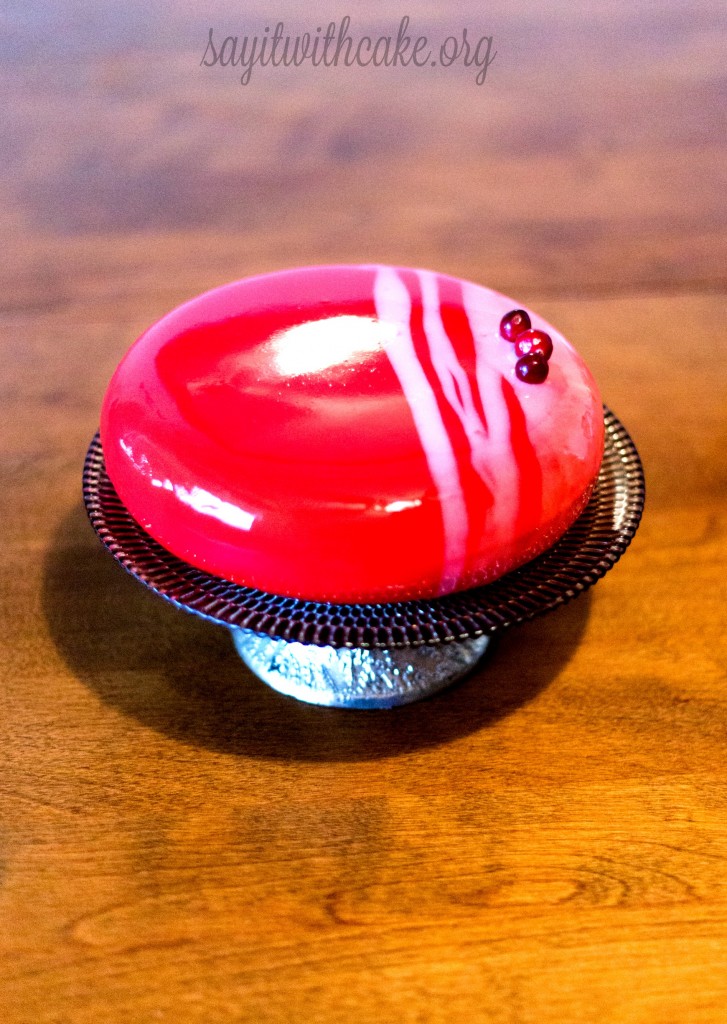 This entremet has 2 vanilla sponge cake inserts inside a creamy delicious vanilla mousse. The mirror glaze is a sweet and tangy cranberry, made with real cranberry's and white chocolate.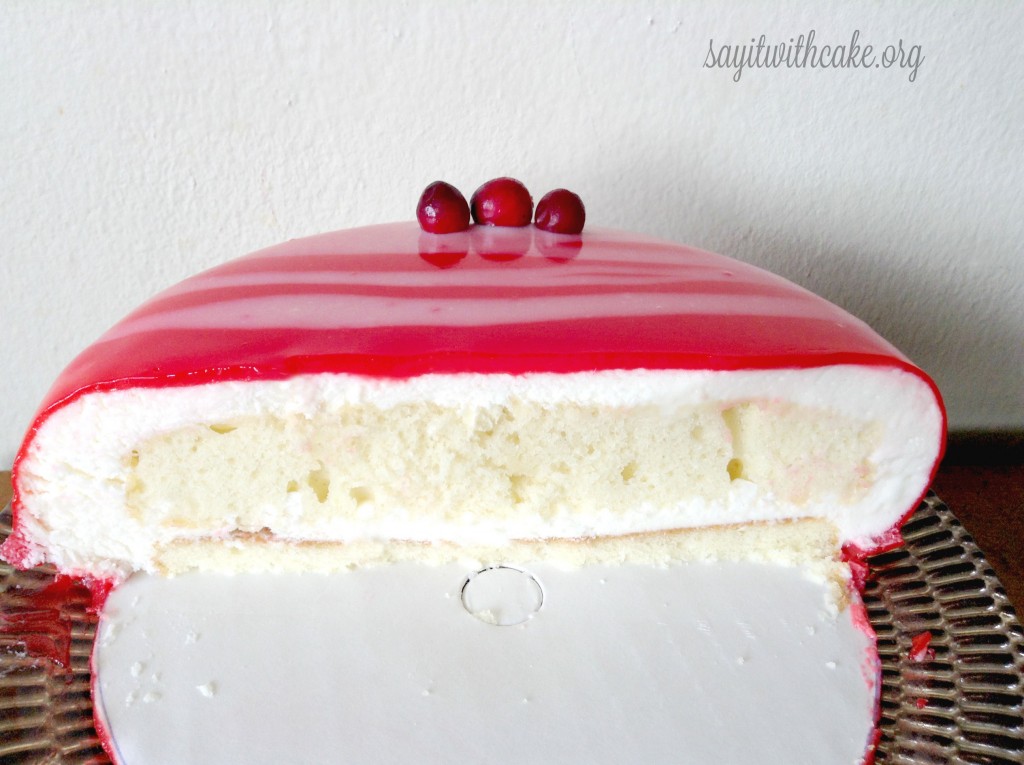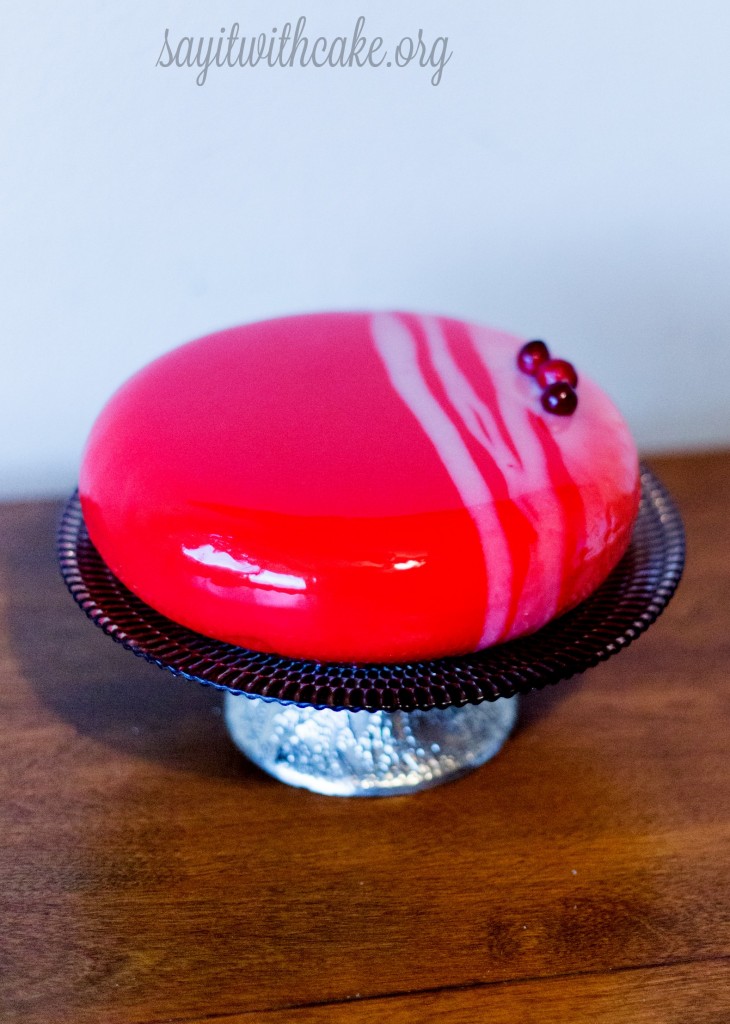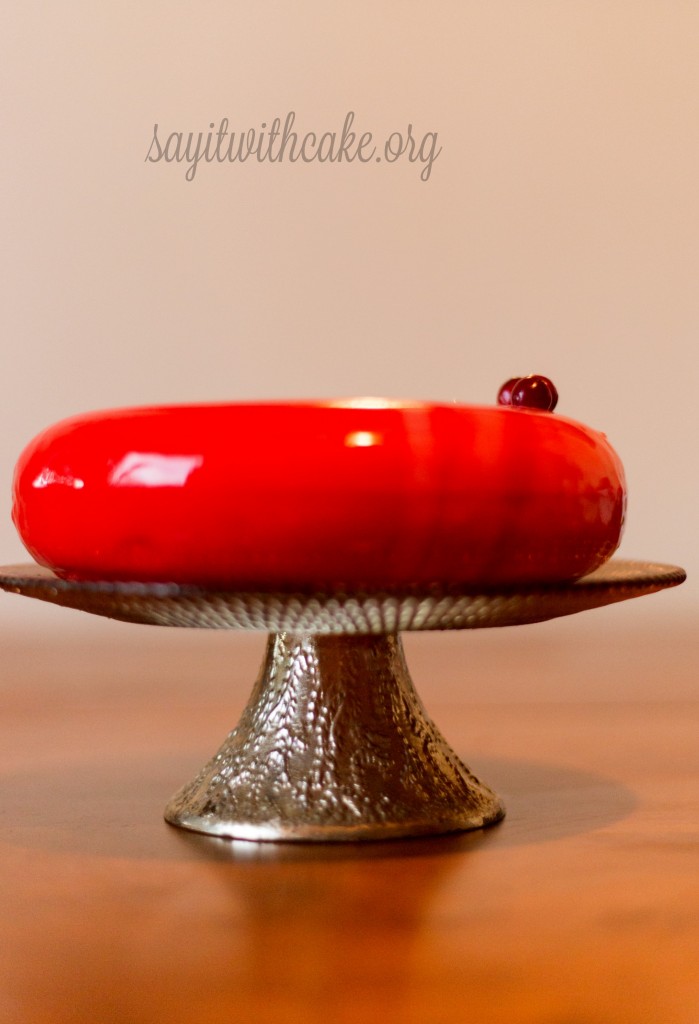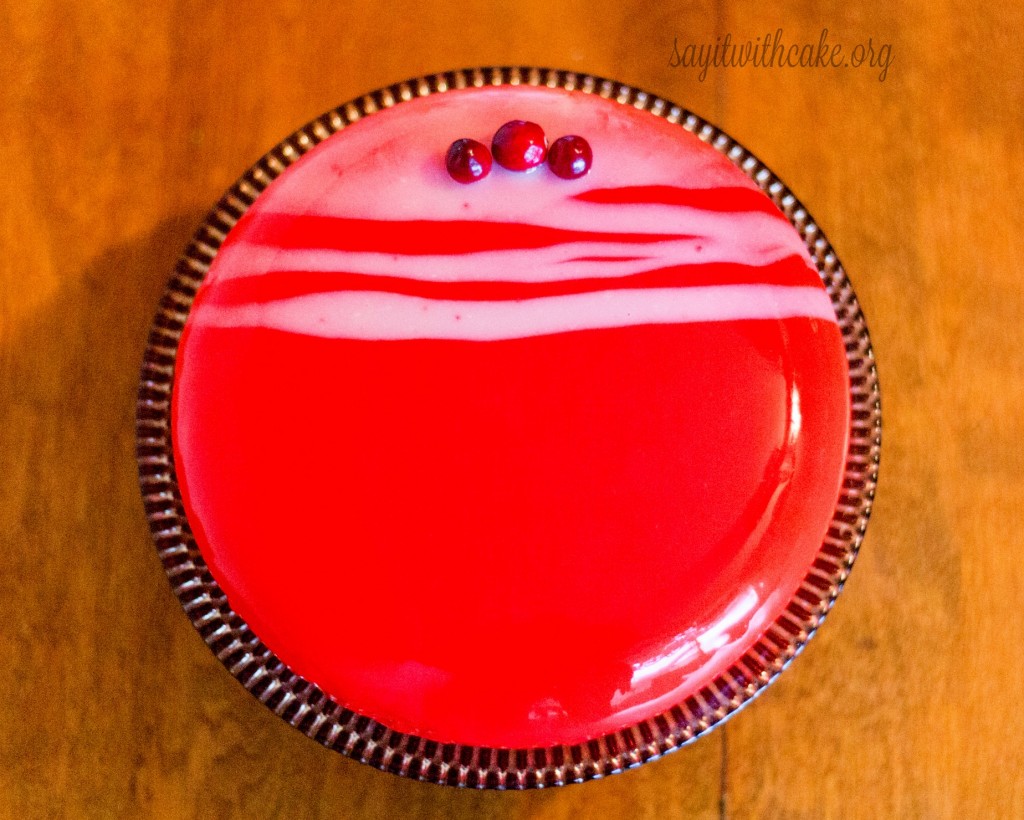 This is the top view and it doesn't even look like a cake does it?
White Chocolate Mousse
8 oz. good-quality white chocolate, chopped fine
1/4 cup water
1 envelope unflavored powdered gelatin
2 1/2 cups heavy cream
Directions
Put the chocolate in a metal bowl (1 qt. or larger) that will fit snugly over a saucepan. (You also can use a double boiler.)
Fill the saucepan with 1 in. of water and heat it until it's on the verge of simmering.
Remove the pan from the heat and set the bowl of chocolate on top of the saucepan.
Stir the chocolate with a rubber spatula to encourage melting; however, don't be concerned if the chocolate doesn't melt entirely.
Pour 1/4 cup water in another saucepan and sprinkle in the gelatin.
Let the gelatin soak for 5 min., and then set the saucepan over medium heat and stir until the gelatin dissolves.
Pour 1/2 cup of the cream in another small saucepan and bring it to a boil.
Remove the saucepan from the heat immediately.
Add the gelatin to the hot cream and stir until well mixed.
Add this mixture to the melted chocolate and stir well with a spatula until the mixture is very smooth.
Remove the bowl from the pan and allow the chocolate mixture to cool until it's just warm.
Use an electric mixer to whip 2 cups cream until it just holds stiff peaks.
Use a rubber spatula to gently fold half of the whipped cream into the slightly warm chocolate mixture.
Add the remaining whipped cream and fold gently until smooth.
Don't over fold the mixture; it should still have a few distinct streaks of white chocolate and whipped cream.
Mirror Glaze Recipe
Ingredients
20 g gelatin powder
120 g water
300 g light corn syrup
300 g sugar
150 g water
200 g sweetened condensed milk
300 g white chocolate good quality chopped fine
food coloring
Directions
Bloom 20 g gelatin in 120 g water
boil 300 g corn syrup, 300 g sugar, and 150 g water
remove from heat and add gelatin
add condensed milk
pour over chocolate and mix until chocolate is melted completely (make sure you chop the chocolate really small before hand)
stir and make sure glaze reaches 95 degrees F
separate into multiple bowls if you want multiple colors
add food color
Let it cool for many hours until the glaze reaches 89.6 degrees F and is semi thick.
Pour glaze over cake
Other cakes you might enjoy