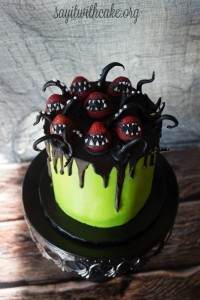 This cake is a four layer 5 inch cake with marbled Halloween colors inside of neon orange, purple, and green! The cake is filled with neon green whipped cream and covered in a neon green white chocolate ganache.  It is decorated with black ganache dripping down the top, along with creepy strawberry monsters with black chocolate and fondant teeth, and black gum paste tentacles! Everything on this cake is yummy and edible!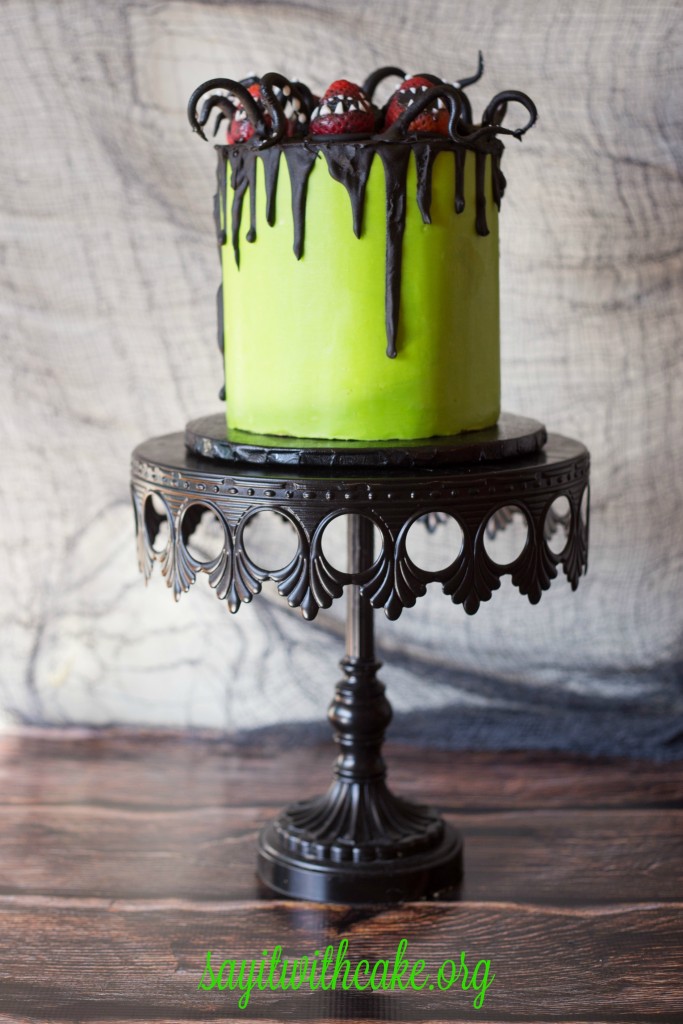 To start with, I made a half recipe of my WASC cake.  This recipe is big and I was only making a 5 inch cake.  This cake is very moist, I always get compliments when I use this recipe 🙂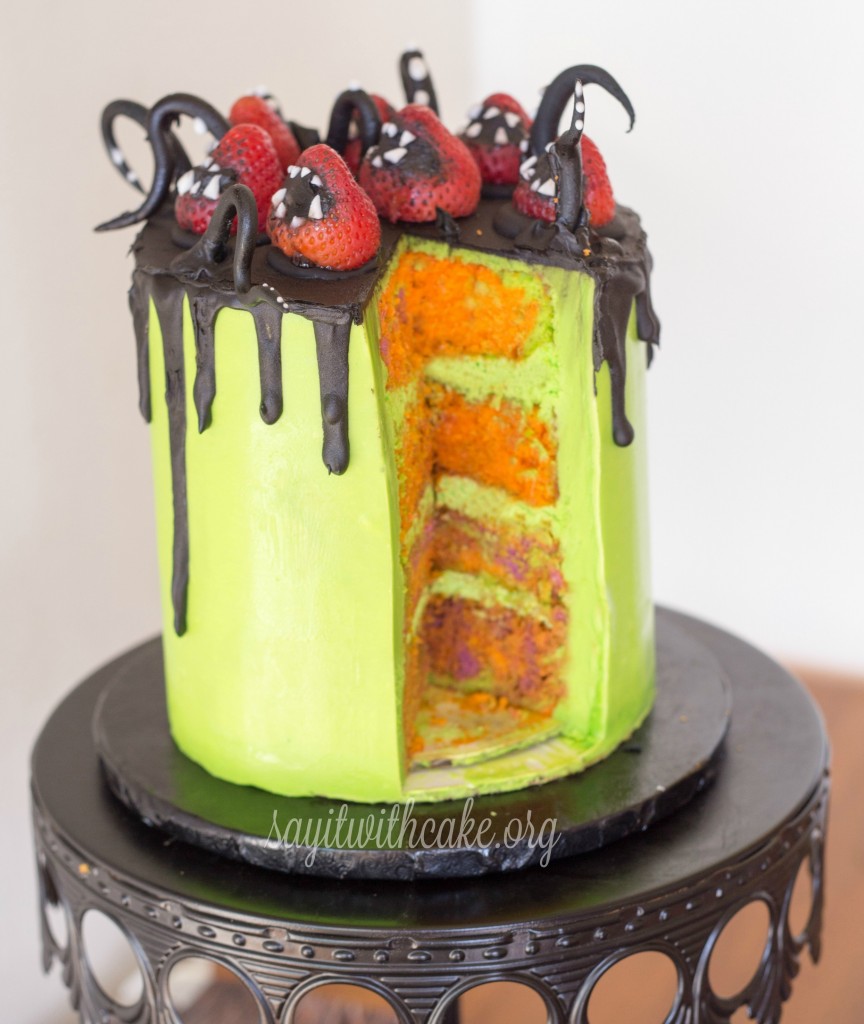 After the batter was made, I separated the batter into three equal parts in 3 bowls.  I added americolor gel into each bowl.  The colors I used were neon orange, neon purple, and neon green. Then I sprayed 4 pans and poured batter from each color into the pan and swirled it around with a butter knife.  I baked the cakes until the toothpick came out clean around 25 minutes.  In the pictures the cake looks more orange with just a little purple.  I wish I would have added more of the other colors!
White Almond Sour Cream Cake (WASC)
Ingredients
2 boxes white cake mix 2 cups all-purpose flour 2 cups granulated sugar 1 1/2 teas. salt 8 egg whites 2 2/3 cups water 4 Tbls. vegetable oil 2 cups (16oz carton) sour cream 2 teaspoon clear vanilla flavor 2 teaspoons almond extract
Instructions
Mix all dry ingredients by hand using a whisk in a very large mixing bowl. Add the rest of the ingredients and beat on low speed for 2 minutes. Bake at 325 degrees
***One recipe makes: one 14″ round + one 6″ round
or one 16″ round
or one 12″ round + one 10″ round
or one 12×18″ sheet cake
or one 12″ round + one 8″ round + one 6″
Half a recipe makes: two 8″ rounds
or two 6″ rounds + 6 cupcakes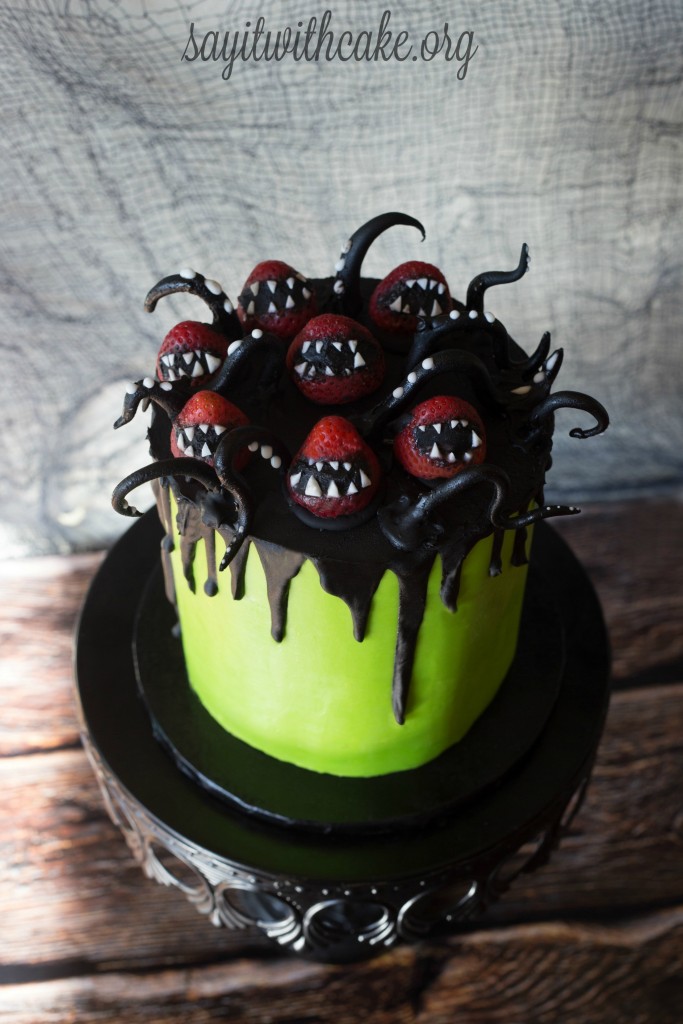 While the cake was baking, I made a batch of neon green ganache, and a half batch of black ganache.
To make white chocolate ganache, the ratio is 4:1 because white chocolate is a lot softer then regular chocolate.  You can use a high quality white chocolate, but you can also use white chocolate chips.  When I made this recipe, I added a few drops of neon green food coloring to the cream while it was cooking.
These are the ingredients you will need.  White chocolate and heavy whipping cream.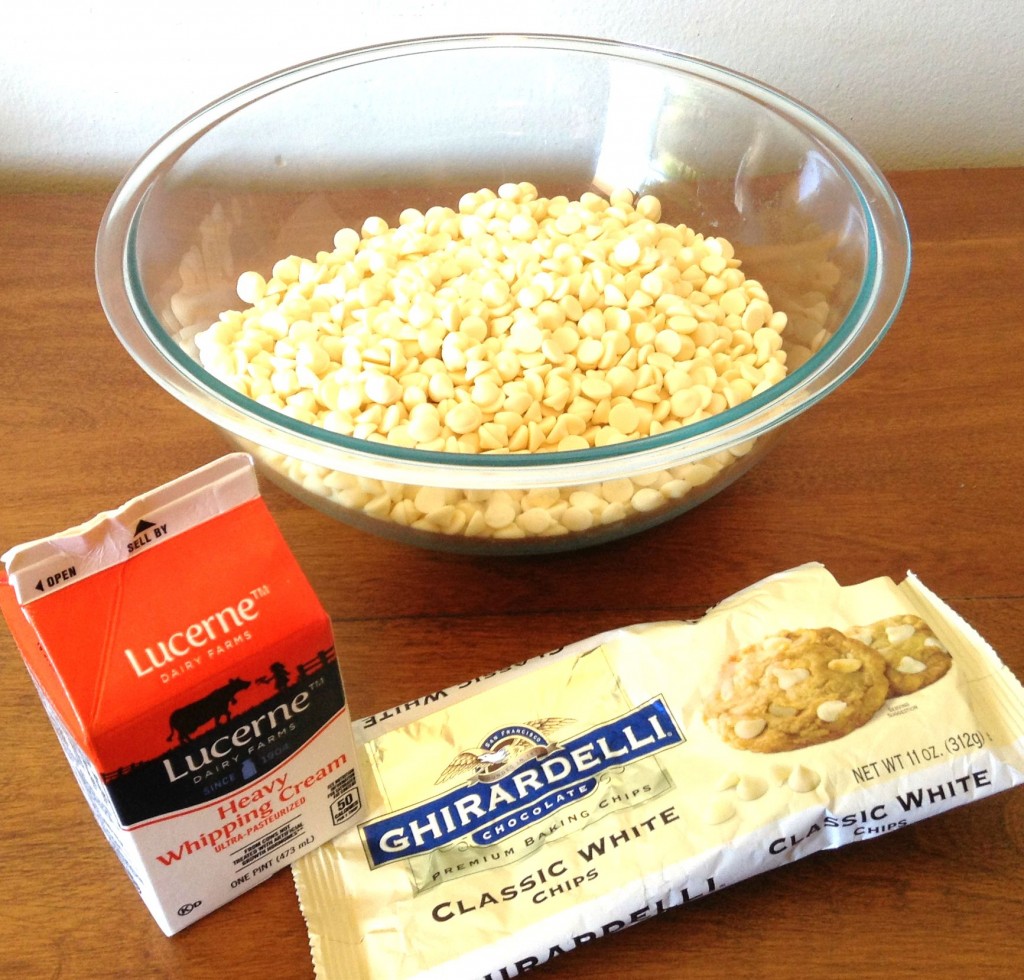 For one recipe, pour 4 cups of chopped or white chocolate chips in a bowl.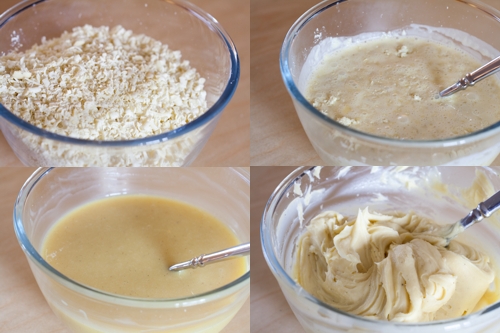 Heat one cup of heavy cream in a saucepan until it starts to boil and rise up.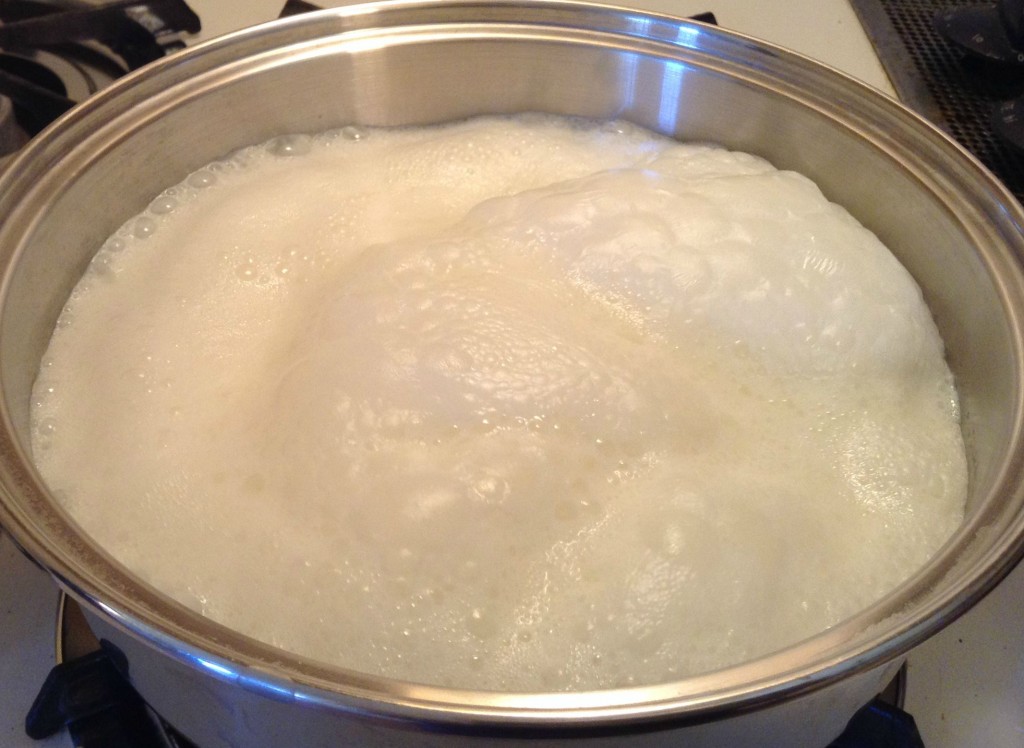 pour the cream on top of the chocolate and let it sit for 5-10 minutes.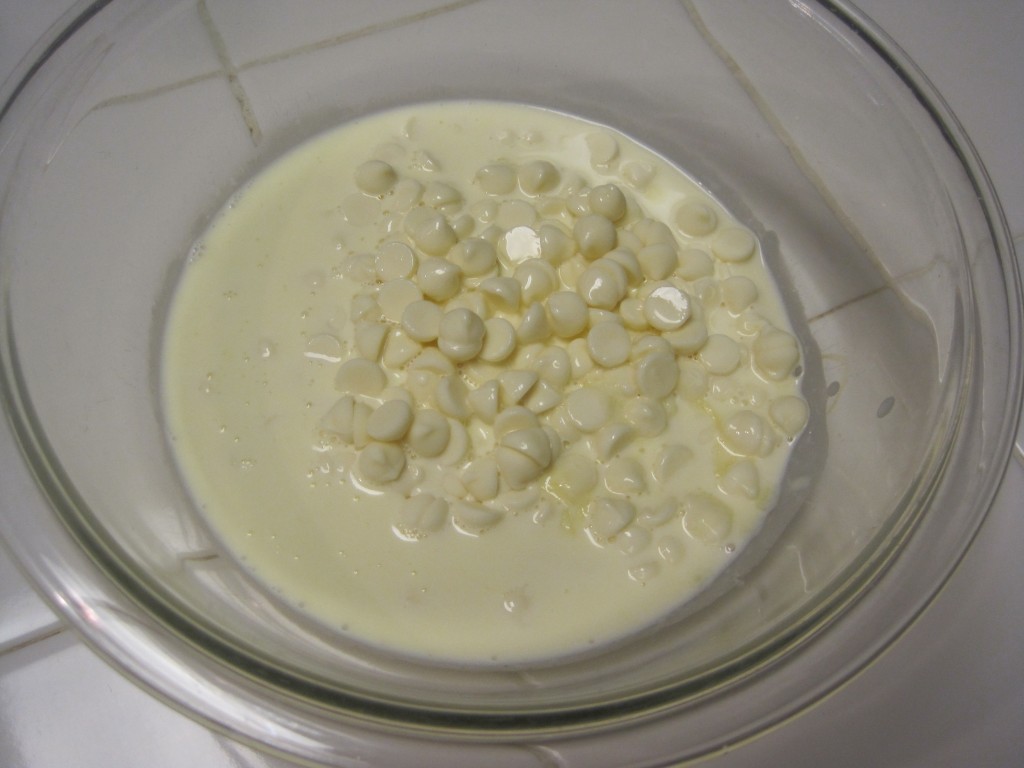 With a wire whisk, stir the chocolate and cream until smooth and use a spatula to scape down the sides as necessary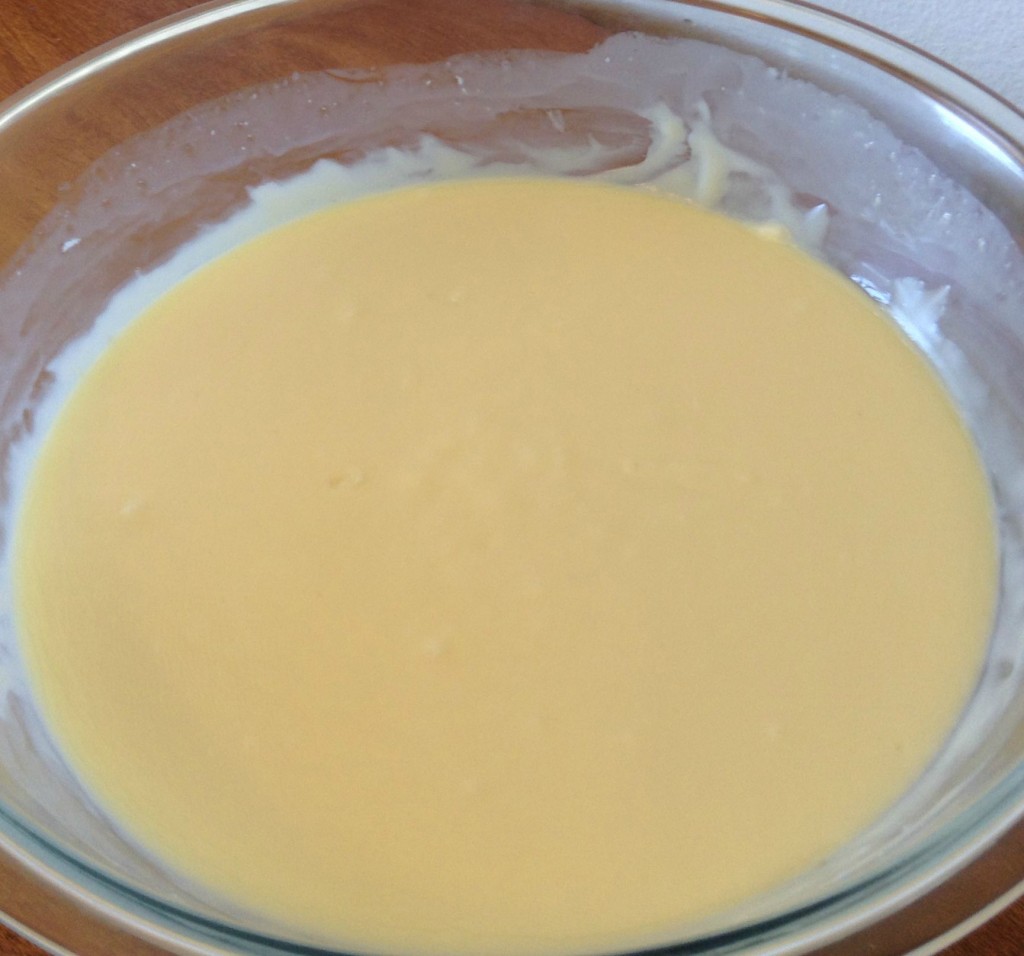 Cover with plastic wrap, and press plastic down to touch the ganache so a film doesn't develop
Let ganache sit overnight on the counter
Ganache is great to use under fondant.
Here is my recipe for chocolate ganache that I used for my black ganache.  The only difference was that I put a few drops of black food coloring into the cream before I added the chocolate.
For the Ganache
 12 ounces chocolate chips
1 cup heavy cream
Place the chocolate in a medium-sized bowl and set aside.
Bring cream to a boil in a small saucepan and when it begins to bubble up, pour over the chocolate and let sit for 5 minutes. Gently stir, starting in the middle and working your way outward, until the cream and chocolate are completely mixed. Cover with plastic wrap and set aside. Let the ganache sit at room temperature over night.
I also whipped up half of a batch of whipping cream with neon green food coloring.
Whipped Cream Icing
 1 eight oz package reduced fat cream cheese (room temperature)
1/2 cup of white sugar
1 tsp vanilla extract
1/8 tsp almond extract
1 quart of heavy or regular whipping cream
Combine all ingredients except the whipping cream by using a regular or stand mixer. While the mixer is still running, slowly add the cream. Continue to whip until stiff peaks form.
I put one cup of whipped cream between each layer of cake.  Then I covered the cake with the neon green ganache and made sure it was smooth.  Next, I poured the black ganache over the top of the cake and let it drip down the sides.  I let it set in the refrigerator for 20 minutes.
To make the strawberries:
I got about 12 strawberries from the batch of strawberries I had and picked out the best ones.  I cut out mouths with a paring knife, scooping out the excess strawberry inside.  I took some black ganache extra from the dripping ganache, and spread it inside the opening of the mouth  and filled it with the  ganache.  I let that harden while I cut out white teeth from white fondant, but you can also pipe the teeth with white royal icing.  It was pretty tricky cutting out the fondant and trying to stick them onto the ganache with a little bit of water.  I think next time I will try piping them on instead.  They are so cute and creepy looking at the same time! It was fun watching my son and his cousins staring at this cake when I first showed it to them.  They just couldn't make out if it was scary, gross, or cute lol.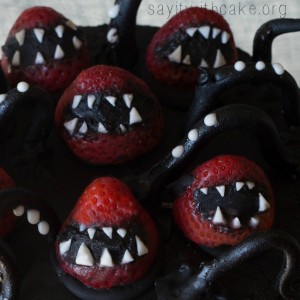 I made the tentacles ahead of time with black gum paste.  I let them harden into the shapes I wanted.  At the end of the assembly, I stuck the tentacles into the black ganache and stuck the strawberries on also.

This cake was inspired by Christine McConnell she is so awesome!  Also yummycrumble  Kathleen does great work!
My cake was featured here!
Country Living 60 Utterly Bewitching Halloween cakes