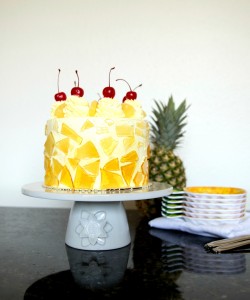 Have you ever had a Dole Whip from Disneyland?  If you have, then you will know how delicious, light, airy, creamy, and tangy they are! They are my favorite treat to get when at Disneyland.
The lines are always so long to buy a Dole whip, last time I was there, I waited 45 minutes to get mine! It was worth the wait.
Next time I go to Disneyland , I will run to get my Dole Whip right when the park opens.  I decided to make a cake based on my favorite treat.  It is a three layer white cake soaked with fresh pineapple juice, filled with pineapple curd and a fluffy pineapple filling that tastes similar to a Dole Whip.  It is frosted with Pastry Pride with pineapple curd mixed in, and topped with cherries and fresh pineapple.
The air whipped swirls on top of this cake topped with a red cherry look pretty close to the actual Dole Whip! I had never made a pineapple cake before and decided it was time to try.  I thought about making a pineapple upside down cake, but I will save that for another time.  I am glad I made this cake, and hopefully it will tide me over until I can go to Disneyland again 🙂
So to make this cake, first I started by making a white cake.  I decided to use a cake mix this time because I was short on time.  If you would like to make a white cake from scratch my favorite white cake recipe is here.   I used three 6 inch cake pans and cooked them all at the same time for about 30 minutes.
Next you will make the pineapple curd.   I discovered a really easy way to make the curd.  Basically I added the ingredients and whisked them together, and microwaving then for one minute at a time.  It sets up really nice in the refrigerator.  When I put the curd into the cake layer, I made a dam with the filling so the curd wouldn't seep out.  However as you can see on my top layer, the dam wasn't high enough and a lot of the curd leaked out.  This is unfortunate because the pineapple curd is one of the best parts of the cake.  I ended up scraping most of it off the sides as it dripped down.
For this delicious filling, I used my recipe from the Orange Dreamsicle cake.   Instead of the orange extract, I used about 1/2 cups of pineapple curd .  The result is light and creamy and tastes just like Dole whip in non ice cream form.  It pairs perfectly with the pineapple curd and they balance out each other. One is more tangy, one is more creamy.
The frosting on the outside is Pastry Pride which I bought at Smart and Final.  You simply whip it up for about 7 minutes and add a few tablespoons of pineapple curd.  Then, frost the cake like you would with frosting.  I thought about using a pineapple buttercream to frost the cake.  It might have been better for the dam, but I think the whipped cream was more similar to the Dole Whip.  Also, I always keep in mind that my husband prefers whipped cream to buttercream, and he is usually the one eating most of the cake 🙂
I brought this cake to my Aunt Teresa's house for Easter Dinner.  The kids were very interested in the broken pieces of sugar shards decorating the cake.  They said it looked like glass.  I fed my little 1 year old nephew Gabey a giant piece of this cake.  He seemed to love it and kept asking for more, so I felt like it was a success 🙂  I also know it was good because my Aunt Teresa asked for a second piece to save for tomorrow! There is nothing I like more then making a cake my family likes, and going home with an empty cake plate.
Here is the recipe:
Dole Whip Cake
prepare white box cake mix
Pineapple Curd
7 large egg yolks
3/4 C sugar
1/2 ts salt
1/2 pineapple juice
1 TB lemon juice
I stick of butter melted
Instructions
In large microwave safe bowl, whisk together sugar, salt, and eggs until smooth
Whisk in the pineapple juice, lemon juice, and butter
cook in microwave for 1 minute
take out and whisk. microwave for another minute
keep doing this for about 3-5 minutes but take out and whisk after each minute
It is done when the curd can coat the back of a metal spoon.
Dole Whip Filling
•2 c Cool Whip
•yellow food coloring (If desired)
•14 oz sweetened condensed milk
•1/2 c pineapple juice
•2 small pkgs instant vanilla pudding
Combine pudding, water, Sweetened Condensed milk and extract.
Add food color to desired shade.
Fold in Cool Whip.
Refrigerate 30 minutes.
Spread 1 cup between layers of cooled cake (thick).
Keep refrigerated, but this does hold up well at room temperature
For the Sugar Shards (do this day of serving):
3 cups granulated sugar
½ cup water
Line 2 half sheet pans with tin foil, set aside.
Place sugar and water into a medium saucepan over high heat. Stir to combine and until sugar dissolves. Do not stir from this point forward. Use a pastry brush to wash down the inside of the pot occasionally to prevent sugar from crystalizing.
Cook sugar, swirling pot occasionally until desired color of caramel is reached (10-15 minutes).
Immediately pour onto baking sheets. Tilt the sheets as needed to distribute the sugar. Allow to cool slightly (approximately 5 minutes).
Once sugar has cooled and set (but is still warm), peel off tin foil and break sugar into shards.***
Photography by Wendy Cox Photography
ENJOY!

Other cakes you might like!