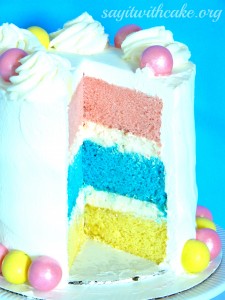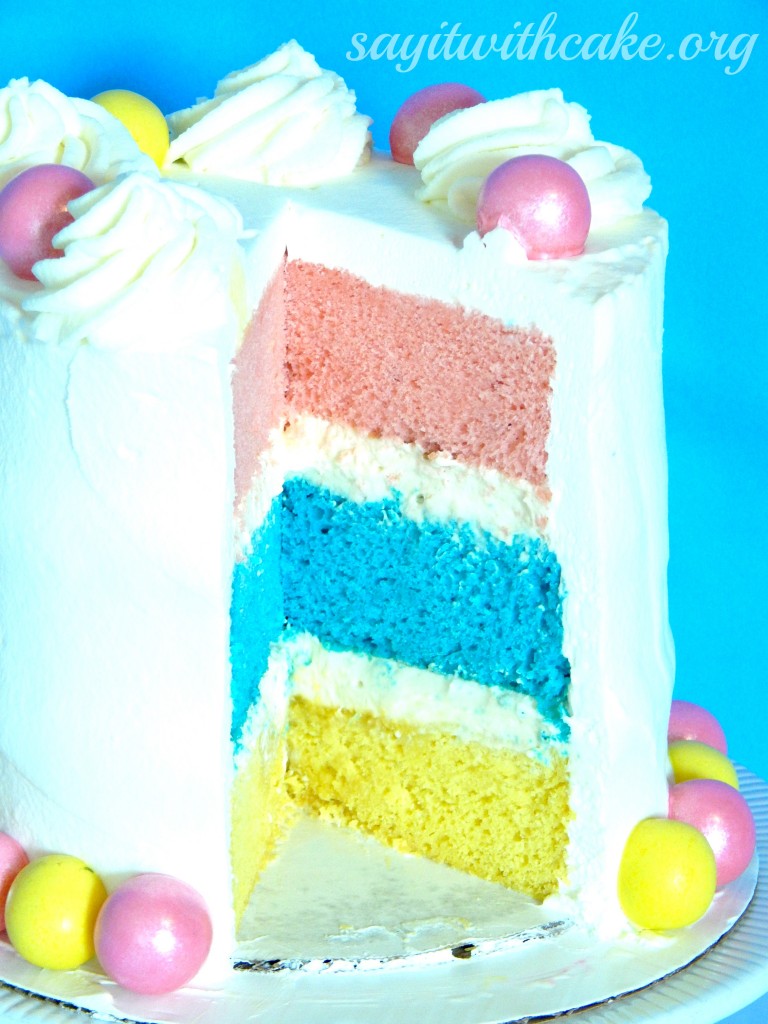 I love Spring time, and all the beautiful pastel spring colors! This cake is bright and beautiful like Spring and is perfect for an Easter celebration.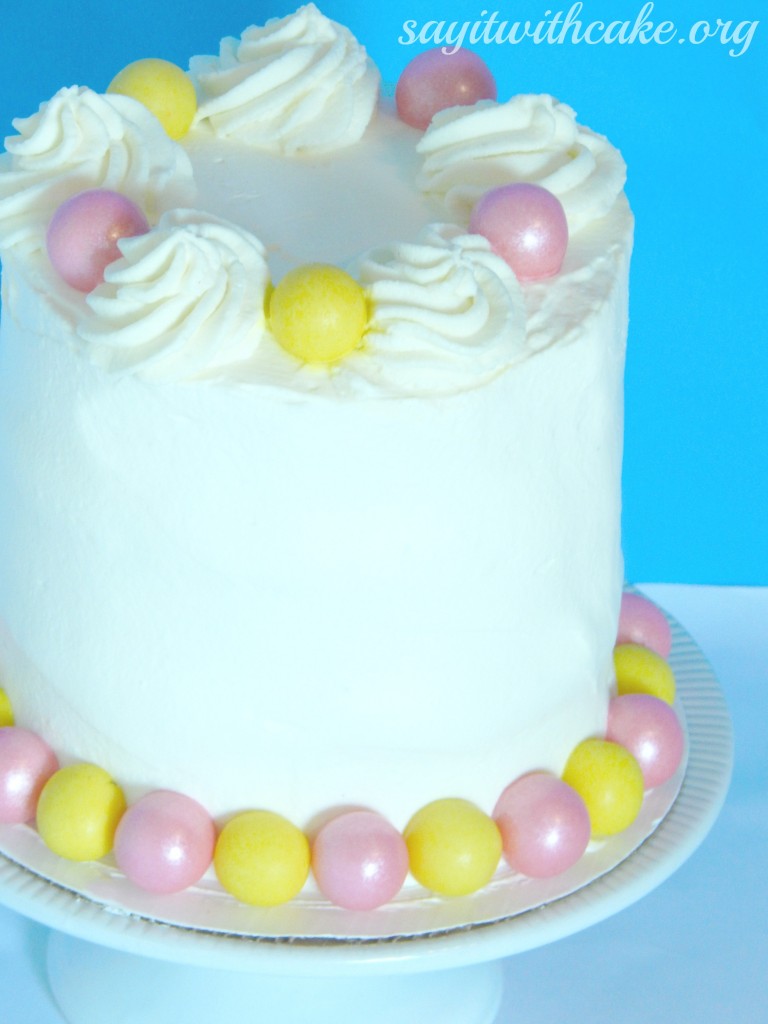 I made one recipe of my WASC cake (White Almond Sour Cream Cake) and used pink, yellow, and blue food coloring to make three separate 6 inch cakes.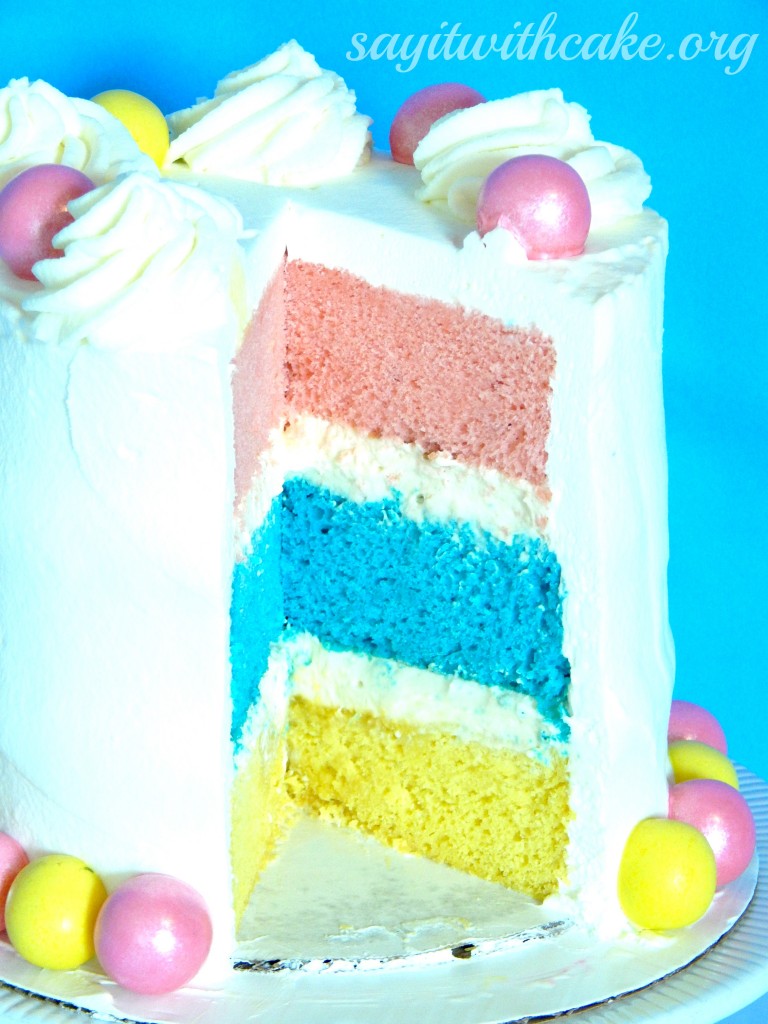 The filling I used was a white chocolate pudding filling.  The filling uses white chocolate pudding, half and half, cream cheese, dream whip, and vanilla.

The topping I used was a whipped cream frosting, using heavy whipping cream, and sugar.
Ingredients
Cake

2 boxes white cake mix
2 cups all-purpose flour
2 cups granulated sugar
1 1/2 teas. salt
8 egg whites
2 2/3 cups water
4 Tbls. vegetable oil
2 cups (16oz carton) sour cream
2 teaspoon clear vanilla flavor
2 teaspoons almond extract
I used half of this recipe for this cake

Filling

1 [2.6 oz] box dry whipped topping mix [i.e.Dream Whip]
3 cup cold half & half, divided
2 [3.4 oz] box white chocolate instant pudding mix
2 tsp pure vanilla extract
1 cup whipped cream cheese
I used half of this filling for this cake

Topping

I cup heavy whipping cream
1/4 cup sugar
Instructions
Cake

1.Mix all dry ingredients by hand using a whisk in a very large mixing bowl. Add the rest of the ingredients and beat on low speed for 2 minutes. Bake at 325 degrees until toothpick comes out clean, about 30 minutes
***One recipe makes: one 14" round + one 6" round 3.or one 16" round or one 12" round + one 10" round or one 12x18" sheet cake or one 12" round + one 8" round + one 6" Half a recipe makes: two 8" rounds or two 6" rounds + 6 cupcakes

Filling

To prepare the filling, using a mixer whip together both envelopes of whipped topping with 1 1/4 cup of cold half & half. Whip for 3 minutes or until firm peaks form
Add both packages of instant pudding, 1 3/4 cups of cold half & half and 2 tsp pure vanilla extract. Whip for another 2-3 minutes until thickened. Add the whipped cream cheese and whip for another 1-2 minutes until light and fluffy. Spread half of the filling over the bottom layer of cake.

Topping

Whip your whipped topping until firm peaks form. Add sugar
http://sayitwithcake.org/easter-layer-cake/