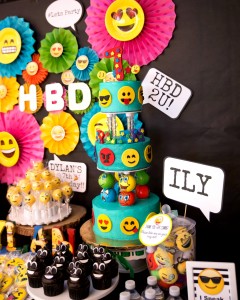 This is the Emoji Party I made for my son Dylan who turned 7! His dessert table included  a three tier cake, poop emoji cupcakes, emoji cookies, emoji cupcakes, emoji cups filled with popcorn, waters with emoji labels, and jars filled with emoji keychains.  His party included the dessert table, a food table with spaghetti, fettucine, Caesar salad, and garlic bread catered by DeLuca's Pizza.  A jumper, 2 giant trampolines, an emoji game, a slide show, birthday cake, and a piñata!
Wendy Cox Photography
The emoji cake is three tiers of chocolate and vanilla zebra striped cake with buttercream filling and frosted with a turquoise buttercream.  It is also covered in fondant emoji's and a fondant number 7.
The poop emoji cupcakes are made with both chocolate and vanilla cupcakes.  They have black cupcake wrappers.  The frosting is a delicious chocolate buttercream.  Here is the recipe:
Chocolate Buttercream
1 cup salted butter, at room temperature
3 1/2-4 cups powdered sugar
1/2 cup cocoa powder
1 tsp. vanilla extract
3 Tablespoons heavy cream, or milk
Instructions
With an electric mixer (either hand or stand), beat butter until pale, about 3-4 minutes on medium.
Scrape down the bowl.
Add 3½ cups powdered sugar, cocoa powder, vanilla, and 2 tablespoons of milk.
Mix on low until powdered sugar and cocoa powder are incorporated.
If the frosting is too dry, add another tablespoon of milk. If the frosting is too wet, add powdered sugar 2 tablespoons at a time until it reaches a spreadable consistency
The emoji cake pops are also chocolate and vanilla cake pops mixed with frosting and formed into balls.  After they were dipped into yellow candy melts I painted emoji faces on them with royal icing and a toothpick.  For a more detailed description on how to make a cake pop click here. Royal Icing
1 tbsp. light corn syrup

1 tsp CLEAR vanilla extract

1 cup water

2 lbs. powdered sugar

5 tbsp. meringue powder
Instructions
In a mixer, combine meringue powder, light corn syrup, clear vanilla extract, and water.

Using a hand whisk, mix ingredients until the mixture becomes foamy.

Add the powdered sugar to the mixture.

Hand whisk the mixture until the powdered sugar is incorporated and looks soupy. (I do this step so the powdered sugar doesn't fly everywhere when I start the mixer in the next step.)

Attach the paddle attachment and beat mixture on medium-high for about 4-6 minutes.

The mixture should begin to thicken and whiten.

Mix until the icing forms peaks. (If you remove the paddle and wiggle it, the icing should kind of jiggle but the peaks will remain intact.)
Storing Royal Icing
After the royal icing is done mixing I immediately prep it for storage; royal icing can dry and start to crust over fairly quickly. I like to store my icing in the same mixing bowl. I know others like to transfer the icing to another bowl or into Tupperware for storage, which works great too. Below is just my preferred way of doing it.
Scrape the sides of the bowl and gather the icing with a rubber spatula.

Cover the top with plastic wrap touching the icing surface. Be sure to cover the edges of the icing. Any exposure to air will dry out the icing.

Cover the bowl with a damp kitchen towel. This prevents little dry crusties of icing from forming and getting into your icing, which would clog your icing tips when you try to decorate.
From this point, I scoop out the amount of icing I need at a time, while recovering the icing with plastic wrap and the damp cloth when it is not in use. I leave this bowl of icing at room temperature on my kitchen counter. Royal icing will keep for a few weeks, however I tend to finish off the batch before the end of the second week.
Royal Icing Tips and Tricks
This recipe can be easily doubled or reduced in half. I buy 2-pound bags of powdered sugar most of the time when making royal icing. However, if I know I won't need much icing for the cookies I have planned, I buy 1-pound bags and prep for half the recipe.
Royal Icing will separate in its bowl after a few hours. Just re-mix the icing with your mixer to bring it back to its normal, fluffy state.
I used the same royal icing to frost my sugar cookies.  It took 2 batches of sugar cookies, and two batches of royal icing to make 100 cookies.  I flooded the cookies with yellow royal icing, then after they were dry, I piped on the faces with royal icing and used a toothpick to help with the tiny details.
This is my son blowing out his candles.  He is such a cutie!
The piñata is a poop emoji as requested by my son.  I made it out of cardboard, paper Mache, duct tape, and brown crepe paper.  It is about 4 feet tall!
I love this shot of my niece Ruby hitting the piñata with all her might!
Above is the jumpy, the kids really enjoyed it 🙂
Here is a pic that I took showing some of the decorations.  I wish I had taken a photo of the food table, and some better ones of the decorations!
This is Dylan playing tetherball at the party with his friends Nori and Steve.
This is an emoji game I made. You see the strip of paper my husband is holding up with the ants on it? Well, the kids look at the paper and try to guess what the name of the movie is based on the emoji pictures! The answer for the one was Antz.  The first one to guess it right hits the bell and if it is right, will get a point.  The teams were divided up boys against girls. 
Photography by Wendy Cox Photography ands some I took on my ipad 🙂  I hope you liked the party! I love comments and would be happy to answer any questions!
ENJOY!
Wendy Cox Photography