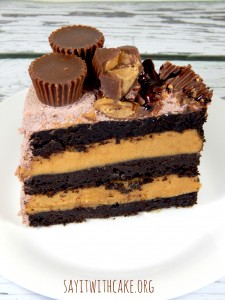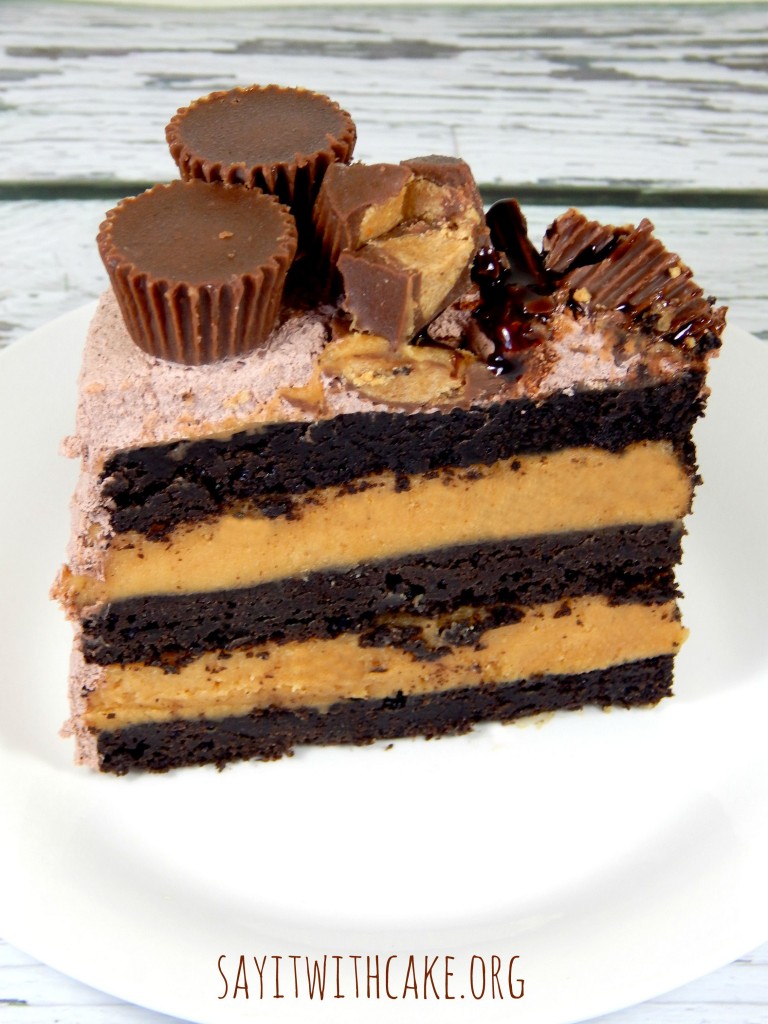 This rich and delicious cake is made with a chocolate flourless cake, peanut butter mousse filling, frosted with chocolate Pastry Pride, and topped with peanut butter cups and chocolate syrup!  I made this cake for my husbands birthday per his request.  It was a big hit!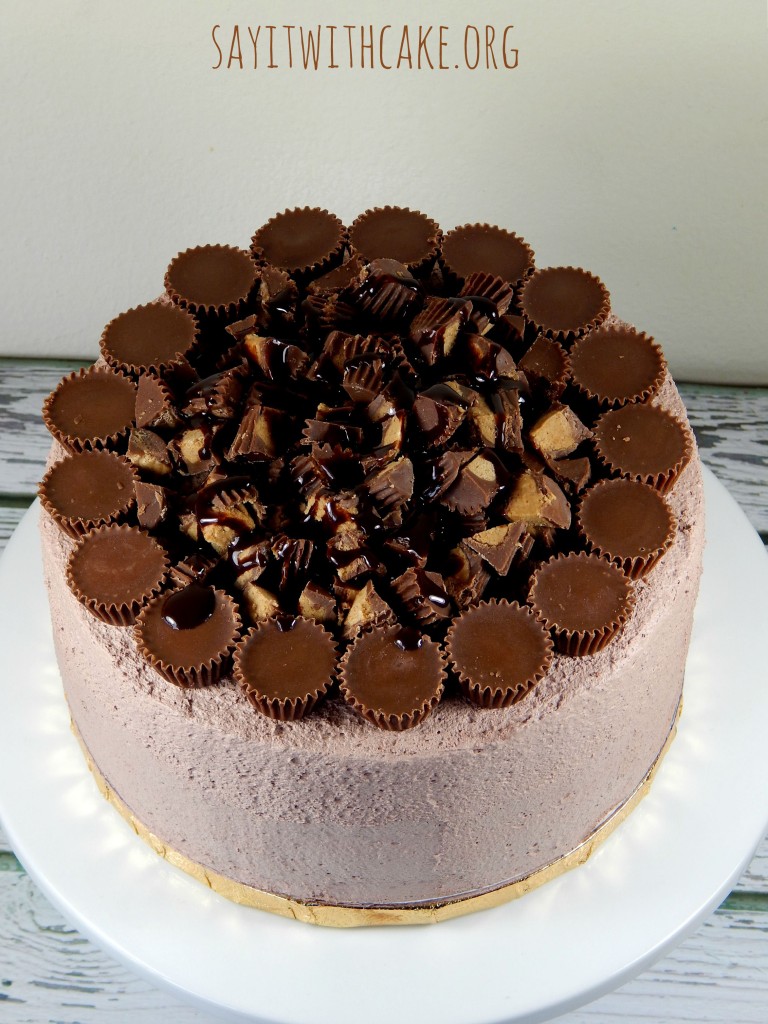 My husband does not like buttercream, so I whipped up some chocolate pastry pride to frost this cake with.  It made the rich cake a little lighter, which turned out to be perfect.  I had originally thought of frosting it with peanut butter buttercream and pouring chocolate ganache over the cake.  But I think that would have been way too sweet and rich.  I am happy with the way it tasted.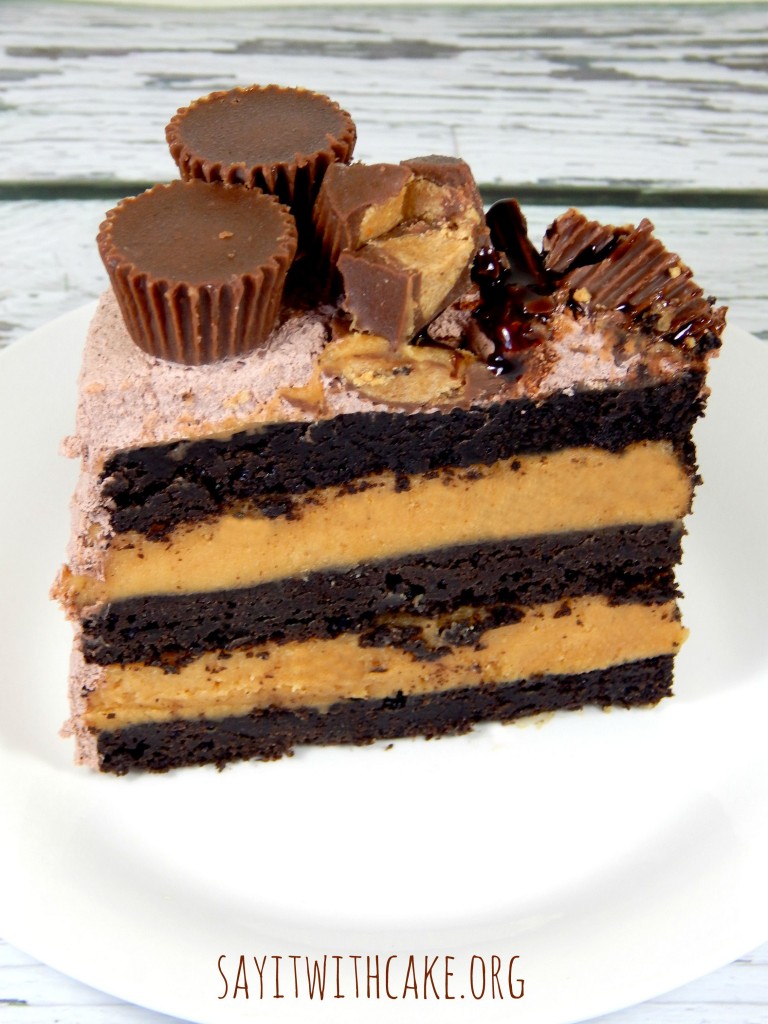 I loved the flourless chocolate cake, it was so flavorful! It was so chocolaty and dense, almost like a brownie but not at all hard.  I can't wait to make this again!
Flourless Chocolate Peanut Butter Cup Cake
Ingredients
Cake Ingredients:

1 cup butter
1 1/2 cups chopped semi-sweet chocolate (or chocolate chips)
6 eggs
1 cup sugar
1 tablespoon vanilla
3/4 cup cocoa powder (I used a mix of dutch process and regular)
1 teaspoon salt

Peanut butter Mousse filling

1 lb (455 g) (2 8oz packages) cream cheese, at room temperature
3 c (710 ml) smooth peanut butter, at room temperature
2 c (315 g) confectioners' sugar, sifted
1 c (235 ml) heavy cream

Chocolate Pastry Pride

1 quart Pastry Pride
1 package chocolate fudge pudding mix
Instructions
Cake Instructions:

Preheat the oven to 350ºF. Grease three 8 inch cake pans (depending on how many layers you want) and line with parchment paper.
Melt the butter and chocolate chips in the microwave or on the stove top.
Meanwhile beat together the eggs and sugar for about five minutes at high speed until pale and more than doubled in volume. Add the vanilla to the eggs and beat until combined. Sift in the cocoa and salt and mix again until combined. Stream in the melted chocolate and butter and beat until combined. Divide into prepared cake pans and bake for about 20-25 minutes or until toothpick comes out with some crumbs attached but no longer wet.

Peanut butter Mousse instructions

13.In a large bowl, beat cream cheese, peanut butter, and confectioners' sugar on medium speed until smooth and fluffy, about 3 minutes.
14.Put cream into a large bowl and beat on high speed until stiff peaks form. Using a rubber spatula, fold 1/3 of the whipped cream into the peanut butter mixture to lighten, then fold in remaining 2/3rds. Cover and chill until ready to use.

Chocolate Pastry Pride instructions

melt pastry pride over night in refrigerator
put bowl and whip attachment in freezer for 20minutes
whip pastry pride until stiff peaks form
add 1 package chocolate fudge pudding mix
http://sayitwithcake.org/flourless-chocolate-peanut-butter-cup-cake/
Enjoy!