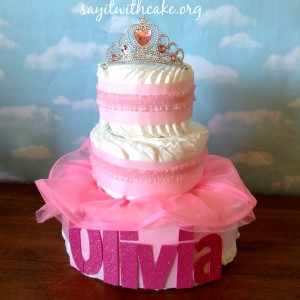 Since my blog is mostly about cake, I thought it would be fun to share a different kind of cake I made recently….a diaper cake! I was invited to a baby shower for my very good friend Jamie who after having three boys is finally having a girl!
One of the things she mentioned that she needs was diapers, so I thought I would get creative with the diapers instead of just giving her a big box of diapers.
The things you will need are diapers of course (I used 100 diapers in mine), rubberbands or string, ribbon for decoration, scissors, safety pins, hot glue gun (optional),  cake pans in size 6, 8 and ten (optional) and other things for decoration (I used a baby tutu, glittery foam paper, and a baby crown).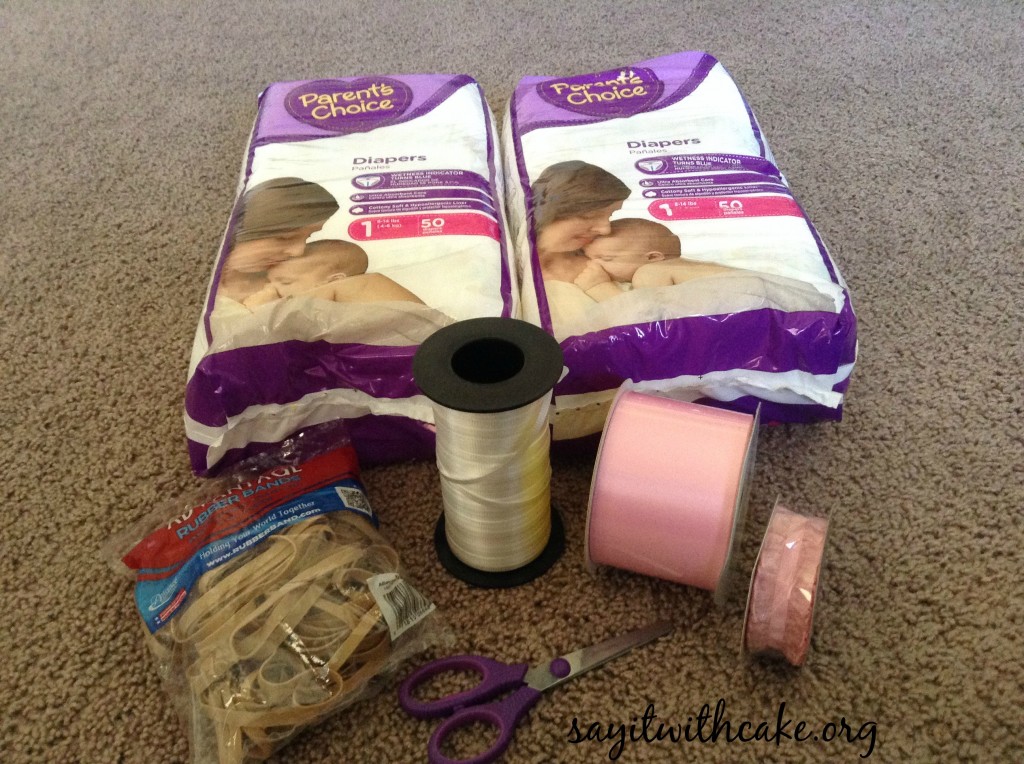 The diaper cakes I have seen online usually are individually wrapped up and secured with rubberbands.  I didn't want to make my diaper cake like that because I didn't want my friend Jamie to have to take the rubberbands off of each diaper, I imagine it would be very frustrating for her with a newborn trying to change the diaper and having to take a rubberband off first!  So I used a different technique and spiraled the diapers.  I used cake pans to put the diapers in to help measure the size I wanted each tier of diaper cake.  You don't have to use cake pans if you don't want to, eyeballing it would work just fine!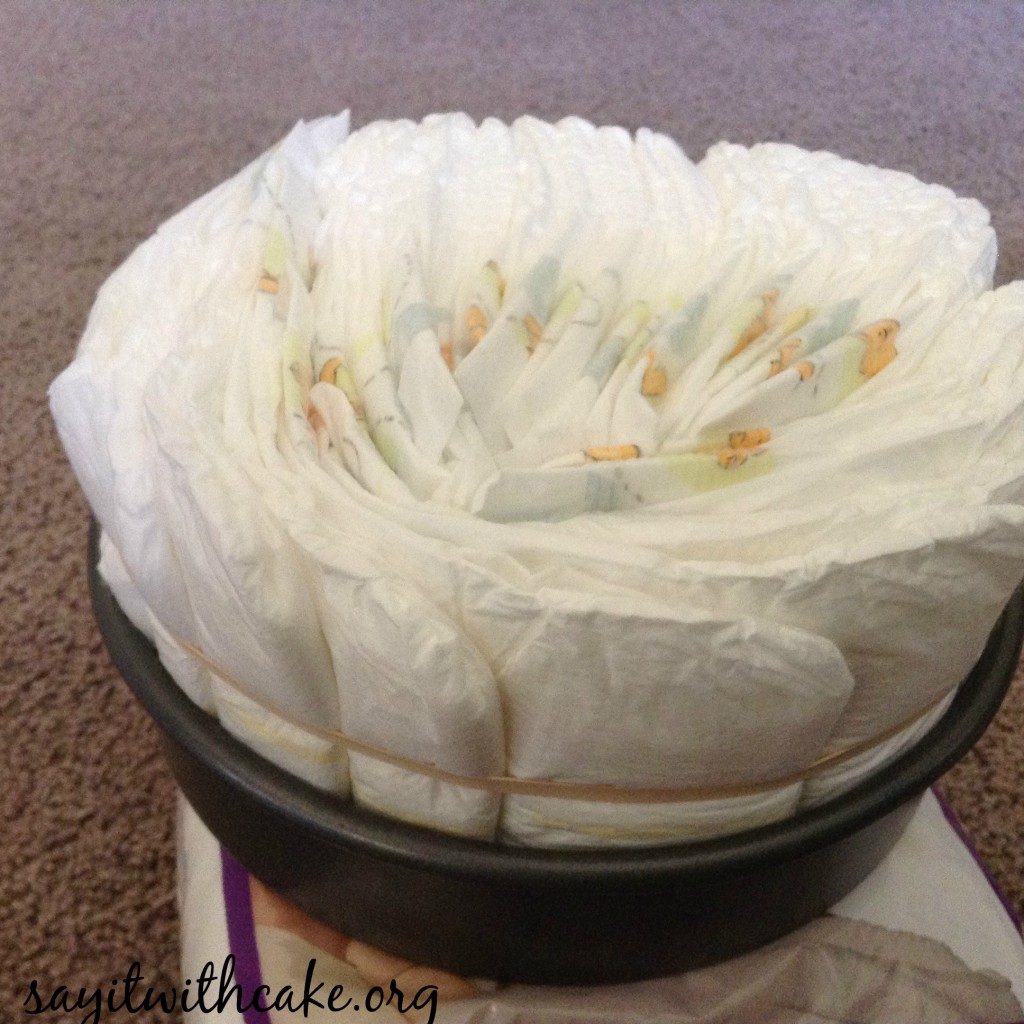 After you spiral the diapers inside the pan, secure them with a rubber band or two.  You can also use string instead.  Then you can take the diapers out of the pan.  Do this for each tier.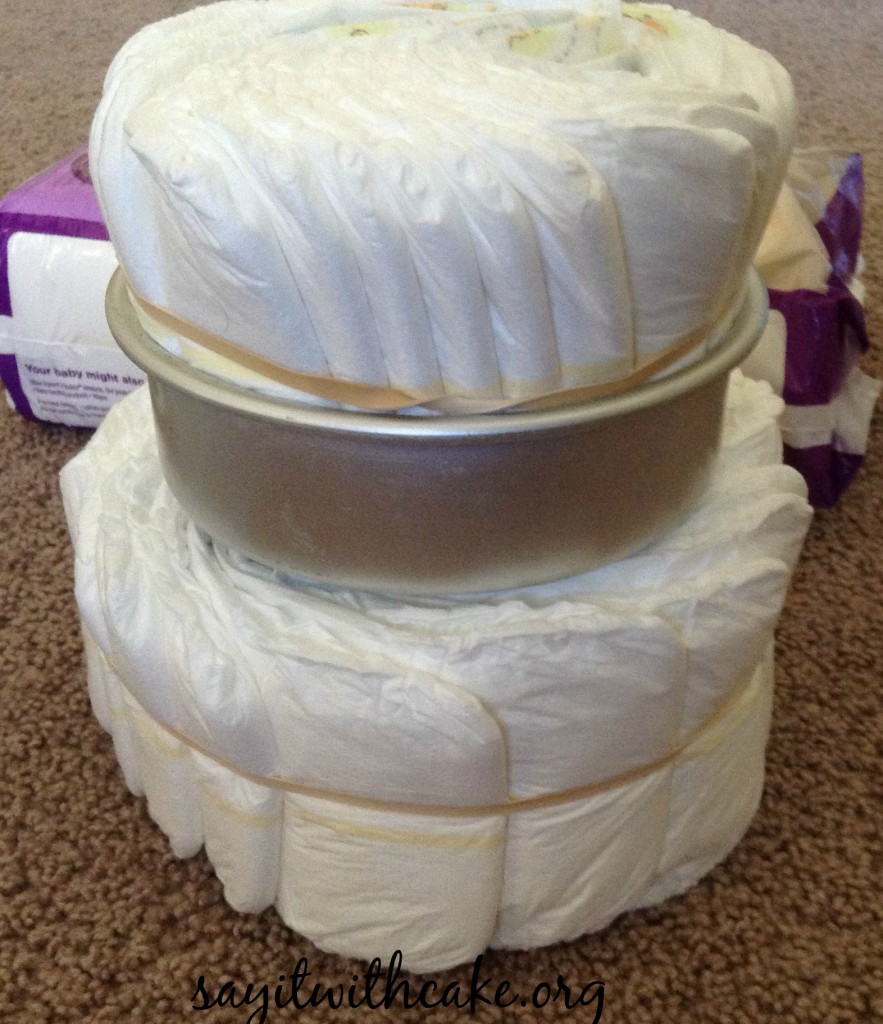 Stack each tier of diapers and then you can stick a wooden dowel in through the middle for support if you want to.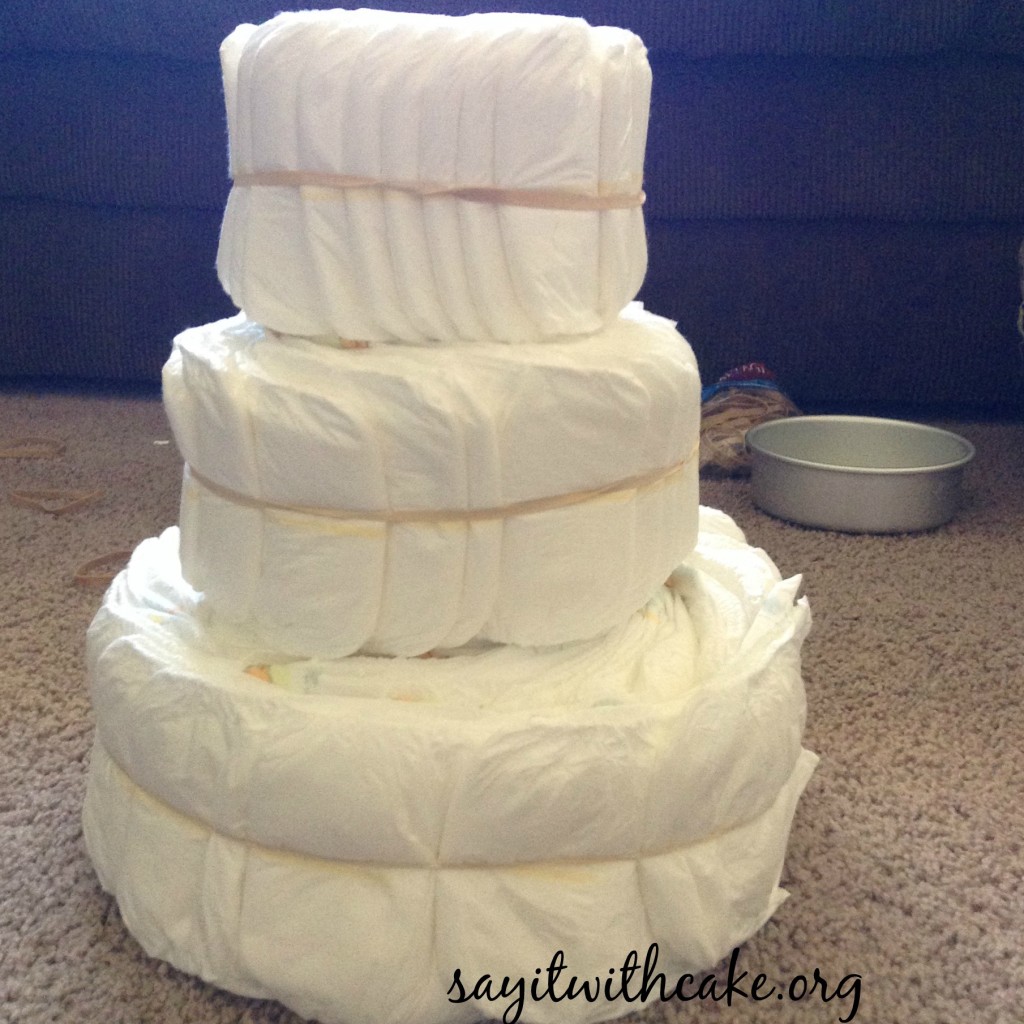 You can start decorating any way you like.  I put ribbon around each tier, and cut out letters from foam paper to say the baby's name.  I decorated with a  tutu and a crown on top.  You can also use things like receiving blankets, washcloths, or stuffed animals.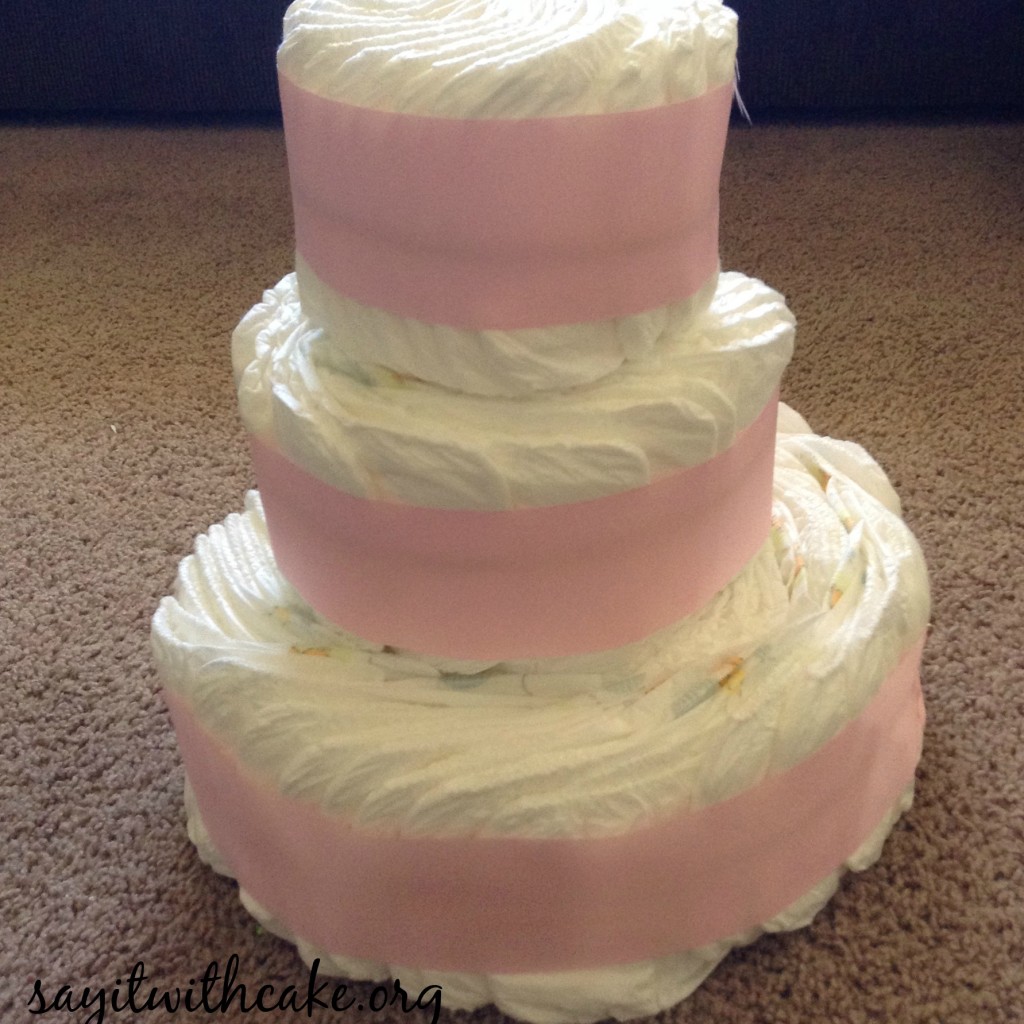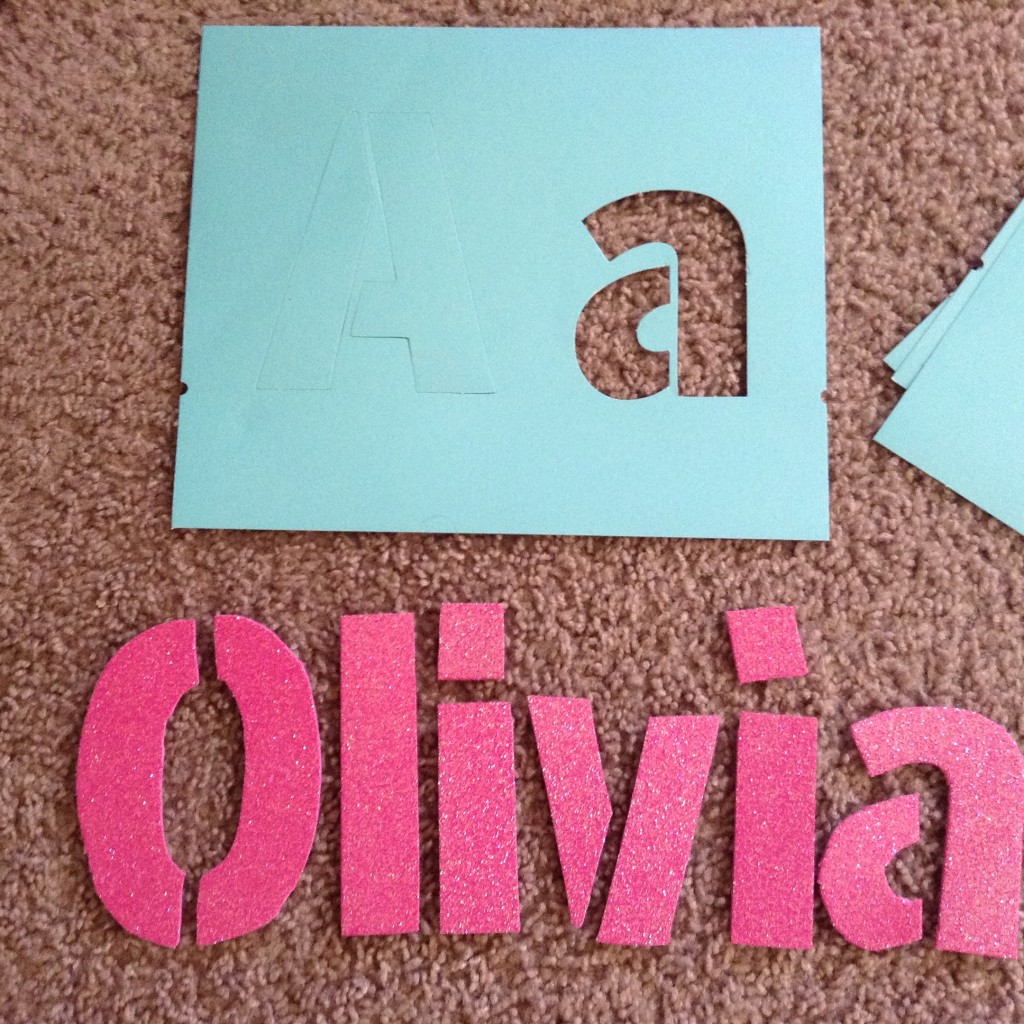 Here is the finished product! If you have any questions or comments, feel free to leave a comment below!
Enjoy!