For years I have seen many pictures of beautiful ruffle cakes, and I decided to finally try to make one of my own!  There are two different types of ruffle cakes that you can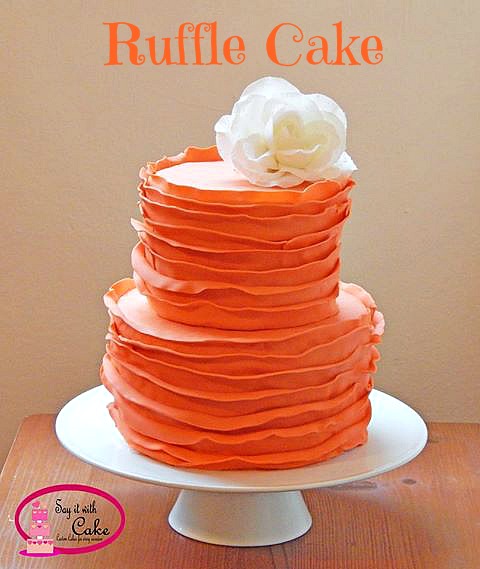 make, either with buttercream or with fondant.  If you are wanting to learn how to make cakes, cake icing, wedding cakes, ruffle cakes, or need cake ideas,  keep reading!
What you will need is:
-frosted cake with crusted buttercream and covered with fondant
– Equal amounts of fondant and gum paste or tylose powder
  – Large cell stick
– Frill tool (optional)
– Small spatula or knife
– Rolling pin
– Foam mat
– Corn starch
– Shortening
– Plastic wrap
To start out, knead the fondant and gum paste together on a lightly greased surface until the mixture is smooth and pliable.  If you don't use gum paste, then be sure to add some tylose powder.  This is so the fondant will be stiffer and your ruffles won't droop so much!
Roll the fondant out into a thin circle, and using a knife or spatula, cut a half circle shape around the edge of the circle.  Repeat, cutting about 1″ in from your first cut until you have a "Rainbow" of half circle cut outs.  Keep the half circle strips that you're not using covered with plastic wrap while you work; they will dry out quickly.  Another way to do this would be to cut strips of 1 " in the fondant.
Lay one strip of fondant out on a foam mat dusted with cornstarch.
Using your fingers, stretch the fondant out gently to make a little scalloped edge along the whole strip.  Next, using a cell stick or frill tool, frill the scalloped edge of the strip of fondant.  For the ruffle cake I made, I didn't want very tight ruffles so I used very little frilling.
My cake was featured here!