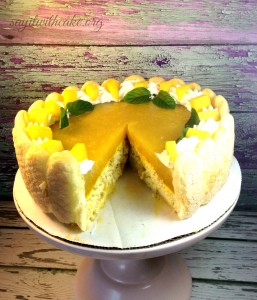 Mango's are in season now and I am so happy because I love Mango's! I have always wanted to try making a mango cake, so here is my attempt! A light fluffy vanilla sponge cake topped with a creamy mango mousse, and a mango mirror glaze on top, surrounded with lady fingers and garnished with fresh whipping cream, mango's and mint leaves.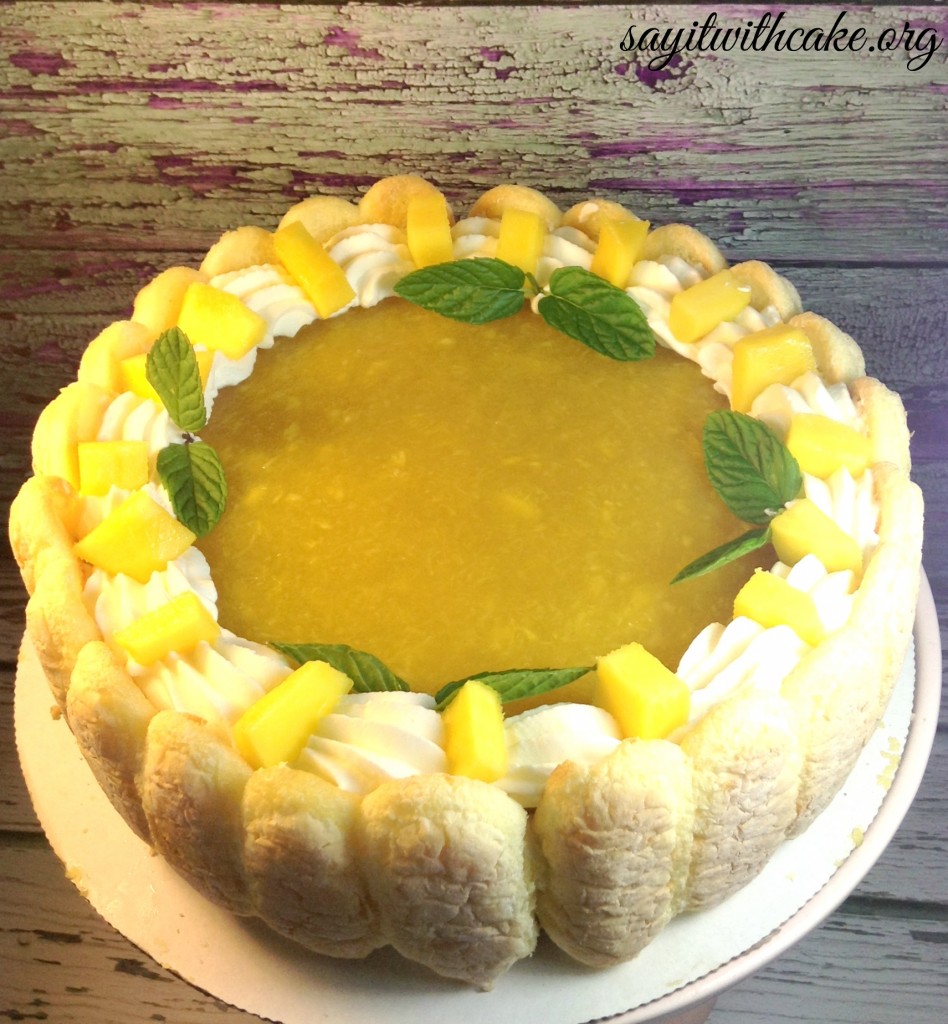 This is what the cake looked like without the lady fingers.  I used a pastry ring and acetate paper to make the cake keep its shape.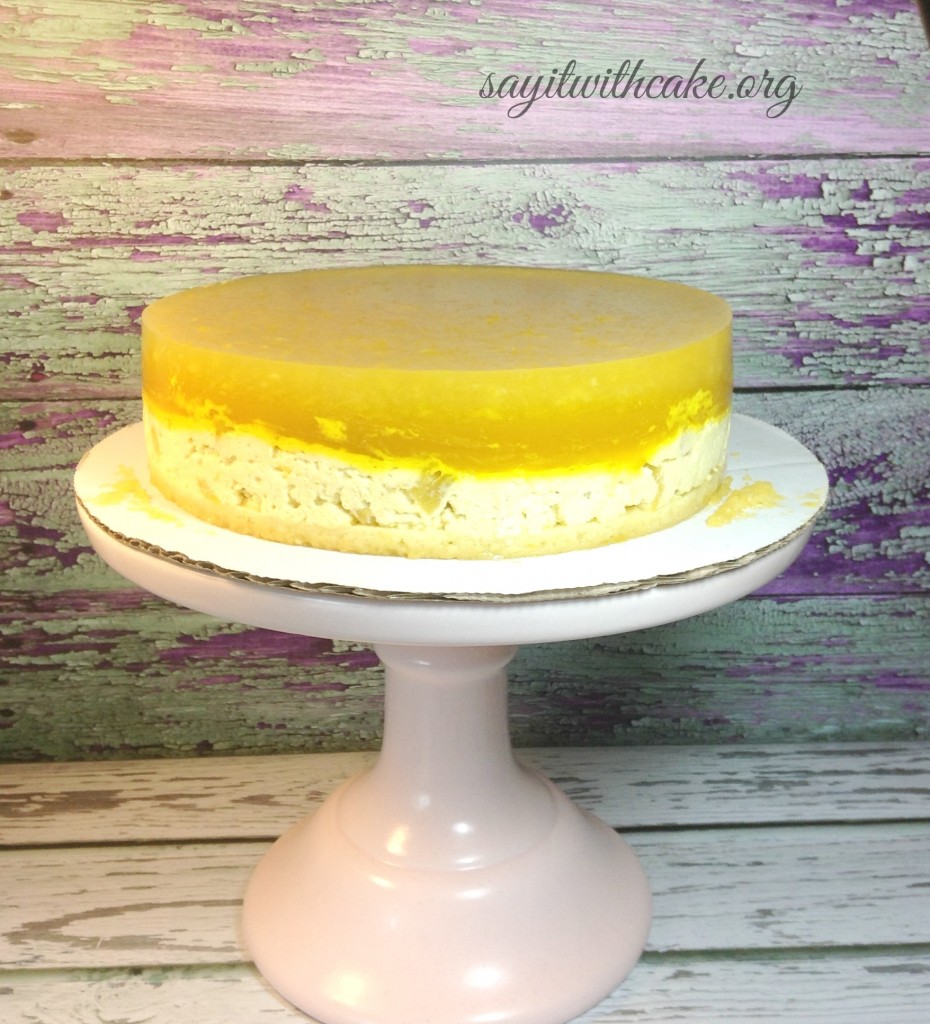 I made homemade mango puree and you can see little pieces of mango inside the glaze on top.  Next time I would blend the puree longer so there would be np pieces inside.  It is supposed to have a mirror like surface when it is done right.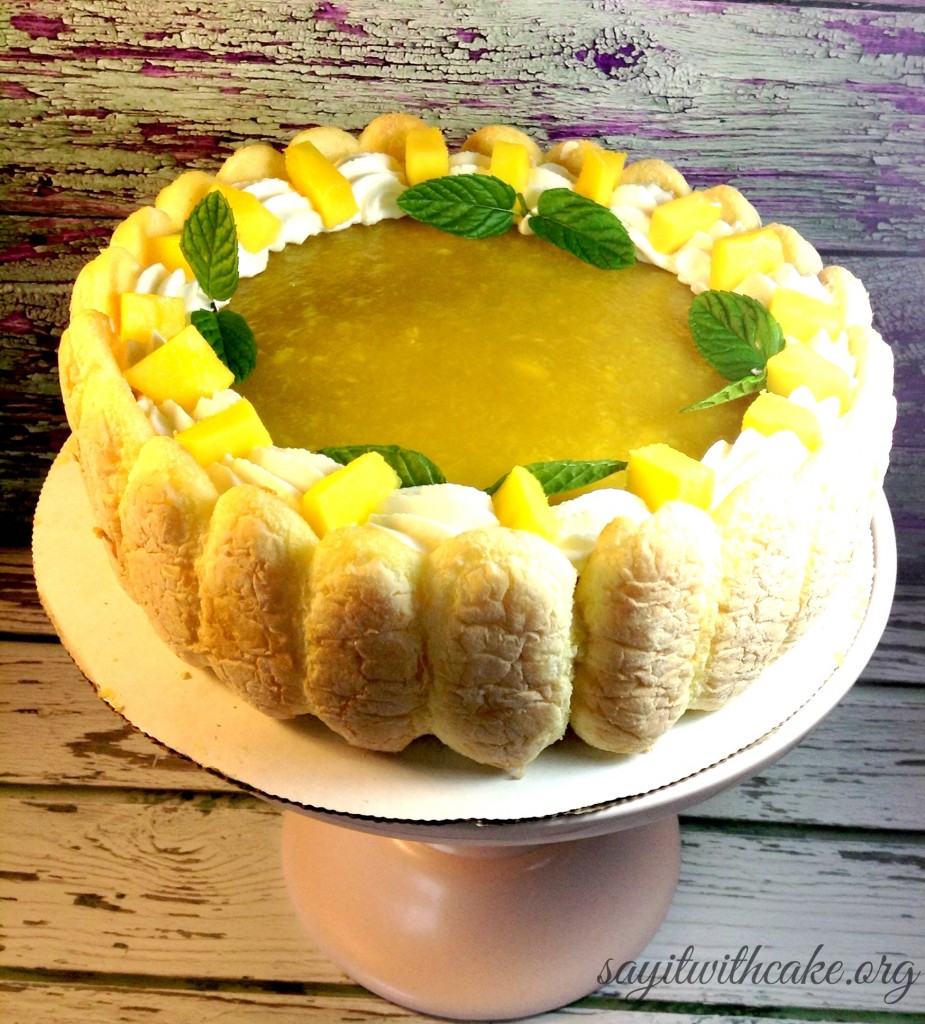 Each bite is filled with Mango, so fruity and delicious.  Perfect for summer.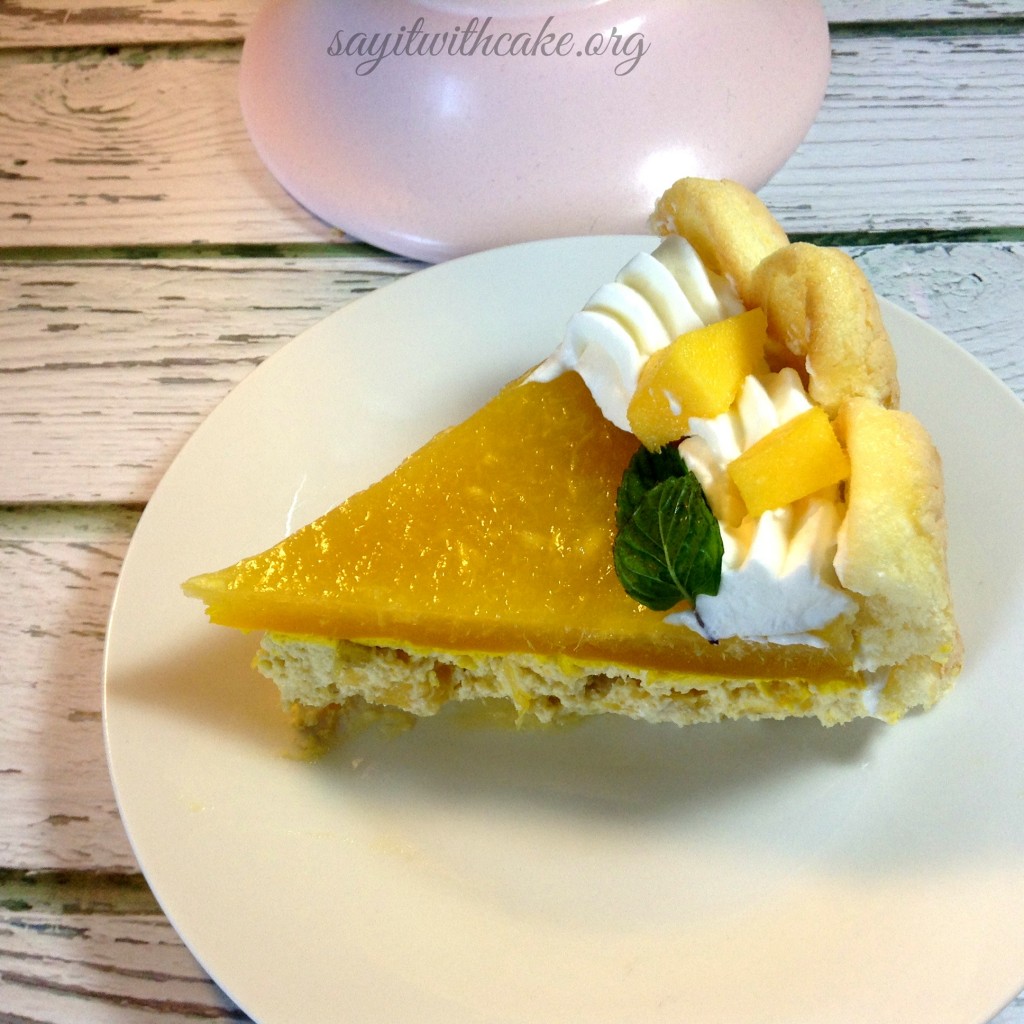 I found the lady fingers at Vons.  They were really hard to find, and I thought about making my own lady fingers.  I will have to save that for next time.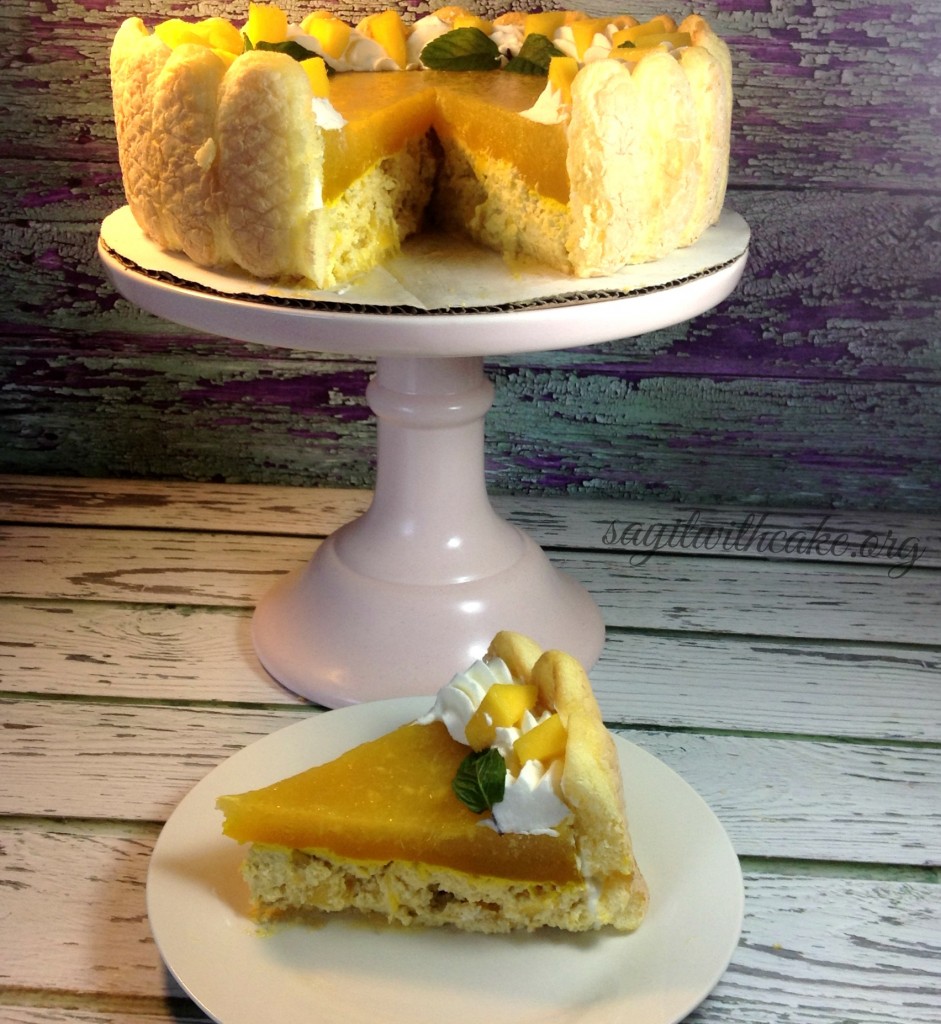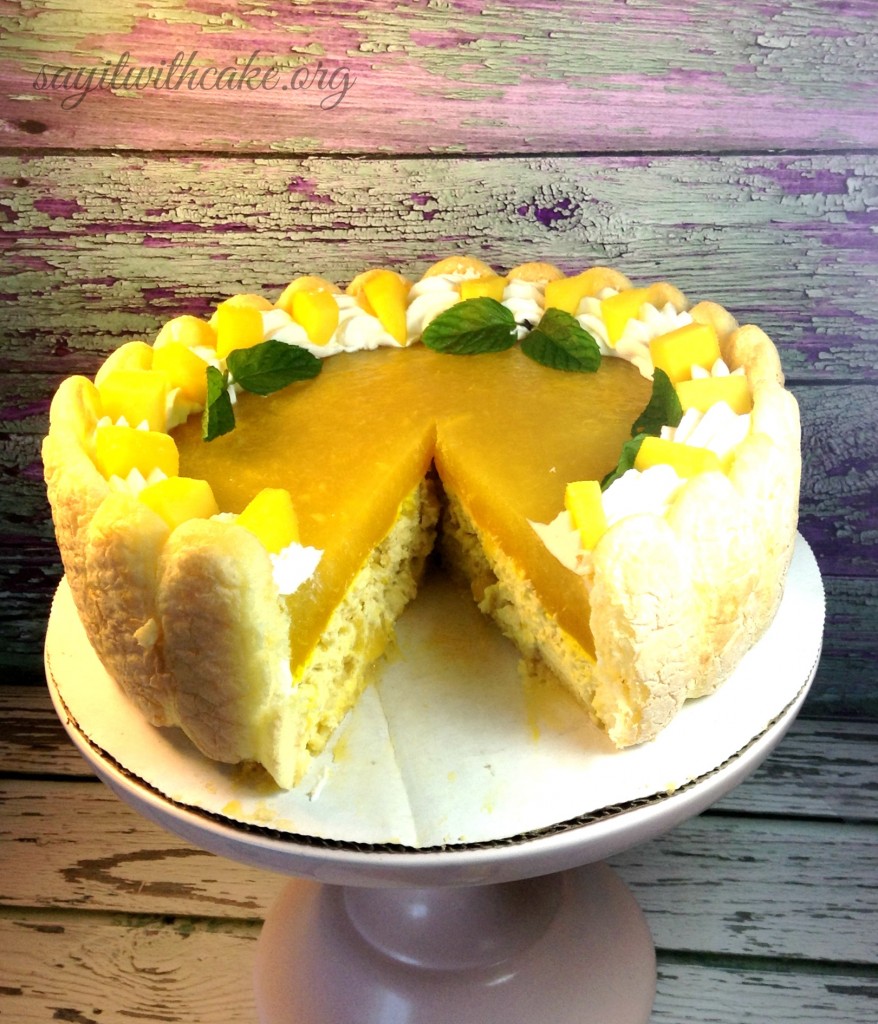 Mango Mousse Cake
Ingredients
Sponge

5 eggs
3/4 Cup sugar
1 cup plus 2 1/2 tsp flour

mango mousse

1/2 cup mango puree
3 tsp gelatin
2 cups whipping cream
2 egg whites
1/2 cup sugar
1/3 cup water

mirror mango

1 1/8 mango puree
1/4 cup sugar
1 1/2 tsp gelatin

decoration

whipping cream
mango pieces
mint leaves
Instructions
cake

preheat oven to 350
beat eggs and sugar until frothy
gently add the sifted flour and mix well
pour the mixture on a baking sheet covered with parchment paper.
place in oven and bake 13 min.
remove and let cool
cup the sponge cake to the size of the round frame used. ( I used an 8 inch pastry ring)
line the frame with lady fingers soaked in simple sugar or mango juice, or you can wait and put the lady fingers on the outside after the cake is done.

mango mousse

bloom gelatin in water
in a saucepan, heat the mango puree then put in the softened gelatin and mix well. let cool
in a bowl beat the egg whites
in a saucepan, heat the water with the sugar until it reaches 110 C to obtain a syrup
Drizzle the syrup with beaten egg whites mixing in mixer at low speed
Increase speed to the maximum and continue beating for 5 minutes to obtain an Italian meringue
gently add whipped cream with mango and meringue

Mirror

bloom gelatin in water
in a saucepan, heat 1/2 mango puree with sugar, when the mixture starts to boil, put the gelatin and mix
then add the remaining puree stir, and let cool 15 minutes at room temperature
pour the mirror on the mango mousse and refrigerate for 5 hours
decorate top with mango, whipping cream and mint leaves
http://sayitwithcake.org/mango-mousse-cake/
Enjoy!


Here are some other fruit filled cakes you might like