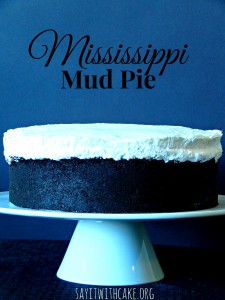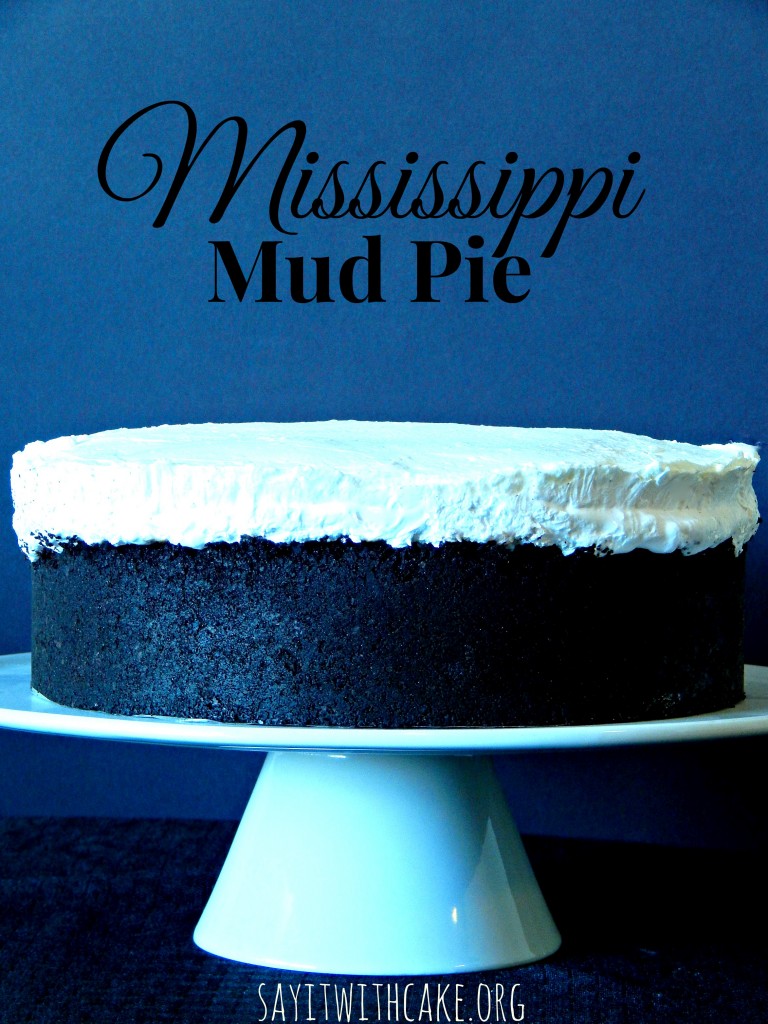 Mississippi mud pie, can you just taste it? The crisp Oreo crust, the deliciously  fudgy, flourless cake, layered with a thick and creamy, decadent chocolate pudding and topped with a fluffy, sweet whipped cream.  If you're looking for an extra special dessert to really impress your guests,  I encourage you to try this Mississippi Mud Pie!  For a chocolate lover like me it doesn't get any better than this!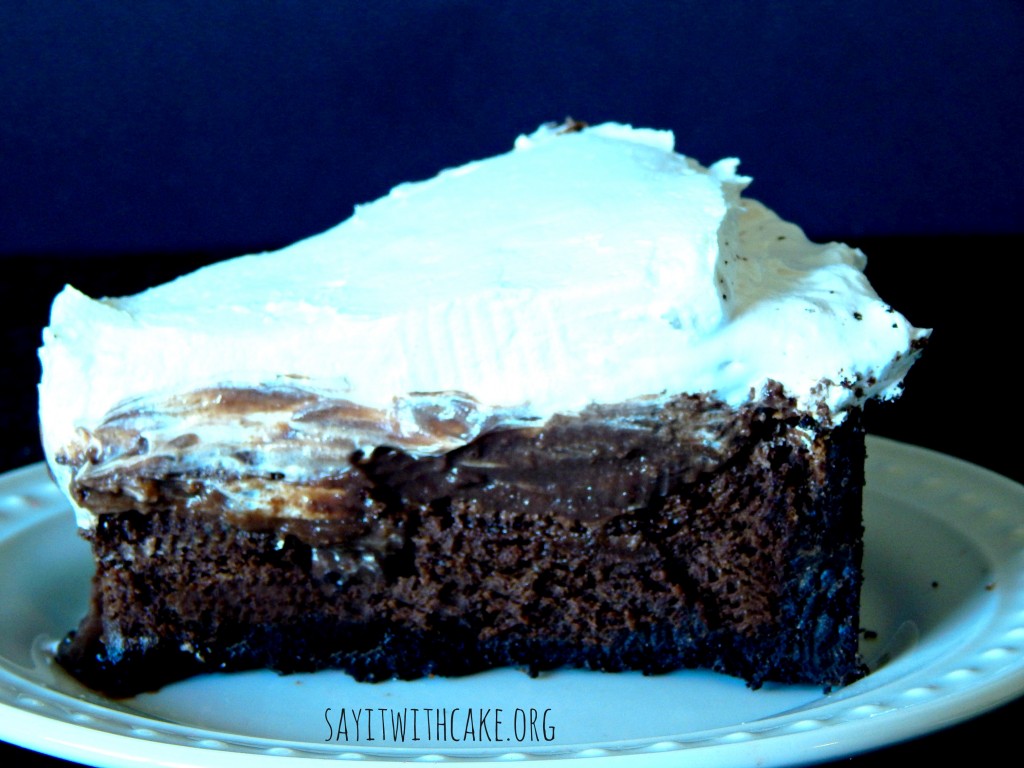 This was the first time I have every made a Mississippi Mud Pie.  The recipe for Mississippi mud pie  is long and intimidating, but was actually very easy! It just has a lot of steps and looks long but don"t be scared of it because if I can do it, anyone can! It tasted delicious, was probably the best dessert I have ever eaten! I only wish I had gotten a nicer slice, but at least you get to see the layers and how yummy it looks!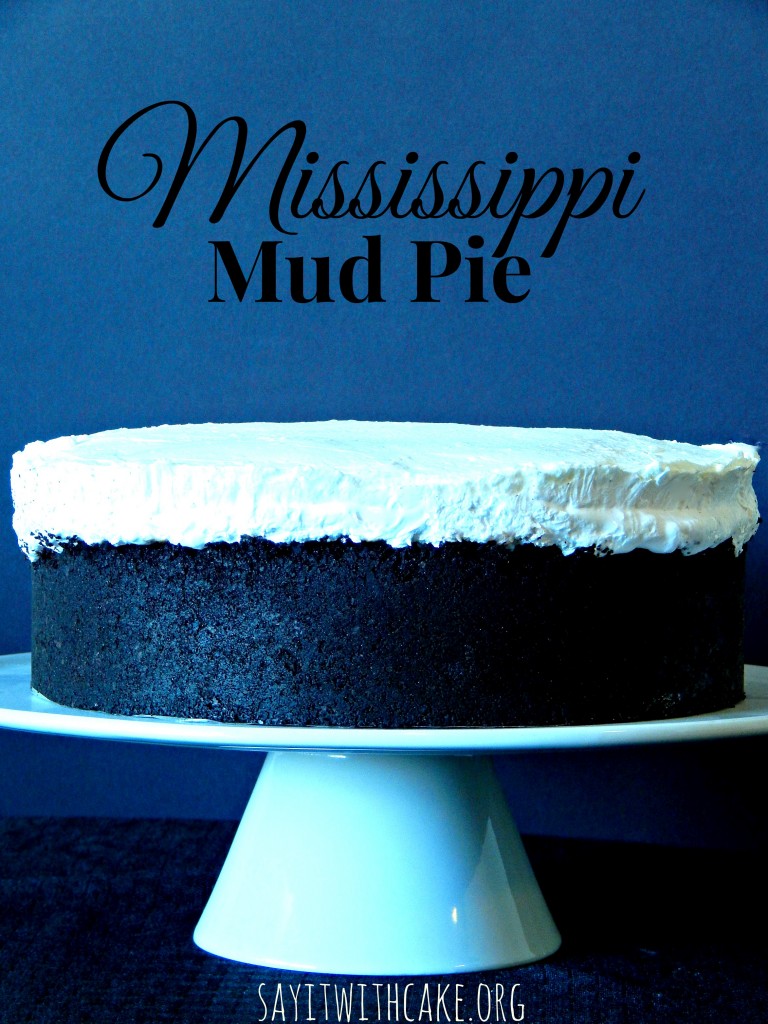 Recipe adapted  from Martha Stewart
Ingredients
For Crust

Nonstick cooking spray
364 g (4 cups) Oreo cookie baking crumbs (or about 60 chocolate wafer cookies)
85 g (6 tablespoons) unsalted butter, melted

For Flourless Chocolate cake

226 g (8 ounces) good quality bittersweet, 60% or extra bittersweet, 70% chocolate, finely chopped
85 g (6 tablespoons) unsalted butter, cut into 12 equal pieces
30 ml (2 tablespoons) hot brewed espresso or strong coffee
6 g (2 tablespoons) instant espresso powder
6 g (1 tablespoon) unsweetened good quality cocoa powder
¼ teaspoon salt
60 ml (¼-cup) Frangelico (hazelnut liqueur)
15 ml (1 tablespoon) pure vanilla extract
6 large eggs, separated, room temperature
100 g (½ cup) golden yellow sugar (light brown sugar)
113 g (½ cup) caster (superfine) sugar

For Chocolate pudding

85 g (3 ounces) good-quality bittersweet, 60% or extra bittersweet, 70% dark chocolate, finely chopped
48 g (½ cup) unsweetened good-quality cocoa powder
32g (¼ cup) cornstarch
¼ teaspoon salt
170 g (¾ cup) caster (superfine) sugar
4 large egg yolks
600 ml (2½ cups) whole milk
42 g (3 tablespoons) unsalted butter, cut into 6 equal pieces
2 teaspoons pure vanilla extract

For Whipped Cream Topping

*Please note – To prevent cream topping from weeping I've added gelatin. This step is completely optional but I do recommend it if you're not serving the pie immediately or within hours of preparing and also if the pie will not be consumed in one sitting.
360 ml (1½ cups) heavy (whipping) cream, 35%
56 g (¼ cup) caster (superfine) sugar
1 teaspoon unflavoured gelatin
Instructions
For Crust

Unlatch a springform pan, turn the base over (lip facing down) and line the base with a sheet of non-stick baking paper leaving a 2-inch border on all sides. Reassemble springform pan (lip must be facing down). Lightly spray the sides and baking paper with cooking spray.
If using baking crumbs, place baking crumbs in a small bowl. Add butter; stir until crumbs are evenly moistened.
If using chocolate wafer cookies, place wafer cookies in the bowl of a food processor. Pulse to a fine crumb. Add the butter through the feeding tube and process until crumbs are evenly moistened. (If you want the crust sweeter, add sugar to taste.)
Transfer crumbs to prepared springform pan. Press the crumbs evenly on the base and up the sides stopping about 6-mm (¼-inch) from the top of the pan. Chill in the freezer, 15 minutes.
Preheat oven to 180° C (350° F).
Transfer crust to oven and bake until dry to the touch, 8 to 10 minutes.
Remove from oven, transfer to wire rack and allow crust to cool completely.

For Flourless Chocolate Cake

Line rimmed baking sheet with non-stick baking paper. Place line baking sheet in oven and preheat oven to 180° C (350° F).
Place chocolate and butter in a large heatproof bowl set over a saucepan of just simmering water (make sure bottom of bowl doesn't touch the water), stirring occasionally until melted and combined well. Set-aside to cool slightly.
Meanwhile, in 250-ml (1-cup) capacity liquid measuring cup, dissolve espresso powder, cocoa and salt in hot espresso (or strong coffee). Add Frangelico and vanilla; stir together until combined well.
In bowl of stand mixer fitted with whip attachment, beat together egg yolks and brown sugar at high speed until pale, fluffy and doubled in volume, scraping down sides and bottom of bowl, 5 to 7 minutes.
Remove bowl from mixer, add the chocolate mixture, and return bowl to mixer and beat at medium speed until just combined, scraping down sides and bottom of bowl.
Add the coffee mixture; beat at medium speed until just combined, scraping down sides and bottom of bowl.
In large bowl, using electric hand mixer, beginning on low speed and gradually increasing speed to high, beat egg whites until foamy.
Gradually add the sugar and beat until soft peaks form.
Using large, flexible spatula gently fold one-third of the egg whites into the chocolate batter to lighten the mixture, 30 seconds. Gently fold in the remaining egg whites until almost combined, do not over-mix.
Pour the batter into the cooled crust. Transfer to the oven placing the springform pan on the rimmed baking sheet.
Bake until cake is set but still slightly jiggles in the centre, about 40 minutes. (Cake may not appear cooked.)
Remove from oven; remove springform pan from baking sheet and transfer to wire rack. Let cool completely. Cake will deflate in the centre as it cools.
Tightly wrap cooled cake (in springform pan) with plastic wrap and refrigerate at least 3 hours or up to overnight.

For chocolate pudding

Place chocolate in a medium bowl.
Using fine mesh sieve, sift cocoa, cornstarch and salt into a medium saucepan. Add sugar and whisk together until combined well. Add the egg yolks and whisk until blended well.
Gradually pour the milk into the cocoa mixture, whisking constantly.
Place the saucepan over medium heat and bring the mixture to a boil, whisking constantly. Boil for 30 seconds and remove from heat. Using fine mesh sieve, strain the chocolate mixture over top of the finely chopped chocolate. Whisk to blend well.
Add the butter and vanilla; whisk until well combined.
Place a sheet of plastic wrap directly on the surface of the pudding to prevent a skin from forming as it cools. Let cool at room temperature, 15 minutes. Cover bowl with plastic wrap (make sure to leave the sheet of plastic on the surface) and refrigerate until chill, at least 3 hours.
Remove pudding from refrigerator; remove plastic and using large, flexible spatula stir pudding to loosen. Remove cake from refrigerator.
Pour the pudding on top of the cake (making sure to stay within the cookie crust). Level and spread pudding evenly to edges of crust using large, offset spatula. Transfer to refrigerator and chill, 2 to 3 hours.

For whipped cream topping

Chill stand mixer bowl and whip attachment (or large bowl and beaters or large balloon whisk) in the freezer, 15 minutes.
In a small saucepan, sprinkle gelatin over 2 tablespoons very cold water; let soften, 5 minutes.
Place saucepan over low heat; stir until gelatin is dissolved. Remove from heat and set-aside to cool.
Remove bowl and attachment from freezer and attach to mixer. Pour cream and sugar into the bowl and beat at medium speed until soft peaks form, about 1 minute. Pour the gelatin through a small sieve onto the cream and continue to beat at medium speed until stiff peaks form.
Remove cake from the refrigerator. Spread topping evenly to the edges of the pan using large, offset spatula.
Unlatch springform pan and with the help of a large, offset spatula carefully slide cake off the baking paper onto a cake stand or plate.
Serve immediately. If not serving immediately, cake can be stored, covered in the refrigerator, up to 2 days.
http://sayitwithcake.org/mississippi-mud-pie/
I really hope you get a chance to make this Mississippi Mud pie, it is delicious!!
ENJOY!!
Shamene