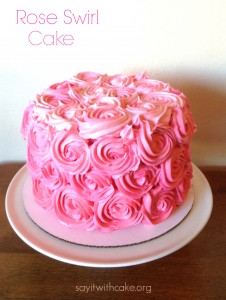 I am so excited about this cake because I used a new recipe for the frosting! I usually made a basic buttercream frosting, but this time I tried the Swiss meringue buttercream.  It worked like a dream! The flowers held up, and there weren't any air bubbles.  Also I have to say that it is much tastier, it is a little less sweet. This frosting is perfect for my husband  who doesn't really enjoy super sweet frosting.
See how beautiful the roses turned out!  This cake works well for a birthday cake for a girl, a Mothers day cake, or a Valentines day cake.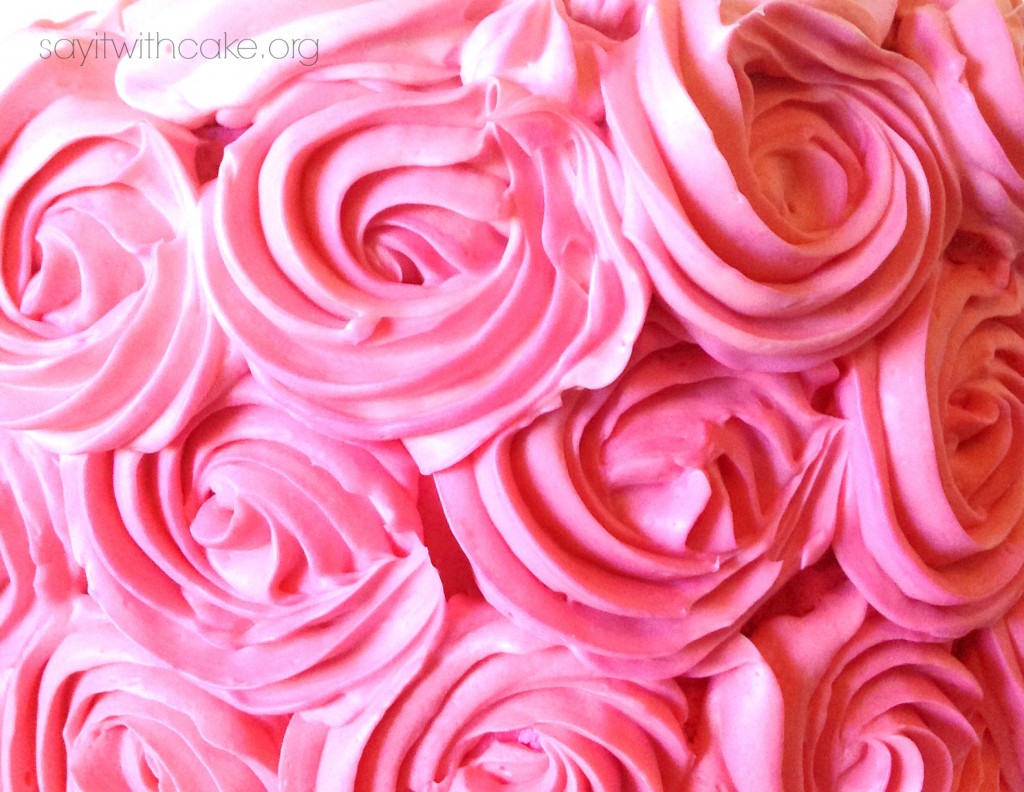 This cake is very easy to make once you get the Swiss meringue buttercream down.  I had a few problems my first time but found some helpful websites here.  If it turns out curdled, you scoop out 1/4 of the mixture and put it in the microwave for 15 seconds. Then pour it back into the bowl and beat it until it turns out creamy and fluffy.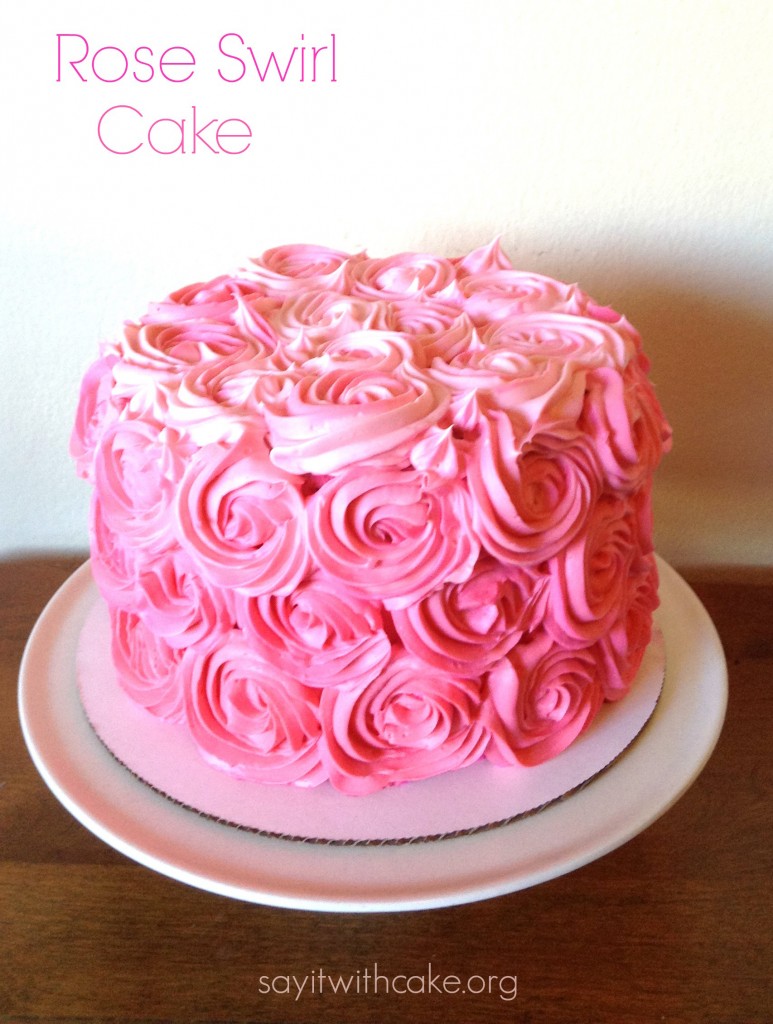 You can see in this picture how I made a very subtle ombre effect with the roses from dark to light.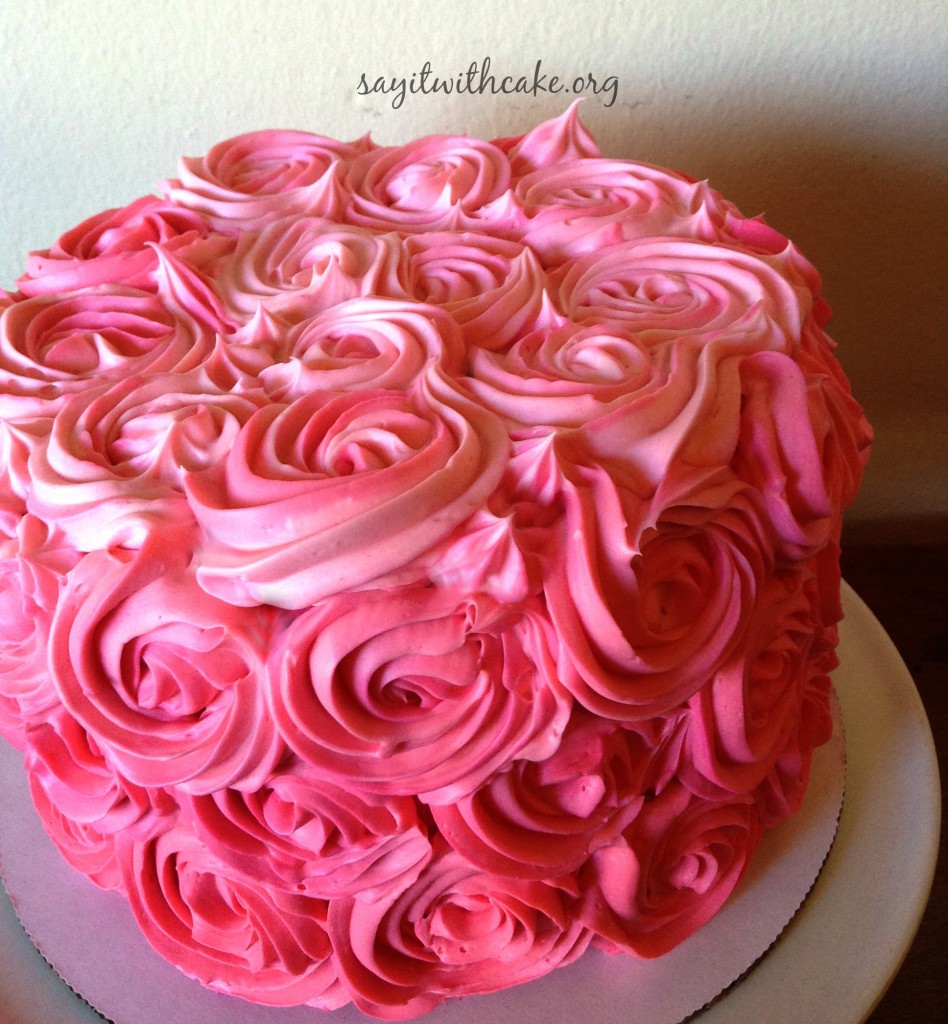 Use the cutter (even a cup would work) to gently indent the frosting to outline where each rose will go.  Continue around the whole cake, trying to leave as little space as possible between each rose.
Now, you're ready to make your roses.  I like using the extra large piping tips – a closed star tip (2D)  was used to make these roses but 1M also works GREAT – you can get piping tips at many large craft stores or online and they're really inexpensive.
Starting in the center of each circle outline, begin piping a circular swirl outward until you reach the outer border of the circle.  Then, move right on to the next circle.
Here are my tips to finding success:
1. Use a good crusting buttercream icing.  I used my new favorite and loved how it worked.
2. Make sure you have enough frosting! Those roses use a lot… I would make the whole batch of the above recipe.
3. Put your cake in the fridge after you are done with decorating to help them set up and retain their shape.
4. Have FUN with it! Those roses are so forgiving. But if you find that you really dislike how they are turning out, just scrape them off and start over!
By marking the circle outlines ahead of time, you should be able to keep your roses nice and evenly sized and spaced!
Swiss Meringue Buttercream
Ingredients
5 large egg whites
1 cup plus 2 tablespoons sugar
Pinch of salt
1 pound (4 sticks) unsalted butter, cut into tablespoons, room temperature
1 1/2 teaspoons pure vanilla extract
Instructions
Combine egg whites, sugar, and salt in the heatproof bowl of a standing mixer set over a pan of simmering water. Whisk constantly by hand until mixture is warm to the touch and sugar has dissolved (the mixture should feel completely smooth when rubbed between your fingertips).
Attach the bowl to the mixer fitted with the whisk attachment. Starting on low and gradually increasing to medium-high speed, whisk until stiff (but not dry) peaks form. Continue mixing until the mixture is fluffy and glossy, and completely cool (test by touching the bottom of the bowl), about 10 minutes.
With mixer on medium-low speed, add the butter a few tablespoons at a time, mixing well after each addition. Once all butter has been added, whisk in vanilla. Switch to the paddle attachment, and continue beating on low speed until all air bubbles are eliminated, about 2 minutes. Scrape down sides of bowl with a flexible spatula, and continue beating until the frosting is completely smooth. Keep buttercream at room temperature if using the same day.
(Optional) To tint buttercream (or royal icing), reserve some for toning down the color, if necessary. Add gel-paste food color, a drop at a time (or use the toothpick or skewer to add food color a dab at a time) to the remaining buttercream. You can use a single shade of food color or experiment by mixing two or more. Blend after each addition with the mixer (use a paddle attachment) or a flexible spatula, until desired shade is achieved. Avoid adding too much food color too soon, as the hue will intensify with continued stirring; if necessary, you can tone down the shade by mixing in some reserved untinted buttercream.
http://sayitwithcake.org/pink-rose-swirl-cake/
Recipe from Martha Stewart
Other Rose Swirl Cakes you might like