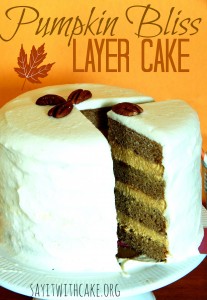 Move over pumpkin pie, there is a new dessert in town! This four layer cake is packed full of flavor and fall spices.  Four layers of pumpkin spice cake, with a creamy pumpkin filling, and topped with a light and fluffy cream cheese frosting!  This pumpkin spice layer cake is the ultimate fall cake and is perfect to serve for Thanksgiving dessert!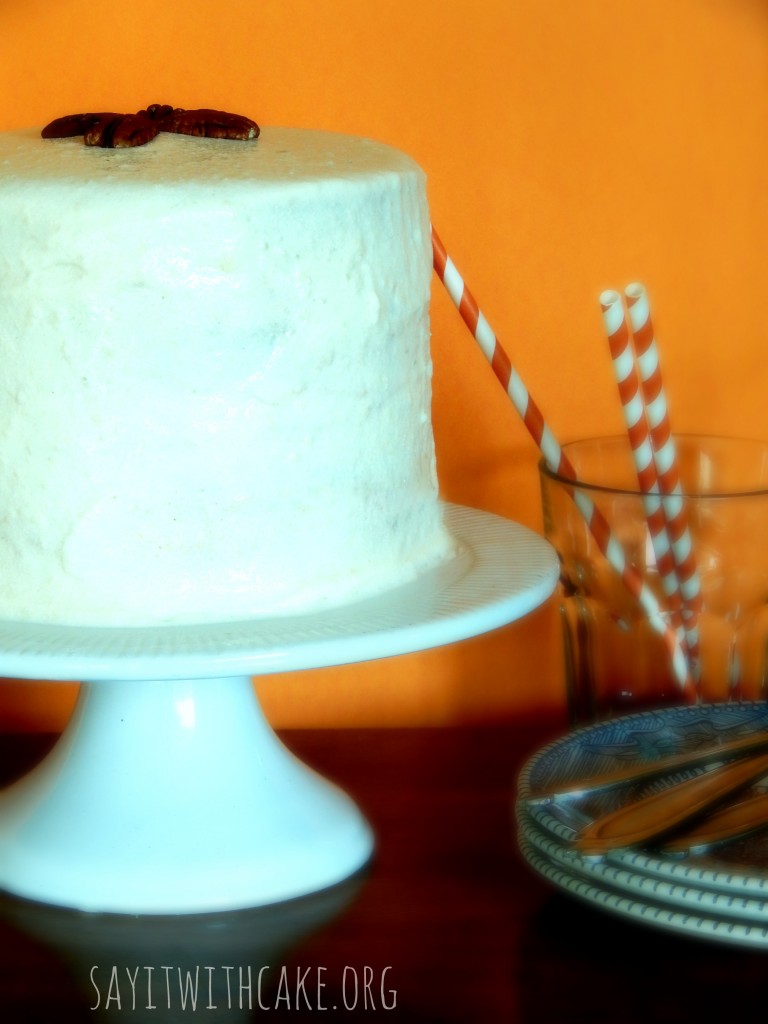 This was my first time making cream cheese frosting and I was a little nervous to attempt it!  I usually make buttercream icing, it is my tried and true recipe.  This cream cheese frosting is a perfect match for this cake.  If I had used buttercream, it definitely would not have been as good!  It is so good I couldn't help myself from eating spoonfulls of it 🙂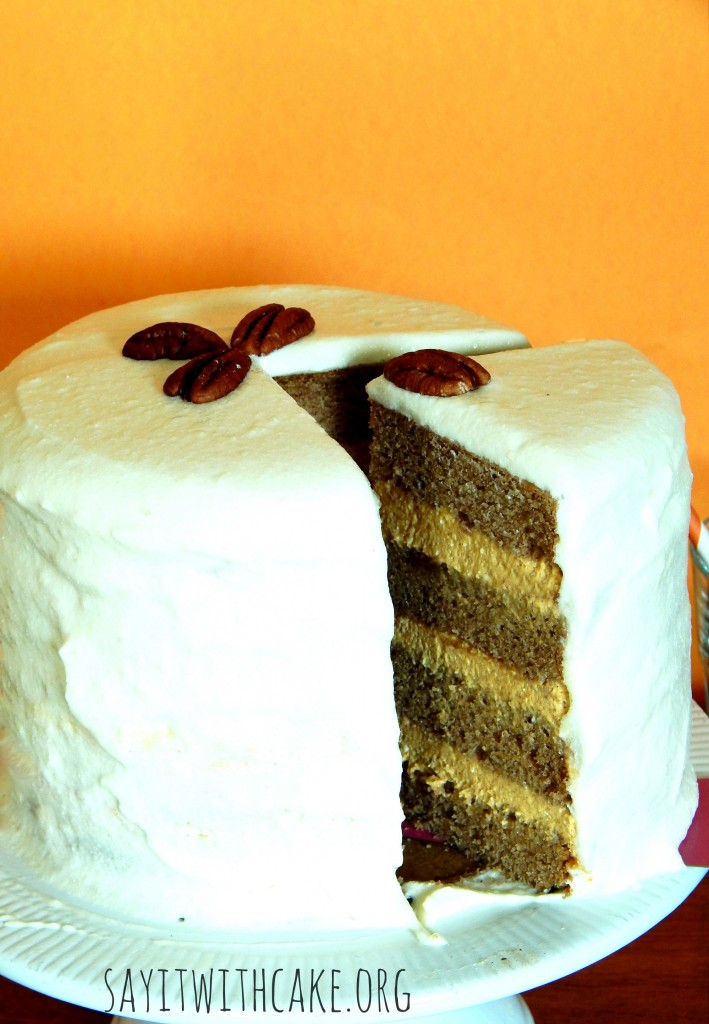 Now this pumpkin filling is to die for! My husband was eating the leftover filling with vanilla wafers- no joke! The filling is my favorite part of this cake.  I am debating whether to serve this cake or my Caramel apple layer cake for Thanksgiving this year.  Aren't fall desserts the best!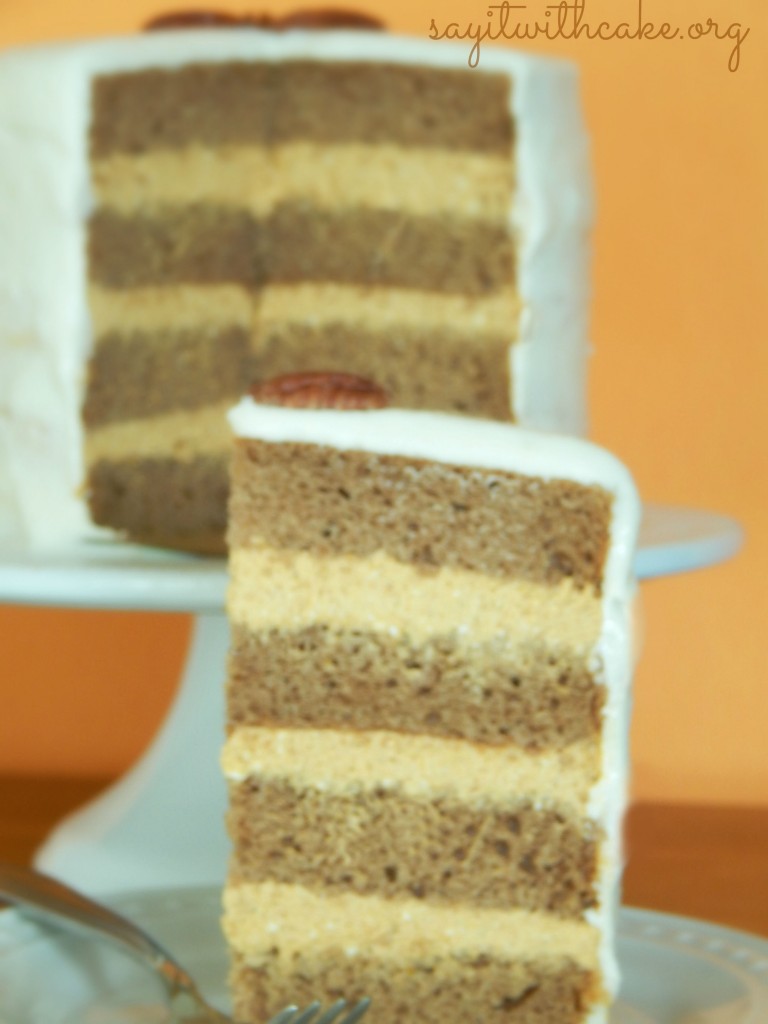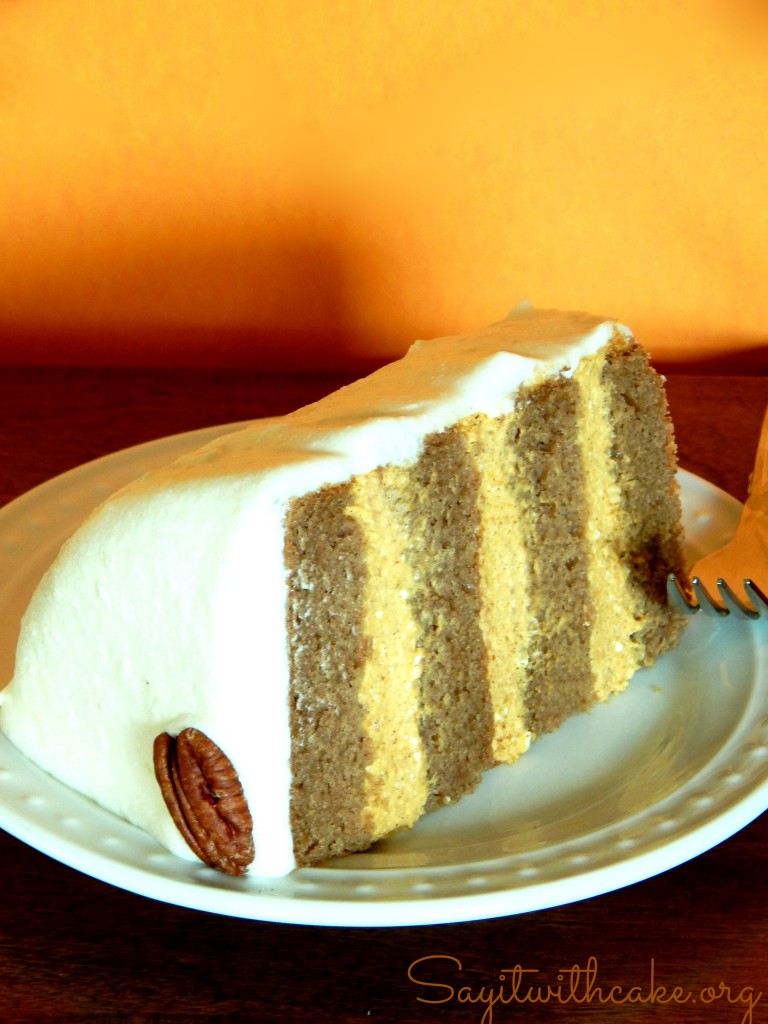 Ingredients
Spice Cake

3 cups cake flour
2 teaspoons baking powder
1 teaspoon baking soda
1 teaspoon ground nutmeg
1 teaspoon ground cinnamon
1 teaspoon ground ginger
1/2 teaspoon ground cloves
2 sticks butter, softened
2 cups sugar
1/2 teaspoon salt
4 eggs
1 1/4 cups buttermilk

Pumpkin Filling

Mix the following for a yummy filling: 4 oz softened cream cheese 1/2 cup powdered sugar then mix in 1/2 cup canned pumpkin 1 tsp cinnamon 1/4 tsp nutmeg and 1/4 tsp vanilla. Once mixed slowly add 1/2 cup whipping cream. Beat for 1-2 minutes. Refrigerate for 1-2 hours. Great to make ahead of time. Do not try to freeze. I did this and it was not a good idea.

Cream Cheese Frosting

1 cup granulated sugar
1/4 cup all purpose flour
3 tablespoons cornstarch
1/4 teaspoon salt
1 1/2 cups milk (I used 1%)
1 tablespoon lemon juice
1 teaspoon vanilla extract
1/2 cup (1 stick) unsalted butter, softened
4 ounces cream cheese
Instructions
Spice Cake

Preheat oven to 350 degrees F. Butter and flour 2 (8-inch) round cake pans.
In a small mixing bowl whisk together cake flour, baking powder, baking soda, ground nutmeg, ground cinnamon, ground ginger and ground cloves.
Cream the butter, sugar and salt until light and fluffy with an electric mixer. Beat in the eggs, 1 at a time, beating well after each addition. Beat in the dry ingredients and the buttermilk alternately beginning and ending with the dry.
When the batter is well mixed and smooth, divide it amongst the 2 prepared cake pans and bake about 25 minutes or until a toothpick inserted into the center of the cakes come out clean. Let cool in the pan for 10 minutes then turn out to cool completely. If the cake layers have domed a little during the baking process, slice off the tops with a long serrated knife so they are flat and even.
Torte both cakes so you have four even and level cakes.
Place the first layer, cut side down, on a cake pedestal or serving plate. Spoon about 1 cup of pumpkin filling onto the center of the cake. Spread it almost to the very edges with an offset spatula. Repeat with the remaining 3 layers.
Let sit in the refrigerator for one hour to allow the filling to set.
Crumb coat the cake, and let sit in refrigerator for 20 minutes. Finish with last layer of frosting and garnish with pecans if desired.

Cream Cheese Frosting

Place the sugar, flour, cornstarch and salt in a small pot and whisk to combine.
Gradually whisk in the milk, ensuring there are no lumps.
Place over medium heat and cook, stirring often, until thickened.
Pass the mixture through a fine mesh strainer, and into an airtight container.
Refrigerate for about an hour, or until completely cooled.
Place the cooled mixture in a large mixing bowl, along with the lemon juice and vanilla, and whip on high speed.
Whip in the cream cheese, a tablespoon at a time.
Whip in the butter, a tablespoon at a time, until fluffy.
Transfer to an airtight container and chill until ready to use.
note: if you would like the frosting thicker, add more cornstarch and allow frosting to sit in refrigerator before using.
http://sayitwithcake.org/pumpkin-bliss-cake/
Enjoy!!
Shamene
My cake was featured here!