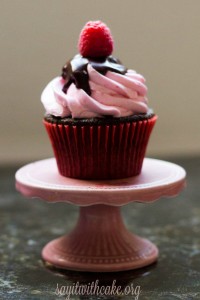 I love to bake and am often asked to brink desserts to family and friends functions. I was asked to brink cupcakes for my friends birthday and I wanted to somehow make them extra special. I decided to try these dark chocolate cupcakes filled with Bavarian cream, and also raspberry filling. I couldn't decide which filling would be best so I tried out both on my family. I will let you know which one was the winner! I frosted these cupcakes with Raspberry Swiss Meringue buttercream, a chocolate glaze, and a fresh raspberry garnish.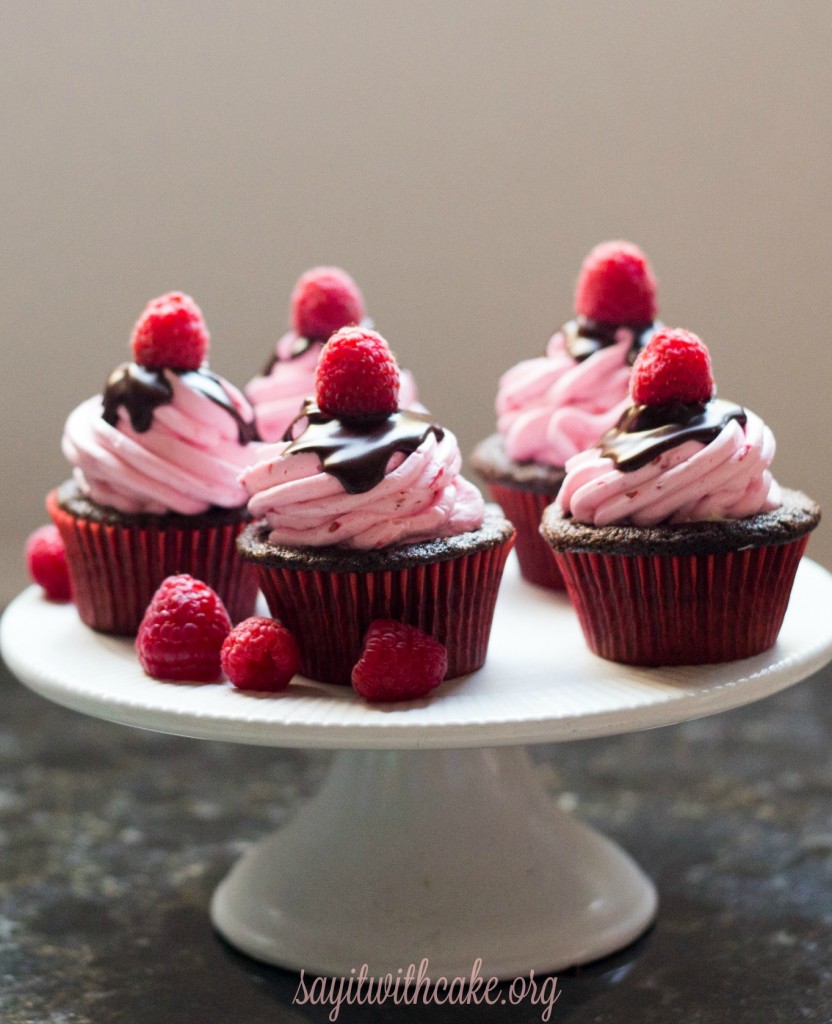 With the chocolate on top of the piped frosting, it looks like a little sundae. I might even try sprinkles on the glaze next time. I used the chocolate mud cake recipe from my previous cake here. It is one of the best chocolate cakes I have tasted and hope it is just as good in cupcake form!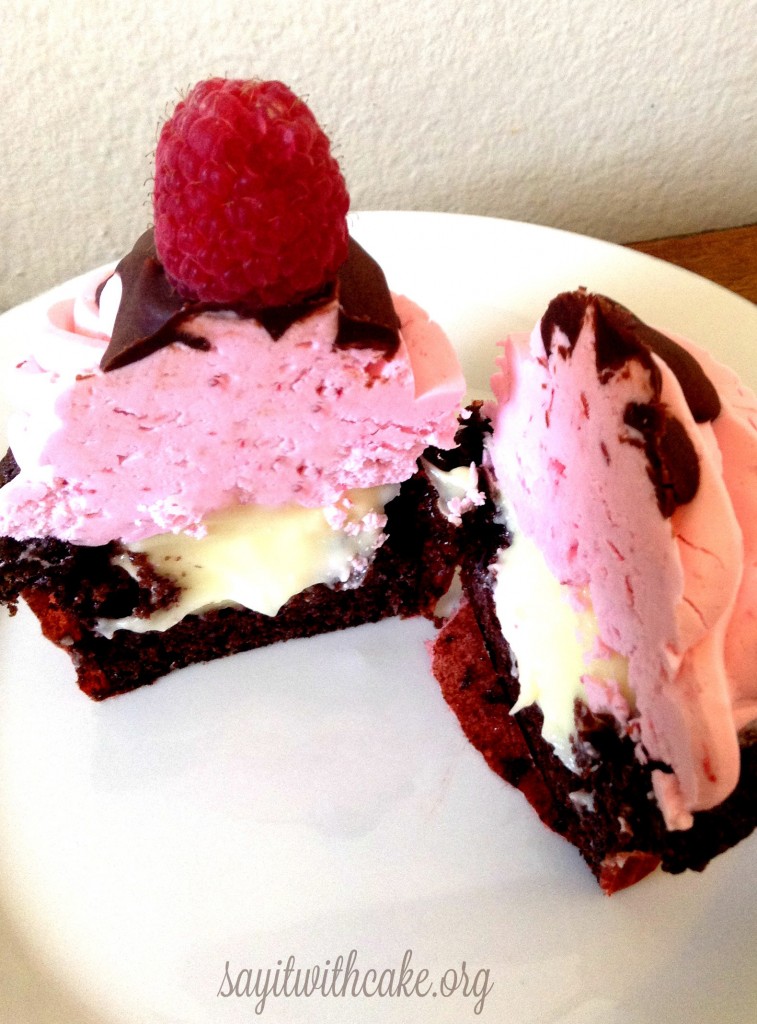 Chocolate Mud Cake
All Purpose Flour 2 cups / 240 grams
Cocoa Powder – 1/2 cup / 60 grams
Baking Powder – 2 tsp
Baking Soda – 1/2 tsp
Salt – 1/2 tsp
Water – 3/4 cup / 180 ml
Soft Unsalted Butter – 250 grams
Milk – 1/2 cup / 120 ml
Eggs – 4
Sugar – 2 3/4 cup / 550 grams
Dark Chocolate – 220 Grams chopped
Instant Coffee Powder – 2 TBSP
Oil – 2 TBSP
Directions
Preheat oven to 350 * Line 24 cupcake pan with liners.
Now time to make the batter. Take water in a sauce pan and bring it to a boil
Add in coffee, butter, dark chocolate and heat it gently till it is melted.
Add in sugar and whisk well till it is completely melted.
Pour this in a bowl and set aside to cool down a bit.
Now sift flour, cocoa, baking soda, baking powder and salt.
Now add in milk to the chocolate mix, add in one egg at a time and whisk it well.
Add in the sifted flour mix in and mix well.
Pour this in the prepared cupcake pan and pop it in oven for 17 min. or until the toothpick comes out clean.
Now remove it from oven and let them cool completely on a wire rack.
For the Raspberry Swiss Meringue Buttercream:
5 large, fresh egg whites (150 g)
1-1/4 cups (250 g) sugar
1-1/2 cups (3 sticks)(340 g) butter, cut into cubes and cool, but not cold
2 teaspoons (10 ml) pure vanilla extract
1/4 cup (59 ml)(or to taste) raspberry puree OR a handful (about 1 cup, or more to taste) of fresh, washed, and dried raspberries
pinch of salt
few drops pink food coloring (optional)
Directions
Wipe the bowl of an electric mixer with paper towel and lemon juice, to remove any trace of grease. Add egg whites and sugar, and simmer over a pot of water (not boiling), whisking constantly but gently, until temperature reaches 160°F, or if you don't have a candy thermometer, until the sugar has completely dissolved and the egg whites are hot.
With whisk attachment of mixer, begin to whip until the meringue is thick, glossy, and the bottom of the bowl feels neutral to the touch (this can take up to 10 minutes or so). *Don't begin adding butter until the bottom of the bowl feels neutral, and not warm.
Switch over to paddle attachment and, with mixer on low speed, add butter cubes, one at a time, until incorporated, and mix until it has reached a silky smooth texture (if curdles, keep mixing and it will come back to smooth). *If mixture is too runny, refrigerate for about 15 minutes and continue mixing with paddle attachment until it comes together. Add vanilla and salt, continuing to beat on low speed until well combined.
Add raspberry puree to taste or the fresh raspberries in

small increments

, and blend until combined. Add small amount of pink food coloring, if desired.
For the Glaze:
4 oz (115 g) high quality bittersweet chocolate, coarsely chopped or callets
1/3 cup (76 g) unsalted butter, at room temperature and cut into cubes
Place the chocolate and butter in a medium heatproof bowl over a pot of simmering water. Stir the mixture using a rubber spatula until melted and smooth. *Be careful to not get even a droplet of water into your bowl of chocolate and butter.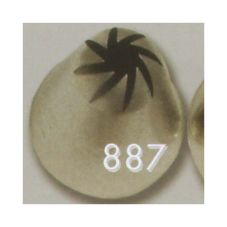 Assembly of the Dark Chocolate & Raspberry Cupcakes:
Fill a large pastry bag (18″) fitted with Ateco #887 (or the decorative tip of your choice) about 2/3 full and swirl the buttercream in a circular motion, beginning on the outside rim of the cupcake starting on the inside and swirling out. Gently release pressure when you reach the top of your swirl. I put the pastry bag in the refrigerator for a couple of minutes to get it not so soft before I piped.
Drizzle the top of the cupcake with Dark Chocolate Glaze (~1 tablespoon each). It hardens a little after chilled.
Top with a fresh raspberryDark Chocolate & Strawberry Buttercream Cake with Chocolate Covered Strawberries.
Cupcakes are best enjoyed the day they are made, but these keep particularly well in an airtight container at room temperature for up to 3 days (however, I've been known to eat them up to a week later, and they taste great!). If you do refrigerate, serve at room temperature–particularly Swiss Meringue Buttercream cupcakes, otherwise the buttercream is too hard and butter-like.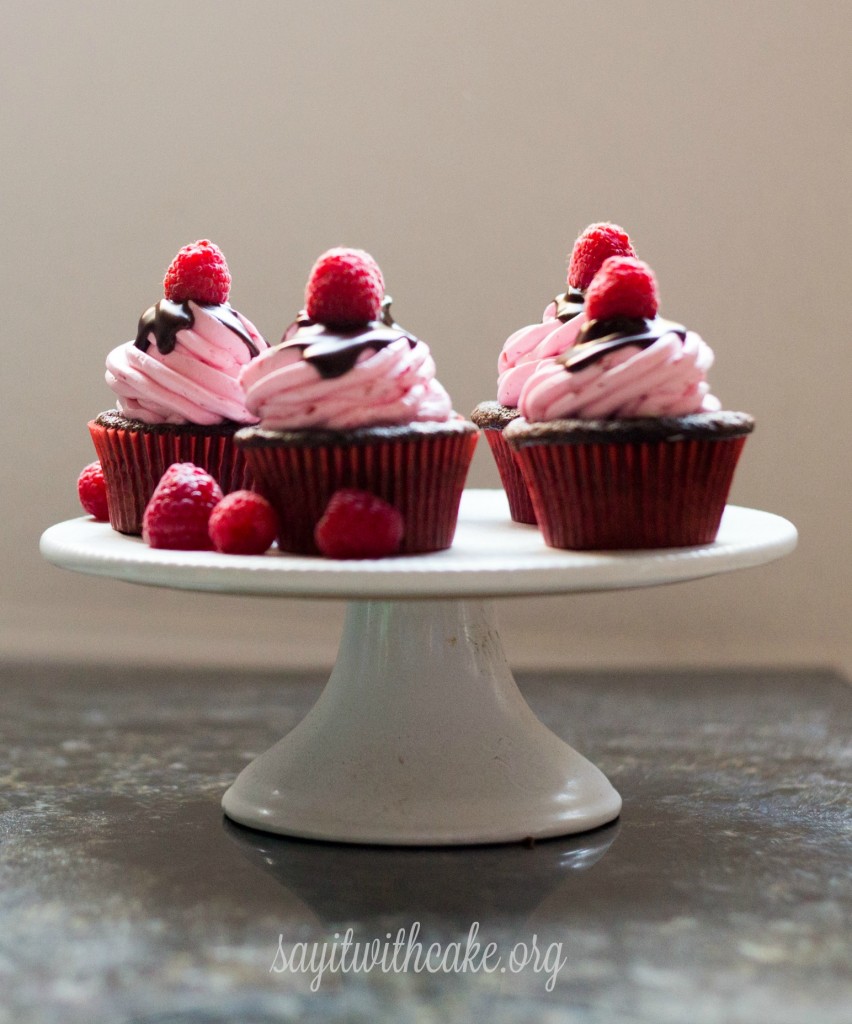 How to fill a Cupcake
Get a large piping tip and place the back of the tip onto the cupcake. Push down and twist until you come to the middle. You don't want to get all the way to the bottom. Twist back up and you will have a nice hole in your cupcake, and the cupcake part will be left in your tip. Tap on the table to get the cake part to fall out.
Use a spoon to put in the filling of your choice. You can cover up the hole with part of the cupcake, or leave it and cover it when you frost your cupcake. Easy!
This is very simple and will give your cupcakes a little something special!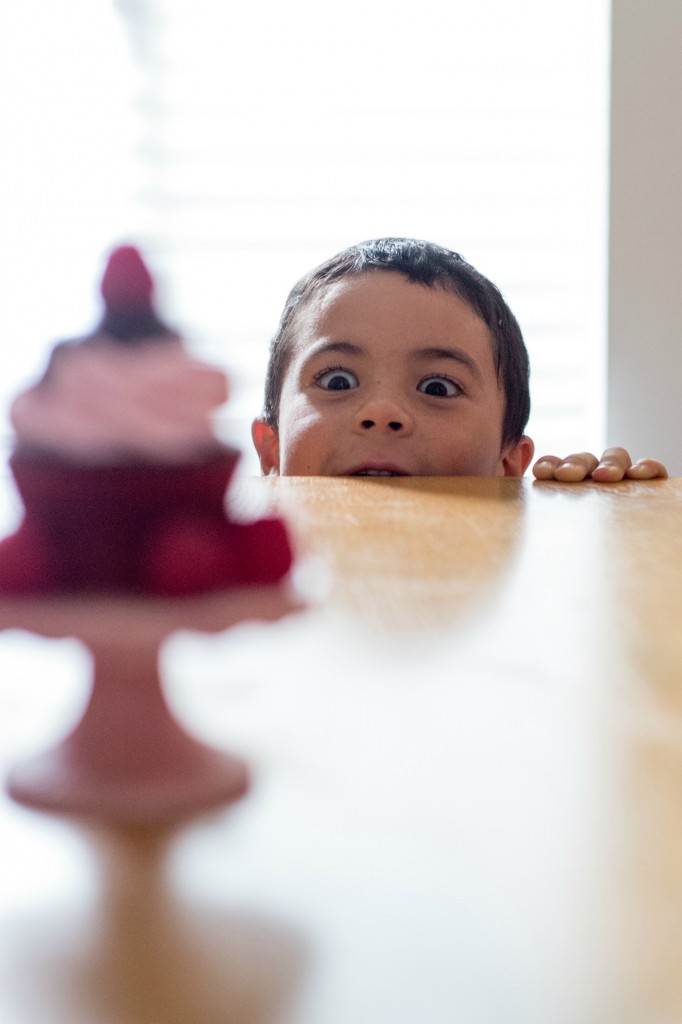 My nephew Timmy with his eyes on the cupcake, he couldn't wait to try it! Did you like it Timmy?
Photography by Wendy Cox
Enjoy!


Other cakes you might like