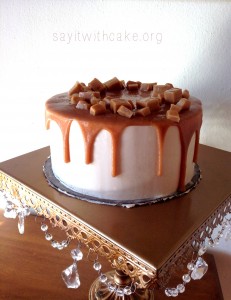 Chocolate and salted caramel go great together in this delicious three layer cake.  This cake was made just for my salted caramel loving sister Wendy for her birthday.  It is a dark chocolate mud cake with caramel cheesecake filling, frosted with a salted caramel Swiss meringue buttercream, topped with a thick homemade salted caramel sauce, and garnished with bits of caramel candies.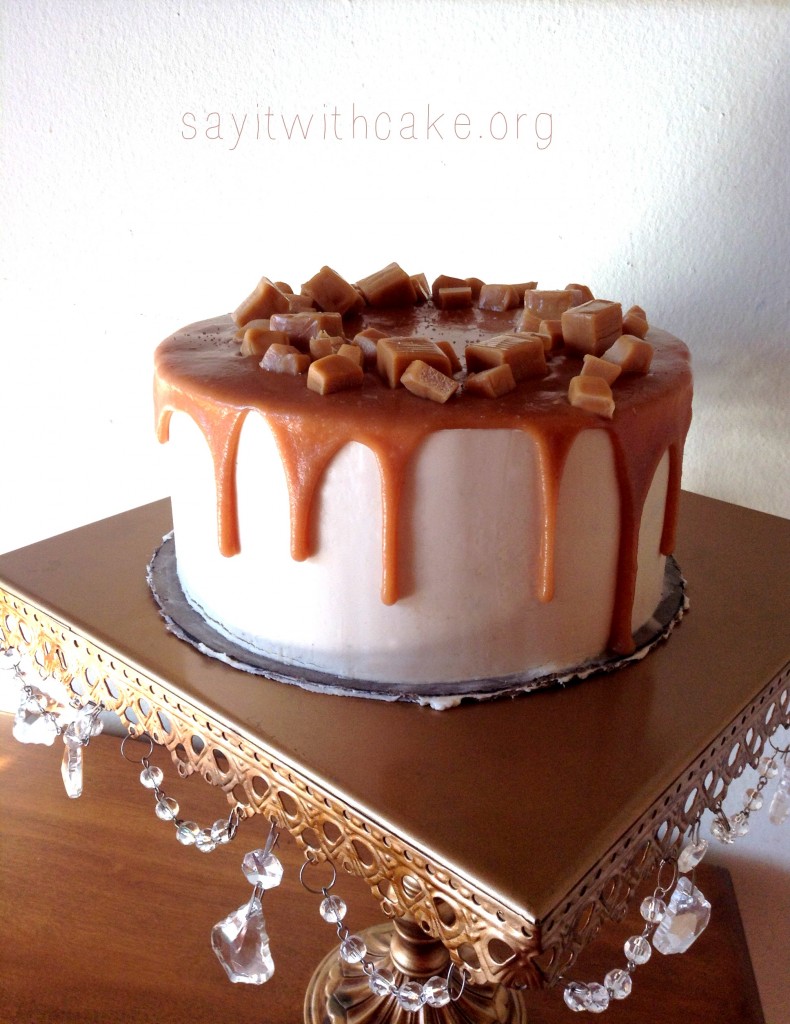 This cake is very rich, the kind you want to eat with a cold glass of milk! The Cake stand is from my Dad, it is so pretty and gold with crystals hanging down!
Here is the recipe, it looks long but you can break it up into a few days.  I made the caramel sauce, the cake, and the filling on the day before.  The second day, I made the Swiss meringue buttercream.  There will be extra caramel sauce, so you can save the extra and pour over individual pieces of cake or use it later on ice cream or pancakes.  If you are storing the cake, make sure you wrap it with saran wrap in the refrigerator.
Salted Caramel Sauce
Ingredients
¼ cup water
1 cup granulated sugar
2/3 cup heavy cream
3 tablespoons unsalted butter, cut into tablespoon size pieces
1 teaspoon vanilla
1 teaspoon salt (or to taste)
Directions
In a heavy bottomed saucepan, heat the water and sugar over medium heat. Make sure to use a saucepan that's a little bigger than what you think you will need. Stir constantly until the sugar has dissolved.
Increase the heat to high and bring to a boil, stop stirring completely. Let the mixture continue boiling until it turns an amber color, this could take anywhere from 4-12 minutes.
Remove from the heat and slowly whisk in the heavy cream. The mixture will bubble up a lot, so make sure to do this very carefully. Mix until everything is well combined.
Add the butter and stir well until the butter has melted completely.
Add in the vanilla and salt, and stir until fully combined.
Pour the caramel sauce into a dish and allow to cool completely.
Chocolate Mud Cake
All Purpose Flour  2 cups / 240 grams
Cocoa Powder – 1/2 cup / 60 grams
Baking Powder – 2 tsp
Baking Soda  – 1/2 tsp
Salt – 1/2 tsp
Water – 3/4 cup / 180 ml
Soft Unsalted Butter – 250 grams
Milk – 1/2 cup / 120 ml
Eggs – 4
Sugar – 2 3/4 cup / 550 grams
Dark Chocolate – 220 Grams chopped
Instant Coffee Powder – 2 TBSP
Oil – 2 TBSP
Directions
Preheat oven to 350 *. Line the base and sides of a 20 cm deep round pan with parchment paper. Make sure the parchment comes above the pan, since it will rise so much.  You can also chose to spray and flour the pan.  For this cake, I used three 8 inch cake pans  so I wouldn't have to tort.
Now time to make the batter. Take water in a sauce pan and bring it to a boil
Add in coffee, butter, dark chocolate and heat it gently till it is melted.
Add in sugar and whisk well till it is completely melted.
Pour this in a bowl and set aside to cool down a bit.
Now sift flour, cocoa, baking soda, baking powder and salt.
Now add in milk to the chocolate mix, add in one egg at a time and whisk it well.
Add in the sifted flour mix in and mix well.
Pour this in the prepared pan and pop it in oven for 30 min. or until the toothpick comes out clean.
Now remove it from oven and let it cool completely.
Liquid Cream cheese Caramel filling
One 8-ounce package cream cheese
¾ cup granulated sugar
1 tablespoon cornstarch
1 teaspoon kosher salt
2 tablespoons whole milk
1 large egg
1/2 cup caramel sauce
Directions
1. Preheat the oven to 300°. In the bowl of a standing mixer, paddle the cream cheese on low until smooth, about 2 minutes. Add the sugar and mix until it is completely incorporated, 1 to 2 minutes.
2. In a small bowl, gently whisk together the cornstarch and salt. Add the milk in a slow, steady stream, then whisk in the egg.
3. With the mixer on medium-low speed, add the egg mixture to the cream cheese, beating until the mixture is smooth, about 3 to 4 minutes. Scrape down the sides of the bowl.
4. Pour the cheesecake batter into an 8-inch-square baking pan. Place the pan in the oven. Bake for 15 minutes. After 15 minutes, gently shake the pan: The outside edges should be firm and the center loosely set. If the cheesecake has not reached that consistency, allow it to cook for an additional 5 minutes.
S
wiss Meringue Buttercream
200g (1 cup) caster (superfine) sugar
4 large egg whites
250g (1 cup + 1 tbsp) softened unsalted butter
1 tsp vanilla extract
6 tbsp (or more to taste) salted caramel
 Directions
To make the salted caramel Swiss meringue buttercream, put the egg whites and sugar in an extremely clean heatproof bowl (use the bowl of your stand mixer if you have one).
Place over a pan of simmering (not boiling) water (do not let the base of the bowl touch the water) and whisk with a hand whisk (not electric) until the sugar has dissolved completely and the mixture is warm to the touch, if you rub some of the mixture between your fingers it should be smooth and you shouldn't be able to feel any graininess, this will take about five minutes. If you want to get technical about it the mix should reach 60°C/140°F on a thermometer.
Remove the bowl from the heat and attach it to your stand mixer with the whisk attachment or use an electric hand whisk, whisk the egg whites until it forms a thick, glossy, bright white meringue and is completely cool, the bottom of the bowl should feel cool to the touch, this will take about 10 minutes.
Once the meringue is cold, switch the mixer to a low speed and begin to add the butter, a tablespoon at a time, make sure that each addition is fully incorporated before adding the next; the meringue will deflate a little and may begin to look curdled, don't panic! This is normal, just keep adding the butter gradually and whipping away and it will come back together. If, once all the butter has been added, your mixture is runny, the butter may have been too soft or the meringue still warm, just put the bowl in the fridge for 15 minutes or so then carry on whipping.
If, even after a decent amount of whipping, it still looks curdled, place about 4 tablespoons worth of the mixture in a small bowl and microwave for 10-15 seconds, it should become runny, pour this back into the bowl of buttercream, down the side of the bowl while whisking, continue to whisk for a few minutes and it should come back together. Once the buttercream is completely smooth and silky and all the butter has been incorporated, whisk in the vanilla extract and salted caramel.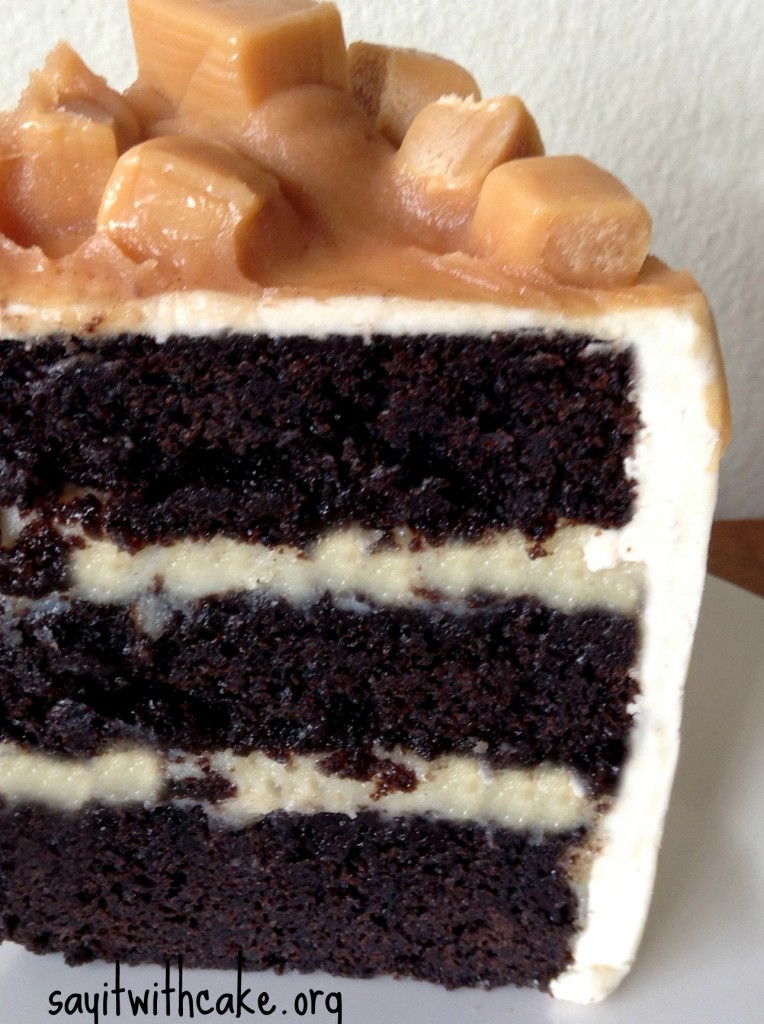 Happy Birthday Wendy!
Enjoy!


Other cakes you might like…