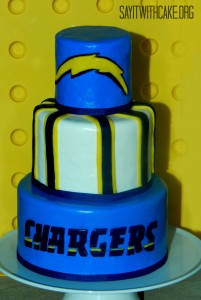 My favorite football team, the San Diego Chargers, made it to the playoffs! They will be playing on Sunday in Cincinnati, so I won't be able to go to the game.  However, I made this cake for an awesome Chargers playoff party!  Go Chargers!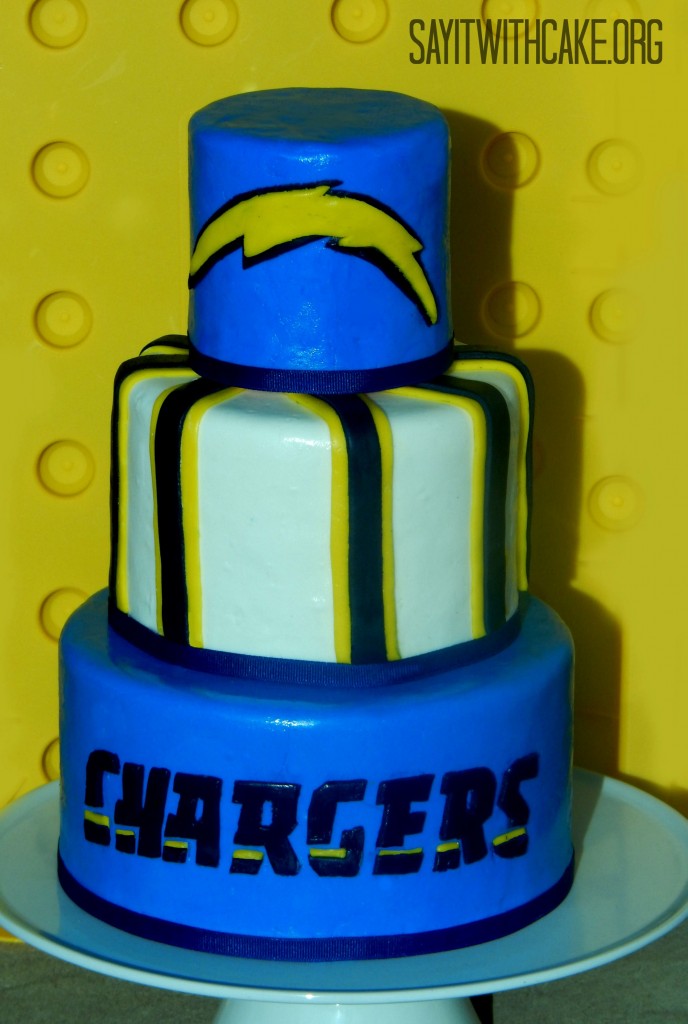 To make this cake, I first made three separate cakes, an 8 inch , a 6 inch,  and a 4 inch cake.  I frosted them with buttercream and let it crust.  I made two batches of fondant. One I made baby blue, and the other batch I left white.  I split the white fondant in half and made dark blue fondant and yellow fondant out of the white half.  I covered two cakes with baby blue fondant and the 6 inch cake with white fondant.  Here is what it looks like at this point: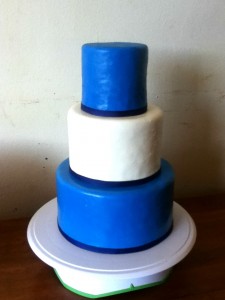 To make the Chargers lettering, I rolled out some dark blue fondant on a fondant mat.  I printed out the lettering in the size I wanted from the computer.  I cut it out and laid it on top of the fondant.  I used an exacto knife to cut out the lettering around the paper print out.  After I was done I peeled off the paper lettering.  I put the lettering on a piece of wax paper with shortening spread lightly on it.  You have to put the letters on backwards for this method to work.  Next you pick up the piece of wax paper and the lettering will stick to the wax paper.  I put water on the fondant, and pushed the wax paper against the cake.  I peeled the wax paper off  and the fondant lettering stuck to the cake.  Here is a picture of what it looks like before I stuck it on the cake.   Note that its placed on the wax paper backwards.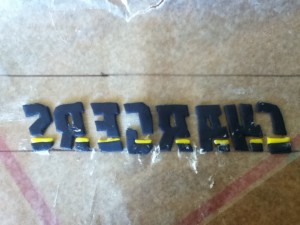 To make the stripes, I used a fondant ribbon cutter.  To make the bolt, I drew a picture of the bolt in the size I wanted.  Then I traced it into the fondant with an exacto knife on both the yellow and blue fondant.   I hope  you enjoy making your own Chargers cake! I have included a new recipe I found for fondant.  It is from Cake Boss and is so much better then the fondant I used to use.  The difference is the corn syrup, it makes the fondant have so much more elasticity and I did not have any breaking, or ripping in my fondant!
Marshmallow Fondant
Ingredients
16 oz mini-marshmallows,
2 lb powdered sugar,
1 tbsp water,
1 tsp corn syrup (optional),
1 tsp lemon extract (optional).
Yield: 3 lbs fondant
Instructions
Empty your bag of marshmallows into a large, microwave-safe bowl, and add water. Microwave until the marshmallows are puffed up and soft looking (about 2 minutes in my microwave).
Grease wooden spoon
This is really important - while your marshmallows are in the microwave, use a paper towel and some shortening to thoroughly lubricate a wooden spoon. Making marshmallow fondant is a sticky business, and this is one way to make it a little easier on yourself.
Stir and add optional ingredients
Add your corn syrup and lemon extract, if you are using them. The corn syrup seems to help with flexibility of the fondant after it reaches room temperature, and the extract is for added flavor and to help cut the sweetness.
Soupy marshmallows
The mixture should be kind of soupy as you stir it, and most of the marshmallows should be dissolved.
Adding color
If you want to color this entire batch, you can add color now, rather than trying to knead it in later.
GRADUALLY, begin to stir in the powdered sugar.
Continue stirring and adding powdered sugar until you have used about 2/3 of the bag.
When to stop
Stop when it becomes difficult to continue to stir with the spoon.
Ready for kneading
Turn out onto a greased surface. KEEPING IN MIND THAT IT IS HOT, begin CAREFULLY kneading with your hands, and gradually add in the rest of your bag of powdered sugar. You may not need to use the entire bag! You'll want to stop kneading when the fondant stops absorbing the powdered sugar, and it actually feels like warm fondant (this is where previous experience with fondant comes in handy). You may want to keep your shortening nearby so you can grease your hands as necessary
Knead on grased surface
* A special note about stand mixers: I know that some people use their stand mixer and hook attachment to mix their MMF. Some people are successful and have never had a problem, but I have read TOO MANY STORIES of people burning out their mixer's motor this way! It's not worth the risk, folks! Your stand mixer wasn't made for this!
Using your MMF
When you are ready to use your MMF, grease your work surface with shortening and a paper towel. Be sure to cover every spot, there is nothing worse than having your fondant stick to the mat!
The two most important things to have on hand when working with marshmallow fondant are shortening and a microwave. Marshmallow fondant does not loosen up with kneading, like traditional fondant. This is fondant straight from the bag. If it is too hard to roll out, put it in the microwave in 5-second increments until it is kneadable. It's important to not "melt" your MMF! You just want to soften it enough so that you can knead it and roll it out! A liberal coating of shortening on your hands will assist with the kneading process.
Roll out
Roll out as you would for any other kind of fondant, and cover cake as usual.
http://sayitwithcake.org/san-diego-chargers-three-tier-cake/
Recipe from Cakeboss.com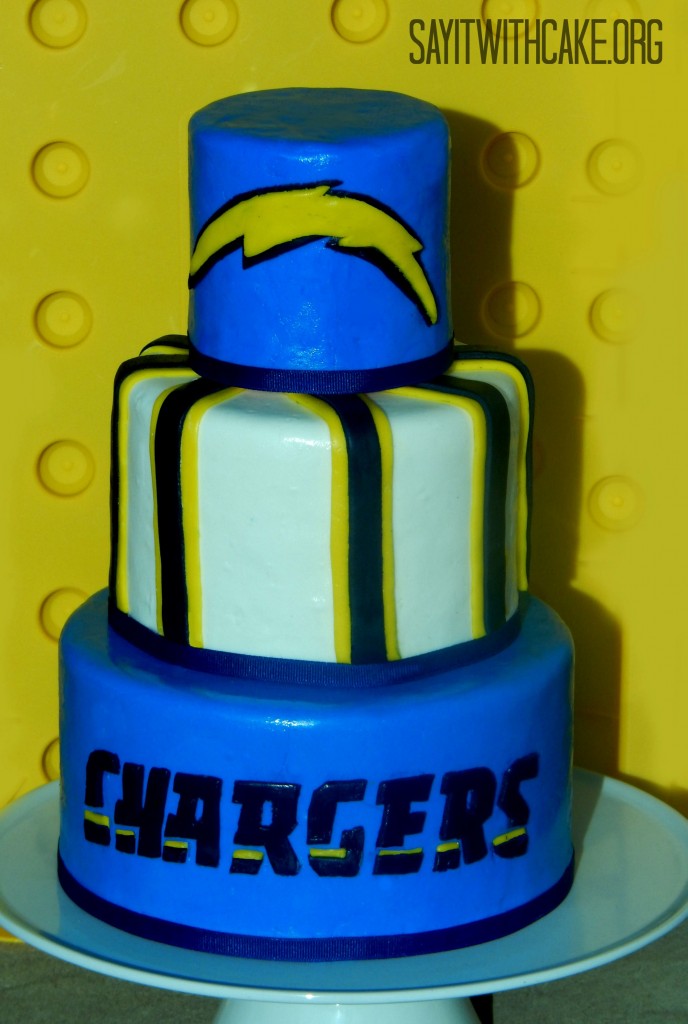 ENJOY!
Shamene