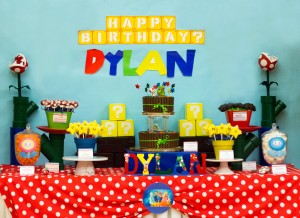 My son Dylan turned 6 and wanted another Super Mario Party. This year his favorite Super Mario game is Super Mario 3D World, so I made a few decorations and games based on Super Mario 3D World.  It was fun, and challenging since I have not seen any 3D World party decorations online!
This is the kids table set up.  I set up plates, paper placemats, Mario cups, napkins, and a Mario, Luigi, or Princess peach hat at each place.  There were 35 kids that attended!  In the game Super Mario 3D World, you can choose to play as Mario, Luigi, Princess Peach, or Toad.  I asked the kids ahead of time which character they wanted to be.  The girls all chose Peach, and nobody chose Toad! I also placed a mustache at the place of each Mario or Luigi.  The kids had fun wearing their hats and mustaches!  I also tied star balloons on some of the chairs.  In the game, if you get a star it means you passed the level, depending on which Mario game you are playing.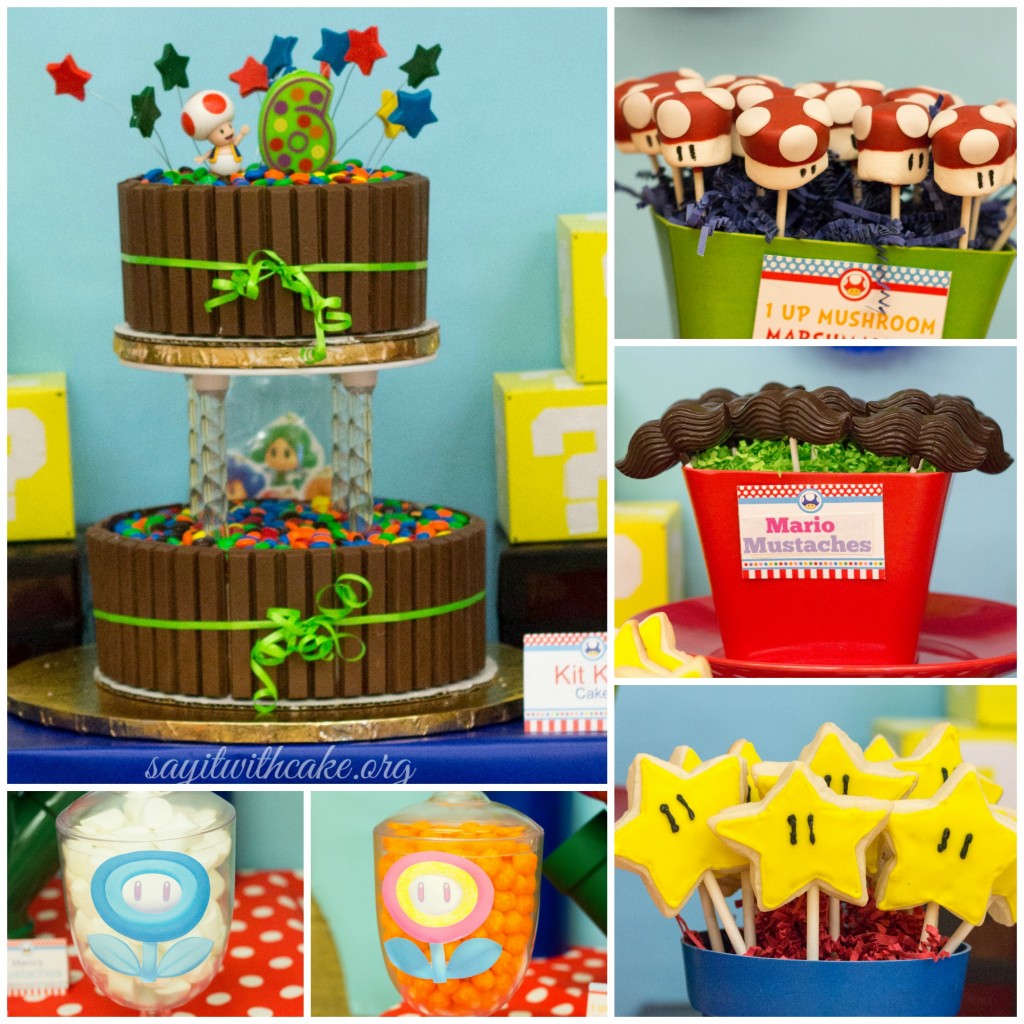 The cake is a two tier chocolate cake with raspberry filling covered with kit kats and m&m's.  My son requested this cake, based on the cake I made for his cousin Timmy 🙂 You can see another kit kat cake I made here. I used 30 kit kat bars to cover this 8 inch and 6 inch cake!  My son wanted to change the theme at the last minute to the game "Captain Toad Treasure Tracker" but I had already made too many things to change the whole party.  To make him happy, I put a Toad on top of his cake! I made the gum paste stars with my mom, and put them on wire.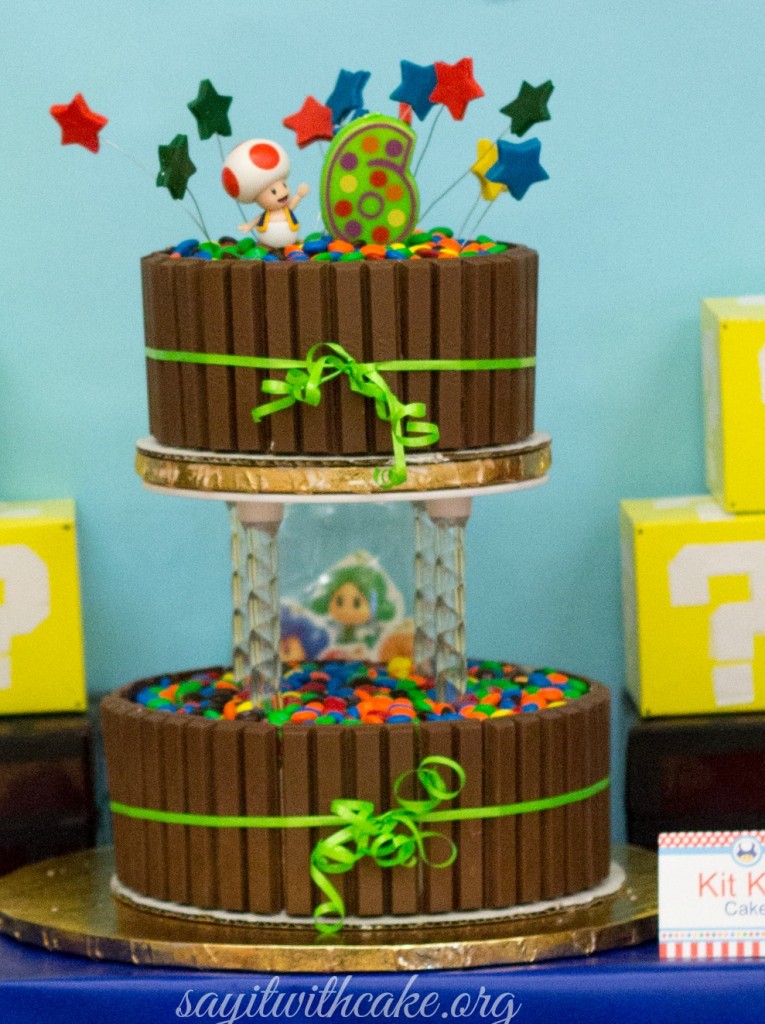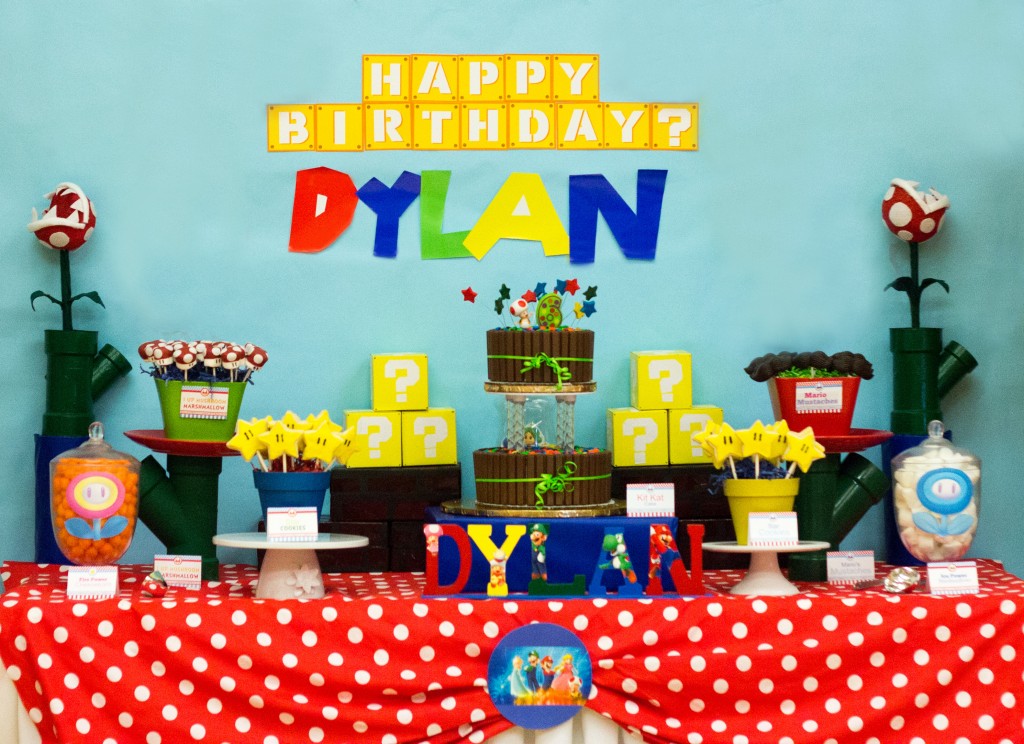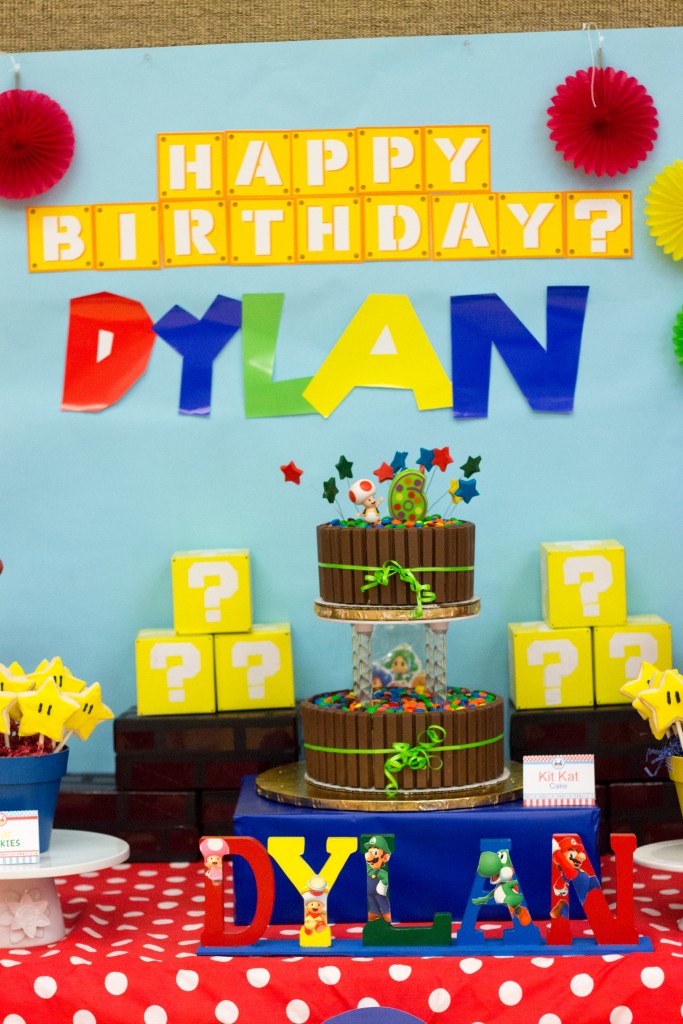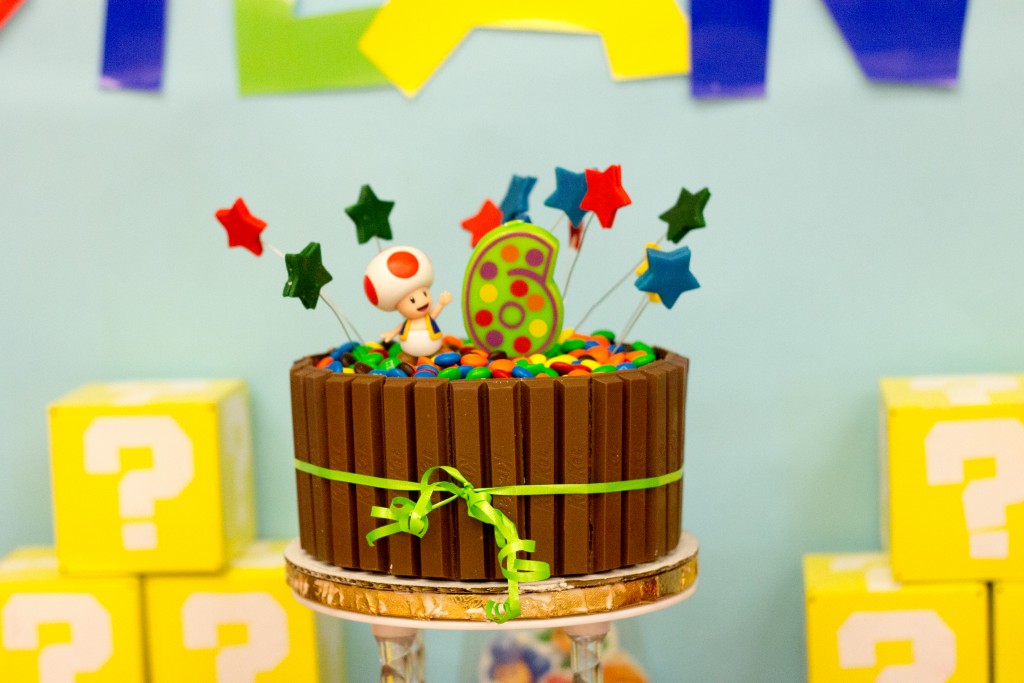 The 1 up marshmallow mushrooms are marshmallow dipped in red chocolate.  The polka dots are white fondant cut into circles.  I used the top of a piping tip to cut out the circles.  I used an edible marker to draw on the eyes.  In Super Mario 3D World, if you get a red mushroom they make the player big.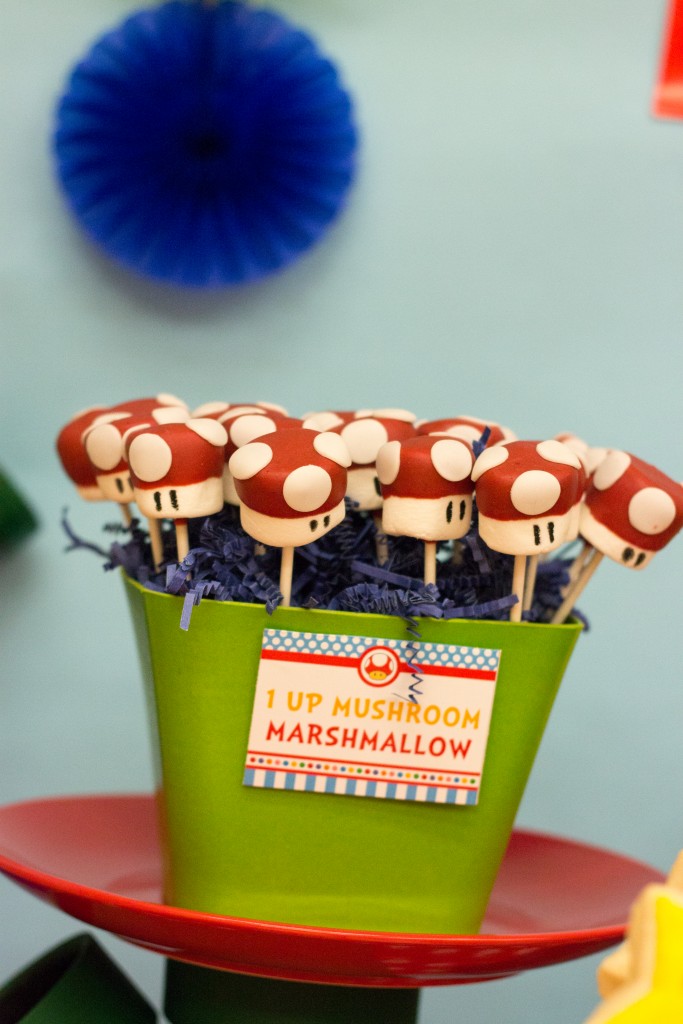 For these star cookies, I made sugar cookies and used royal icing to frost the cookies and paint on the eyes.  I baked the cookies with the cookie sticks inside.  In Super Mario 3D World, the yellow stars make you invincible for a few seconds and you can kill your enemies.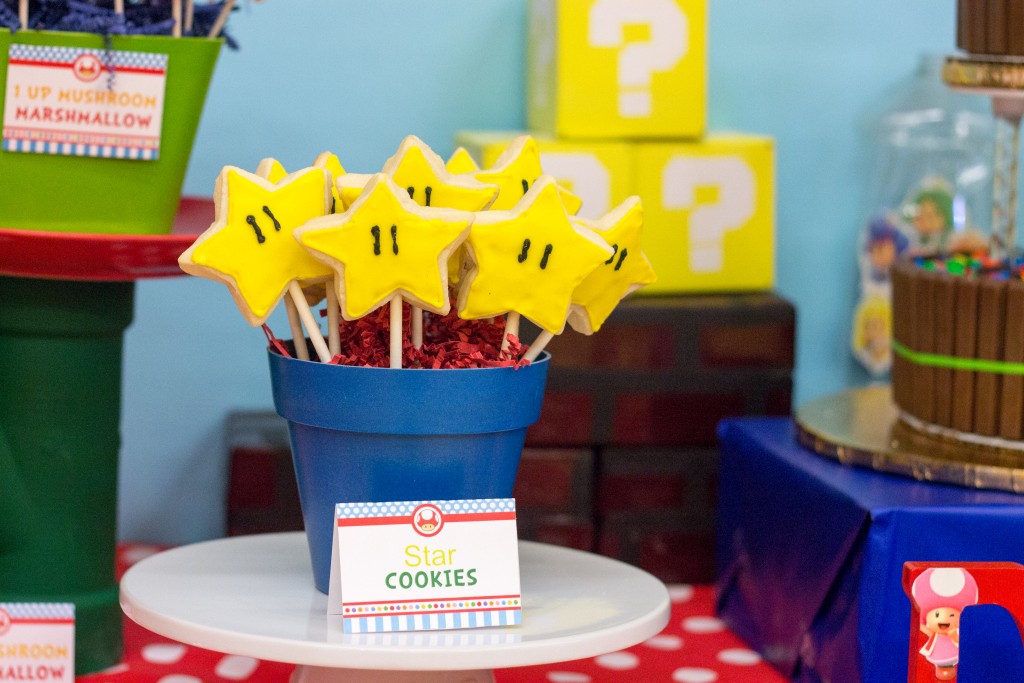 I made these Mario mustaches with a chocolate mold and dark chocolate. Mario and Luigi both have mustaches in the game.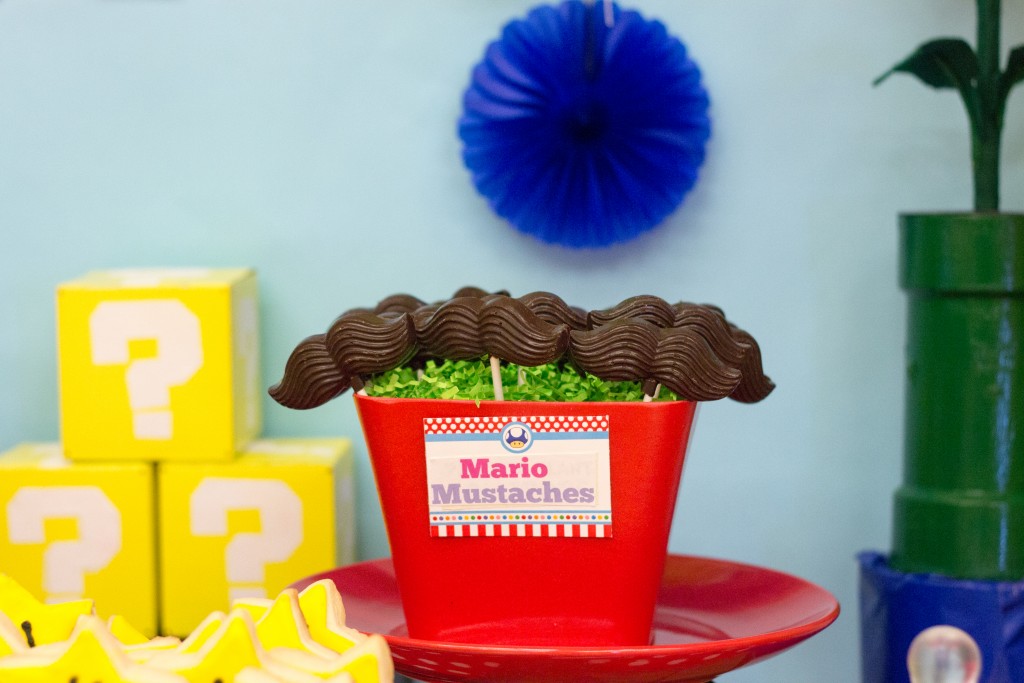 There is no ice power in 3D World, but in the game Super Mario Bros Wii, they have ice power.
If you get an ice flower or a penguin suit, you can get ice power that allows you to throw ice balls at your enemies.  Marshmallows looked to me like ice balls.  The flower on top of the container is an ice flower 🙂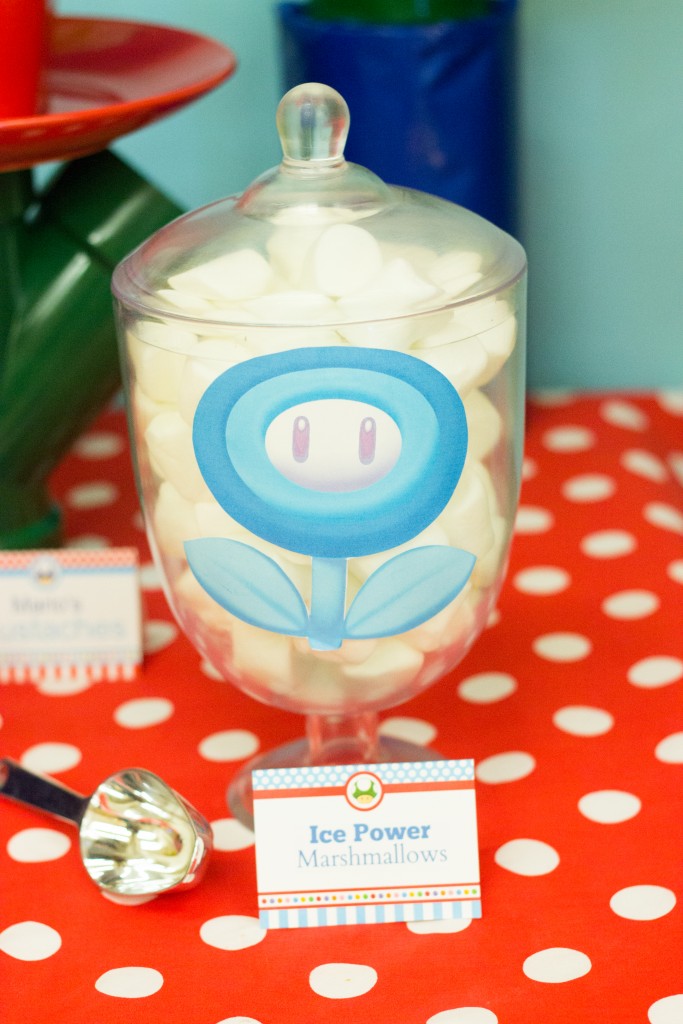 All Super Mario games have fire power including Super Mario 3D World.  Fire Power can be thrown at enemies to kill them.  If you get the fire flower, it allows you to throw fire balls at your enemies until you lose your life.  I used cheeseballs because they look the most like fire balls 🙂  The flower on top of the container is a fire flower.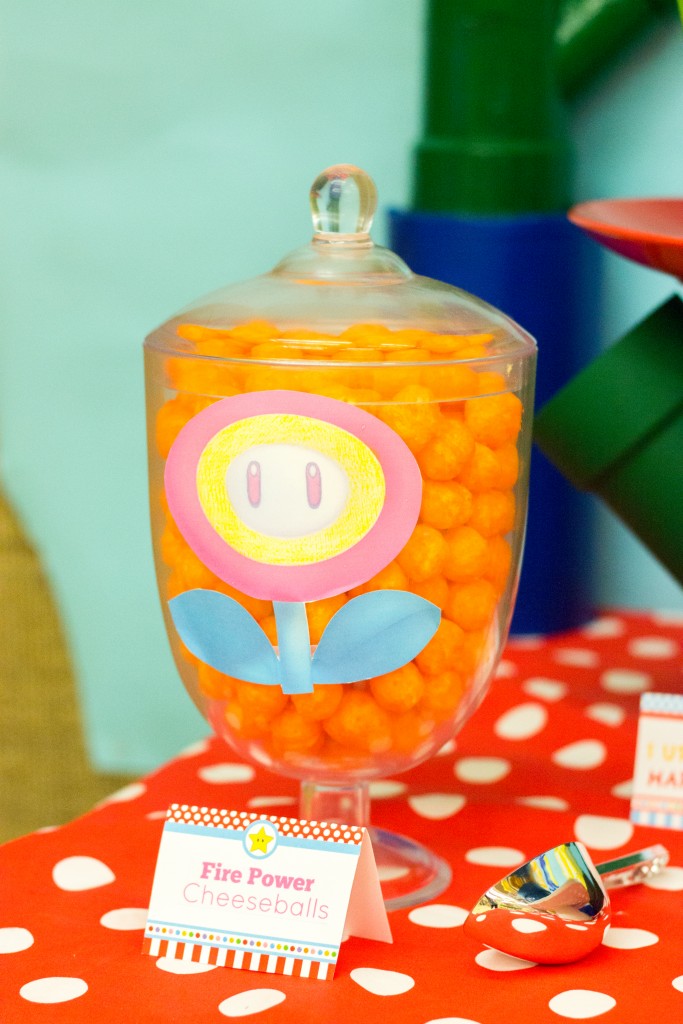 I had a craft table set up to do in the beginning of the party while the guests were arriving.  They could make Luigi, Mario, or Princess Peach bags.  I had all the face pieces cut out and put inside the bags.  This turned out to be not such a good idea.  The bags were cute, but the kids were too excited to be at the party to sit down and make a bag! Some of them did, but the majority didn't.  For the ones that did want to make one, they needed a lot of help.  I would have the bags made ahead of time if I could change things 🙂  I also had a star paper for each guest.  There were 5 games, with 3 lives for each game (based on Super Mario 3D world).  If they passed a level (game) I had my helpers put stars on their paper and a stamp on the back.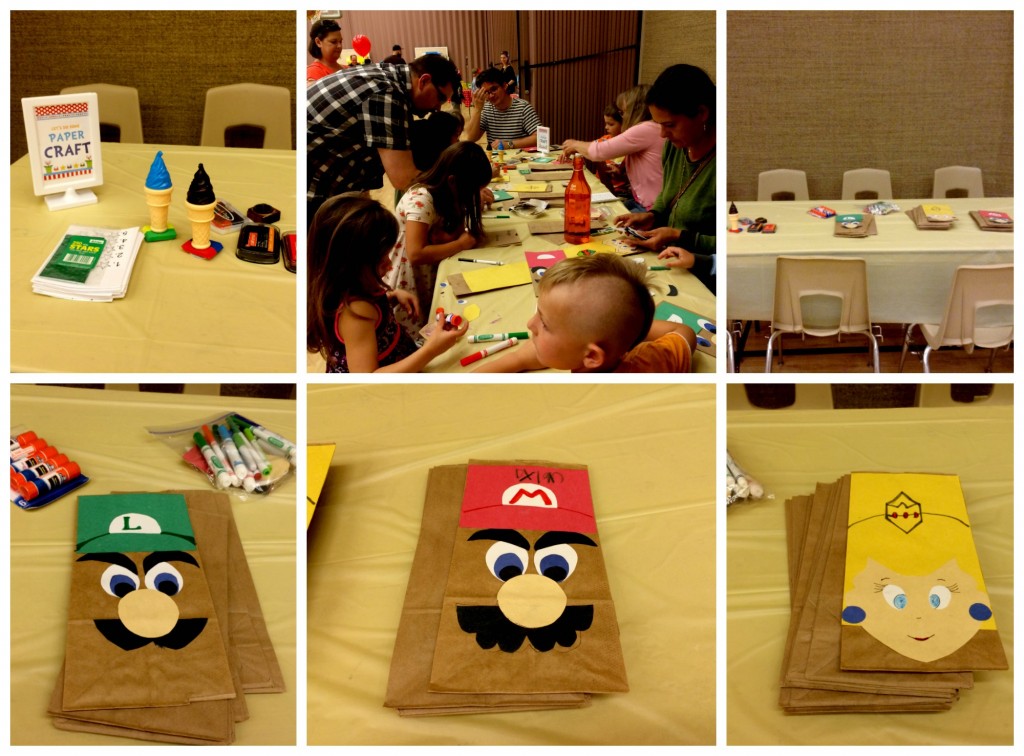 This is how I had the party set up.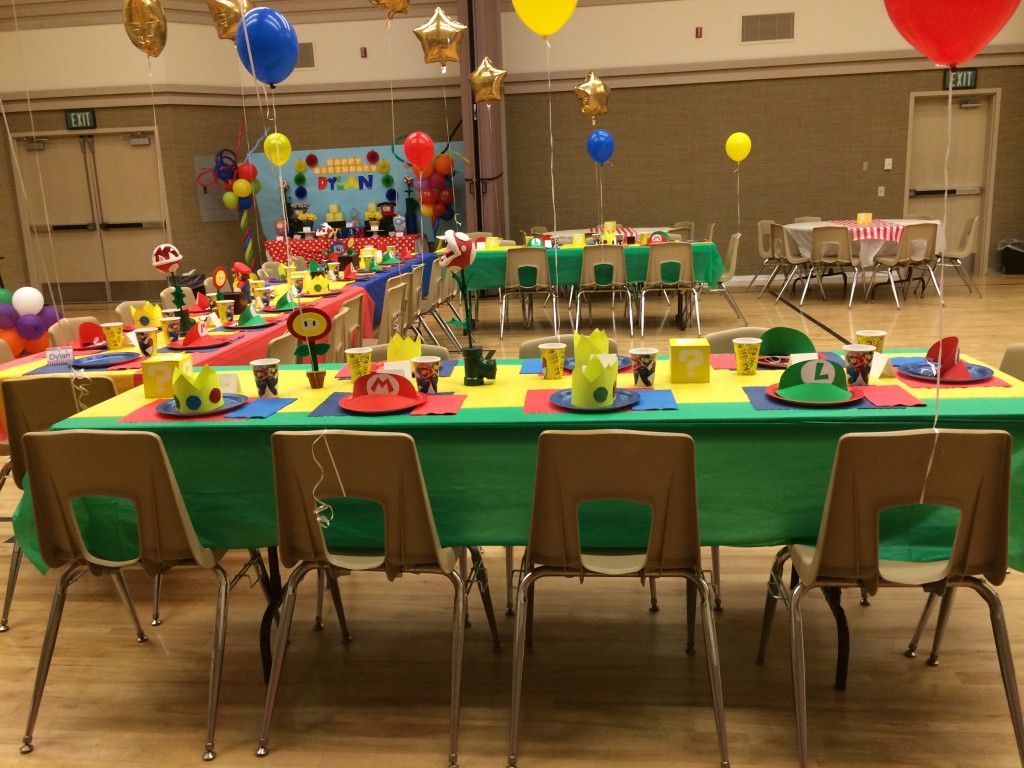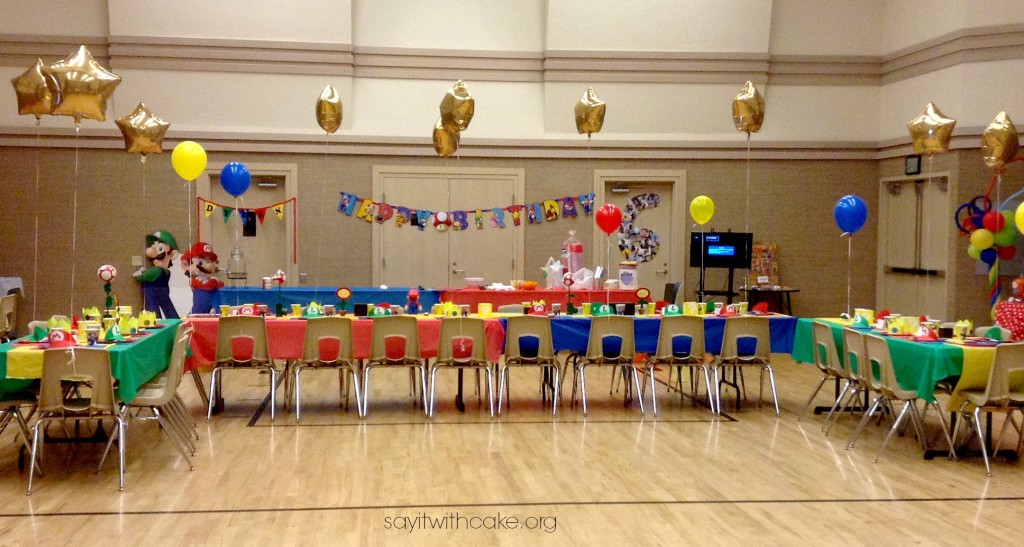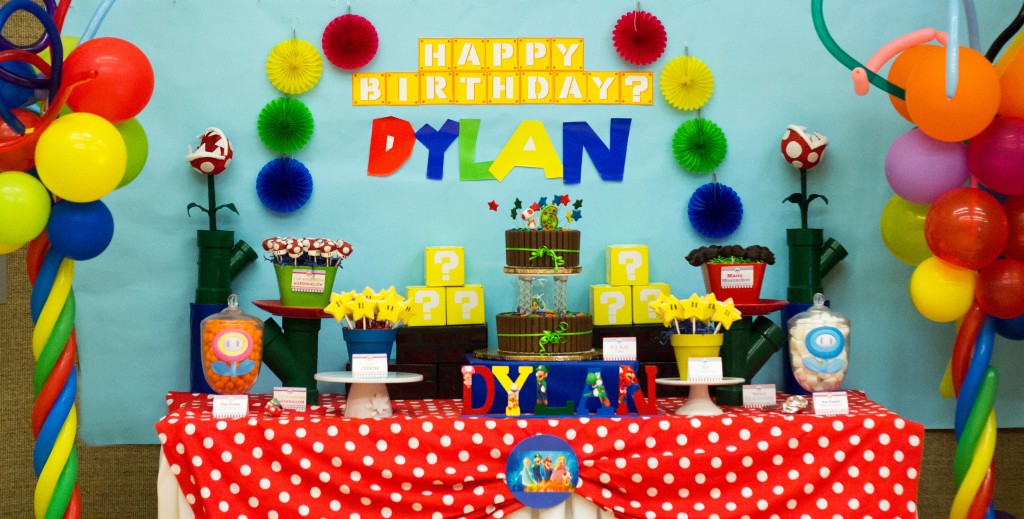 When the guests left, they could take a question mark box filled with coins, Super Mario Fruit snacks (I looked everywhere for these and found them only online), and a mustache.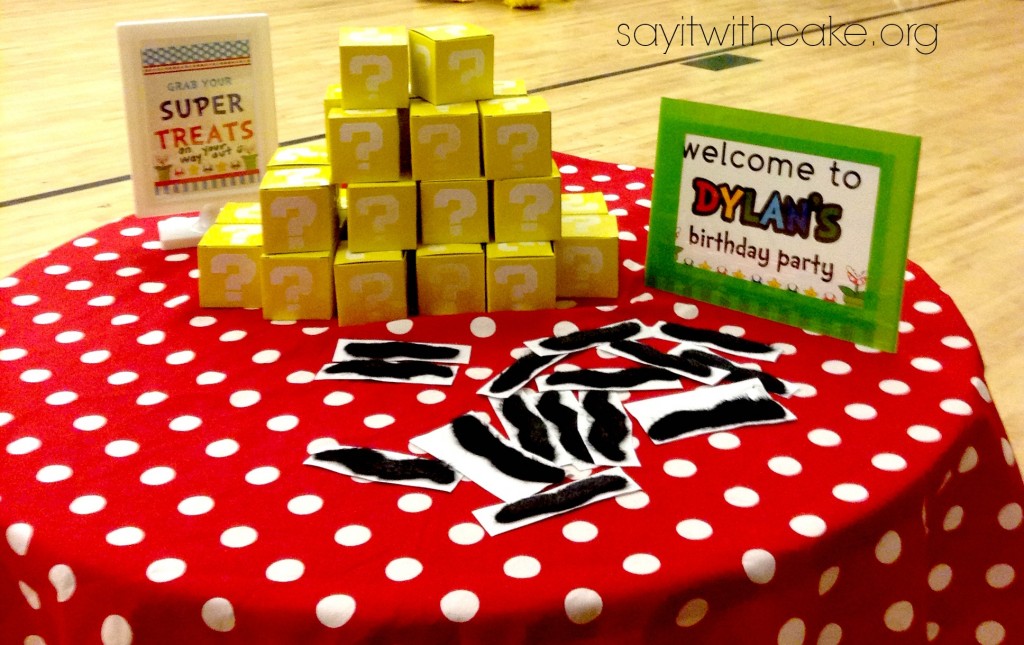 This is the prize table.  If they got all their stars, they could get prizes at the end of the party 🙂 The prizes were all super Mario related.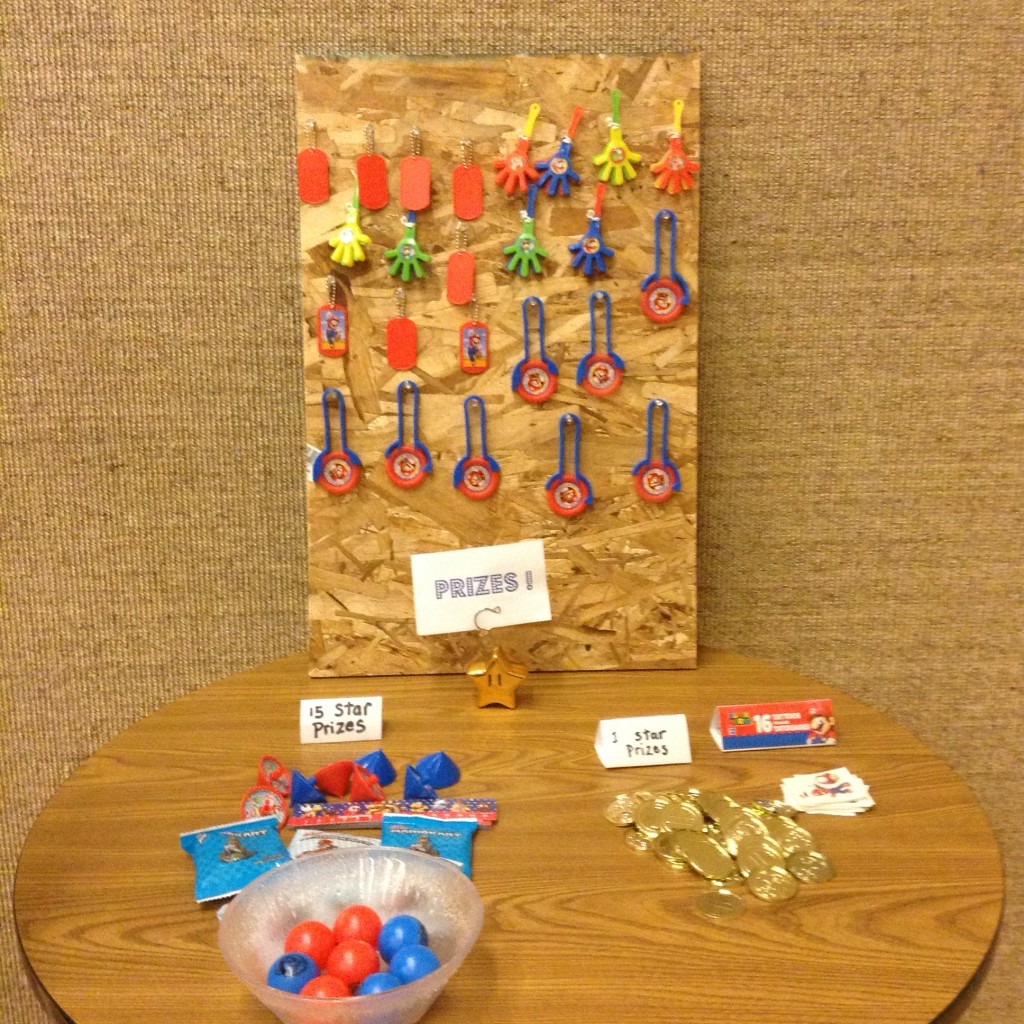 The first game was called Stomp the Goombas.  Goombas are brown enemies in the game Super Mario 3D World.  To kill a Goomba in the game, you can step on it, or jump on it.  Some of the Goombas had 1ups inside after they popped them.  This game was really fun!  I made the balloons (Goombas) smaller so it would be a little harder.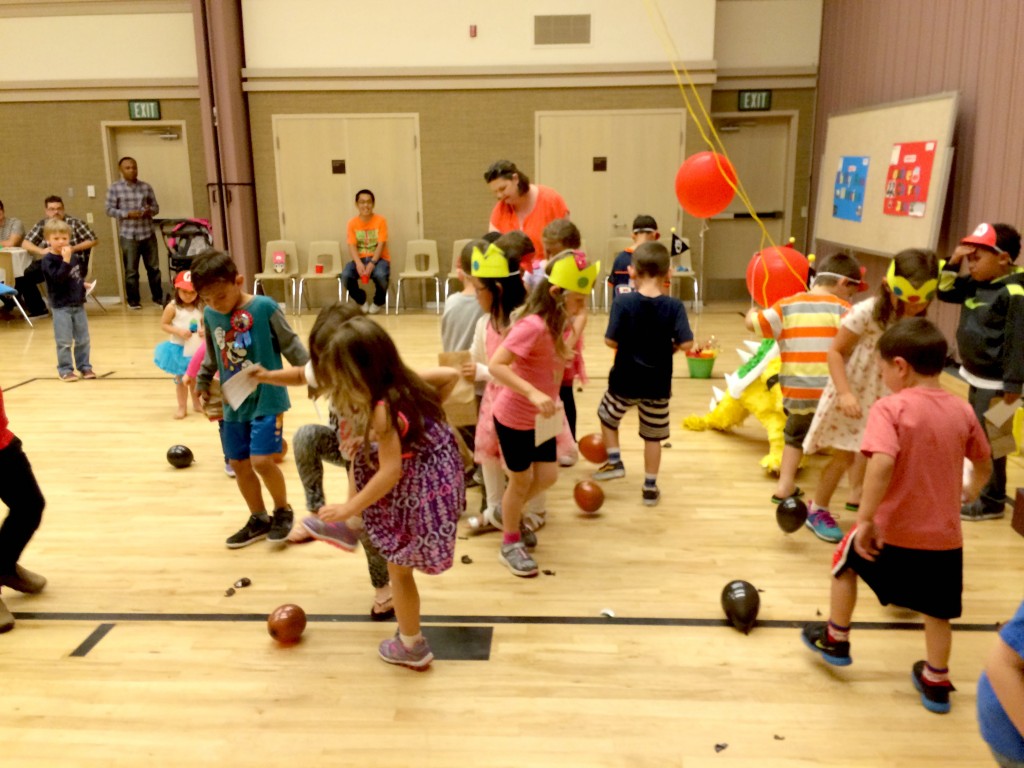 The next game we played was Double Cherry pass.  In the level in the game if you get the double cherry, there are two Marios who are next to each other and you have to complete the level with two Mario's.  We played this game as a three legged race!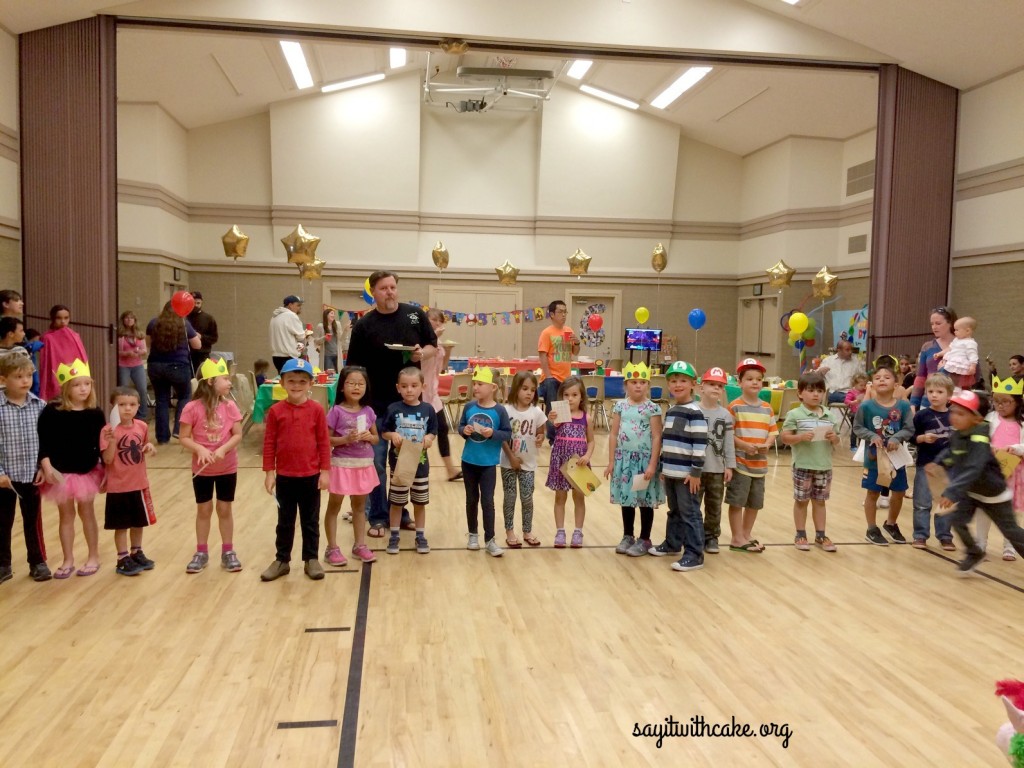 This is a pop the bob-ombs game.  The kids threw a dart at the black water balloons filled with air.  In the game, Bob-ombs can blow you up if you don't kill them.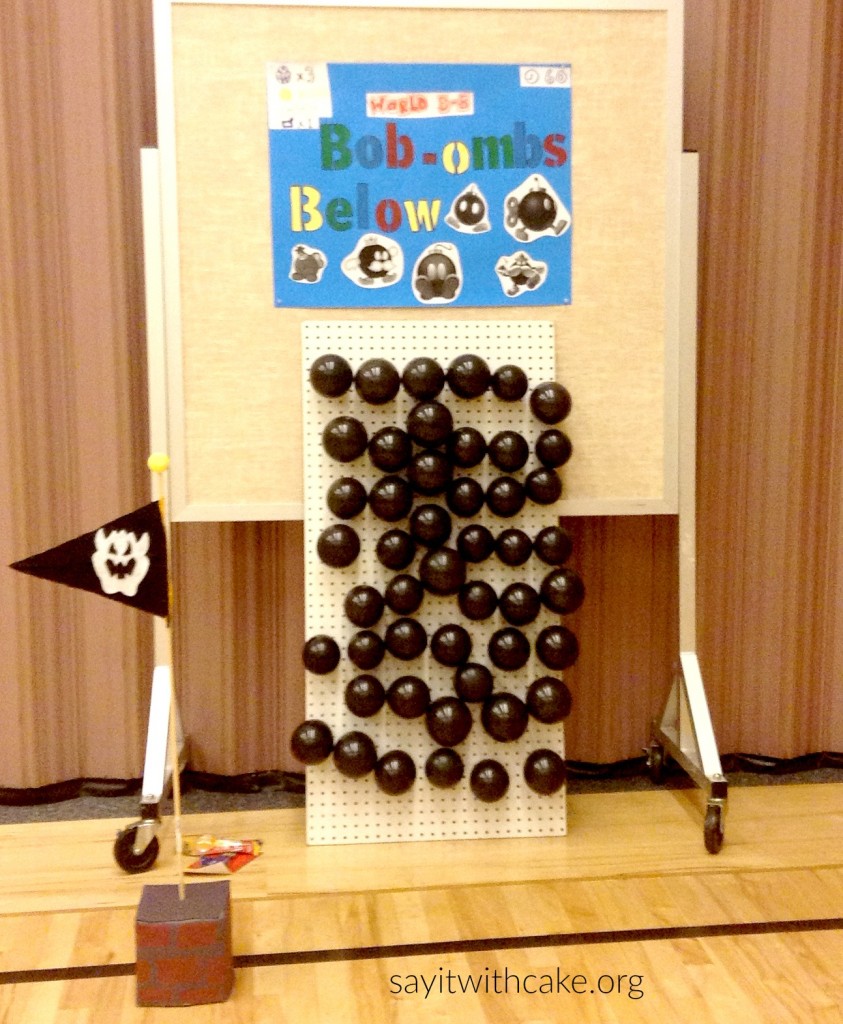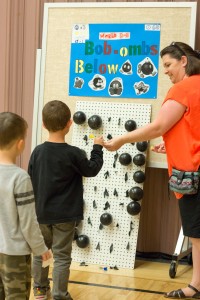 Next we played Piranha Creeper Creek, hit the Piranha plant with the fire ball.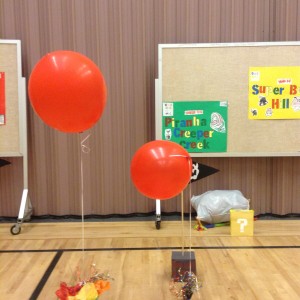 For the food we had pizza, fettuccini Alfredo with Chicken, Antipasto salad, green salad, sandwiches, and Princess Peach punch.
After food, games, and Cake and ice cream, we hit the piñata.  I called this level "Defeat Bowser".  This is the  Bowser piñata I made.   You can see how I made this piñata here.  In the game, Bowser is Mario's Arch Nemesis.  You can't pass the game until you kill Bowser 🙂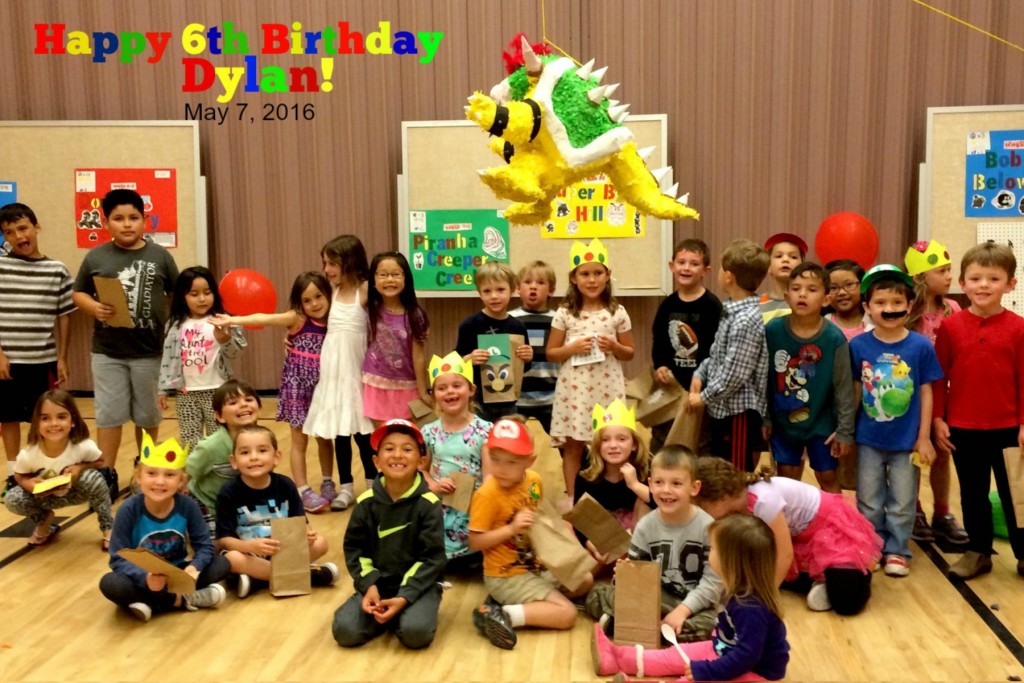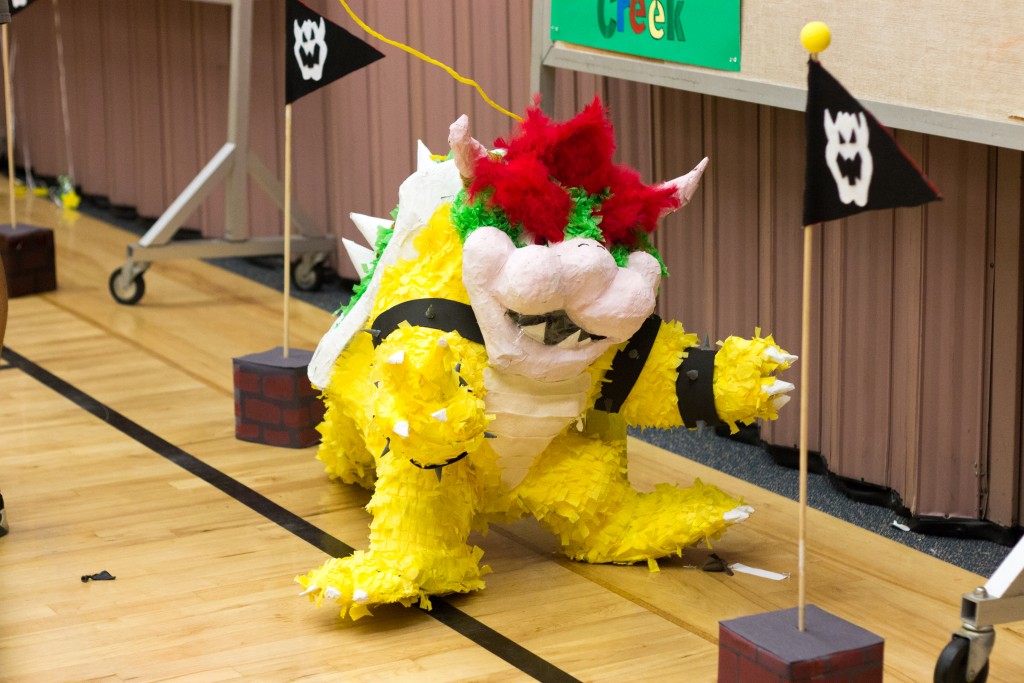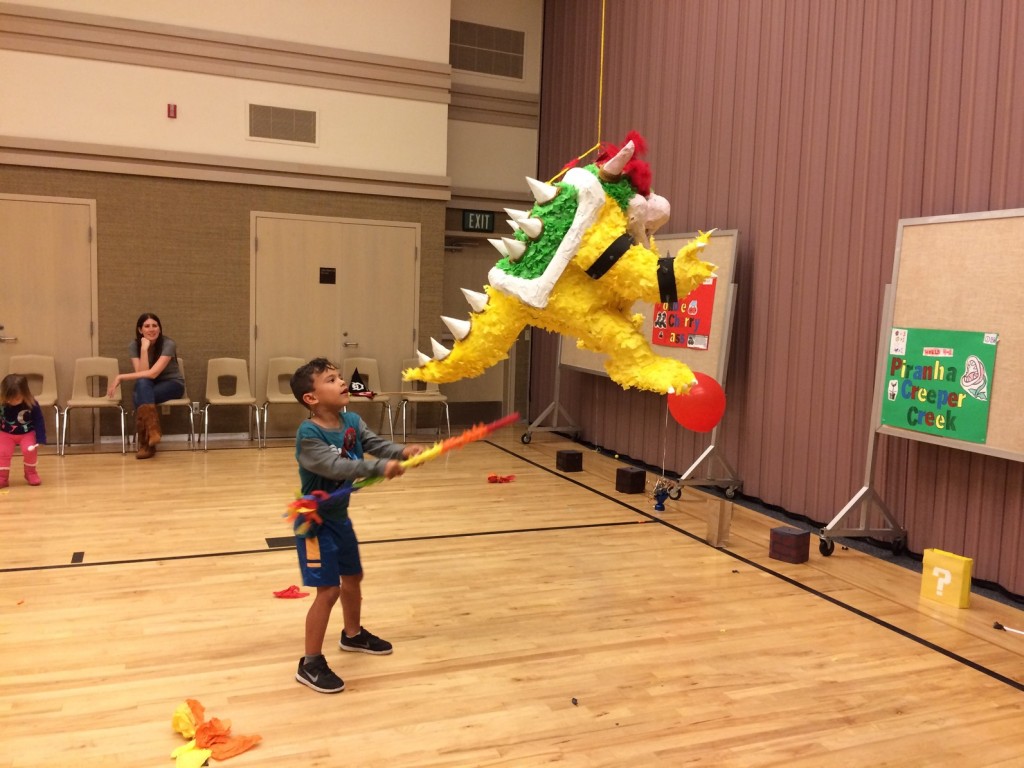 I think my son really liked his party! I love to see his smile and to make him happy! Happy Birthday Sweet Dylan!

Other Parties you might enjoy