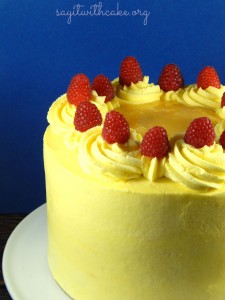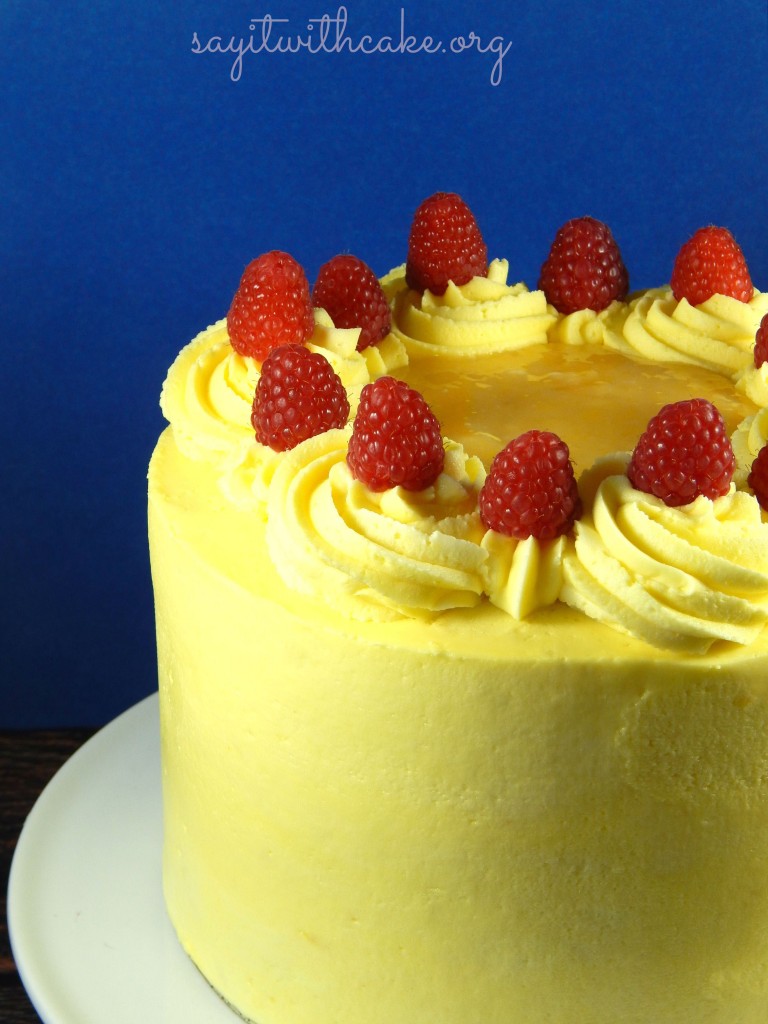 This is my first time making a white cake with no crust, no need to trim dark edges, no need to cut off a top crust, and no need to torte! I made a WASC cake, which stands for White almond sour cream cake.  You start with a basic white cake mix then add sour cream, almond extract, sugar, flour, eggs and water.  See how perfectly these cakes turned out, no dark crust!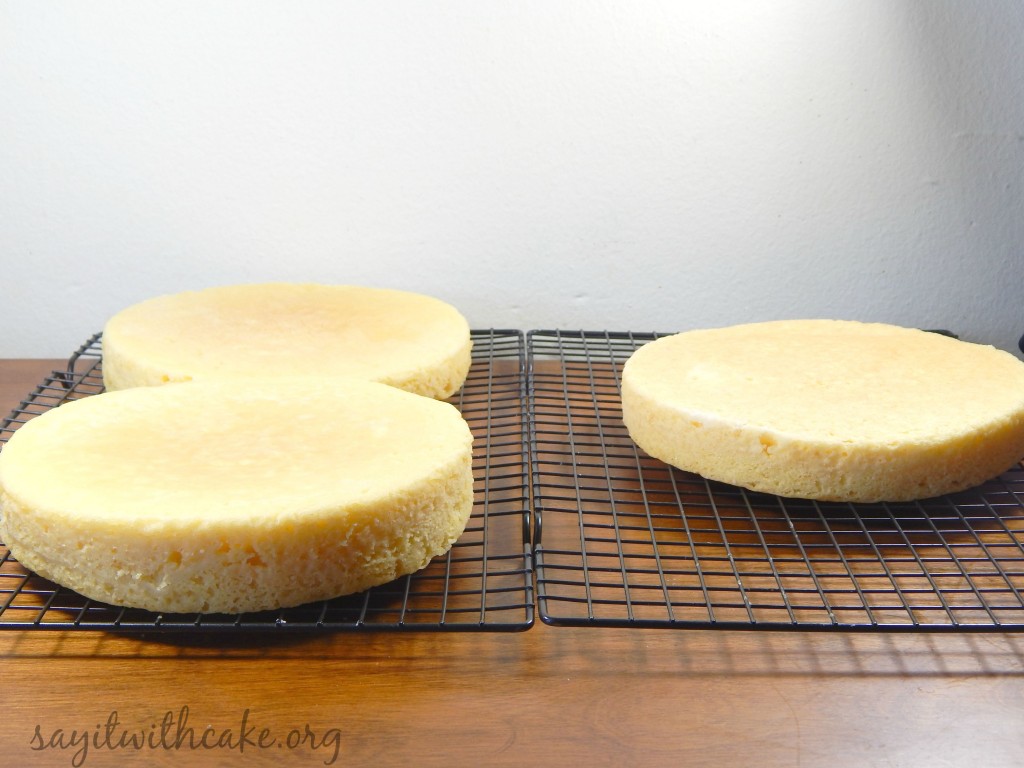 The trick to making these cakes crust free, was to  bake them separately in the oven at 300 degrees for the first 20 minutes and at 325 for the next 10 minutes.  The other thing I did was use baking strips around the pans.  This really helped as you can see! I am so proud of these little cakes!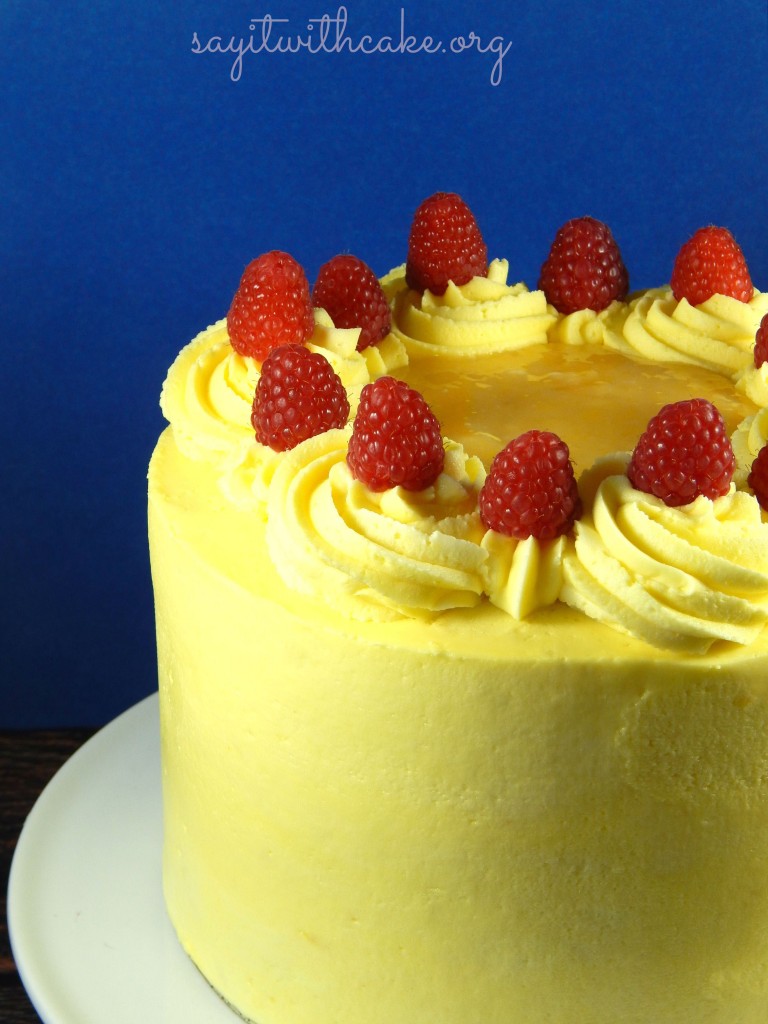 I piped a dam of lemon buttercream frosting around the edges and filled it with raspberry buttercream with fresh raspberries inside.  I toped it with a little raspberry filling.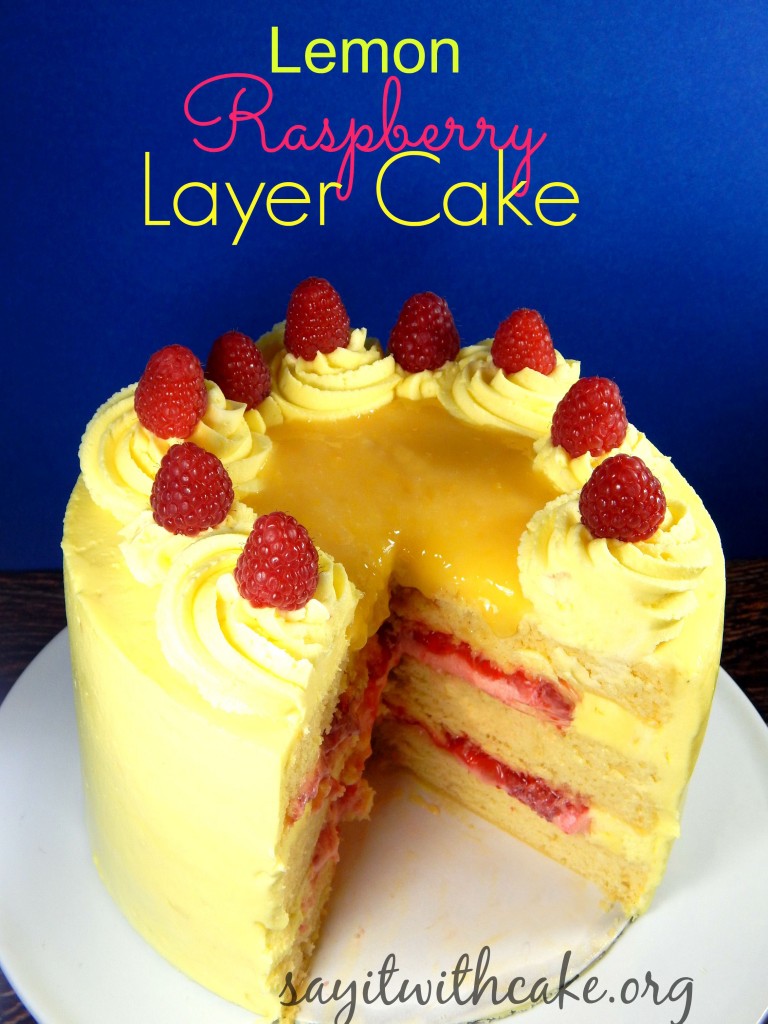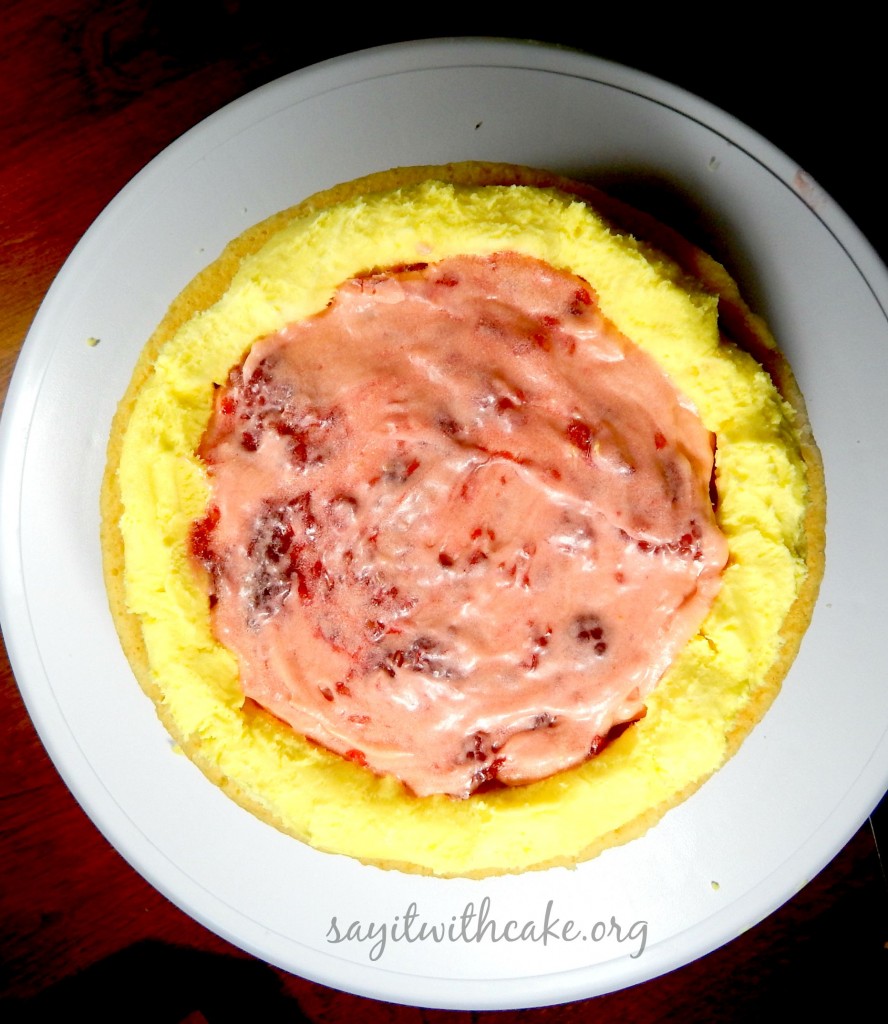 I did this to both layers and stacked the cakes.  Next I put them in the refrigerator for the filling to settle.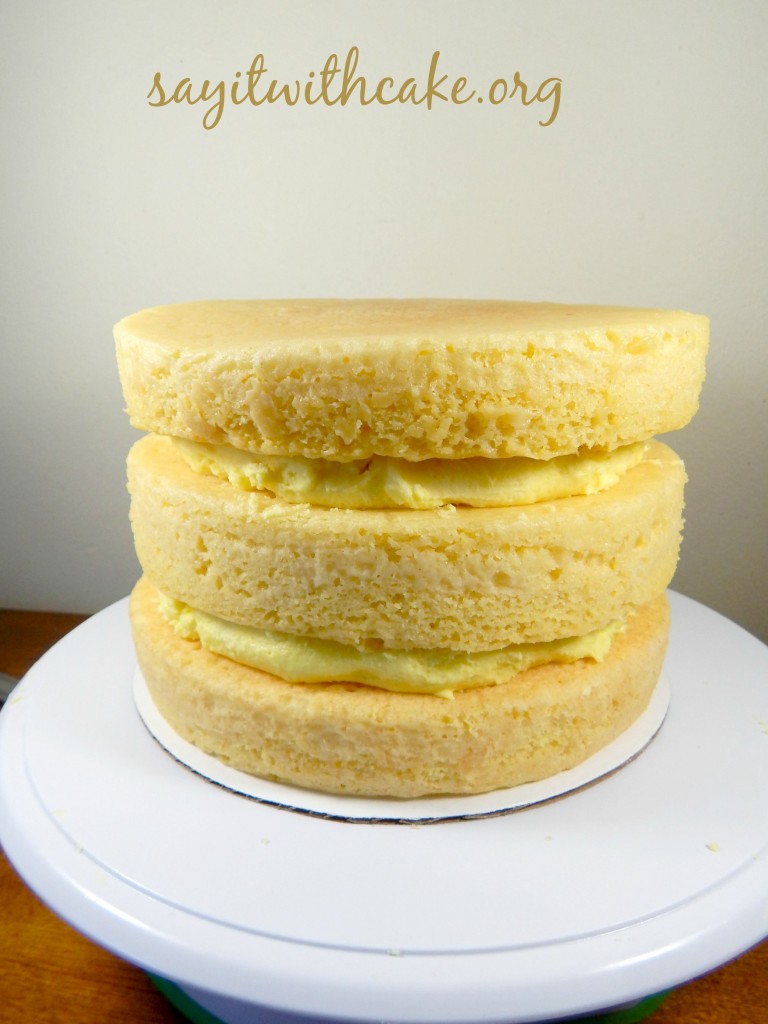 After this I frosted the cakes with lemon buttercream and topped it with lemon curd and fresh raspberries.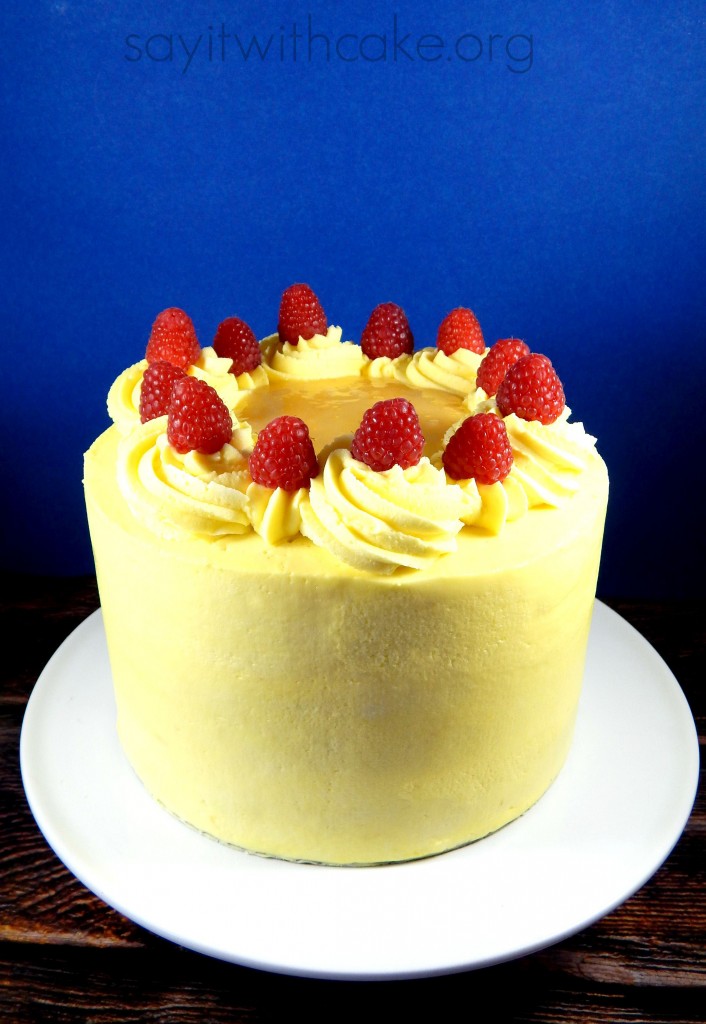 WASC Lemon Lake with fresh Raspberry filling
Ingredients
White Almond Sour Cream Lemon Cake

•1 (15.25 oz) white cake mix
•1 cup sugar
•1 cups all-purpose flour
•1 cup water
•1 tsp. lemon or if not making lemon use vanilla
•1 tsp almond extract (or omit the almond and do 2 tsp. of vanilla)
•4 egg whites (for true white) or 3 whole eggs
•1 cup sour cream

Lemon Buttercream

1 1/2 cups butter
1 1/2 cups shortening
12 cups (3 lbs) powdered sugar
3 tsp finely grated lemon zest
6 tbsp lemon juice
3/4 tsp vanilla
1-2 tsp water - plus more to the consistency you want
Instructions
For cake

Mix all dry ingredients by hand using a whisk in a very large mixing bowl.
Add the liquid ingredients and beat on low speed for 2-3 minutes, until well combined.
Bake at 300° (time depends on the size pans used*)for 20 minutes then at 325 for 10 minutes. Make sure you grease and flour your pan, and USE BAKING STRIPS! This is the trick to get a crust free cake, and level on top. If you don't have cake strips use cut up towels soak in water and safety pin around the cake pan. I measured out one and a half cups of batter for each pan. I cooked each layer by itself in the oven.

Lemon Buttercream

Beat butter and shortening together until smooth.
Add 6 cups of powdered sugar, one at a time, beating to combine.
Add lemon juice, lemon zest and vanilla and combine.
Add the remaining powdered sugar and beat to combine.
Add water to get the consistency you want, starting with 1/2 tsp, beat to combine.
http://sayitwithcake.org/wasc-lemon-cake-with-fresh-raspberry-filling/
Lemon Curd recipe Here
Raspberry filling recipe Here
Enjoy!

other lemon cakes you might enjoy