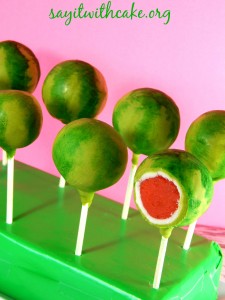 These watermelon cake pops are so unique because they are made with watermelon flavored cake, and look like watermelon on the outside!  I had a lot of fun making these watermelon cake pops and I will share the steps I took to make them.
The first step I took was to make the watermelon cake.  I let it cool, then I broke it up into pieces and squished the cake pieces up together with watermelon flavored buttercream.  You can also use vanilla canned frosting if you like.  I rolled them into balls.  This cake recipe made 23 cake balls.  I put them on a wax paper covered cookie sheet and put them in the freezer for 2 hours.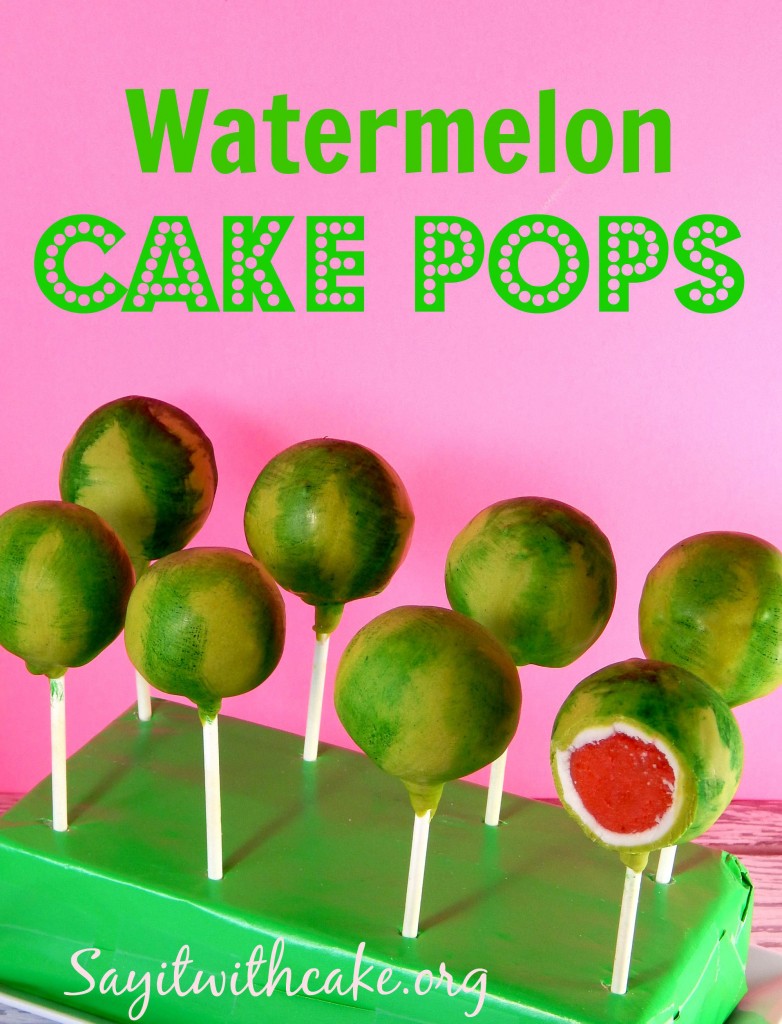 Next, I took them out of the freezer and let them sit for about 20 minutes.  During this time I warmed up the white chocolate.  The chocolate I use is "Candiquick" because I have found that it works the best.  I let the chocolate and cake balls cool for about 20 minutes and dipped the sticks in chocolate and stuck them in the cake balls during this time.  I mixed the chocolate in 2 separate bowls, one I left white, and the other I used bright green powder.  You have to use a special food coloring that is specially made for dying chocolate.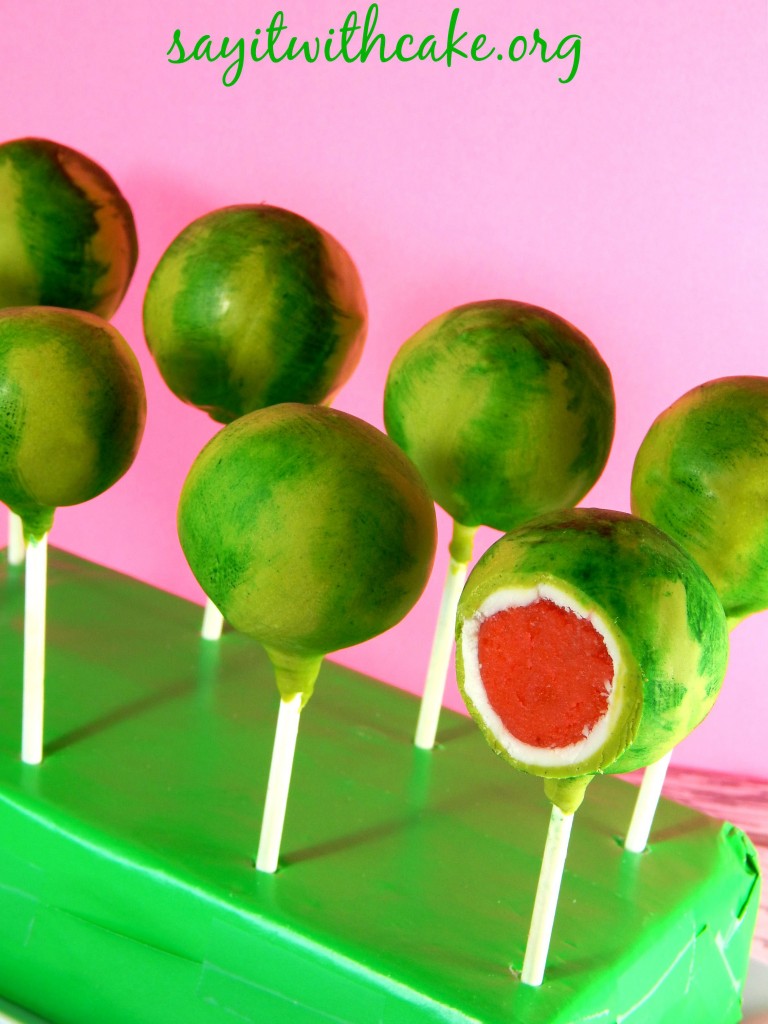 After letting the chocolate and cake pops sit (You do this so that you won't get any cracks in the chocolate) I dipped all of the cake balls in the white chocolate.  I let them harden, then dipped them in the green chocolate.  After they completely dried, I put a little bit of green color and mixed it with vodka.  I got a new paintbrush and painted the dark green onto the cake pops to look like the watermelon rind.  I have to say, that was the best part for me.  I love how you can bite into these cake pops and see the white "Rind" underneath the green! The only thing I wish I would have done was put mini chocolate chips inside the cake pops to look like seeds, but I guess these are seedless watermelons! lol.  I hope you enjoy making these as much as I did!
Watermelon Cake Pops
Ingredients
1 box Betty Crocker® SuperMoist® white cake mix
Water, vegetable oil and egg whites called for on cake mix box
1 package (0.13 oz) watermelon-flavored mix
Instructions
Heat oven to 350°F (325°F for dark or nonstick pans)
Grease or spray two 8- or 9-inch round cake pans.
In large bowl, beat remaining cake mix, the water, oil, egg whites and drink mix with electric mixer on low speed 30 seconds, then on medium speed 2 minutes, scraping bowl occasionally.
Pour into pans.
Bake and cool as directed on box for 8- or 9-inch rounds.
http://sayitwithcake.org/watermelon-cake-pops/
Enjoy!

Other Watermelon recipes you might enjoy!