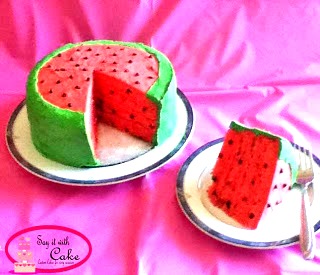 Whats better to take to a summer BBQ then watermelon? How about a watermelon cake that tastes like watermelon and looks like watermelon! This watermelon cake is so delicious! Out of all the cakes I have made, this is my husbands favorite cake! 
This cake was really fun to make!  I have to say the hardest part of the cake was the top part of the rind.    If you want to leave that part out it will look fine, but for those of you who are adventurous go ahead and go for it!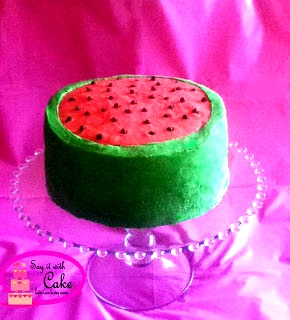 For this Watermelon cake I used  a white cake mix adding watermelon jello mix, and watermelon puree.  I added red food coloring to get the pinkish red color of watermelon and added mini chocolate chips for the seeds.  For the filling I torted the cake twice and used cream cheese frosting with watermelon jello mix and 2 teaspoons of watermelon puree.  I made half pink and the other half americolor leaf green.
Watermelon Cake
Ingredients
1/2 cup plus 2 tablespoons miniature semisweet chocolate chips
1 box Betty Crocker® SuperMoist® white cake mix
Water, vegetable oil and egg whites called for on cake mix box
1 package (0.13 oz) watermelon-flavored mix
1 container Betty Crocker® Whipped fluffy white frosting
Green and red food colors
Instructions
Heat oven to 350°F (325°F for dark or nonstick pans). Grease or spray two 8- or 9-inch round cake pans. In small bowl, toss 1/2 cup of the chocolate chips with 1 tablespoon of the cake mix. In large bowl, beat remaining cake mix, the water, oil, egg whites and drink mix with electric mixer on low speed 30 seconds, then on medium speed 2 minutes, scraping bowl occasionally. Stir in the 1/2 cup chocolate chips. Pour into pans.
Bake and cool as directed on box for 8- or 9-inch rounds.
In small bowl, stir 1 cup of the frosting with 10 to 12 drops green food color. Stir 10 to 12 drops red food color into remaining frosting. Frost sides of cakes with green frosting. Frost tops of cakes with red frosting; press remaining 2 tablespoons chocolate chips into frosting for seeds. If desired, cut cakes crosswise in half and arrange "slices" randomly on tray. To serve, cut into wedges. Store loosely covered

Expert Tips

Use mini chips, and toss in a small amount of cake mix to make sure there are lots of chips and that they stay distributed in the cake.
http://sayitwithcake.org/watermelon-cake/
recipe adapted from Betty Crocker
ENJOY!
Shamene