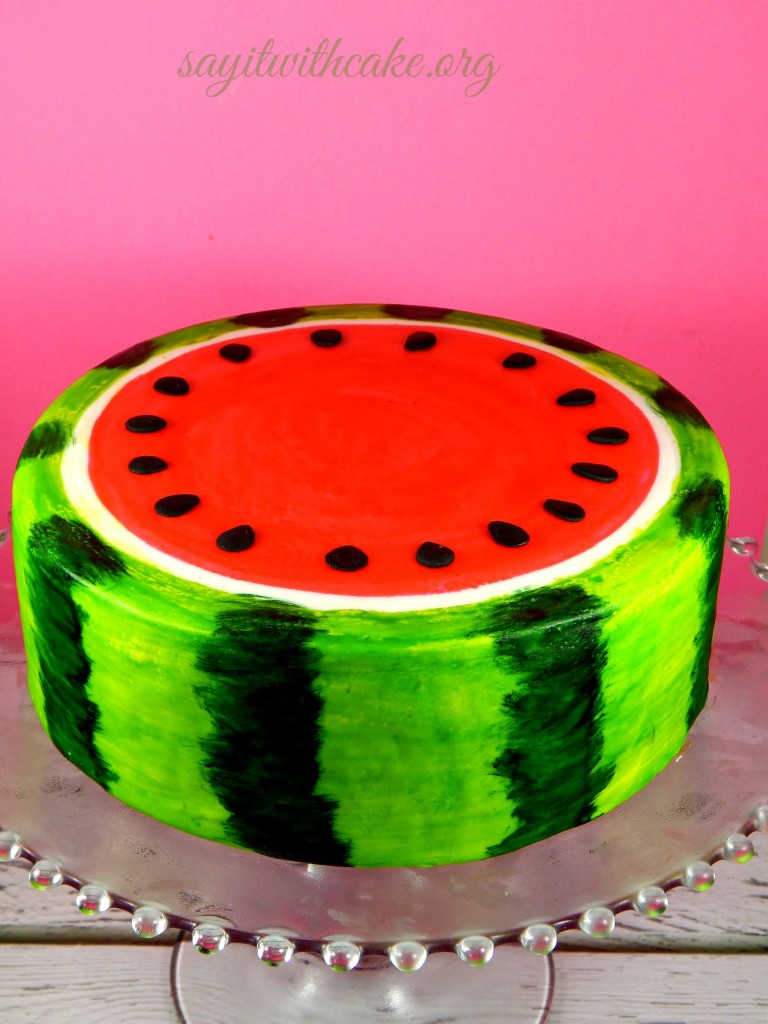 This Watermelon Cake is made with a deliciously refreshing watermelon flavored cake, frosted with a bright pink watermelon flavored buttercream, and covered with a home made marshmallow fondant.  The watermelon design is hand painted, and the seeds are made with black fondant.
After several tries of making this cake, I still could not get the chocolate chips to not sink in the cake while it was cooking.  I sprayed the mini chocolate chips with non stick cooking spray, and tossed it in flour.  They still sunk.  So I tried my recipe for the cake I used while trying to incorporate blueberries into the batter.  It is a very thick batter and that was the only way I could get the chocolate chips not to sink.  It is more of the consistency of cookie dough then cake batter.  But it worked perfectly.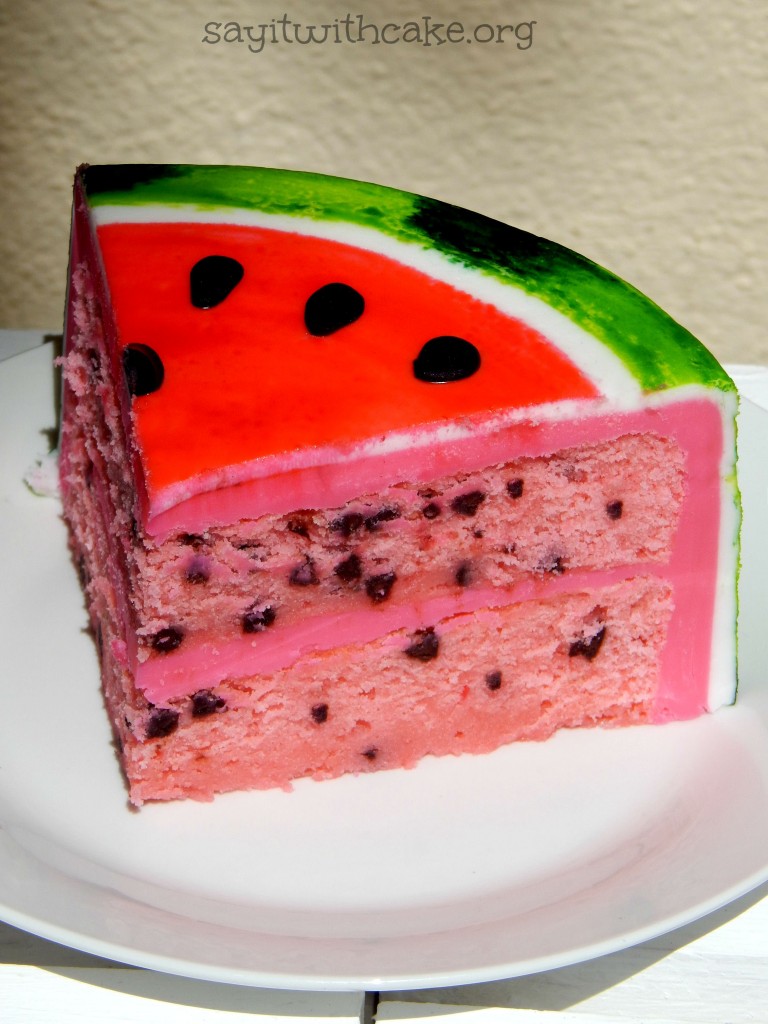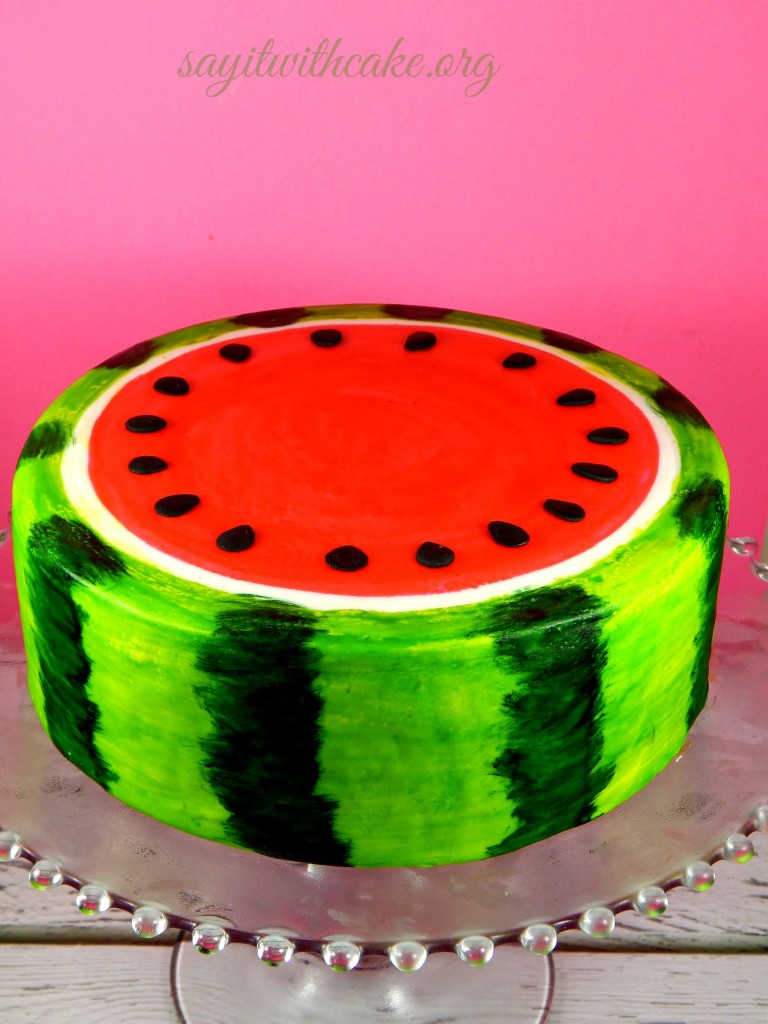 To paint the watermelon onto the fondant you will need lime green color gel, leaf green color,  pink color gel, vodka, lemon extract or lemon juice, a small bowl, and a new paintbrush of good quality.  The  lemon extract, lemon juice, or vodka is to mix with the color gel to paint on the fondant.  You can experiment and see what you prefer.  Here is a list of the pros and cons of each choice.
Lemon juice: This doesn't evaporate very quickly, so you'll find yourself left with wet or tacky painted surfaces for a while. This means you can't add detail on top of your work for some time.
Lemon extract: Extracts contain alcohol. Alcohol is quick to evaporate and so quick to dry, which is why lemon extract is sometimes recommended! Lemon extract can be pretty expensive if you are buying enough to paint the whole surface of the cake.  Another thing to consider is that you most likely will be able to taste the lemon on the fondant so if you use this method, make sure the lemon will go with the flavor of your cake.
Vodka: This is what I use. It dries quickly which has its pros and cons; you can add another coat onto your work in around a minute, but you'll need to add a few drops of vodka to your mix every so often.  Don't worry about painting with alcohol on kids' cakes because the alcohol evaporate away completely leaving nothing behind but your hard work!
This is the watermelon ganache I made and covered my cake with.  I used white chocolate and heavy cream. I flavored the cream with watermelon jello and added a few drops of pink while the cream was boiling.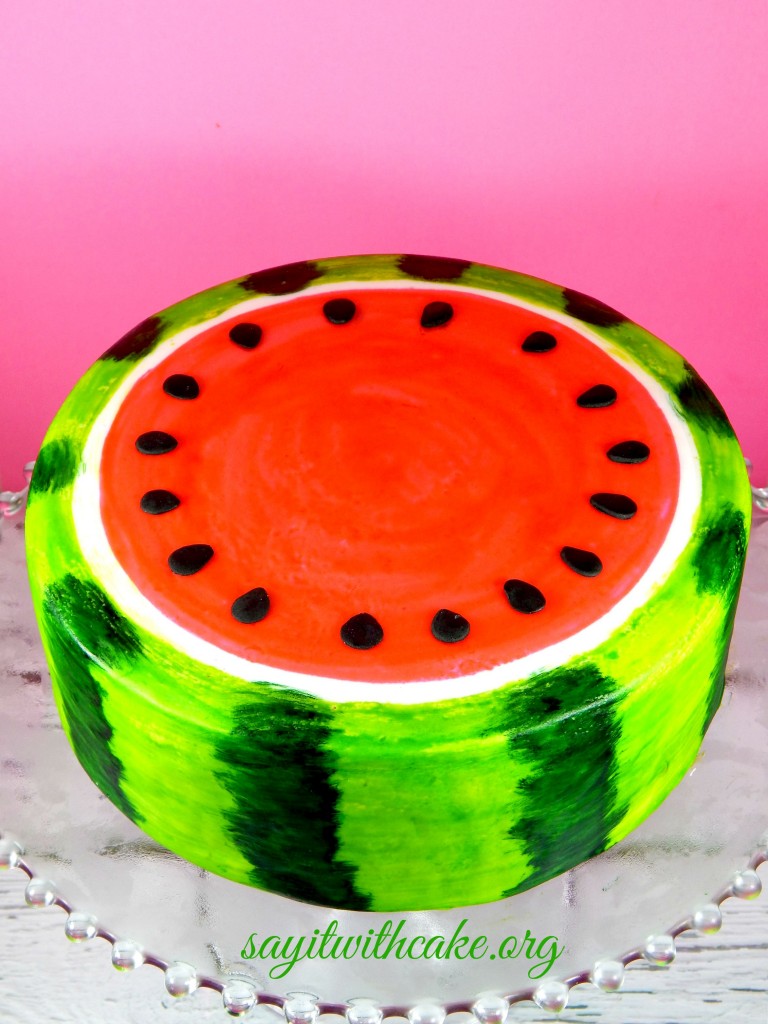 So all you do is mix a little food color with your medium of choice and paint directly onto the fondant.  It dries very quickly and has a shiny finish!
Ingredients
Cake
By Sally's Baking Addiction
1 cup (230g) unsalted butter, softened to room temperature
1 and 1/4 cups (250g) granulated sugar
1/2 cup (100g) light brown sugar
4 large eggs, at room temperature*
1 Tablespoon vanilla extract
3 cups (375g) all-purpose flour, careful not to overmeasure*
1 Tablespoon baking powder
1/2 teaspoon salt
1 cup (240ml) buttermilk*
1 packet of watermelon jello
a few drops of pink or red food color
1 Tablespoon all-purpose flour
1/2 cup miniature semisweet chocolate chips
Instructions
Cake
1.Preheat the oven to 350F. Spray three 8x2 inch cake pans with nonstick spray. Set aside.
2.Make the cake. Using a handheld or stand mixer with a paddle attachment, beat the butter on high until creamy - about 1 minute. Add granulated and brown sugars and beat on medium-high speed until creamed, about 2-3 minutes. Scrape down the sides and bottom of the bowl as needed. Add eggs and vanilla. Beat on medium speed until everything is combined, about 2 full minutes. Scrape down the sides and bottom of the bowl as needed. Set aside.
3.In a large sized bowl, toss together the flour, baking powder, and salt. Slowly add the dry ingredients to the wet ingredients. Beat on low speed for 5 seconds, then add the milk watermelon jello and food color
. Remove from the mixer and stir lightly until everything is just combined. Toss the chocolate chips in 1 Tablespoon of flour and fold into the batter. Batter is extremely thick. Do not overmix at any point. Overmixing will lend a tough, dense textured crumb.
4.Spoon batter evenly into 3 prepared cake pans. Bake for about 21-26 minutes or until a toothpick inserted in the center comes out clean. Remove from the oven and allow to cool completely before frosting.
http://sayitwithcake.org/watermelon-fondant-cake/
Buttercream recipe Here
Marshmallow fondant recipe Here
Ganache recipe Here
Enjoy!

other watermelon treats you might like!