A few months ago I had never heard of the word "ganache".  Then little by little I started seeing the word ganache on a lot of cake recipes.  I finally took the time to research it and it sounded so yummy but really hard to make! I thought to myself that is just way to hard and time consuming I could never make it.  When I finally decided to give it a try I was so surprised! It is actually really easy to make and tastes sooooo much better then buttercream as a frosting on cakes! Nothing beats the decadent, indulgent taste and texture of chocolate ganache.  Made of pure chocolate and heavy cream, ganache is a chocolate lovers best friend! Its versatility as a glaze, decorative piping, and whipped cream answers the need for icing, frosting, and filling!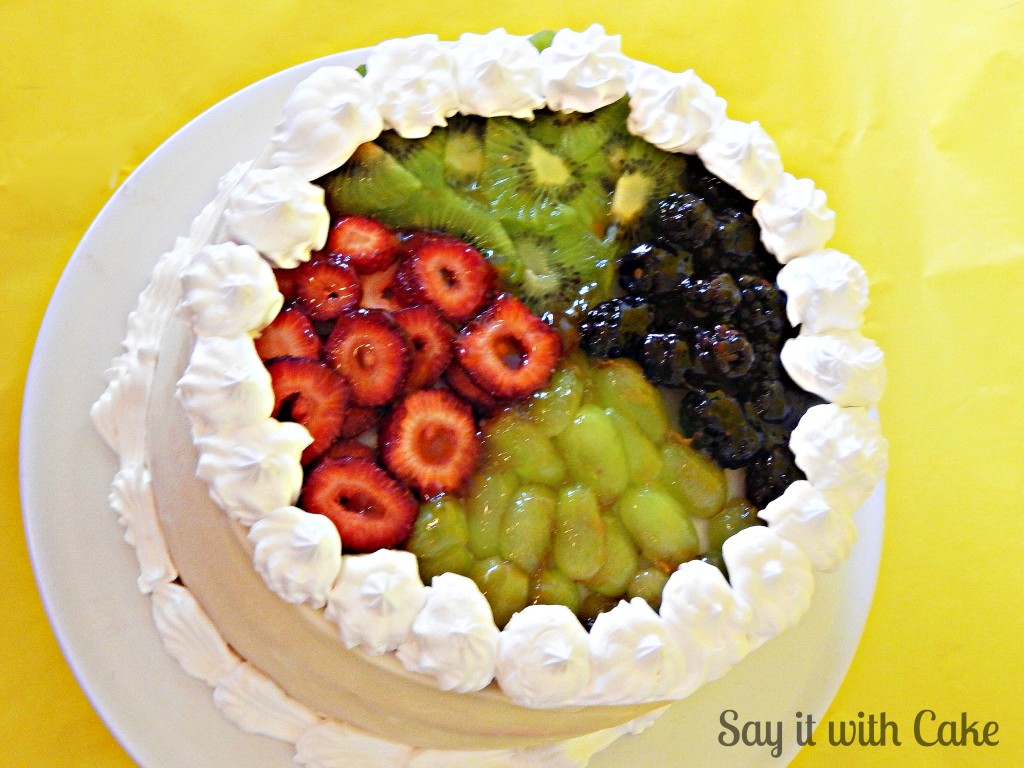 As a glaze, you can easily pour ganache over cakes for a nice smooth finish.  If you are looking for a chocolate whipped filling, look no further! Just whip the ganache as you would a heavy cream, making sure your mixing bowl and beater are nice and cold.  And whatever you do, do not put your ganache in the freezer.  For a thick frosting or decorative piping, allow the ganache to cool for a truffle like texture.  Any way you decide to eat it, this ganache will satisfy your sweet tooth!
This brings me to my White Chocolate ganache cake with fruit topping!
Ingredients
3 cups of white chocolate chips (either Hershey's, Nestle's, or the larger candy melts) DO NOT SUBSTITUTE WITH ALMOND BARK.. Do not use shaved baker's chocolate either. These measurements are for chocolate that is in chip form only.
1 cup of heavy whipping cream (not the kind in the can...the kind in the carton) Do not use half & half. It will be runny.
pinch of salt
Instructions
1.Put all of the chocolate in a glass or stainless steel bowl. Do not use plastic or aluminum. They will both give your ganache' a nasty flavor.
2. Heat the cream and salt in a heavy saucepan until it boils--simmering is not hot enough, it must come to a boil.
3. Pour all of the cream over the chocolate and push the chocolate down with a utensil until it is all covered by the cream. Put a lid, plate, cookie sheet etc..over the bowl and let it sit for 5 to 7 minutes.
4. Stir it with a whisk from the inside out until no lumps remain. If the mixture still has small lumps that won't dissolve, put the bowl in a skillet that has an inch of water in it and heat on medium high stirring the chocolate constantly until melted and smooth.
5. Cover the chocolate with plastic wrap. Push the plastic down until it is sitting on the surface of the ganache'. Push out as many air bubbles as possible and make sure no ganache' is exposed to the air or it will have crusty spots in it.
6. Let the ganache' sit overnight. It will be firm in the morning.
7. You may use it as-is or whip it with a mixer until fluffy. Either way works well as a frosting. Whipping it makes it a little easier to spread and lightens the color.
Note: one recipe of ganache barely covered my cake. If I had to do it again I would make 2 batches of ganache and have a crumb coat and then a second coat!
http://sayitwithcake.org/white-chocolate-ganache-cake-with-fruit-topping/
White Almond Sour Cream Cake (WASC)
Ingredients
2 boxes white cake mix 2 cups all-purpose flour 2 cups granulated sugar 1 1/2 teas. salt 8 egg whites 2 2/3 cups water 4 Tbls. vegetable oil 2 cups (16oz carton) sour cream 2 teaspoon clear vanilla flavor 2 teaspoons almond extract
Instructions
Mix all dry ingredients by hand using a whisk in a very large mixing bowl. Add the rest of the ingredients and beat on low speed for 2 minutes. Bake at 325 degrees
***One recipe makes: one 14" round + one 6" round
or one 16" round
or one 12" round + one 10" round
or one 12x18" sheet cake
or one 12" round + one 8" round + one 6"
Half a recipe makes: two 8" rounds
or two 6" rounds + 6 cupcakes
http://sayitwithcake.org/white-chocolate-ganache-cake-with-fruit-topping/
recipe by Rebecca Sutterby
To make this cake, I made a white cake, and filled it with pastry pride whipped with strawberries, blackberries, and blueberries inside. I piped a  buttercream dam around the edge to keep the filling inside.  I frosted the cake with white chocolate ganache.  I put the fruit on top using strawberries, kiwis, blackberries, and grapes.   I spread on a layer of melted apricot jam over the fruit.  Then I used the pastry pride to pipe big stars on the top and a shell border on the bottom.  I hope you like this cake and I would love for you to try white chocolate ganache for your next cake!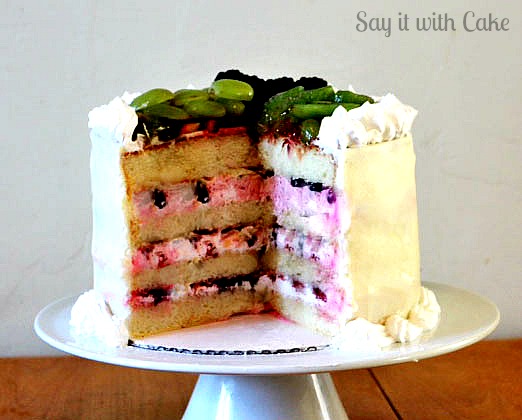 ENJOY!!
This cake was featured here!