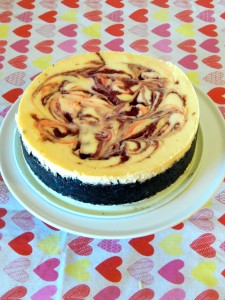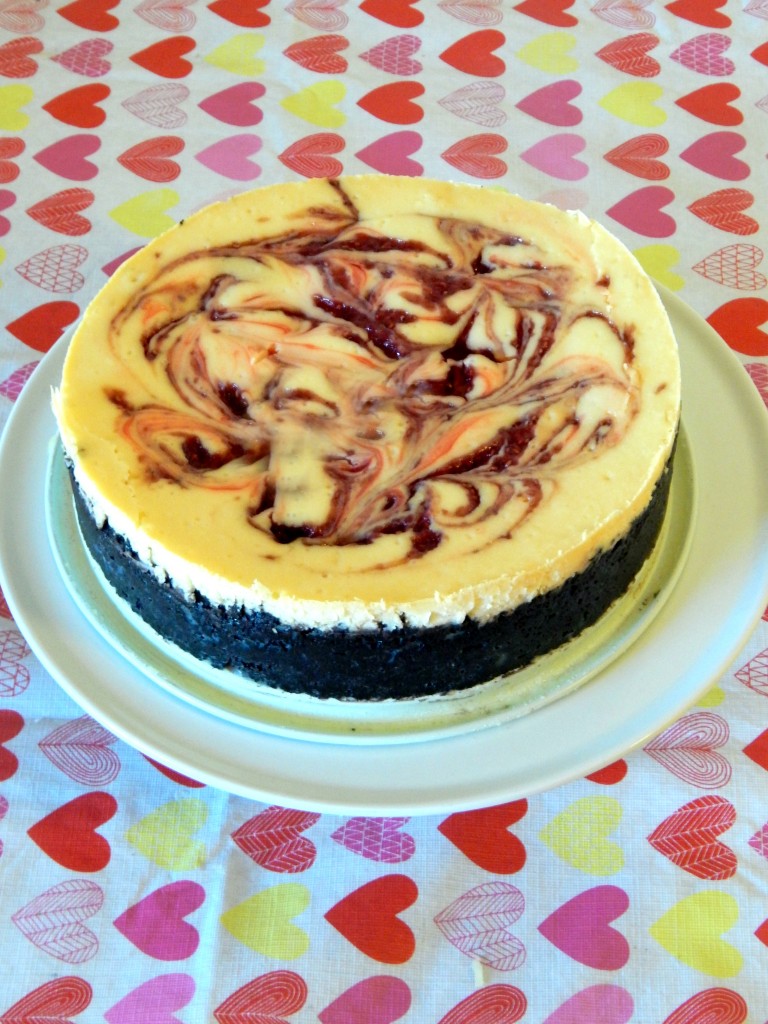 This delicious white chocolate raspberry swirl cheesecake is made by my husband, and is perfect for Valentines Day! I am turning my blog over to him today so he can tell you how he made this amazing cheesecake!
First of all, I'd like to thank my wife for allowing me to post on her blog today. I first came across this recipe on YouTube and knew immediately that I had to make this sometime. Although I had never made a cheesecake prior to this, I was up for the challenge. I have heard many people say that making a cheesecake is difficult. I would have to agree that it is difficult but so worth it in the end. If you enjoy cheesecake then this is one you definitely need to try!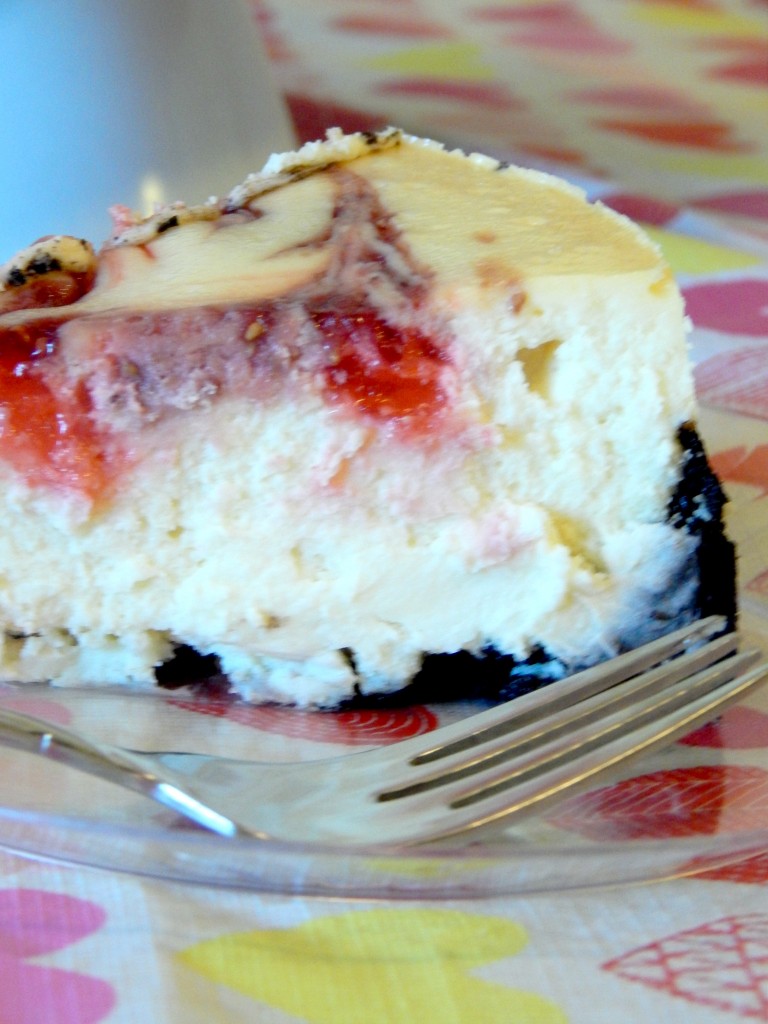 White Chocolate Raspberry Swirl Cheesecake
Ingredients
Crust

3 cups chocolate cookie crumbs
10 tablespoons butter, melted

Filling

2 lbs. cream cheese, softened
2/3 cup sugar
4 large eggs
2 large egg yolks
2 tablespoons flour
1 1/2 teaspoons vanilla extract
8 oz. white chocolate, melted
3/4 cups raspberry filling
Instructions
Make sure that cookie crumbs are fine. Add butter to crumbs and mix until evenly incorporated. Pour into spring form pan and press firmly to the pan, making sure to form an even layer along the sides and the bottom.
Melt chocolate in microwave, stirring every 30 seconds. Set aside.
Beat cream cheese in mixer until smooth. Be sure to get out all lumps because you won't be able to once you start adding other ingredients.
Add in sugar and mix just until incorporated.
Add 1 egg. Mix just until incorporated. Add another egg and mix just until incorporated. Add in one egg yolk and mix just until incorporated.
Repeat process for remaining eggs and egg yolk.
Add flour, vanilla extract, and melted chocolate. Mix just until incorporated.
Pour mixture into prepared spring form pan. Drop raspberry filling onto batter by the spoonful and swirl. Remember you are just trying to swirl, not mix it in with the batter.
Place spring form pan into a larger cake pan and then place that cake pan into a large roaster. Add boiling water to roaster to create a water bath. Be sure not to splash any water onto the cheesecake.
Bake at 350 degrees for 20 minutes.
Reduce heat to 250 degrees and bake for 1 hour and 20 minutes or until done. The center of the cheesecake should jiggle a little when shaked gently.
Turn off oven and leave cheesecake in oven for 3 hours then remove.
Refrigerate overnight.
The next day you can remove the spring form pan and slice up the cheesecake.
http://sayitwithcake.org/white-chocolate-raspberry-swirl-cheesecake/
Recipe adapted from Crouton Crackerjacks.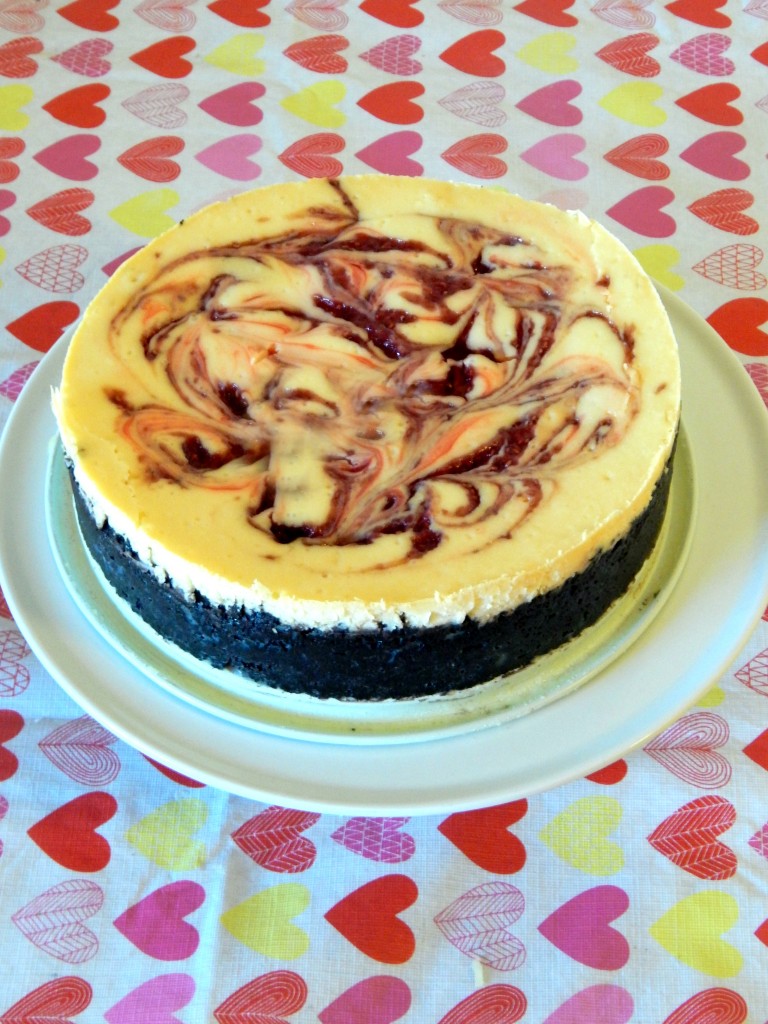 My cheesecake got featured here!