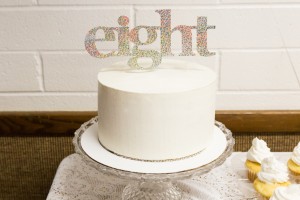 This cake is a 5 layer white vanilla bean cake filled with white chocolate, vanilla mousse and cookie crumbles.  It is frosted with a vanilla bean swiss meringue buttercream frosting. This cake was made to celebrate my nephew Timmys Baptism!
My sister set up this dessert table for his baptism.  I think it looks so classy and elegant in all white.  Below is my nephew Timmy! He is so cute and I love him so much.

My cake didn't quite turn out how I planned.  I followed a new recipe from Cake Blog but my cake did not look fluffy like the cake in the picture.  Somehow it was dense, a little chewy and a little rubbery.  I am writing to Carrie to find out what she think might have happened.  I followed the recipe exactly, so I think she will probably be able to tell me where I went wrong.  I'm very bummed because I wanted this cake to be spectacular, since all my family attended and tried the cake 🙁  I don't know if I should try the recipe again and see if I can get it right or stick to my usual white cake recipe here. 
photography by Wendycoxphotography
Classic Vanilla Cake by Carrie Sellman
1 1/2 cups butter unsalted at room temperature
2 3/4 cups sugar
9 egg whites at room temperature
4 1/2 cups cake flour sifted twice
2 Tablespoons baking powder
1 1/2 teaspoons salt
2 1/4 cups buttermilk
1 1/2 tablespoons vanilla bean paste
Directions
1. Preheat oven to 350
2. Sift together flour, baking powder, and salt. Set aside. 
3. Stir vanilla bean paste into buttermilk. Set aside.
4. In the bowl of a stand mixer, beat butter and sugar on medium high using the paddle attachment.  Cream until pale and fluffy, about 5 minutes.
5. With the mixer on low, add egg whites one at a time, mixing well after each egg. 
6. Add one third of your dry ingredients and mix until combined.
7. Add on half of your buttermilk. Mix. Alternate ingredients again. Dry, wet, dry and mix gently. Do not over mix.
8. Divide the batter between prepared pans.  (I used five 8 inch pans about one and a half cup of batter in each pan to make thin layers.)
9. Bake 30-33 minutes, rotating pans once.  Cake is finished when a toothpick comes out clean. 
10. Cool 10-20 minutes before inverting cakes from pans.  Cool completely before assembling cake.  Wrap with plastic wrap and refrigerate if not using until tomorrow.  
Cake Soak by Christina Tossi
55 g milk (1/4 cup)
4 g clear vanilla extract (1 teaspoon)
whisk together the milk and vanilla in a small bowl.
Cake Crumb by Christina Tossi
makes about 275 g (2 ¼ cups)
100 g granulated sugar (1/2 cup)
25 g light brown sugar (1 1/2 tablespoons, tightly packed)
90 g cake flour (3/4 cup)
2 g baking powder (1/2 teaspoon)
2 g kosher salt (1/2 teaspoon)
20 g rainbow sprinkles (2 tablespoons)
40 g grapeseed oil (1/4 cup)
12 g clear vanilla extract (1 tablespoon)
1. heat the oven to 300°F.
2. combine the sugars, flour, baking powder, salt, and sprinkles in the bowl of a stand mixer fitted with the paddle attachment and mix on low speed until well combined.
3. add the oil and vanilla and paddle again to distribute. the wet ingredients will act as glue to help the dry ingredients form small clusters; continue paddling until that happens.
4. Bake for 15 minutes at 300°F.
5. let the crumbs cool completely before using in a recipe or scarfing by the handful. stored in an airtight container, the crumbs will keep fresh for 1 week at room temperature or 1 month in the fridge or freezer.
 Swiss Meringue Buttercream by Sayitwithcake
Ingredients
5 large egg whites
1 cup plus 2 tablespoons sugar
Pinch of salt
1 pound (4 sticks) unsalted butter, cut into tablespoons, room temperature
1 1/2 teaspoons pure vanilla extract
1 vanilla bean or 2 TB of vanilla bean paste
Instructions
Combine egg whites, sugar, and salt in the heatproof bowl of a standing mixer set over a pan of simmering water. Whisk constantly by hand until mixture is warm to the touch and sugar has dissolved (the mixture should feel completely smooth when rubbed between your fingertips).
Attach the bowl to the mixer fitted with the whisk attachment. Starting on low and gradually increasing to medium-high speed, whisk until stiff (but not dry) peaks form. Continue mixing until the mixture is fluffy and glossy, and completely cool (test by touching the bottom of the bowl), about 10 minutes.
With mixer on medium-low speed, add the butter a few tablespoons at a time, mixing well after each addition. Once all butter has been added, whisk in vanilla and scrape the vanilla from the pod into the mixture. Switch to the paddle attachment, and continue beating on low speed until all air bubbles are eliminated, about 2 minutes. Scrape down sides of bowl with a flexible spatula, and continue beating until the frosting is completely smooth. Keep buttercream at room temperature if using the same day.
Vanilla bean white chocolate mousse by Sayitwithcake
To make chocolate mousse filling:
In a small dish soften 2 teaspoon unflavored gelatin in 2.5 tablespoons cool water, set aside.
In a heat-proof bowl combine chopped semi-sweet chocolate, white chocolate and butter. Melt over double boiler or microwave. Stir until smooth and set aside to cool.
Heat softened gelatin on low heat and stir to dissolve and became completely free of lumps, set aside to cool.
Mix 1 3/4 cups heavy cream and vanilla extract until medium peaks form, gradually adding powdered sugar. Mix in gelatin.
Stir a few tablespoons of whipped cream into melted chocolate mixture to lighten it. Then transfer chocolate mixture into remaining whipped cream and gently fold in with a spatula, scraping the bottom to incorporate the cream completely.