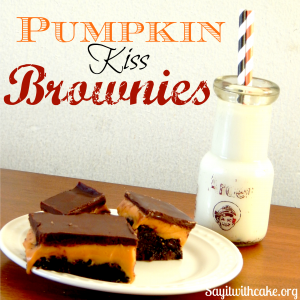 Pumpkin kisses are so special and so rare, because they only come out in the stores around the holidays! They sell out so fast too! In fact, I was shopping all over for them and finally found them at Target and this was the LAST BAG!! If you do happen to snag a bag of these delicious Pumpkin kisses, be sure to make these pumpkin kiss brownies, they are so delicious!!!  The layers of chocolate fudge brownies, pumpkin spice ganache, and a decadent chocolate glaze go perfect together! And you can't forget the glass of milk while eating these beauties, they are very rich! This recipe is surprisingly very easy and quick to make! It is a perfect way to enjoy those seasonal pumpkin kisses!
Recipe Adapted from Buttercream Blondie
To Start, make a batch of your favorite brownies.  I used triple fudge brownie mix.  After they have completely cooled, make and pour on the pumpkin kiss ganache.  Let it sit in the refrigerator until it sets.  After that, make and pour on the chocolate glaze while it is still warm.  Let it sit till set. Here is the recipe for the ganache and the glaze.  
My favorite part of these brownies is the chocolate glaze on top.  This dark chocolate glaze is so shiny and pretty and comes out really smooth!  It also compliments the pumpkin sweetness perfectly. 
My son helped me by unwrapping all the kisses by himself! He was so proud

 I really hope you enjoy these as much as I did! Have a great Day!
 KISSES!
Shamene
I was featured Here!