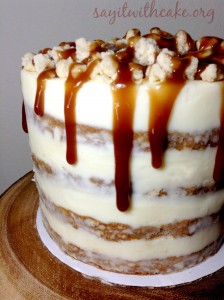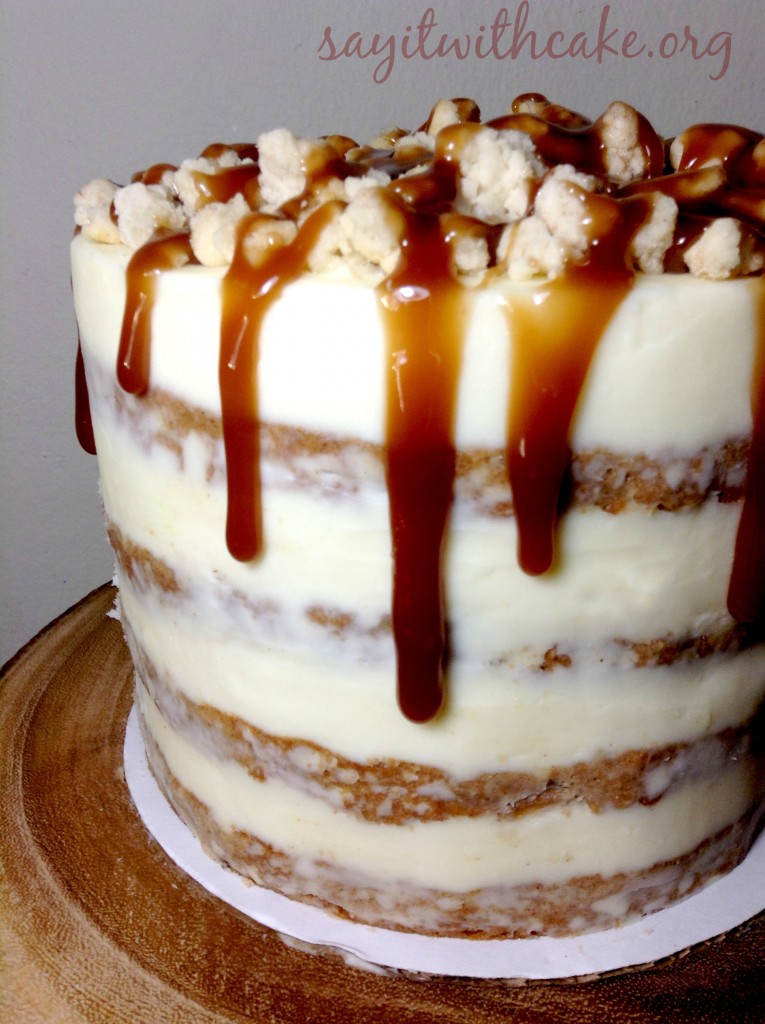 Apples are my favorite part of the fall season.  I love apple pies, and this time I wanted to try to incorporate an apple pie into a layer cake.  I have seen cakes on pinterest where they actually take a whole apple pie and bake it inside a cake! I thought that was fascinating! I decided not to try it this time, but I made my own version of apple pie cake 🙂 I took an apple cake with chunks of apple inside, and layered it with apple pie filling, Dutch apple pie crumbs, and cream cheese frosting! This was also my first attempt at making a naked cake!
I have made two other apple cakes here and here, but this cake is the yummiest so far! I think the part that makes this cake so delicious is the new cream cheese frosting recipe I found.
This cake has a few steps that you can make ahead of time.  There is the apple roses, the pie crumble, and the cream cheese frosting. First I made the apple roses.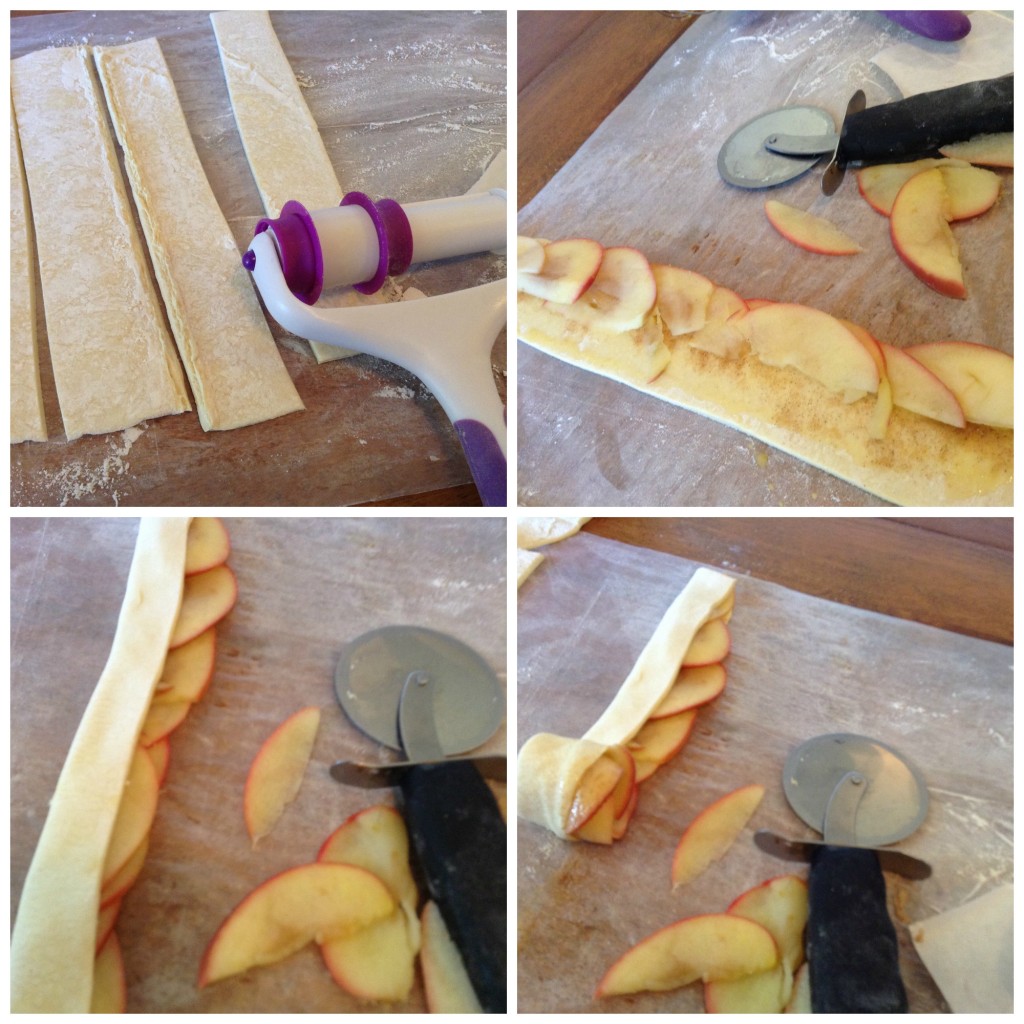 You will need : 1 package puff pastry which has been thawed in the refrigerator, 8 small tart apples, 1 fresh lemon, 8 TBS sugar, 2 TBS cinnamon, 1 egg for egg wash, extra sugar and preheat your oven to 400 degrees
Put a pot with water on heat and let it boil, meanwhile cut the apples into thin slices and add them to the pot with the lemon juice then turn the heat off , put a lid on the pot and let the apples steam for a minute. We want the apples to be soft but not mushy. so as soon as you feel they're soft. drain the water from the pot and put the apples on a paper towel to cool off and dry
Now take a sheet of puff pastry and place it on a well-floured surface, Brush the pastry with the egg wash, sprinkle it with 4 TBS of sugar and 1 TBS of cinnamon, now cut a 1 inch strip along the long side of the puff pastry and place the apple slices that they will slightly overlap each other and start rolling the pastry.
You should be able to place 9 -11 slices on each stripe.
Put the finished rolled pastry or rosettes in a mold or just on a baking paper.
Now place a pan with water in the bottom rack of the oven. this will help to keep the bottom of the rosettes from burning, bake the rosettes on the rack just over the water for 15 – 20 minutes but make sure to check them regularly. you don't want them to burn, but you want the party to be crispy. when they are done let them cool off outside the oven and serve!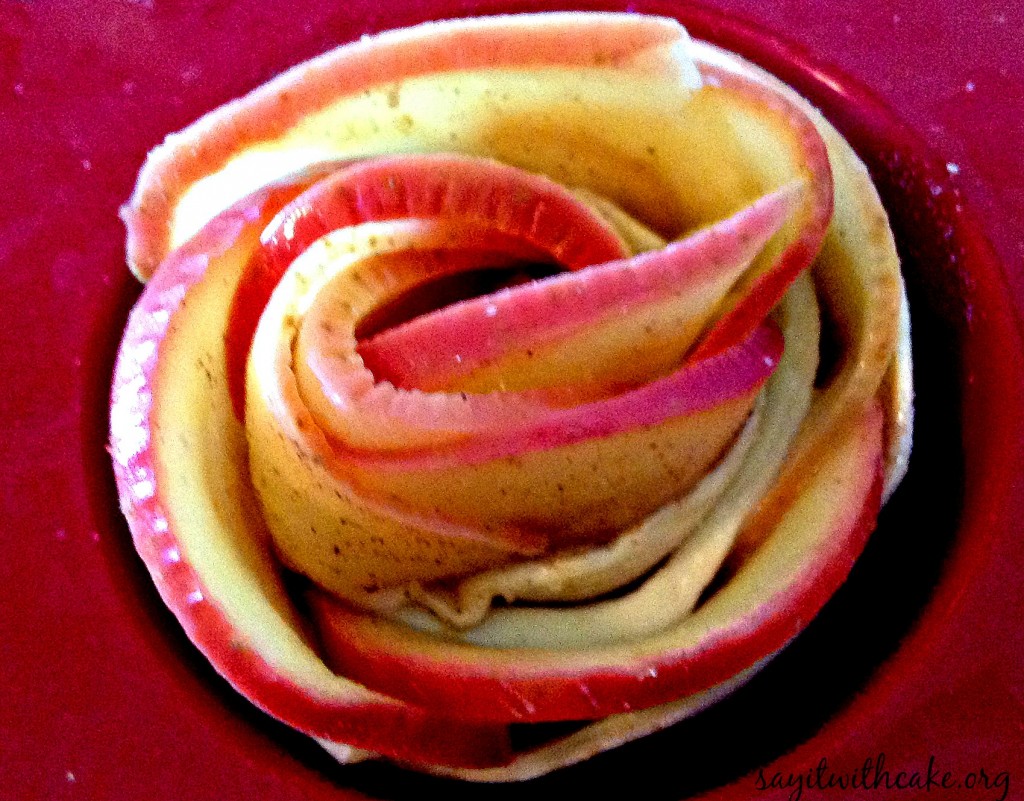 The pic above is what the apple rose looks like before it is cooked.  I sprinkled some cinnamon and sugar on the petals.  Below is a pic of the roses out of the oven with powdered sugar sprinkled on them.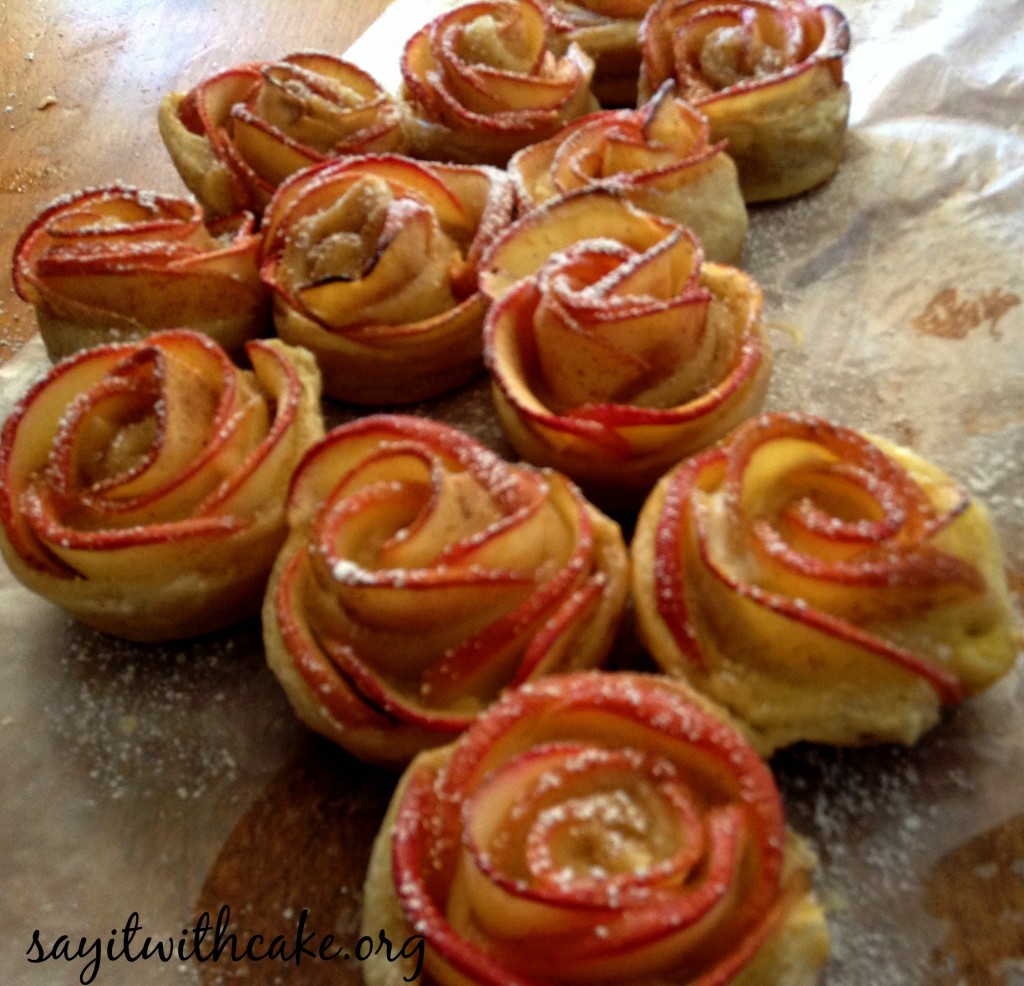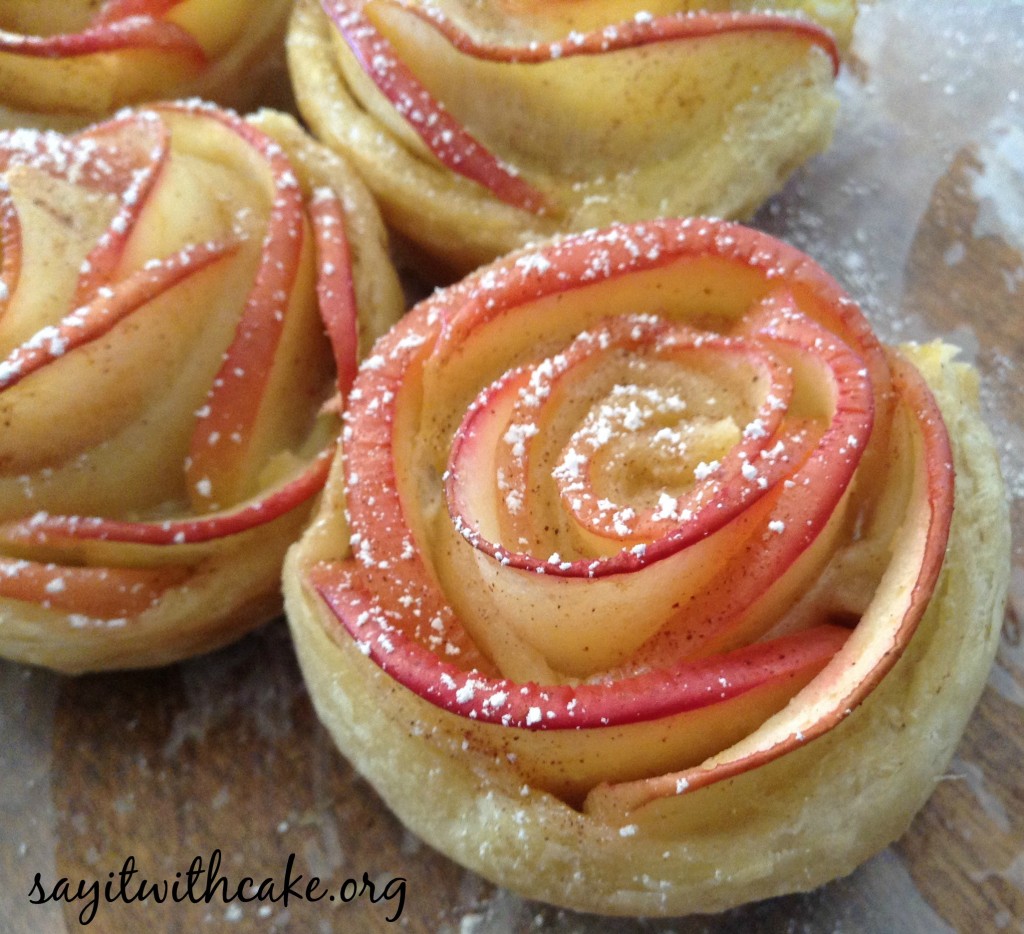 The next step is to make the pie crumbles. The recipe is below.  They are really yummy if you sprinkle cinnamon and sugar on them.  My husband thinks they taste like shortbread cookies 🙂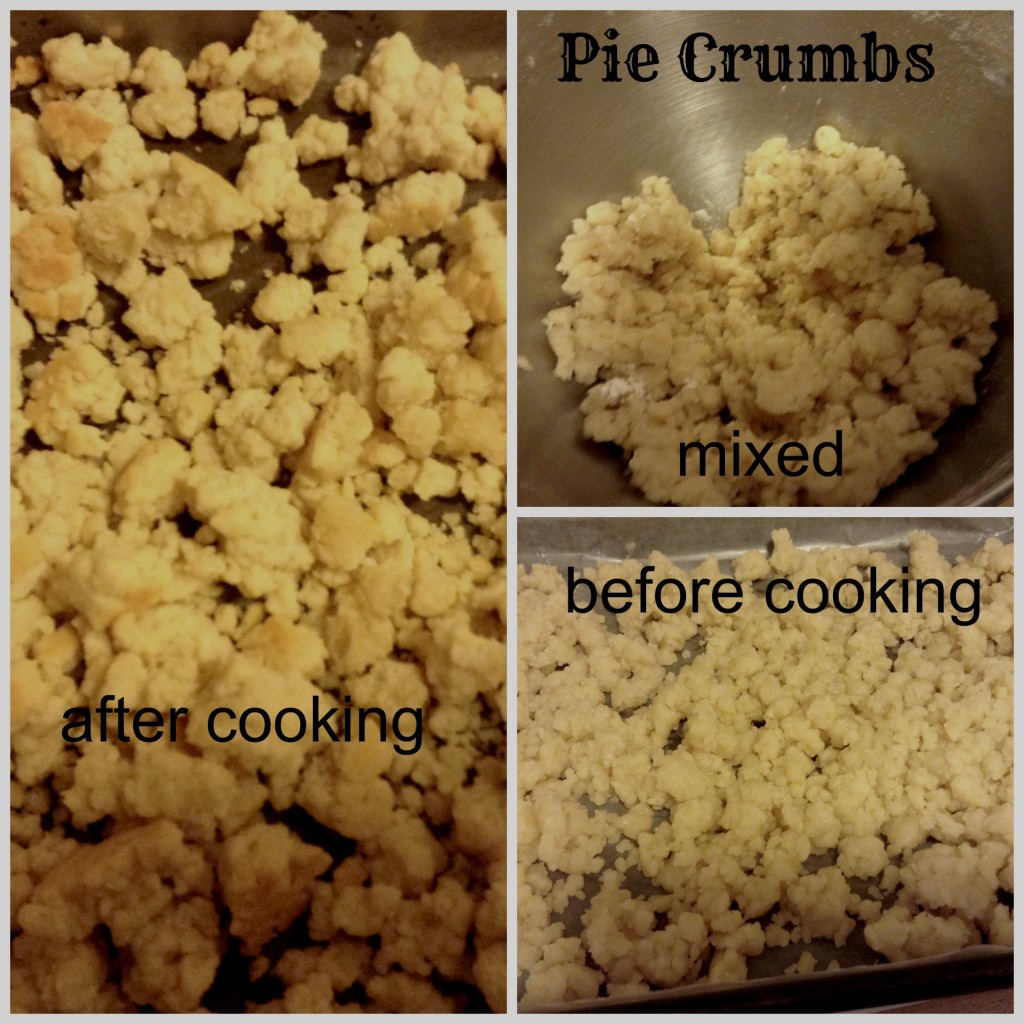 After making the cream cheese frosting (the recipe is below) it is time to assemble the cake!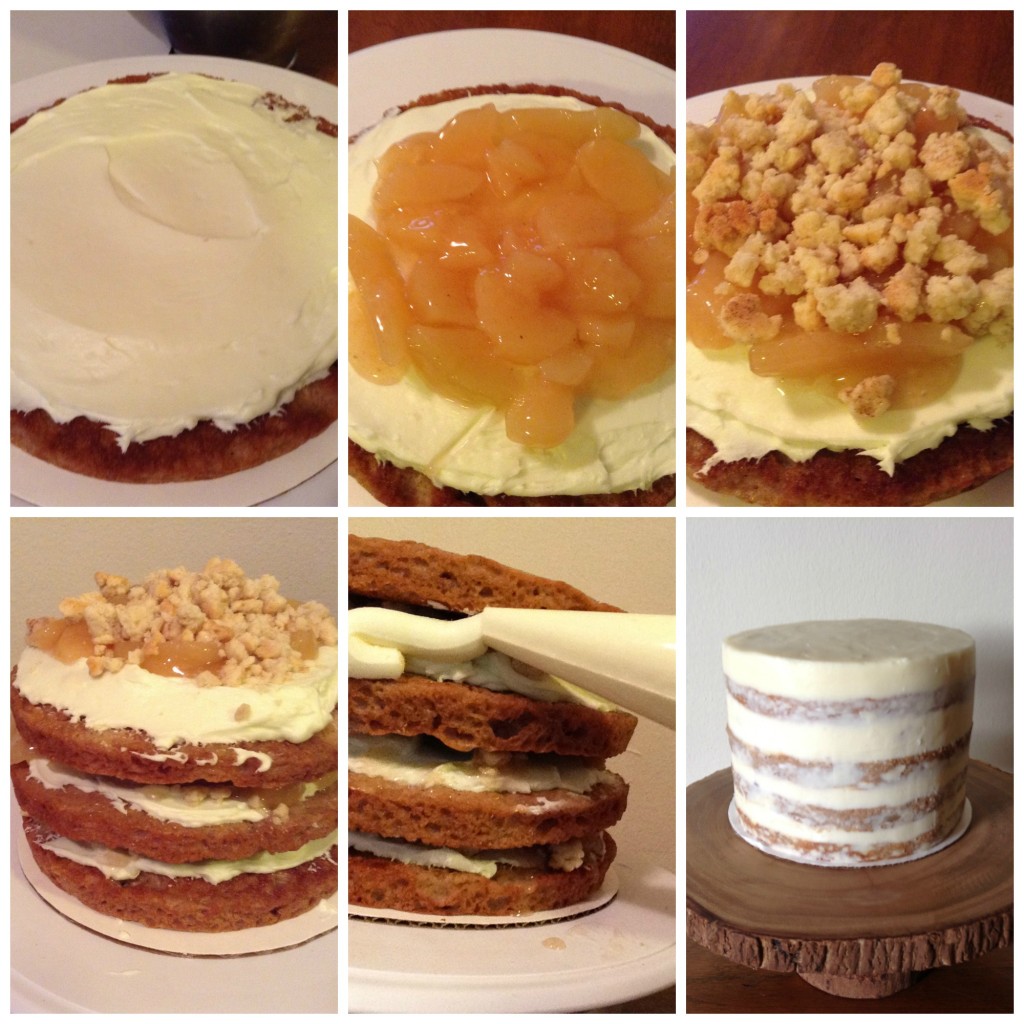 Put your first cake down and cover with cream cheese frosting.  Put on a layer of canned apple pie filling.  Sprinkle some pie crumbs on top.  Repeat with the next two layers.  After all four cakes are placed, pipe some cream cheese frosting in the gaps and smooth with a bench scraper.  Put a layer of frosting on the top of the cake and smooth.  The pictures above are the steps I took while assembling the cake.
For the top of the cake you can either put the apple roses, or some pie crumbles.  Also, with caramel or no caramel? I can't decide which I like best? I tried them both out and took pictures of each. You can find my recipe for homemade caramel sauce Here.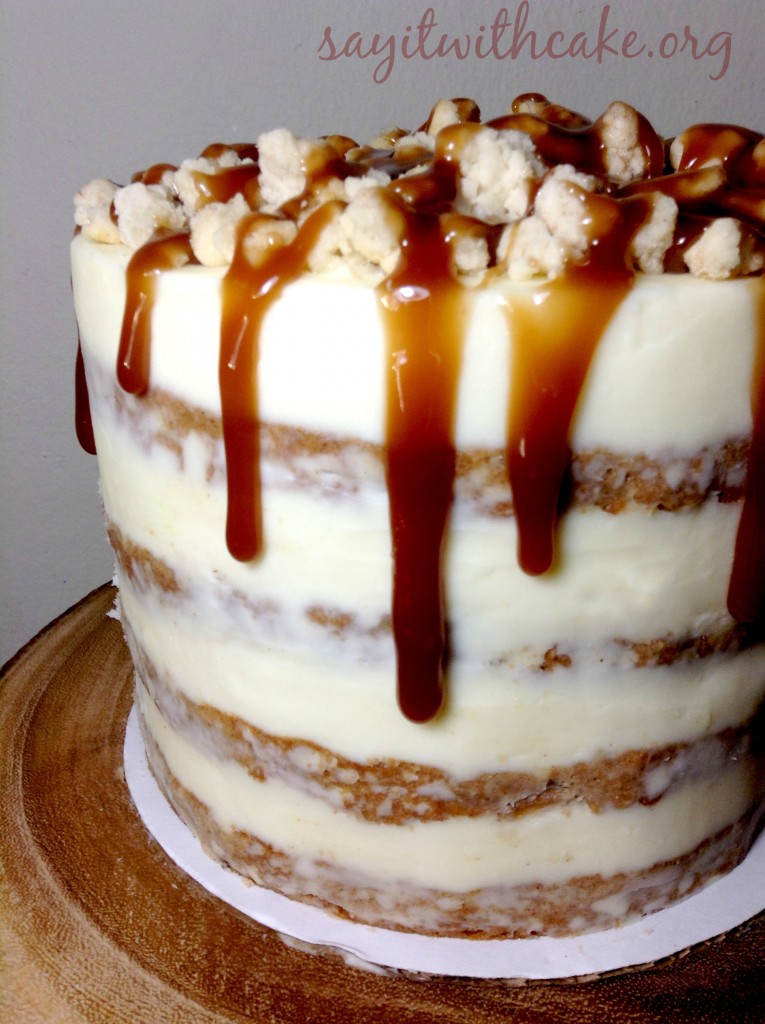 Which topping do you like best? Here is the delicious inside of the cake!
Ingredients
Cake!

one box of spice cake mix
4 eggs
one can of apple pie filling

For the Pie Crumb:

3 cups flour
4 tablespoons sugar
1 1/2 teaspoons kosher salt
16 tablespoons butter, melted (2 sticks)
3 tablespoons water

Cream cheese frosting

one and a half sticks of butter
1 1/4 cups powdered sugar
8 oz cream cheese
Instructions
Cake

Mix together cake mix, eggs, and apple pie filling.
The mixture will be divided into four 8 inch cake pans. Add one cup of mix into each cake pan. Bake at 325 degrees for 30 minutes or until toothpick comes out clean.
Cool completely on cooling rack.

For the Pie Crumb:

Heat the oven to 350°f.
Combine the flour, sugar, and salt in the bowl of a stand mixer fitted with the paddle attachment and paddle on low speed until well mixed.
Add the butter and water and paddle on low speed until the mixture starts to come together in small clusters.
Spread the clusters on a parchment- or silpat- lined sheet pan. bake for 25 minutes, breaking them up occasionally. the crumbs should be golden brown and still slightly moist to the touch at that point; they will dry and harden as they cool.
Let the crumbs cool completely before using in a recipe or eating. stored in an airtight container, the crumbs will keep fresh for 1 week at room temperature or 1 month in the fridge or freezer.

Cream cheese frosting

Beat butter until pale about 2 minutes with paddle attachment
add sugar and continue beating until frosting is very pale and fluffy about 3-5 min.
add cream cheese and beat until just smooth
http://sayitwithcake.org/apple-pie-layer-cake-with-apple-roses/
Enjoy!


My cake was featured here!
Other fall cakes you might like