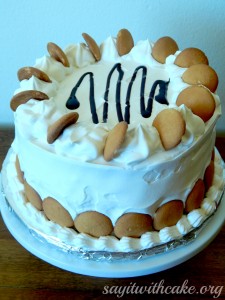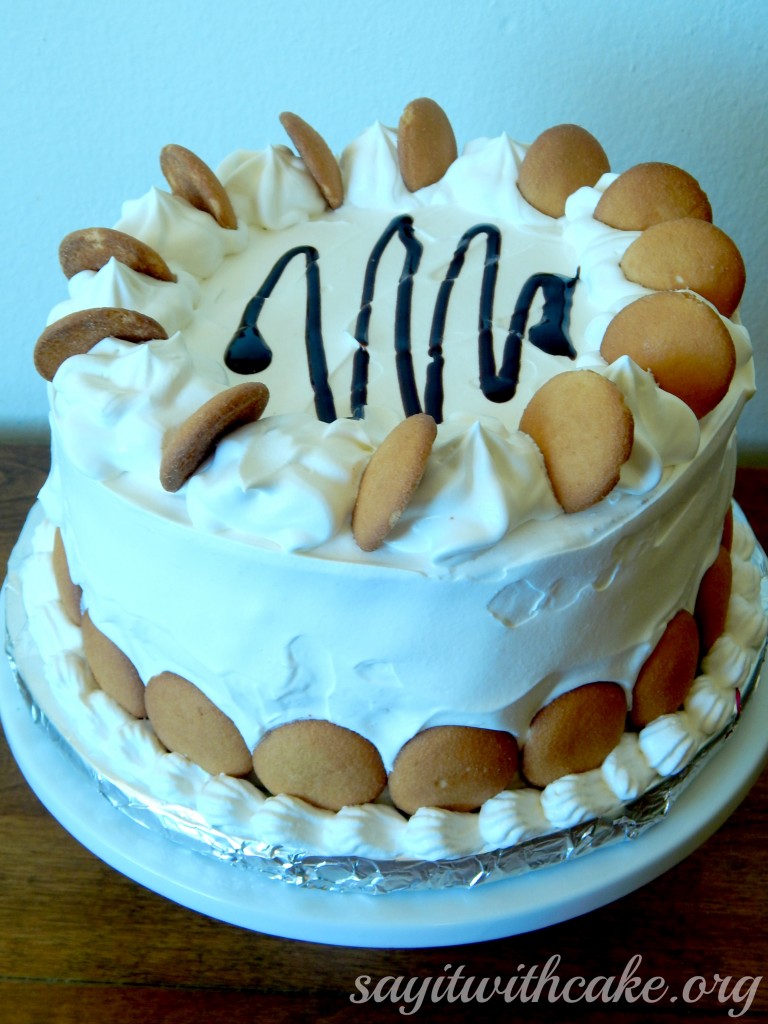 At every family birthday party, I have usually seen my cousin Randen ask for ice cream with no cake.  This year for his 15th Birthday, my Aunt Teresa asked me to make a cake with some kind of banana flavor. She is always so great at letting me experiment and come up with new creations, in fact my Aunt Teresa is one of the people most supportive of my new cake making hobby! I love you Aunt Teresa!  I was so nervous, because I have rarely seen Randen eat cake, and I wanted him to like whatever I made.  I decided to make this Delicious banana pudding layer cake, and guess what??? He ate the whole slice and told me he liked it!! Yay I am very happy, and have decided to share the recipe with you after such a great victory!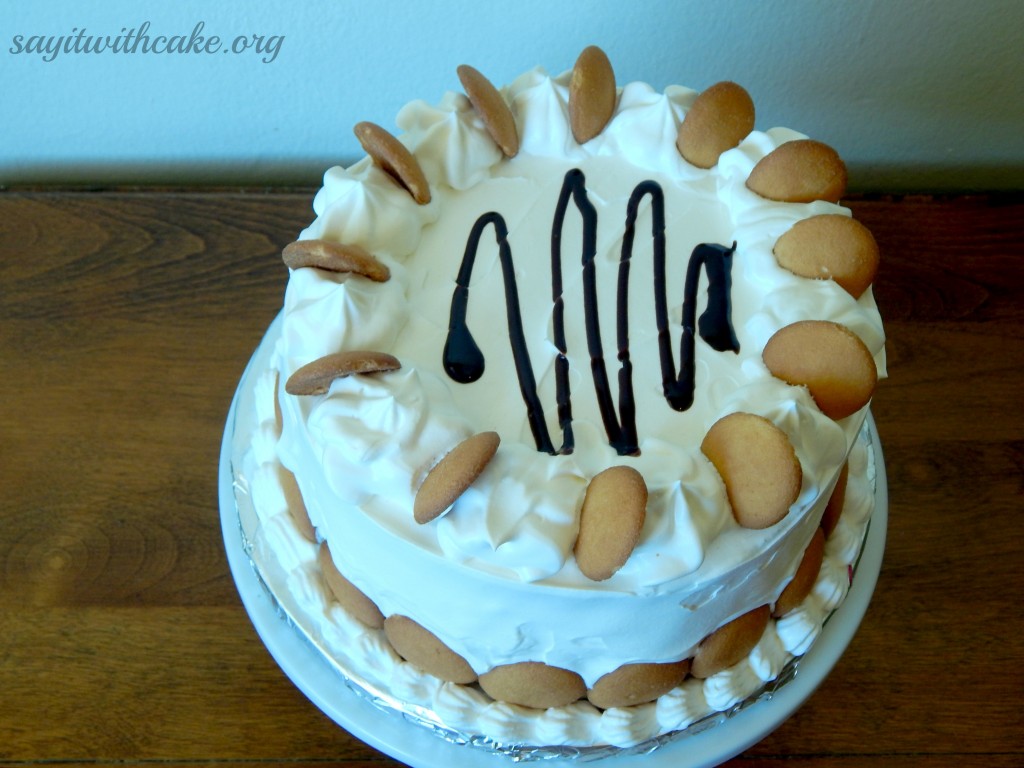 This is a three layer yellow butter cake with a creamy but light banana pudding filling, covered with whipped cream and topped with Nilla wafers and chocolate sauce.  The perfect cake for all you banana lovers! I frosted this cake with pastry pride.  I love Pastry Pride because it is so easy to use, and is delicious! You can find everything I know about Pastry Pride here. Some other yummy cakes I made with Pastry Pride are here and here.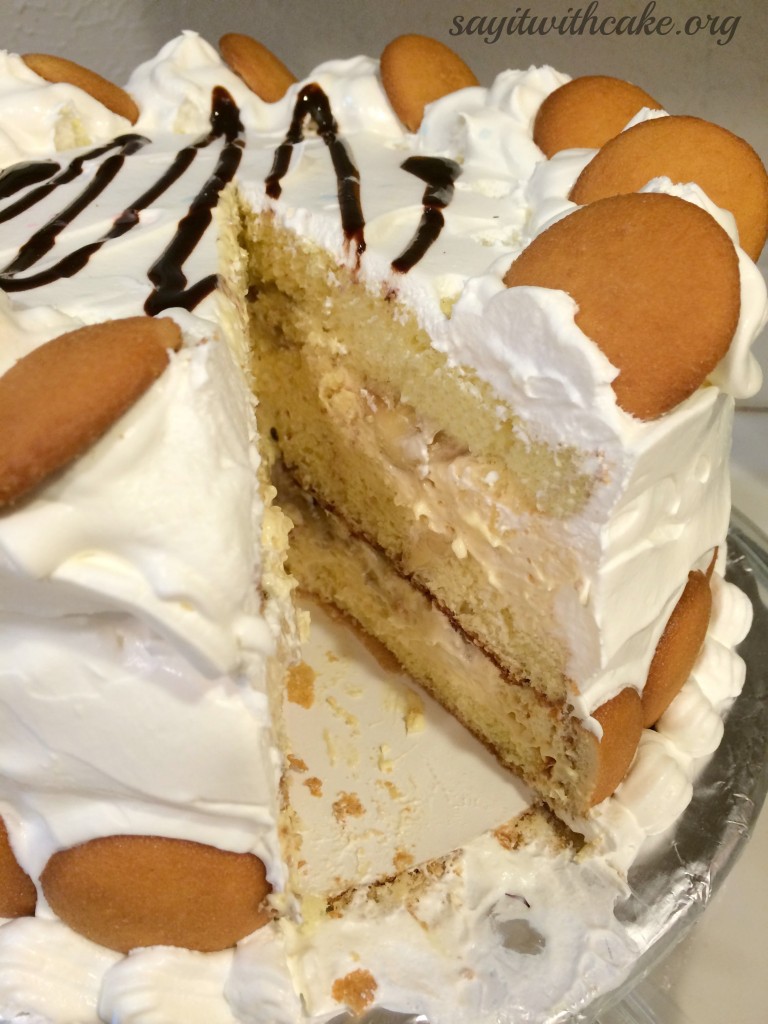 Banana Pudding Layer Cake
Ingredients
Cake

1 box of your favorite yellow butter cake mix

Filling

1 [2.6 oz] box dry whipped topping mix [i.e.Dream Whip]
3 cup cold half & half, divided
2 [3.4 oz] box vanilla instant pudding mix
2 tsp pure vanilla extract
1 cup whipped cream cheese
2 large bananas, diced

Frosting

1 [16] oz frozen whipped topping, thawed (pastry pride)
Garnish: whole Vanilla wafers plus chocolate syrup
Instructions
Cake

Prepare the cake layers per the directions and cool completely.

Filling

To prepare the filling, using a mixer whip together both envelopes of whipped topping with 1 1/4 cup of cold half & half. Whip for 3 minutes or until firm peaks form
Add both packages of instant pudding, 1 3/4 cups of cold half & half and 2 tsp pure vanilla extract. Whip for another 2-3 minutes until thickened. Add the whipped cream cheese and whip for another 1-2 minutes until light and fluffy. Spread half of the filling over the bottom layer of cake. Top with cubed bananas. Gently press the bananas into the filling.

Frosting

Whip your whipped topping until firm peaks form. I used pastry pride.
http://sayitwithcake.org/banana-pudding-layer-cake/
Recipe adapted from melissassouthernstylekitchen.com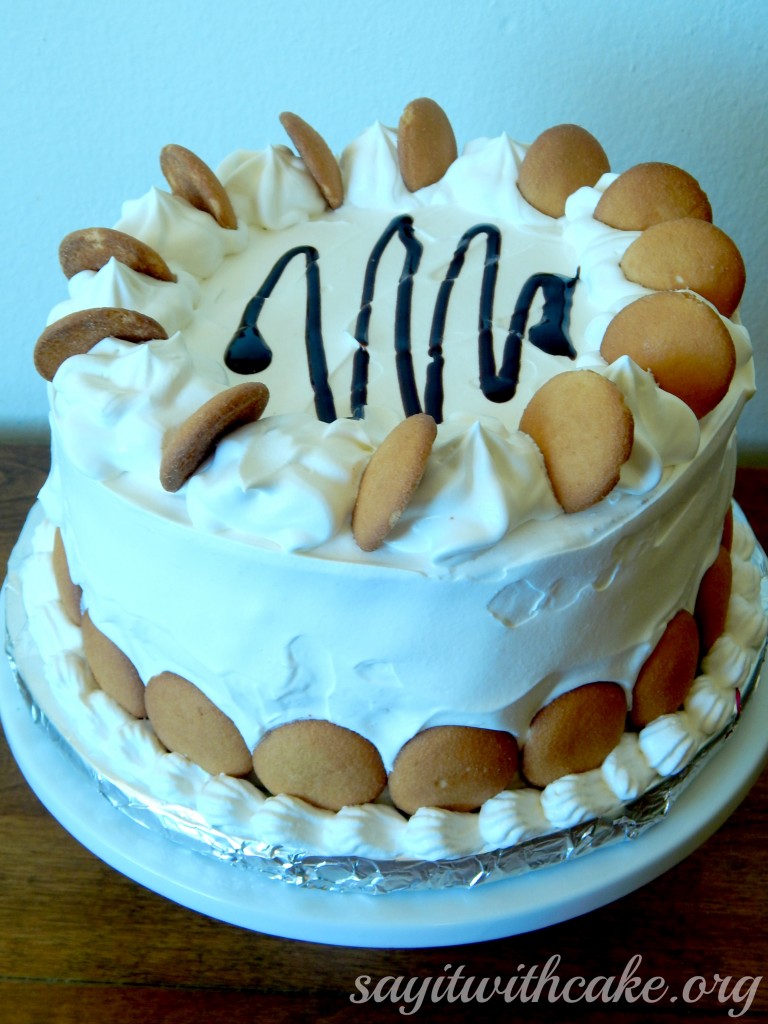 Enjoy!
Other Layer cakes you might like