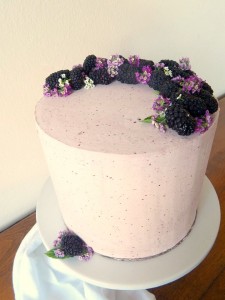 This cake is a white WASC (white, almond, sour cream) cake with blackberry filling, frosted with blackberry Swiss Meringue buttercream, and topped with fresh blackberries!
I grew up in a small town in Northern California called Loleta.  Over by our good friends the Meyers house, there was a huge blackberry patch growing by the side of a dirt road.  Every summer my family and I would go pick blackberries as soon as they were ripe.  I remember bringing my Aunt Teresa, Julie, and Grandma over there to pick blackberries when they would come visit.  My sister Katy actually fell into the blackberry bush when she was young and got a giant cut on her leg.  Every time we see her scar we remember picking blackberries in Loleta lol.  At night after a great harvest of blackberries we would have vanilla ice cream and mix in the fresh blackberries! So delicious! I absolutely love those flavors together, and made this cake to taste like my favorite dessert when I was growing up.
I got my inspiration for this cake from the cakeblog.  When I saw the blackberry buttercream, I knew I had to try to make this cake! I love the blackberries with flowers on top of the cake and did my best to replicate it.  Instead of the lime cake, I used my favorite white almond sour cream cake recipe.  I love how the cake turned out so white against the blackberry filling.  By following this recipe your cake will not having any brown crust on it, and you will only see beautiful, yummy, white cake!  I also switched things up by using my blackberry filling instead of the Swiss meringue buttercream.  I love the contrast with the white cake, and also this filling has such a strong blackberry taste.  I frosted the cake using my Swiss Meringue buttercream recipe and added blackberry reduction.
When making this cake, you only have to make a blackberry reduction once, and just take out 3 TBS of the reduction to use for the Swiss meringue buttercream.   When making the reduction, it always seems to take longer then I think it will. So leave plenty of time for this step. The great part about using the blackberries in the frosting is that it turns the frosting a beautiful lavender color and has specks of berries in it.  The frosting is so delicious!
Ingredients
WASC CAKE

2 white cake mix
2 cups all purpose flour
2 cups granulated sugar
1 1/2 tsp. salt
8 egg whites
2 2/3 cups water
4 TBS vegetable oil
2 cups (16 oz.) sour cream
2 tsp. clear vanilla
2 tsp. almond extract

Blackberry Filling

24 ounces fresh blackberries
2 sticks unsalted butter
1 teaspoon lemon juice
big pinch of kosher salt
3  ½ to 4  ½ cups powdered sugar

Blackberry Swiss meringue buttercream

6 egg whites
1 1/2 cups sugar
1 1/2 cups butter softened
1 tsp.  vanilla
3 TBS blackberry reduction
Instructions
WASC CAKE

Mix all dry ingredients by hand using a whisk in a very large mixing bowl.
Add the liquid ingredients and beat on low speed for 2-3 minutes, until well combined.
Bake at 300° (time depends on the size pans used*)for 20 minutes then at 325 for 10 minutes. Make sure you grease and flour your pan, and USE BAKING STRIPS! This is the trick to get a crust free cake, and level on top. If you don't have cake strips use cut up towels soak in water and safety pin around the cake pan. I measured out one and a half cups of batter for each pan. I cooked each layer by itself in the oven.  This recipe made five 8 inch cakes.

Blackberry filling

In a medium to large saucepan, cook down the blackberries until they've broken down and released their juices. They will be floating in their own liquid,  super saucy. If you use frozen, this will take a little longer. Strain cooked down blackberries in a fine meshed sieve into a bowl, pressing down on them to get every bit of liquid out. You should have about 1 cup blackberry juice. Place this back in a clean saucepan, and cook down until reduced to ½ cup. It should be thick  like chocolate syrup, and will be dark blood red. Set aside until completely cool (I put it in the fridge).
In a bowl, beat the two sticks of butter until creamy. Add in 2 cups of powdered sugar, the reduced blackberry  juice, (SAVE  3 TBS FOR THE FROSTING )the lemon juice and huge pinch of kosher salt. Beat until creamy and uniform in color. Continue adding powdered sugar until you get a nice, thick, but still creamy consistency. I used a little less than 3 ½ cups. If you end up adding too much, drizzle in a couple of tablespoons of milk or cream until you reach the desired consistency. Set aside covered, at room temperature, until ready to assemble the cake.

Blackberry Swiss Meringue buttercream

Combine egg whites, sugar, and salt in the heatproof bowl of a standing mixer set over a pan of simmering water. Whisk constantly by hand until mixture is warm to the touch and sugar has dissolved (the mixture should feel completely smooth when rubbed between your fingertips or gets to 140 degrees F ).
Attach the bowl to the mixer fitted with the whisk attachment. Starting on low and gradually increasing to medium-high speed, whisk until stiff (but not dry) peaks form. Continue mixing until the mixture is fluffy and glossy, and completely cool (test by touching the bottom of the bowl), about 10 minutes. Set your timer, it makes life much simpler.
With mixer on medium-low speed, add the butter a few tablespoons at a time, mixing well after each addition. If for some reason your frosting now resembles curdled milk, don't freak out, just keep beating it; it will come back I promise. Once all butter has been added, whisk in vanilla and the blackberry reduction. Switch to the paddle attachment, and continue beating on low speed until all air bubbles are eliminated, about 2 minutes. Scrape down sides of bowl with a flexible spatula, and continue beating until the frosting is completely smooth. Keep butter cream at room temperature if using the same day. This frosting can be made ahead and refrigerated, if you do that, make sure you let it get to room temp before you re-beat it. If you are using the next day, simply take it out the refrigerator the night before and let it sit on the counter, it will be the perfect temperature to whip the next morning. .
http://sayitwithcake.org/blackberry-layer-cake/
Enjoy!
Other berry cakes you might enjoy!